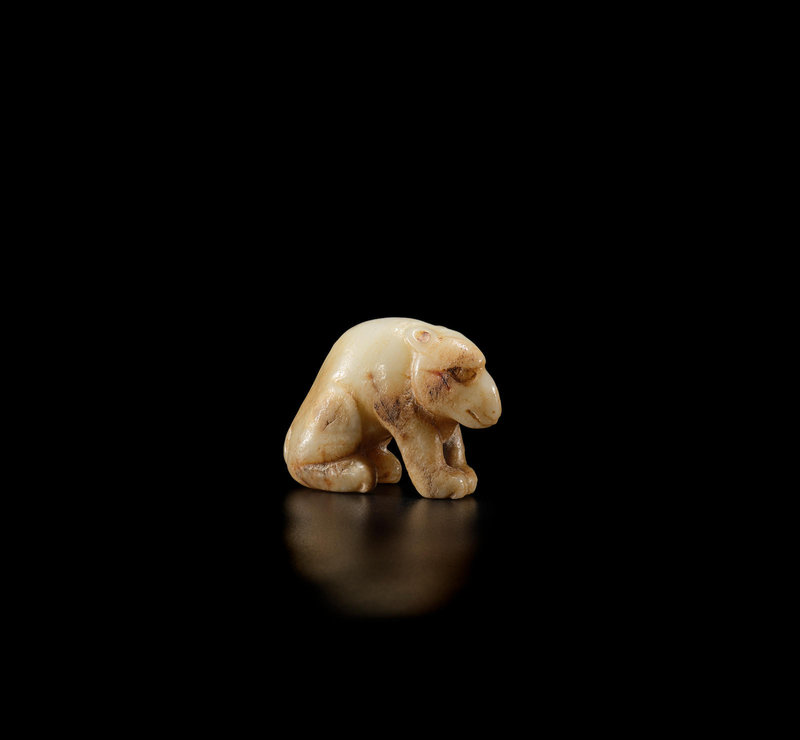 Lot 19. A rare grey and brown jade figure of a tiger, Song Dynasty (960-1279); 5.2cm (2in) high. (2). Sold for HKD 178,500 (Estimate HKD 120,000 - HKD 150,000). © Bonhams 2001-2022
The crouching tiger facing forward with bulbous eyes, a long snout, closed mouth, the ears pressed back against the neck, its paws outstretched and seated on its haunches, the stone of greyish white tone with blackish-brown inclusions, box.
Provenance: C. Philip Cardeiro (1930-2014).
Illustrated: Knapton & Rasti Asian Art Ltd., The Property of Mr Philip Cardeiro, London, 2009, no.30 (label).
Note: Philip Cardeiro was born in 1930 in Boston, Massachusetts, and at a very early age developed a fascination with world art and culture. He made his first acquisition in the 1940s, and thereafter began a lifetime of collecting which continued unabated for the next six decades, with the greatest bulk of his collecting taking place in the late 1960s and 70s, amassing an impressive collection of porcelain, jades, cloisonné, scholar's objects and furniture, amongst others.

Compare with a closely related Song dynasty jade figure of a mythical beast, illustrated by J.C.Y. Watt, Chinese Jades from the Han to the Ch'ing, New York, 1980, no.58.
Bonhams. FINE CHINESE CERAMICS AND WORKS OF ART, Hong Kong, 30 November 2022