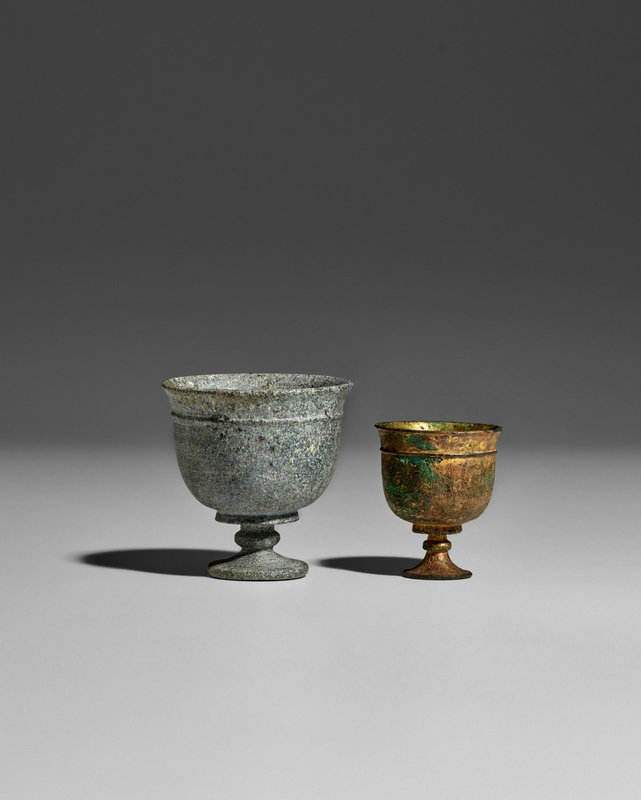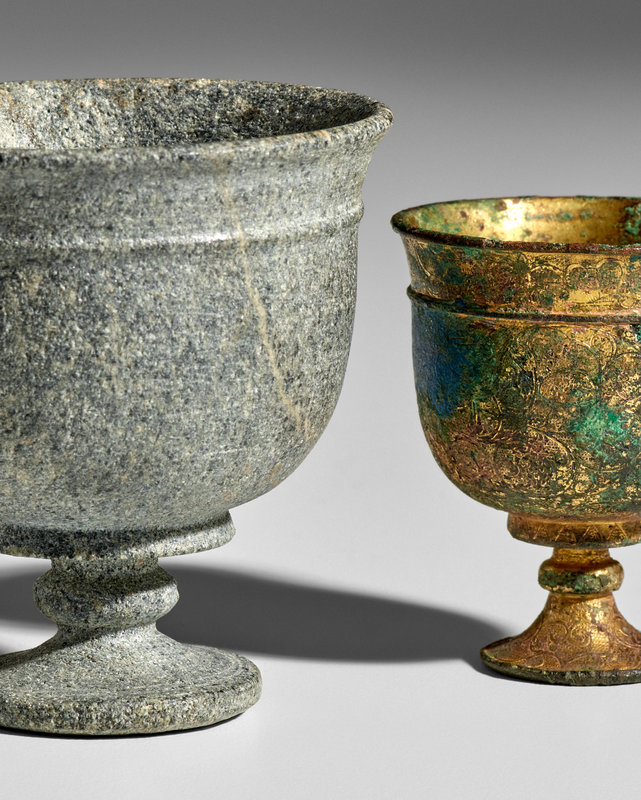 Lot 9. An engraved gilt bronze stemcup and a polished stone stemcup, Tang dynasty (618-907); 1 7/8in (4.8cm) high of gilt bronze stemcup; 2 1/2in (6.4cm) high of stone stemcup (2). Sold for US$7,012.50 (Estimate US$4,000 - 6,000). © Bonhams 2001-2023
Following Central Asian prototype, the small bronze very finely cast and chased with scrolling grapevines over ring-punched 'fish roe' ground, the deeply rounded cup rises to a thin ridge below the slightly everted rim, supported by a pedestal foot with splayed rim also finely engraved to match, covered inside and out with rich gilding, now partly worn and showing patches of blue and green malachite encrustations; the stone stemcup of the same form plain and undecorated, the coarse bluish-grey stone gently polished and showing natural inclusions.
Note: Following prototypes passed along the Silk Road, the stemcup became one of the most iconic forms of the Tang dynasty. A Tang dynasty mural painting from the tomb of Princess Fangling (A.D. 673), depicting a courtesan holding a small stemcup on her left hand and an ewer on her right, is illustrated in Mural Paintings in the Mausoleums of Princess Xincheng, Fangling and Yongtai, Beijing, 2002, p. 59, no. 44, and the author describes the stemcup and ewer on p. 83 as "both exotic ware[s] in the Tang dynasty."
Compare the similar gilt bronze stemcup with engraved floral scroll on ring-punched grounds, from the Collection of Mrs. Roy Hunt of Pittsburg, Pennsylvania, illustrated by Trubner, The Arts of the Tang Dynasty, Los Angeles County Museum, Los Angeles, 1957, p. 64, no. 121. Another small gilt bronze stemcup with engraved hunting scene on ring-punch grounds, in the collection of the Palace Museum, Beijing, is illustrated by Hu and Ma, Shang yong shu huai: Gugong buowuyuan cang gudai jiuju, Beijing, 2009, pp. 110-111.
Compare also the gilt bronze stemcup of larger size, excavated in 1958 from a Tang tomb in Changsha, Hunan province, illustrated in Wenwu, 1960, No. 3, p. 57, no. 2. Another gilt bronze stemcup very similarly decorated, in the collection of the Osaka Municipal Museum of Art, is illustrated in Zui To no Bijutsu (Arts of the Sui and Tang Dynasties), Osaka, 1978, no. 44.
A stone stemcup of this type in the Museum of Fine Arts, Boston, is illustrated by Tseng and Dart in the catalogue of the Hoyt Memorial Exhibition, 1952, no. 518, p. 130 and in The Charles B. Hoyt Collection in the Museum of Fine Arts: Boston, Volume I, Boston, 1964, no. 147. Another Tang dynasty stone stem cup of very similar form in the Yamato Bunkakan Museum, is illustrated in Yamato Bunkakan shozōhin (Collection of the Museum Yamato Bunkakan), Nara, 1992, Vol. 5, p. 85, no. 148.
See also a glazed white stoneware stemcup illustrated by Klapthor, Chinese Ceramics from the collection of The Baltimore Museum of Art, Baltimore, 1993, p. 28, no. 16.
Bonhams. J. J. Lally & Co. Fine Chinese Works of Art, New York, March 20, 2023