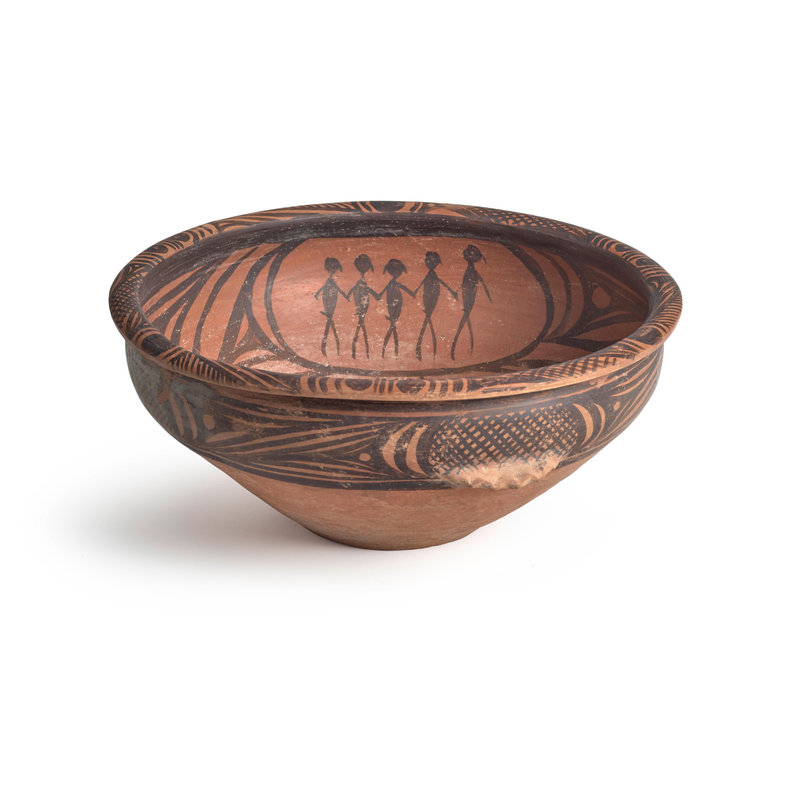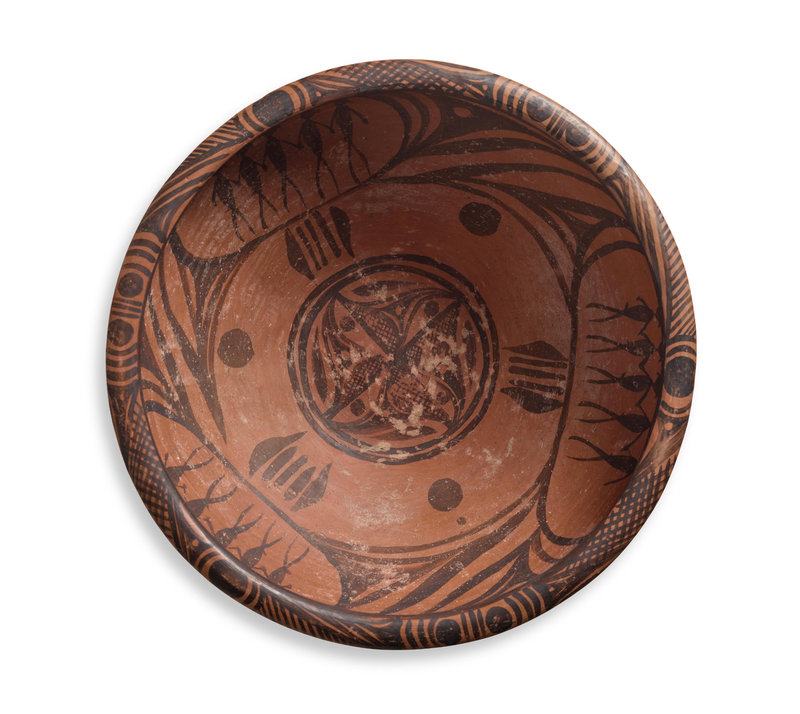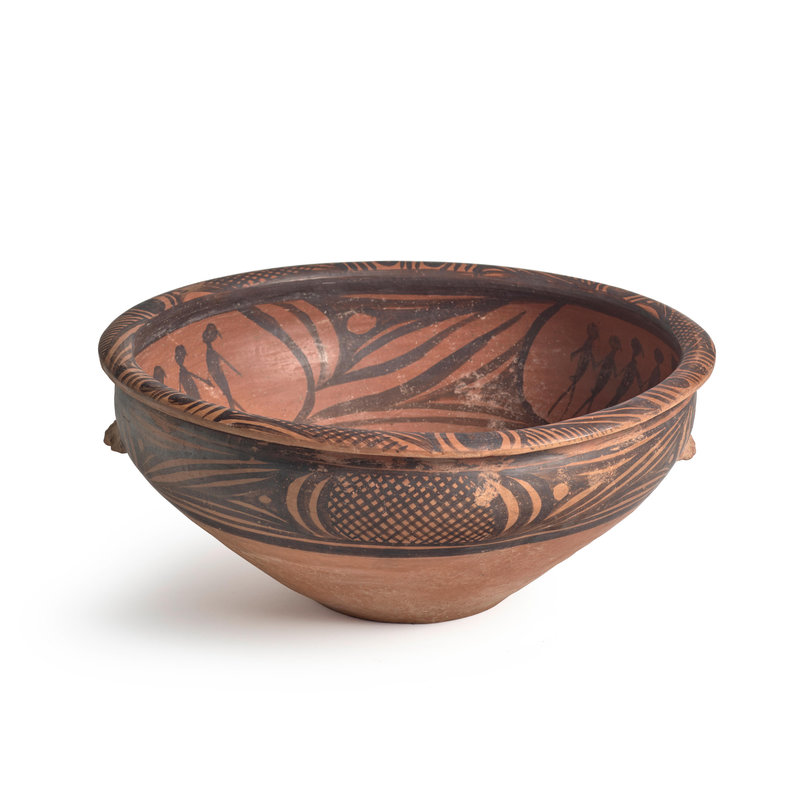 Lot 118. An extremely rare Neolithic black-painted red pottery 'ithyphallic' bowl, Pen, Qinghai Province, Majiayao Culture (c. 3900-3500 BCE); 13 5/8in (34.5cm) across the rim. Sold for US$20,400 (Estimate US$15,000-20,000). © Bonhams 2001-2023
the conical lower sides rising from a flat circular foot and rounded and incurving toward the everted rim, the interior smooth, and finely burnished, and painted with three oval roundels each with five standing 'ithyphallic' figures holding hands in a line set against a geometric design of sweeping lines with smaller circles in reserve and larger dot circles below dividing five simple strokes below each figural roundel, the bowl center with a cross-hatched and geometric quartered circular roundel, the rim edge curved and painted with further geometric designs of cross hatching, dotted circles and sweeping curving lines, the exterior painted to the upper third with a continuous register of cross-hatched oval cartouches on a ground of sweeping curves and reserved circles and unusually divided on each side by the addition of simple 'pie-crust-edged' horizontal handles.
Provenance: Joseph Rondina, New York, 1980's or 1990's.
Note: For further discussion of the Majiayao culture, see Xiaoneng Yang, Ed., The Golden Age of Chinese Archaeology, Celebrated Discoveries from the People's Republic of China, National Gallery of Art, Washington, 1999, pp.68-71, where it is noted that 'figural' decoration on such vessels is 'exceptional'. The authors also describe the people in whose daily lives these vessels played a role, as generally agriculturalists who lived in small villages and tilled their fields on the loess terraces above the rivers and streams that cut through the area.

For a bowl from the National Museum of Chinese History, Beijing, with similar groupings of five 'ithyphallic' figures, see Xiaoneng Yang, Ed., ibid, pp.72-73, no. 6. Like our figures they are described in minimal detail with round heads with hanging braids, slender oval bodies and stick-like limbs. The entry for this bowl (contributed by Louisa G. Fitzgerald-Huber), discusses recent excavations at Zongri, a site in eastern Qinghai province, located to the southwest of Datong, near Tongde, that provide new insight as to the meaning of the vessel's decoration. A bowl, unearthed in a nearby site, with stick figures holding hands but with round abdomens, suggesting pregnant females, may well suggest, that what is represented, is one of the few cases during the Chinese Neolithic in which human fertility is expressed.
Bonhams. CHINESE WORKS OF ART AND PAINTINGS, New York, March 20, 2023