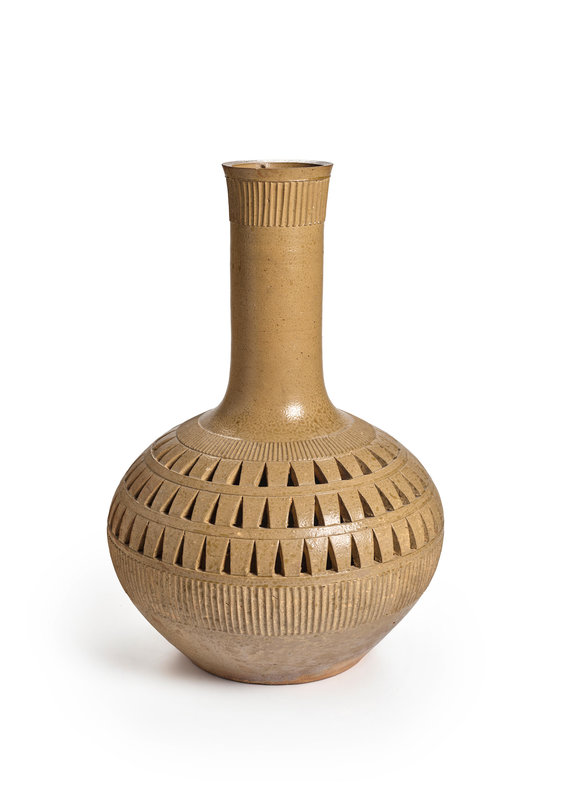 Lot 120. A rare and massive ash-glazed proto-porcelain reticulated globular vase, Eastern Zhou dynasty, Warring States period, 4th-3rd Century; 20 1/4in high. Sold for US$21,675 (Estimate US$3,000-5,000). © Bonhams 2001-2023
With tall cylindrical neck that flares very slightly at the mouth, a wide band of impressed vertical cog-like ribs at the top of the neck, mirrored in another band at the top of the rounded shoulder, above three bands of continuous triangular piercings that circle the body, and a further wide band of impressed vertical cog-like ribs at the lower body, all under a most attractive fairly evenly-fired ash-green glaze over a gray stoneware body that fires to orange at the flat base.
Property from The Mary and Cheney Cowles Collection
Note: From the late Warring States period through the Han dynasty (206 BCE – CE 220), glazed stoneware vessels of this type, produced in northern Zhejiang and southern Jiangsu provinces, presumably for burial, appear to follow quite closely bronze prototypes, and are frequently decorated in an overall impressed pattern, often with a combination of incised lines, raised bands and cog-like ribbing.
It has been noted (see https://kimbellart.org/collection/ap-199508) that the attractive olive-green ash glaze, more usually found on the upper two-thirds of such vessels, was probably produced by sifting dry wood-ash, or a mixture of dry clay and ash, over the damp pots before firing. These proto-porcelaneous wares are the predecessors of the finer kaolin-clay, high-fire wares developed toward the end of the Tang dynasty in the 7th and 8th centuries CE. The Kimbell Museum of Art website, listed above, also illustrates a smaller jar with very similar cog-like ribbed bands, accession no. AP 1995.08.
Jar with Ribbed Decoration, Warring States period (475–221 B.C.), 4th century B.C. Stoneware with yellowish green glaze. H. 9 5/8 in. (24.5 cm); Diam.14 1/4 in. (36.2 cm). The Kimbell Museum of Art, AP 1995.08. © 2023 Kimbell Art Museum


The result of Hong Kong Authentication thermoluminescence test is consistent with the dating of this lot.
Bonhams. CHINESE WORKS OF ART AND PAINTINGS, New York, March 20, 2023