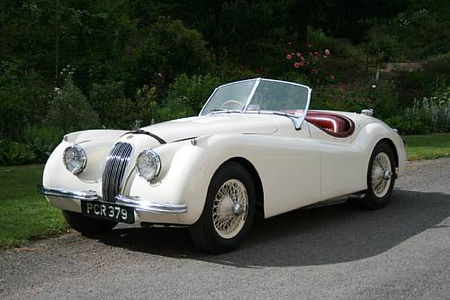 The ex-Mike Salmon, D-Type engined, 1953 Jaguar XK120 Roadster
Registration no. PCR 379. Chassis no. S661110. Engine no. EE1205-10 - Estimate: £100,000 - 150,000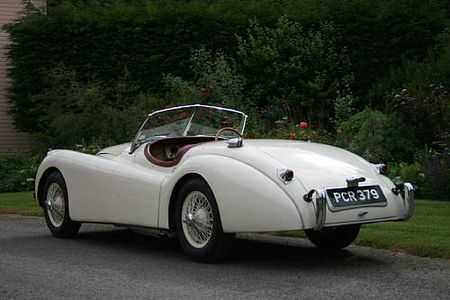 This XK120 Roadster was owned originally by racing driver Mike Salmon. A copy of the original logbook records the date of first registration as 1st September 1955, which is explained by the fact that Mike Salmon ran it on Channel Island licence plates from the time that he acquired the car at the end of 1953. It was actually his 21st Birthday present from his parents, which had been eight months before, so was rather late in arriving. Salmon was obviously a fairly well-off apprentice, and took delivery from the production line.
In a lengthy conversation with the current owner, Mike Salmon revealed that the XK120 was totally standard when he began racing it, initially mainly in hill climbs such as Boness and Rest-and-be-Thankful. An off-road excursion on one of these events meant that the XK needed a new door costing £38, which he considered quite a lot! Then, through his friendship with Frank 'Lofty' England, legendary race engineer and manager of Jaguar's sports car team, he put the XK through a programme of development that included up-rated suspension; close-ratio gearbox (which came from the Service Department); aero screens; 2" carburettors; headlight air duct, etc. Salmon then raced the car at various UK circuits and was allowed to attend a Jaguar test-day at MIRA, where factory tester Norman Dewis lapped in the XK120 at just over 134mph. Mike Salmon continued to run the car while he was working at Rossleigh Motors in Edinburgh, and then, when he had done only 13,000 miles in total, sold it to purchase a Jaguar C-Type. The XK120 was sold to a man named Hilditch, who crashed it after a week, the car needing total repair as a result.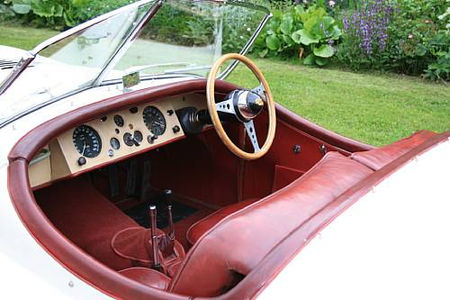 The car's restoration in the late 1970s was carried out for the then owner, a Mr D Winstanley, this being a 'body-off' rebuild that included a new radiator, petrol tank and front wings; total re-trim and rewire, etc (bills on file). The engine, prepared separately and totally overhauled by a man named Brown, incorporates a 3.0-litre D-Type block (increased by him to 3.8 litres capacity); D-Type camshafts (part numbers C8512 and 8513); and 1⅞" inlet and 1⅝" exhaust valves. It has the correct inlet manifold, sand-cast DCO Webbers and exhaust manifold.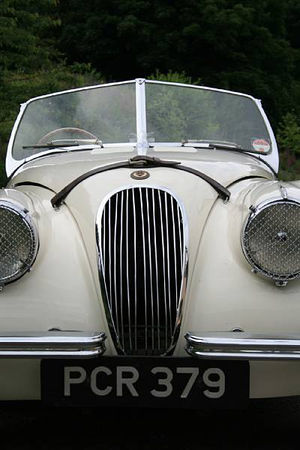 The vendor purchased the car in May 1980 from Vintage Autos Ltd and has retained numerous bills relating to the work that he has had done since then. At that time 'PCR 379' had covered fewer than 1,000 miles since the total overhaul, and there is confirming documentation on file. Almost all of the intervening MoT certificates are with the car, showing that the (post-restoration) mileage in 1981 was 900, going up to a little over 7,000 today – this lack of use being the principal motivation for sale. The total recorded mileage to date is 7,137 which, given the amount of time that the car has been in storage, could well be genuine. The vendor can confirm the mileage during his ownership, which is supported also by the aforementioned expired MoTs. In addition the car comes with a large quantity of bills, old-style logbook, MoT to July 2009, road fund licence to October 2008 and Swansea V5 registration document.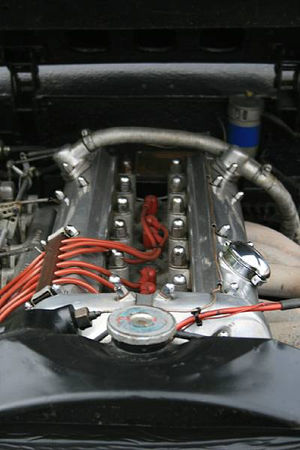 For the last 20 years the vendor has had the XK maintained by his own dedicated engineer, although little work has been needed (as reflected by the mileage). Following a garage fire that caused some paintwork damage, the car was re-sprayed circa 1990. Work undertaken within in the past ten years has included rebuilding the shock absorbers and fitting a new clutch and silencer, while more fundamental changes have included fitting a higher-ratio (3.07:1) rear axle and front disc brakes.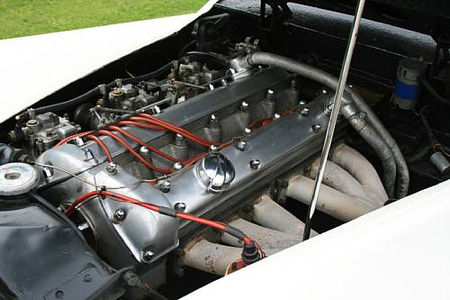 We are advised that, although in quite a high state of tune, the car always starts and, surprisingly, runs quite cool. As on D-Types there is no thermostat - all coolant circulates through the radiator - and a cut-down mechanical fan has been installed, supplementing the electric fan. As a practicality the radiator needs to be blanked off almost all of the time to prevent the motor running too cool, and the electric fan is hardly ever used. The car has no known faults, although it should be pointed out that it has Dykes piston rings, as found in most D-Types, so oil consumption is approximately 100 miles to a pint, which is actually a lot less than they were using at Le Mans in 1955! (Copyright © 2002-2008 Bonhams 1793 Ltd., Images and Text All Rights Reserved)
Bonhams. A Sale of Jaguar Motor Cars and Related Automobilia, 9 Aug 2008. XK60, Goodwood, Chichester, Sussex - www.bonhams.com