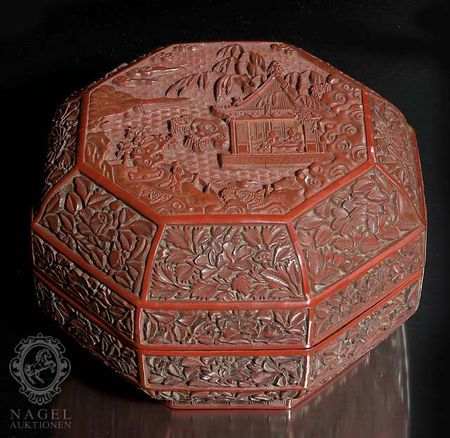 A Very Rare Octagonal Red Lacquer Box, China, Yuan dynasty (1271-1368), 14th C.
with the depiction of a landscape scenery with pavilion, water, rocks and trees on the lid carved in the thick red lacquer layer, the main subject on the lid with the two scholars in the pavilion writing and the approaching attendant on the left, carrying a zither qin, is also an allusion of two of the "Four accomplishments" (Qin qi shu hu, playing on the zither qin, playing chessboard, weiqi, writing and literature, shu, and painting, hua), the octagonal sides of the lid and the bottom part of the box are structured in two registers, and in the panels are deeply carved flowers of the four seasons as prunus, crab apple, pomegranate, peony, lotus, gardenia, chrysanthemum and camellia. On the stand of the bottom part are carved isolated, square spirals, the forerunner of the later meander frieze on lacquers. The carving quality of this octagonal box is excellent as well as its fine condition, which comparing to its age shows only age cracks in the frames of the flower panels and the main subject on the lid, further some minor parts on the flower panels missing, a small restoration of the wave pattern aside the duck on the main motive of the lid, and restored cracks of the rims inside the box and the re-lacquering of the interior with now brownish discoloured black lacquer, still showing the old cracks due to age of the original black lacquer coating beneath. - D. 25,7(24) cm - Estimate 80000 €
Property from an old Japanese private collection
Literature: Cf. Xia Gengqi (ed.), Yuan Ming qiqi - Gugong bowuyuan cang wenwu zhen pin quanji (Lacquer wares of the Yuan and Ming Dynasties - The complete Collection of the Palace Museum), Hong Kong, The Commercial Press HK, 2006, Cat. no. 1, octagonal plate, carved red lacquer with depiction of viewing the waterfall, signed by Yang Mao, Yuan dynasty, D: 17,8 cm und cat. no. 24, octagonal box, carved red lacquer with depiction of scholars playing zither, Yongle period (1403-1424), D: 25,2 cm, the red lacquer layer is not so deep and the style of carving more smooth, both lacquer objects are carved on the outside with flowers of the season in framed panels similar to the displayed box.
- Hu Shih-chang, 2000 years of Chinese lacquer (Zhongguo qiqi liang qian nian), Hong Kong, Oriental Cermic Society of HK and Art Gallery , Chinese University of HK, 1993, Cat. Nos. 36 + 38, a 6-lobed and an oval lobed dish with the same subject and a similar treatment of the motive, both dated to the Yuan period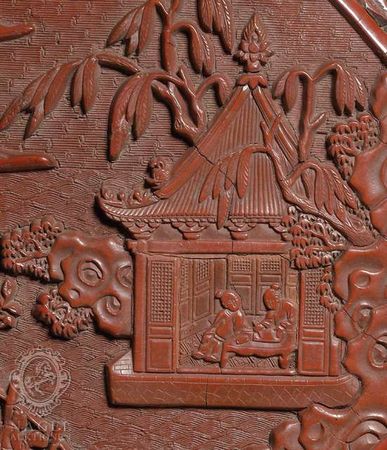 Nagel Aunctions. Asian Arts. 10-11 November 2008. www.auction.de