A mother-of-pearl, copper, stained horn inlaid brass and turtleshell contre-partie boulle marquetry bureau Mazarin, Louis XIV, late 17th/early 18th Century
The rectangular gilt-bronze banded top centred by a figure beneath a lambrequin amongst grotesques, sphinx and birds and monkeys in the manner of Bérain, the central kneehole with three-concave fronted drawers flanked on either side by three bow-fronted drawers, the sides similarly inlaid to top with a seated female musician, on eight 'S'-scroll legs joined by a shaped stretcher, on later gilt-bronze toupie feet; restorations. 86cm. high, 148cm. wide, 77cm. deep; 2ft. 9¾in., 4ft. 10¼in., 2ft. 6¼in. Estimate 50,000—80,000 GBP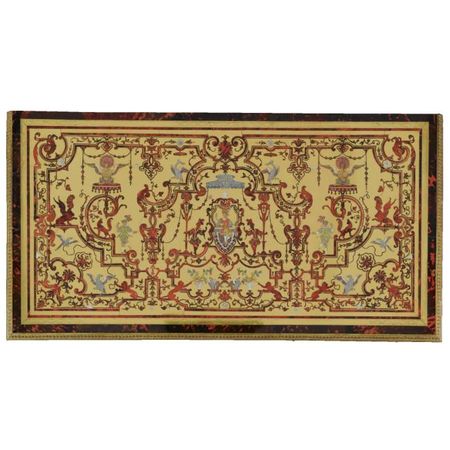 NOTE: As well as the obvious Bérainesque motifs that feature prominently on this desk and link it to others of the same high quality, it also closely relates to a group of boulle furniture by Nicholas Sageot (received master in 1706). See an example attributed to him offered at Christies London, 4th July 1996, lot 239. There is another desk signed by Sageot in the Swedish Royal Collection in Stockholm. All of these feature the same 'S' scroll legs, joined by X-frame stretchers centred by a pierced oval reserve and have fluting to either side of the frieze drawer.
In the Victoria and Albert Museum there is a desk attributed to Bernard I Vanrisamburgh (d.1738) which makes an interesting comparison, (see fig.1.), this, like the offered lot features coloured horn (produced by gluing coloured paper to the reverse of transparent horn) which allowed the cabinet maker to introduce other colours to the more usual red and gold palette seen on most boulle furniture.
There was a fine example formerly in the collection of Queen Victoria which then passed to Princess Alice Mary, Countess of Athlone and was subsequently gifted to Duke Carl Eduard von Coburg that was offered in these rooms, 12th December 2001, lot 33. It too features the same 'S' scroll legs and Bérainsesque motifs to the top. For another similar bureau in an important collection see the example in the National Museum of Munich illustrated Seymour De Ricci (transl. Dr. W. E. Walz), Louis XVI and Régence, Wurttemburg, 1929, pl. 129, (see fig.2.).
The influence of Jean Bérain (1637-1711) is evidenced through the whimsical and fluid designs inlaid over most of the offered lot. Bérains work is legendary and he was one of the pivotal figures in the creation of the Louis XIV style. There is a lightness of touch and attention to minute detail in his work which may come from the very start of his career when he produced designs for the metal components on small arms and locks - it demonstrates an understanding of not only the limitations of the engraver but how much these specialist metal workers are capable of achieving through the excellence of design. His printed designs have a theatricality which is perhaps derived from 1674 when he was Architecte Dessinateur de la Chambre et du Cabinet du Roi in this role he produced designs for festivals, ballets and other festive diversions. Bérain's work was widely disseminated and on the year of his death in 1711, a collection of his engraved designs was published in Paris, Oeuvre de Jean Bérain, Recueillies par les Soins du Sieur Thuret (see fig.3.). Apart from set design and engraved metal work, his influence can be seen in architecture, works of art, ceramics and tapestries from the Beauvais manufactory.
Sotheby's. Important Continental Furniture, Ceramics and Clocks. 02 Dec 08. London - www.sotheby's.com