Edward Burne-Jones, The Last Sleep of Arthur in Avalon, started in 1881. The massive painting measures 279 cm x 650 cm. (Detail)
THE HAGUE.- Flaming June, the glorious canvas painted by Frederic Leighton (1830-1896) in around 1895, and five fabulous pictures by Edward Burne-Jones (1833-1898) are the highlights of an extraordinary exhibition at the Gemeentemuseum Den Haag from 4 July to 20 September 2009. These masterpieces of Victorian art come from the collection of the Museo de Arte de Ponce in Puerto Rico and have never previously been exhibited in the Netherlands.

The work of the Pre-Raphaelites was England's most important contribution to nineteenth-century painting. Artists like Dante Gabriel Rossetti (1828-1882), John Everett Millais (1829-1896) and William Hunt (1827-1910) had a heavy influence on later developments, such as Symbolism and the Aesthetic Movement surrounding Oscar Wilde. During the Victorian period, their courtly notions of mythical female beauty attracted a wide following and great attention was paid to the depiction of textiles, marble and flowers.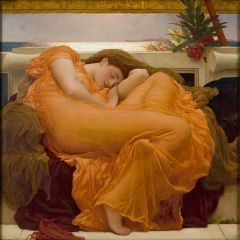 Frederic, Lord Leighton painted his masterly Flaming June in around 1895. It shows an innocent-looking young woman curled up asleep in a diaphanous orange gown which cautiously reveals the curvaceous female body beneath. The bench on which she reclines is covered with cushions and red draperies, while in the background the sun glitters on the sea. The voluptuous lines and glowing colours make this painting a demonstration of Leighton's love of Classical beauty and harmony. (Illustration: Frederic Leighton, Flaming June, ca. 1895, oil on canvas, collection Museo de Arte de Ponce.)

Edward Burne-Jones's massive Last Sleep of Arthur in Avalon is another memorable canvas. Over six metres wide, the painting is regarded as his final masterpiece and he worked on it, constantly refining its composition, from 1881 right through to the day before his death in 1898. Because of its huge size, the painting can only be transported rolled up and this is the first time it has left the museum in Puerto Rico since its acquisition in the 1960s. This is therefore a unique opportunity to see it on its first ever return visit to Europe.

In his choice of subjects, Burne-Jones showed a clear preference for the fabulous world of legend and fairy tale – a world which allowed him to paint images of an ideal universe. The Briar Rose series from the Museo de Arte de Ponce, for example, consists of three fantastical works showing human beings asleep amid a sea of roses. The paintings are a clear demonstration of the influence of Classicism on Burne-Jones; his people are almost unnaturally beautiful, his draperies invariably elegant and his compositions perfectly balanced.

The exhibition also includes paintings by an array of other artists, including Millais, Rossetti, Seddon and Hunt. This intimate, high-quality exhibition, comprising ten oil paintings, six drawings and a gouache, is being held in cooperation with the Museo del Prado in Madrid and the Memphis Brooks Museum of Art in the United States.
Workers from the Gemeente Museum Den Haag, Netherlands during the installation of The Last Sleep of Arthur in Avalon by Edward Burne-Jones. Photo: EFE/Valerie Kuypers