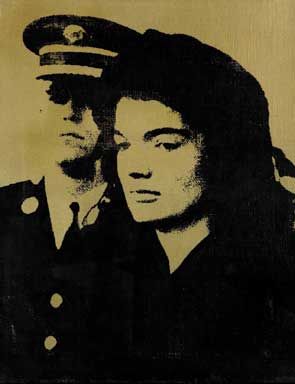 Andy Warhol (1928-1987), Jackie, signed and dated 1964. Estimate: £800,000-1,200,000. Photo: Sotheby's
LONDON.- Following Sotheby's outstanding sale of Contemporary Art in New York last November, which soared above high estimate and witnessed all but two lots find buyers, Sotheby's London Evening Sale of Contemporary Art on Wednesday, February 10, 2010, is set to provide Contemporary Art collectors with the opportunity to acquire important and rare works by some of the foremost Post-War and Contemporary artists. The Contemporary Art Evening Sale, which includes ZERO: Property from the Sammlung Lenz Schönberg, will also be spearheaded by major works by artists such as Peter Doig, Lucian Freud, Gerhard Richter, Chris Ofili, Lucio Fontana and Piero Manzoni. Including ZERO: Property from the Sammlung Lenz Schönberg, the Contemporary Art Evening Sale is estimated to realise in excess of £32 million.

Commenting on the auction overall, Cheyenne Westphal, Sotheby's Chairman, Contemporary Art Europe, said: "We have continued to apply the proven formula of including rare, stand-out works with attractive estimates that we believe will appeal to the market and we are delighted with the offering of Post-War and Contemporary artworks that we have assembled for the February Evening Auction. Evident from the major single owner collection of ZERO Art, and the rediscovered and highly-desirable works by blue-chip names that we have been able to bring to the market following the New York Sale of Contemporary Art in November, the sale is affirmation of consignors' confidence in the market."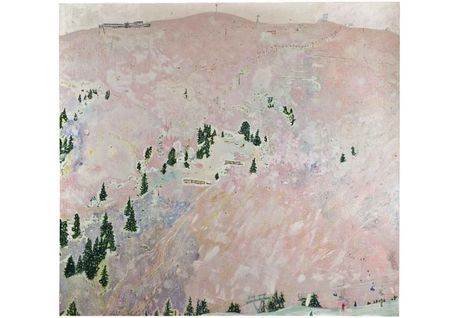 Peter Doig (b. 1959), Saint Anton (Flat Light), executed between 1995 and 1996. Estimate: £2,000,000-3,000,000. Photo: Sotheby's
In addition to the group of five works by Lucian Freud from a private European collection, one of the most important highlights in the sale is Peter Doig's (b. 1959) oil on canvas Saint Anton (Flat Light), executed between 1995 and 1996. First exhibited in 1996 at the artist's second solo show at the Victoria Miro Gallery in London - the first time a cohesive group of Doig's 'snow scenes' were exhibited together - Saint Anton (Flat Light) was the centrepiece. Measuring 275 by 275cm, the work is monumental in scale and is one of the artist's largest and most iconic paintings of the mountain landscape, alongside Ski Jacket (which was acquired by the Tate at the time of Doig's nomination for the Turner Prize in 1994 and is today considered one of his masterpieces). Saint Anton (Flat Light), which was based on a photograph that the artist took himself, combines elements from each of his earlier snow scenes into a single, masterful image: the frontal screen of falling snow, the pink, almost iridescent high-altitude light, the elevated horizon line and starkly flattened perspective and most significantly the thickly applied oil and richly variegated painted surface. As a result of the high horizon line and flattened perspective, the sense of distance is collapsed and the mountain vista which stretches out before the artist is compressed and condensed into the flat plane of the canvas. Poignantly, this is the 'flatness' which Doig's parenthesised title refers to, the 'flat light' of a cloud enshrouded mountain that every skier is familiar with, when our usual sense of perspective is rendered useless by fog. Through clever painterly devices, Doig makes the onlooker physically aware of the experience of being in the mountains. Doig is a painter who is highly articulate in the history of painting and Claude Monet, Edvard Munch, Gustav Kilmt, Pieter Breugel the Elder and German Romatic painter Caspar David Freidrich are just some of a canon of artists from all ages who Doig studies and emulates throughout his work. This remarkable painting is estimated at £2-3 million.
Piero Manzoni (1933-1963), Achrome, executed in 1958. Estimate £1,500,000-2,000,000. Photo: Sotheby's
Achrome by Piero Manzoni (1933-1963) was executed in 1958, the year in which the artist first employed his revolutionary medium of kaolin which gave rise to new possibilities for his artistic creativity. The work, which is estimated at £1.5-2 million, is an exceptionally early and major example of this celebrated body of work to appear at auction, which Manzoni began two years before in 1956. Manzoni sought to invest new significance in surface and material as the true subjects of his work and produced Achrome. For the artist, the Achrome rejected history and became a mute surface, devoid of narrative, description, symbolism and allegory and stood alone as an entirely elemental entity, signifying nothing but its own existence, and the role of kaolin was crucial to the realisation of this. In the present work the canvas is organised into a systematic play of texture and surface by geometric compartments of pleats, formed by the self-generating action of the kaolin. First used by Manzoni in 1958, this material is not an impasto that requires brushing or physical manipulation, but rather takes shape during the drying process. Manzoni first glued the canvas into folds and creases before applying the chalky kaolin solution over the top. During a tragically brief life that was cut short when he was only thirty, well ahead of his time, Manzoni's innovations anticipated both Conceptualism and Arte Povera, and his artistic legacy, emblematised by iconic works such as the present Achrome, became hugely influential to an array of international art trends throughout the second half of the 20th Century.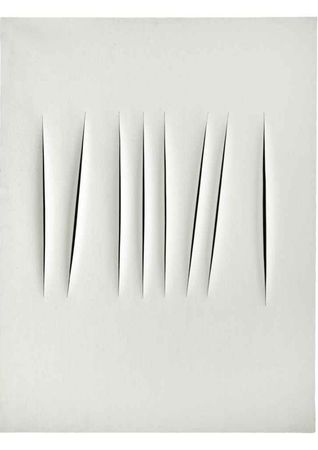 Lucio Fontana (1899–1968), Concetto Spaziale, Attese from 1968. Executed in 1968. Estimate £1,800,000-2,500,000. Photo: Sotheby's
An additional highlight is the waterpaint on canvas Concetto Spaziale, Attese from 1968 by Lucio Fontana (1899–1968), which is among the most impressive works by this renowned artist ever to appear at auction. Concetto Spaziale, Attese – impressive in its scale, presence and sharp contrast of its silken white surface with the blackness of the eight vertical black slashes – has not appeared on the market since it was acquired by the present owner in circa 1985 and is estimated at £1.8-2.5 million. Compositionally dynamic and mesmerising in its beauty, the work embodies the artist's revolutionary Spatialist theory while creating a unique dialogue between colour and form. Created two years after the artist was awarded the International Grand Prize for Painting at the XXXIII Venice Biennale, this major work encapsulates the artist's wide-ranging ambitions as a pioneer of what art could achieve. The alluring white arena of Concetto Spaziale, Attese provides the perfect setting for Fontana's conception of pure space. The eight vigorous and slender slashes simultaneously demonstrate spontaneity and control, choreographed under the deft aegis of Fontana's blade into a rhythmic and transfixing dance across the canvas.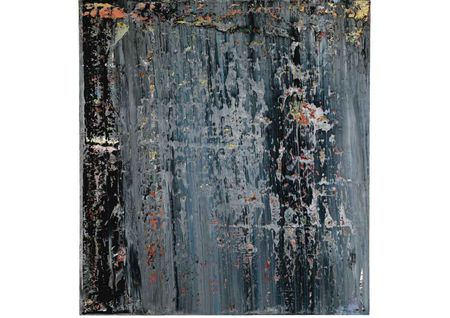 Gerhard Richter (b. 1932), Abstraktes Bild, signed, dated 1988 and numbered 680-2 on the reverse. Estimate £2,000,000-3,000,000. Photo: Sotheby's
Sotheby's has established some of the highest auction prices for works by German artist Gerhard Richter (b. 1932) - and currently holds auction records for both the artist and for an abstract work by the Richter – and will offer for sale his vast and intensely beautiful chromatic oil on canvas Abstraktes Bild. The painting, which has come from a private Belgian collection, was executed in 1988 and acquired by the present owner just two years later. Abstraktes Bild, which measures 200 by 180cm, stands as one of the most elegant and fully resolved exemplars of Gerhard Richter's epic corpus of Abstract Paintings and embodies the fully-formed mature aesthetic of the artist's abstract vision. Seeping layers of brilliantly charged hues are dramatically scattered across the canvas, alternatively uniting and dissolving to defy conventional colour patterns. Painted in numerous streaking strata of glossy grey, red, yellow, blue and green oil paint, this work is the result of Richter's phenomenal technical aptitude which has led to his reputation as one of the outstanding painters of our era. The painting is testament to his ceaseless technical explorations in the field of abstraction and to his unique painterly and intellectual sophistication. Richter had seriously pursued abstract painting throughout the 1980s – a period of the artist's output which has become increasing more desirable in recent years - and this work stems from well over a decade of his investigation into various methodical and aesthetic possibilities. It is estimated at £2-3million.
In the wake of the $43.7 million price for Andy Warhol's (1928-1987) 200 One Dollar Bills at Sotheby's New York in November last year, Sotheby's London is proud to present for sale Warhol's iconic acrylic and silkscreen ink on canvas Jackie, signed and dated 1964. Seldom at auction and one of just a handful of single canvases of Jackie Kennedy in gold, this work is an important example of Pop Art from the very heart of Andy Warhol's most celebrated period. While other gold examples of this particular silkscreen now reside in The Andy Warhol Museum in Pittsburgh and are on loan to the Baltimore Museum of Art, the present work is exceptional in the inversion of the subject with Jackie facing right to left, marking the present work as a highly singular, revealing and important insight into Warhol's method. From the moment her husband was voted President of the United States in November 1960, Jackie Kennedy had been an inspirational heroine to millions in the optimistic climate of a newly rejuvenated post-war America. Physically epitomising youth, beauty and style, she became the ideal of a wife, mother and First Lady. In Jackie she is shown attending her husband's funeral following the historic tragedy that has become synonymous with the letters J.F.K. when an open-top limousine journey and a sniper's bullet devastated the emotional landscape of a nation. This traumatising national experience, one of the earliest to be mediated by the press, is arguably also the first to be implanted in the public's consciousness by means of ubiquitous photographic images and Warhol scoured the popular press for portraits of Jackie Kennedy, eventually selecting eight reproductions which he went on to use. In keeping with Warhol's very best work, celebrity, tragedy and the spectre of death inhabit every pore of this magnificent painting. Jackie is a groundbreaking response to one of the defining and most tragic moments of modern American history, and enshrines on canvas a deeply personal image that reveals the private side of a very public event. This rare work of museum quality is estimated at £800,000-1,200,000.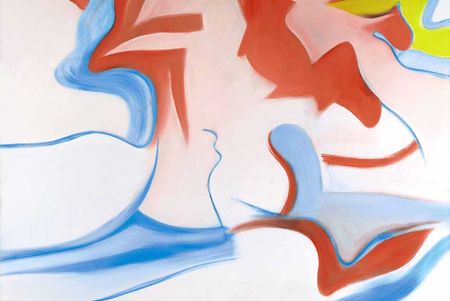 Willem de Kooning (1904-1997), Untitled XIV, 1983. Estimaate: £2-3 million. Photo: Sotheby's
Another major work to be included for sale is Willem de Kooning's (1904-1997) 1983 oil on canvas Untitled XIV, which was acquired directly from the artist's estate by the present owner. Never content to settle into a stagnant, signature way of working, in the 1980s - during the twilight of his 60-year career - de Kooning embarked upon a series of monumental Untitled compositions which provided the crowning achievement to his celebrated oeuvre. Having struggled in a battle against severe alcoholism for much of the previous decade, with the help of his ex-wife Elaine, from whom he had separated in 1955, de Kooning gave up drink in the 1980s and began to paint with renewed vigour and purpose. The artist has floated a series of lines and planes that show the influence of Matisse's abstract cut-outs, with their use of unadulterated colours and contour lines. Untitled XIV is estimated at £2-3 million.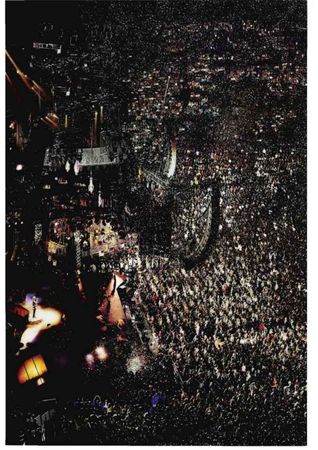 Andreas Gursky (b. 1955), Madonna I, signed, titled, dated 2001, numbered 2/2 AP and dedicated For Madonna on the reverse. Estimate £900,000-1,300,000. Photo: Sotheby's
A further highlight is Madonna I by Andreas Gursky (b. 1955), the cibachrome print in artist's frame, signed and dated 2001, numbered 2/2 AP and dedicated - on the reverse - For Madonna. Gursky's work portrays Madonna in concert at the Staples Center in Los Angeles on September 15, 2001 – a concert that was intended to take place on September 11, but was postponed following the terrorist attacks that took place in the United States on September 11. Evoking global solidarity and unity, the photograph shows Madonna wearing a dress representing the U.S. flag and in the left-hand corner the post-911 New York skyline is depicted on a large television screen. This work is from an edition of 6 plus 2 artist's proofs and is estimated at £900,000-1,300,000.
In addition to the works by Lucian Freud and Peter Doig, further highlights in the auction by School of London artists include Frank Auerbach's (b. 1931) oil on board Large Head of J.Y.M., painted in 1981 (estimate: £600,000-800,000) and following the £1.7 million price achieved for Auerbach's oil on canvas Head of Leon Kossoff in Sotheby's London sale of Modern British Paintings in November lastyear, the Evening Sale will also include a charcoal and chalk on paper Head of Leon Kossoff by the artist (estimate: £60,000-80,000). The sale is also set to offer The Flower Stall, Embankment Station, Spring in oil on board by Leon Kossoff (b. 1926), which was executed by the artist in 1994 (estimate: £140,000-180,000).

Coinciding with the 2010 exhibition of 45 works by Chris Ofili (b. 1968) at Tate Britain (January to May), the auction will also include Ofili's Through the Grapevine, which was executed in 1998, the year in which the artist won the Turner Prize. This acrylic, oil, resin, glitter, paper collage and elephant dung on canvas with two elephant dung supports, is estimated at £250,000- 350,000.