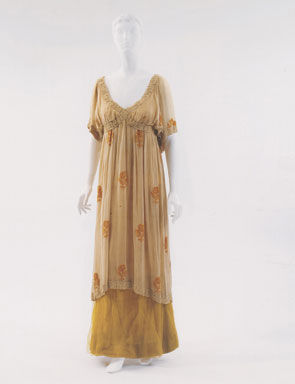 Evening gown worn by Isadora Duncan, ca. 1912. Cream chiffon tunic-style gown with chenille-like design of gold roses on fabric. Label: "Paul Poiret. Paris". Museum of the City of New York, Bequest of Mary Fanton Robert, 62.119.3
Co-presented with the National Jewelry Institute, Notorious and Notable: 20th Century Women of Style highlights 80 prominent New York women who used their style, talent, or wealth to capture the attention of society and the media. The exhibition features a runway of original attire—much of it created by the most important designers of their times—and an impressive selection of jewelry crafted from the dawn of the 20th century to its close.
The exhibition features such celebrated New York women as Mrs. Cornelius Whitney Vanderbilt, Jacqueline Kennedy Onassis, Babe Paley, and Barbara Walters, as well as women from the arts world, including Isadora Duncan, Marian Anderson, Lena Horne, and Lauren Bacall. The exhibition offers an opportunity to encounter many of New York's leading ladies past and present through their fashion and jewelry.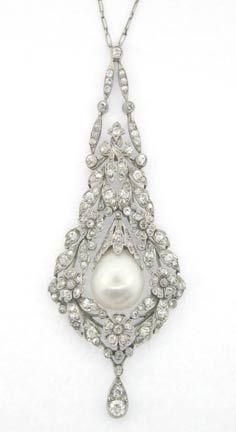 Pendant worn by Edith Bouvier Beale. Maker unknown, 1910. Platinum, diamonds, natural pearl. Courtesy of Vartanian & Sons, Inc.
Diana Vreeland, Cigarette Lighter, Jean Schlumberger, 1940's. Yellow gold, sapphire, ruby. National Jewelry Institute.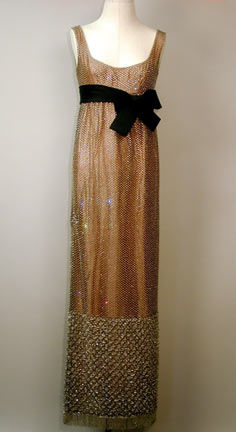 "Tissue of Diamonds" dress made for Lauren Bacall, 1963. Black silk net studded with crystal brilliants, over peach silk charmeuse. Museum of the City of New York, Gift of Lauren Bacall, 86.154.1