Renaissance Europe was not a promising place for female artists to emerge. Women were expected to marry and have children, and those who did work were not welcomed into male-dominated professions. In fact women were unable to even receive formal art training (a cornerstone of which was the study of the nude).

But some did emerge. Privately taught, often by their fathers who were drafting them into the family business, and talented enough to gain commissions on merit alone, some women successfully made a living as artists.

Here are ten women painters who are recognized as being among the leading artists of their time. They date from the late Renaissance period (1500s) and from the Baroque era (1600s). (source www.artcyclopedia.com)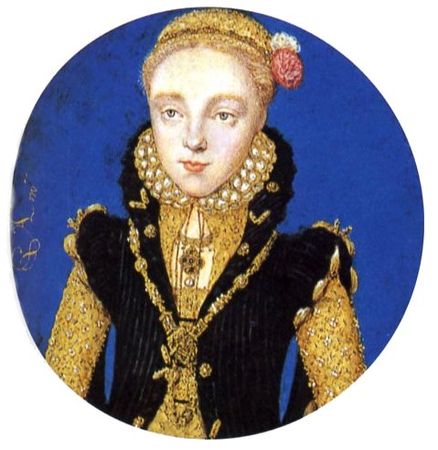 Levina Teerlinc (Flemish painter, ca.1510-157), Queen Elizabeth I of England, ca.1565
Levina Teerlinc. Oldest daughter of the renowned manuscript illuminator Simon Bening. Little is known about her early career or training, but in 1545 she was invited to the court of Henry VIII, who had been the patron of Hans Holbein and Lucas Horenbout (who had both recently passed away), and named royal "paintrix". After Henry's death, she continued in this role under Queen Mary I and Queen Elizabeth I.

She limited her output to portrait miniatures, which are personal mementos which tend to become widely dispersed and are not formally displayed like full-sized paintings are. As a result, she is less well known than her predecessors and it is more difficult to attribute her works authoritatively. In fact, despite the fact that she is known to have painted many members of the court, there is only a handful of works which are attributed to her and none which is definitively known to be by her hand.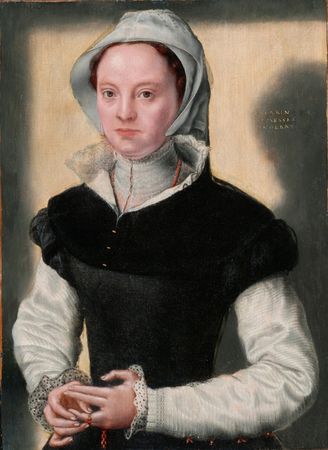 Caterina van Hemessen (Flemish painter, 1527-1587), Lady in 16th-Century Costume, oil on panel. B.M.147. Bowes Museum, Durham, England
Caterina van Hemessen was the daughter of Mannerist painter Jan Sanders van Hemessen. She was trained by her father and even collaborated with him on some of his paintings. She worked in portraiture, painting wealthy men and women, usually against a dark background.

She was a member of the Guild of St. Luke and even became a teacher to three male students. Caterina's main patron was Maria of Austria (Regent of the Low Countries). When Maria resigned her post in 1556 and moved back to Spain, Caterina and her husband were invited to join her. Maria gave them funds, allowing them to live the rest of their lives comfortably.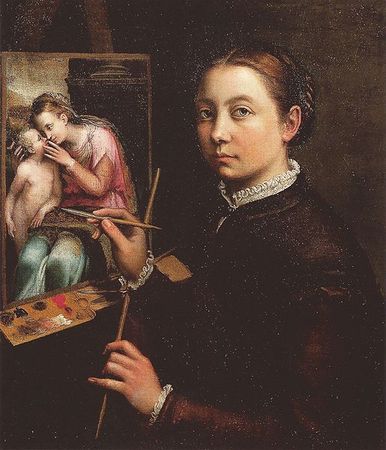 Sofonisba Anguissola (Italian painter, 1532-1625), Self Portrait, ca.1556, oil on canvas, 66x57cm. Lancut Castle Museum, Poland
Sofonisba Anguissola was the oldest of seven children in an aristocratic family. Her father ensured that Sofonisba and her sisters were educated in the fine arts. Sofonisba was an apprentice of Bernardino Gatti.

In 1554 she traveled to Rome and met Michelangelo, who recognized her talent. Michelangelo even sent her some of his own drawings so that she would copy them and send back to him for critique.

Sofonisba was invited to join the Spanish court of Philip II in 1559, and became the painting tutor to Queen Elisabeth of Valois.

Note the delightful painting she is working on (a very informal scene of the Virgin Mary with John the Baptist perhaps?). Presumably this was an actual painting, but I can't find any record of its existence today.
Lavinia Fontana (Italian painter, 1552-1614), Self-Portrait in a Tondo, 1579. Oil on copper, diameter 16 cm. Galleria degli Uffizi, Florence
Lavinia Fontana was the daughter of the School of Bologna painter Prospero Fontana, who trained Lavinia in painting.

Lavinia painted in many different genres. She worked with portraiture as well as with religious and mythological scenes, which included male and female nudes. She is documented to have painted over 100 works, though only 32 are definitely known today.
Fede Galizia (Italian painter, 1578-1630), Maiolica Basket of Fruit, 1610s. Oil on canvas. Private collection
As the daughter of Nunzio Galizia, a portrait painter, Fede Galizia was an accomplished artist by the age of twelve. Taught by her father, Fede had a great eye for detail and her skill at painting clothing and jewellery made her a very popular portrait artist.

She was also commissioned for both religious and secular paintings, and she painted several depictions of Judith and Holofernes. Fede was also interested in still lifes, for which she is perhaps best known. She was a pioneer in the genre for women and her style has influenced the evolution of still life painting.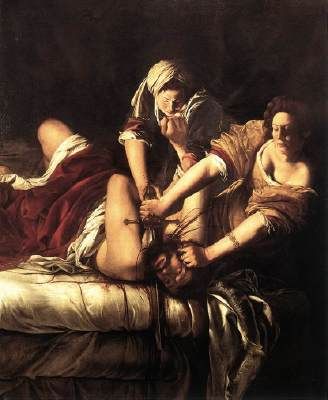 Artemisia Gentileschi (Italian painter, 1593-1652), Judith Beheading Holofernes, ca.1620. Oil on canvas, 199 x 162 cm. Galleria degli Uffizi, Florence
Artemesia Gentileschi, the daughter of Orazio Gentileschi, was one of the most recognized women artists in the Renaissance. She was trained by her father, but was rejected from the academies because of her gender. She then continued her studies under Agostino Tassi. Tassi raped Artemesia and her father subsequently brought charges, leading to a seven-month trial during which she was required to give testimony under torture.

Tassi was convicted and Artemisia was vindicated, and married the artist Pierantonio Stiattesi shortly thereafter. However the trauma of the sexual harrassment and assault she experienced have been said to appear in her works. These include several depictions of the violent stories of Judith and Holofernes (right) and Jael and Sisera, as well as versions of Susanna and the Elders in which Susanna exhibits genuine terror.

After her death, most of Artemesia's works were attributed to her father and other artists until recently. Since the reappearance of her work and story, there have been many feminist studies of her paintings.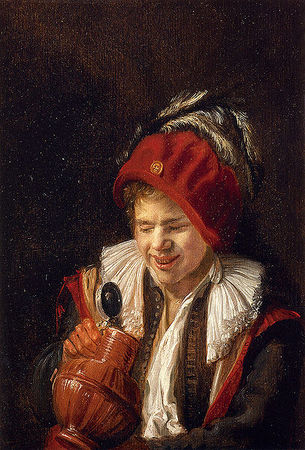 Judith Leyster (Dutch painter, 1609-1660), A Youth with a Jug. Oil on wood. Private collection.
Judith Leyster was born in Haarlem, Holland. Although her artistic education is unknown, her paintings are influenced by the genre paintings by Frans Hals and Dirk Hals. By 1633, she was a member of the Haarlem Guild of St. Luke where, within two years, she had three male apprentices.

Judith married Jan Miense Molenaer, another artist, and had five children. After her death, her work was forgotten until a painting at the Louvre was discovered to have her monogram on it, under a false "Frans Hals" signature in 1893. Since then, many works that have been incorrectly attributed to Hals have been revealed to have been painted by Leyster.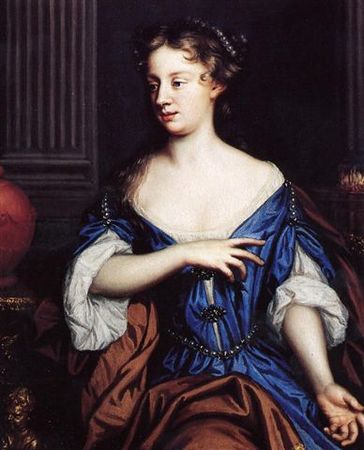 Mary Beale (English painter, 1633-1699), Self portrait. Oil on sacking, 89cm X 73cm. Moyse's Hall Museum, Bury St Edmunds
Mary Beale's father was an amateur painter and member of the Painter-Stainers' Company, a guild of decorative painters and fine artists. Through this group she knew many local artists including Robert Walker and Peter Lely. Mary was influenced by the work of Lely, and studied under Walker. Mary became a very successful portrait painter, though not much else is known about her life.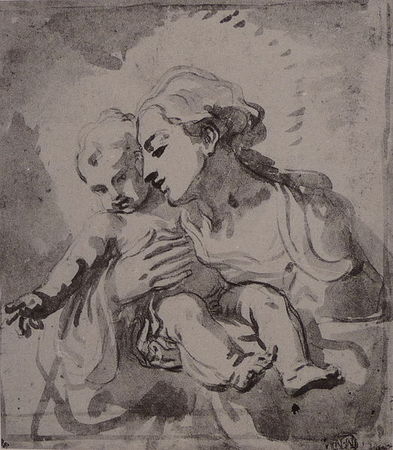 Elisabetta Sirani (Italian painter, 1638-1665), Madonna and Child (drawing)
Elisabetta Sirani was the daughter of Giovanni Andrea Sirani of the School of Bologna. By the time she was 17, she was a successful painter and engraver with over 90 works. And although she died at only 27, she had completed over 170 paintings, 14 engravings and many drawings. She had a very rapid working method, and art lovers from all over visited her studio to see her at work. Sirani's portraits and mythological and religious paintings are her most famous, and she had many wealthy patrons.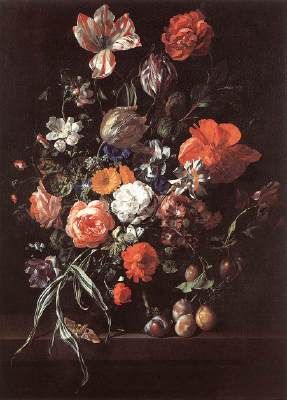 Rachel Ruysch (Dutch painter, 1664-1750), Still-Life with Bouquet of Flowers and Plums. Oil on canvas, 92 x 70 cm. Musées Royaux des Beaux-Arts, Brussels
Rachel Ruysch was the daughter of Frederik Ruysch, a botanist and anatomist. At 15, she was apprenticed to Willen van Aelst, known for his flower paintings. Her highly detailed and well-composed bouquets were very popular, and she became the court painter for Johann Wilhelm, Elector Palatine. Ruysch died at 85 with only about a hundred works to her name.