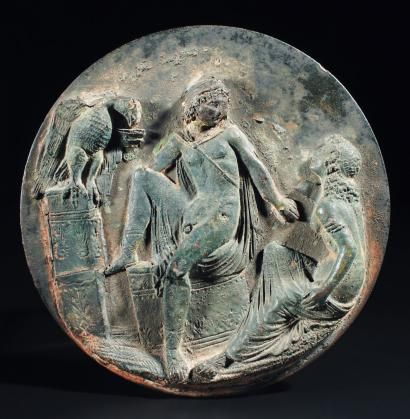 Ganymède, le nouvel échanson des dieux. Bronze. Art Grec, IVe siècle av. J.-C. Photo Pierre Bergé & associés
Miroir orné au repoussé d'une très rare scène représentant Ganymède supplantant Hébé dans son rôle d'échanson divin. Diam_15,6 cm - Estimation : 60 000 - 80 000 €
La jeune déesse, le torse nu, les jambes couvertes d'un drapé et parée d'un bracelet, est étendue à terre ; elle se redresse et tendait le bras droit vers le jeune héros. Celui-ci, assis sur un siège cubique orné de palmettes, est nu, juste vêtu de la chlamyde et coiffé du bonnet phrygien. Il tend le bras gauche vers Hébé, et présente de la main droite la coupe de nectar à Zeus sous la forme de l'aigle, juché sur un autel. Le revers est gravé de cercles concentriques.
Outstanding greek bronze mirror with Ganymede and Hebe. 4th century B.C. 6,1 in. diameter.
Provenance: Ancienne collection Roger Peyrefitte.
Reproduit dans : Roger Peyrefitte, Un musée de l'amour, 1972, p. 152 ; décrit p. 80.
Note: La scène dépeinte, Ganymède et Hébé, est rarissime dans les oeuvres gréco-romaines. À notre connaissance, en dehors de la céramique, seul un sarcophage reproduit cet épisode (Cf. Ch. Anthon, Aenid of Virgil, New York, 1891, p. 292). Dans la mythologie grecque, Hébé, fille de Zeus et d'Héra, tient le rôle d'échanson divin. Elle servait le nectar et l'ambroisie aux dieux pour qu'ils restent éternellement jeunes. Au cours d'un banquet, elle fit un faux pas et tomba à terre. Zeus en profita pour la répudier et plaça son jeune protégé Ganymède à cette haute fonction. Ganymède a supplanté la jeune déesse pour "présenter la coupe à Jupiter", comme le dit malicieusement Lucien de Samosate. Roger Peyrefitte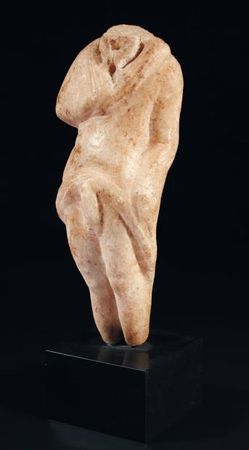 Statuette acéphale, provenant d'un groupe, représentant Priape. Marbre. Art Romain, IIe-IIIe siècle. Photo Pierre Bergé & associés.
Il est debout, le torse enveloppé d'un drapé dégageant son sexe. H_19 cm
Roman marble acephalous statuette of standing Priapus. 2nd - 3rd century A.D. 7,5 in. high.
Provenance: Ancienne collection Roger Peyrefitte (1907-2000). Hôtel Drouot, 22 décembre 2006, n° 4.
Pierre Bergé & associés. Jeudi 26 mai à 14h00. Drouot Montaigne - Paris. EMail : contact@pba-auctions.com - Tél. : Paris +33 (0)1 49 49 90 00 - Bruxelles + 32 (0)2 504 80 30