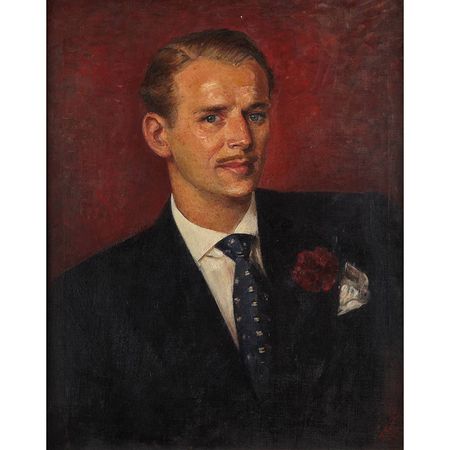 Tino Costa (Russian/American, 1891-1947), Portrait of Douglas Fairbanks, Jr. Signed T. Costa dated 1940 (lr); and inscribed Douglas Fairbanks Jr. age 30 1940 March 18on the reverse. Oil on canvas, 26 x 21 inches. C Estate of Douglas Fairbanks, Jr. Estimate $2,500 - $3,500
Doyle New York is honored to auction property from the Estate of Douglas Fairbanks, Jr. on Tuesday, September 13, 2011 at 10am. The sale comprises over 430 lots of memorabilia, bespoke clothing, accessories, photographs, books, silver, furniture, artwork and decorations from Mr. Fairbanks' Park Avenue home.

Born into Hollywood royalty – his father was the swashbuckling actor Douglas Fairbanks, Sr. and his stepmother was "America's Sweetheart" Mary Pickford – Douglas, Jr. entered the film world at the young age of 13 and starred in such films as Morning Glory, Prisoner of Zenda and Gunga Din.

After the onset of World War II, Fairbanks was appointed by President Roosevelt as special envoy to South America, in which capacity he gathered intelligence about Germany's activity there. Later, as part of an officer exchange program directed by Lord Louis Mountbatten, he trained with the Royal Navy, with a stint at the Commando Training School at Ancharry Castle, Scotland. Mountbatten had been friendly with Douglas Jr.'s father, and had requested his assignment to the program. The two men remained life-long friends—a friendship that would ultimately extend to the entire Royal family.

In 1943 Fairbanks returned home. Using the knowledge he had gained with the Royal Navy, under the command of U.S. Admiral Kent Hewitt he was instrumental in establishing the Beach Jumper program, which specialized in the art of naval deception and disinformation. Following the War, he was the first director of C.A.R.E., which assisted in providing much needed food and supplies to a war-torn Europe.

Fairbanks spent his later years acting in stage, film and television productions, traveling often to his beloved England and his "Vicarage" in Palm Beach, and enjoying the company of the myriad close friends he made during his long and well-lived life.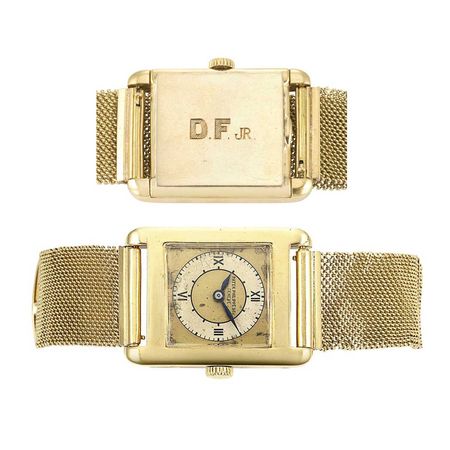 Patek Philippe Gentleman's Gold Wristwatch. 18 kt. gold, mechanical, dial approximately 25 x 25 mm., movement, case and dial signed Patek Philippe and engraved D.F. Jr.; Together with a Black and White Photograph of Marlene Dietrich with Douglas Fairbanks, Jr. wearing the watch. C Estate of Douglas Fairbanks, Jr. Estimate $5,000 - $7,000.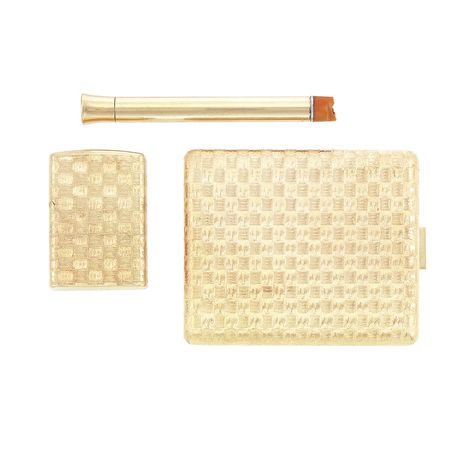 Cigarette Case and Cigarette Lighter, Tiffany & Co. and Gold and Metal Cigarette Holder, Cartier. 14 kt. gold, case and lighter signed Tiffany & Co. cigarette lighter signed Cartier, tip chipped, approximately 118 dwt. 3 3/4 x 3 1/8 inches, 2 3/16 x 1 1/2 inches. Length of holder 4 inches. C Estate of Douglas Fairbanks, Jr. stimate $3,000 - $4,000.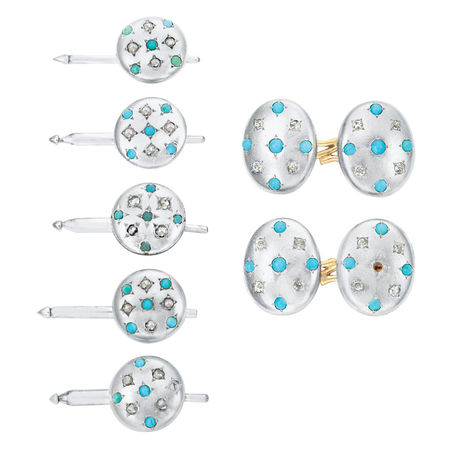 Gentleman's Platinum, Gold, Cabochon Turquoise and Diamond Dress Set. Pair of cufflinks, five shirt studs, thirty-six diamonds approximately .90 ct., approximately 34 dwt. C Estate of Douglas Fairbanks, Jr. stimate $1,000 - $1,500.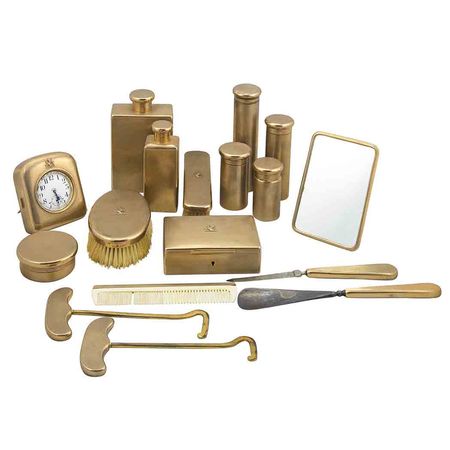 Douglas Fairbanks, Sr.'s 9 Kt. Gold Finnegan's Ltd. Bond Street Dresser Set. Approximately twenty-five pieces. C Estate of Douglas Fairbanks, Jr. Estimate $2,000 - $3,000.
Pair of Gentleman's Gold and Reverse Painted Crystal Cufflinks. 14 kt. gold, with initials DF JR., approximately 6.8 dwt. Diameter 1/2 inch. C Estate of Douglas Fairbanks, Jr. Estimate $400 - $600.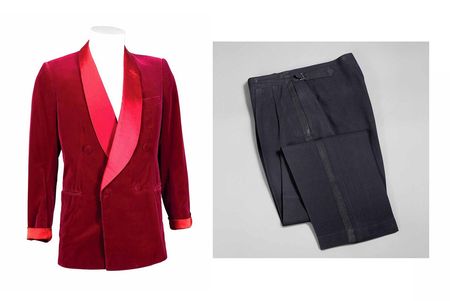 Dinner Jacket and Pair of Tuxedo Pants. Comprising a red velvet dinner jacket with satin shawl collar and cuffs, labeled Stovel & Mason Ltd. 32 Old Burlington Street, London W. 1., handwritten Sir Douglas Fairbanks; and pair of black wool woven trousers with a faint self stripe and black flat braid stripe, labeled Stovel & Mason Ltd. 32 Old Burlington Street, London W. 1., handwritten Sir Douglas Fairbanks May 1950. C Estate of Douglas Fairbanks, Jr. stimate $300 - $500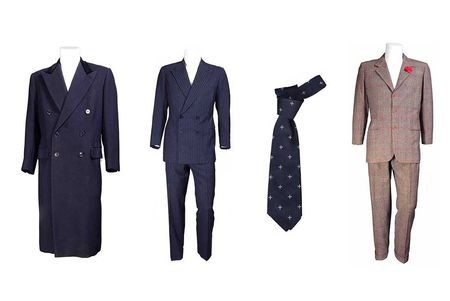 Collection of Suits and a Jacket. Comprising a navy pinstriped wool double-breasted suit, labeled Stovel & Mason Ltd. 32 Old Burlington Street, London W. 1., handwritten Sir Douglas Fairbanks December 1946 with a black silk woven with white oxford motif tie, labeled Crimplene; black herringbone wool Chesterfield coat, labeled Stovel & Mason Ltd. 32 Old Burlington Street, London W. 1., handwritten Sir Douglas Fairbanks January 1958; and a two-piece suit in black, white and burgundy Glen plaid, labeled P. Caraceni Roma, and handwritten Sir Douglas F 1953. C Estate of Douglas Fairbanks, Jr. Estimate $400 - $600
Morning Suit and Nightshirt. The morning suit comprising a black wool twill tailcoat, labeled Stovel & Mason Ltd. 32 Old Burlington Street, London W. 1., handwritten Sir Douglas Fairbanks March 1953; pair of black and gray striped trousers; pearl gray wool double-breasted waistcoat; white edged black braces; and the blue cotton chambray nightshirt with white band collar, placket and cuffs, labeled Bergdorf Goodman. C Estate of Douglas Fairbanks, Jr. Estimate $300 - $500
Navy Single-Breasted Blazer. Labeled Stovel & Mason Ltd. 32 Old Burlington Street, London W. 1., handwritten Sir Douglas Fairbanks June 1984; Together with a Blue and White Nautical Striped Jersey and Pair of Yellow Trousers. The trousers labeled Yeston's Mens Trousers Unlimited Worth Avenue Palm Beach, Florida. C Estate of Douglas Fairbanks, Jr. Estimate $200 - $300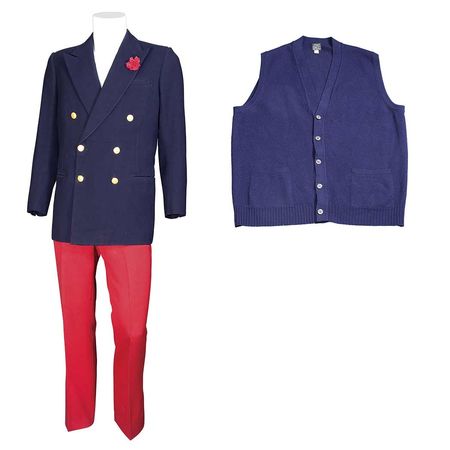 Navy Blazer, Sweater Vest and Pair of Red Trousers. The blazer labeled Stovel & Mason Ltd. 32, Old Burlington St., London, W.1.; the navy cashmere knit vest labeled Lord's Burlington Arcade London W.1.; and the red trousers labeled Completely hand washable. C Estate of Douglas Fairbanks, Jr. Estimate $200 - $300
Portrait of Douglas Fairbanks, Jr. on Porcelain. Containing a lock of hair; Together with a Portrait of Douglas Fairbanks, Sr. Containing a lock of hair, inscribed on back with nicknames Pete from Pete. C Estate of Douglas Fairbanks, Jr. Estimate $200 - $300