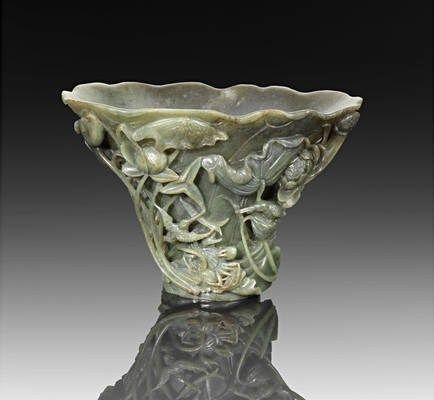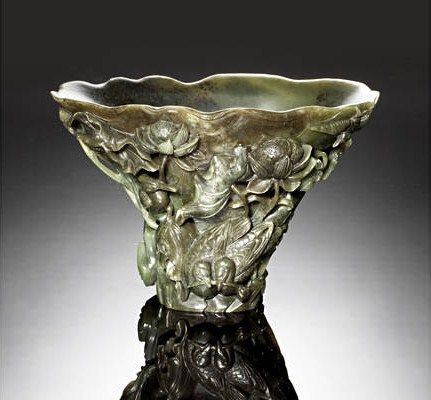 A rare spinach-green jade libation cup, 18th century. Photo Bonhams
The deep green stone naturalistically worked in imitation of a rhinoceros horn cup, carved as a deeply-hollowed lotus leaf decorated in high relief over the exterior with large blooming lotus flowers on tall slender stems intertwined with hummingbirds, a pair of mandarin ducks clutching a lotus seed pod, and a crab grasping at a fish. 17.8cm (7in) long. Estimate: £100,000 - 150,000, CNY 990,000 - 1,500,000, HK$ 1,200,000 - 1,800,000
Note: The interest of Chinese craftsmen in reproducing forms familiar from one medium to imitate another is well-known. However the crossover of form between rhinoceros horn and jade is very remarkable, in particular because of the very different demands of the crafts of horn carving and jade carving. Whilst horn has a very distinctive natural shape and size and is generally easy to carve with a chisel, jade comes in a wide variety of shapes and sizes and is notoriously difficult to craft, usually by abrasion and drilling. Furthermore, jade was a highly valuable stone, and a carving of the size of the present piece represents a considerable investment, particularly since much would be wasted in hollowing out the stone to imitate the natural shape of rhinoceros horn.

It seems likely that a jade libation cup such as the present lot would have been based on a real rhinoceros horn original. The lotus is one of the most popular decorative themes in the horn carver's repertory, and the design of intertwined stems wrapped around the libation cup is an excellent means of displaying the supremacy of the carver's skill. For this to be reproduced in jade with three-dimensional carving of such complexity is a remarkable feat.

For a discussion of the imitation of rhinoceros horn carving in jade, see J.Chapman, The Art of Rhinoceros Horn Carving in China, London, 1999, pp.256-258.
Bonhams. Fine Chinese Art, 10 Nov 2011, New Bond Street www.bonhams.com