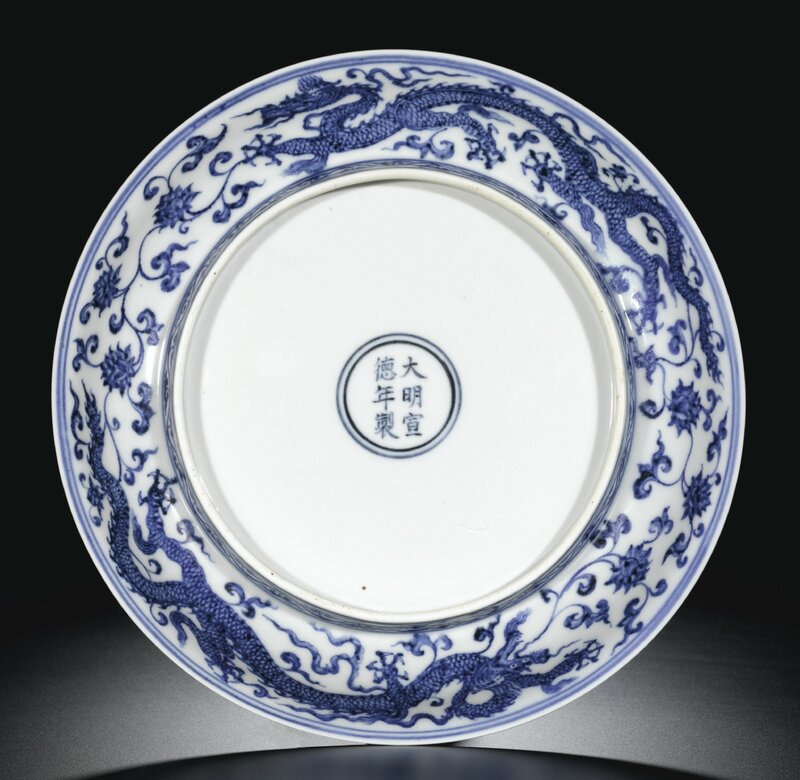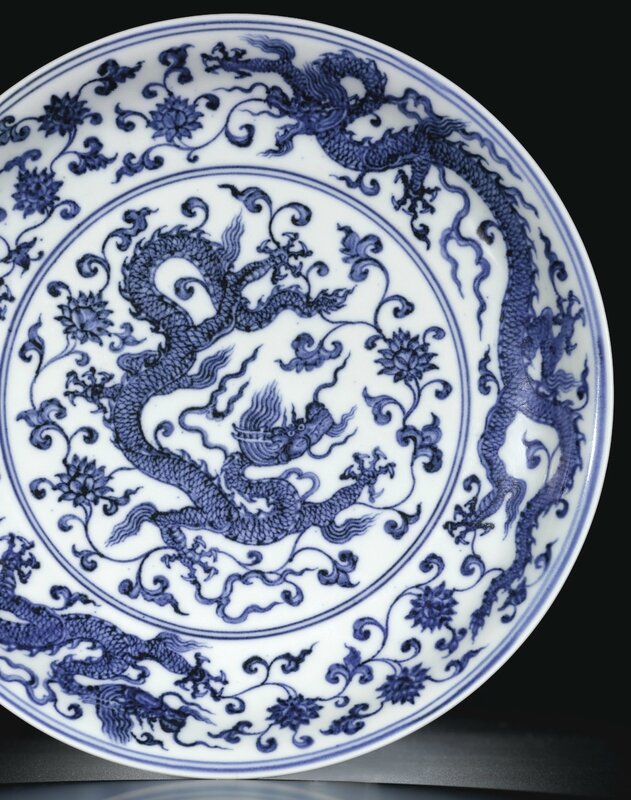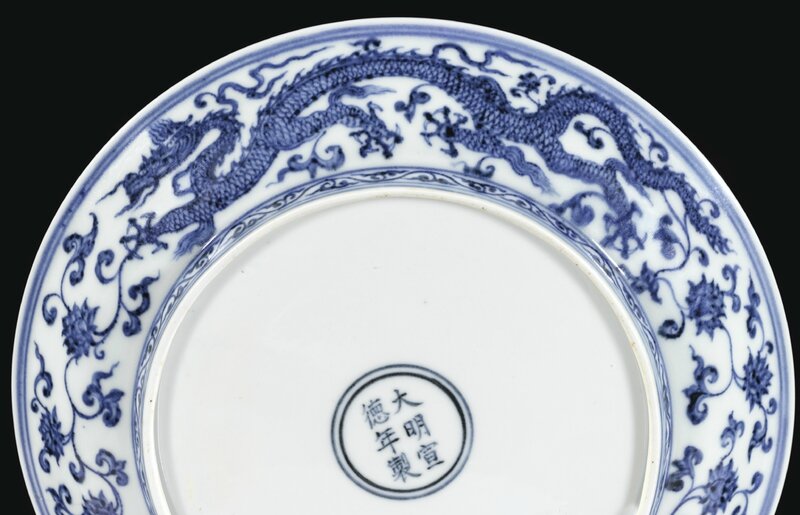 Lot 3156. A magnificent blue and white 'dragon' dish. Mark and period of Xuande (1426-1435); 25 cm., 9 7/8 in. Estimate 10,000,000-15,000,000 HKD (978,579 — 1,467,868 EUR). Lot sold 18,580,000 HKD (1,818,200 EUR). photo Sotheby's
well potted with shallow rounded sides rising from a slightly tapered foot to an everted rim, strikingly painted in deft strokes of cobalt blue with a single five-clawed dragon snaking his way around the central medallion surrounded by lotus flowers on a continuous meander, his sinuous scaly body with muscular legs and powerfully sharp claws finely articulated, encircled on the cavetto with a pair of striding five-clawed dragons chasing each other on a bed of lotus flowers, the exterior similarly decorated with a further pair of dragons, all above a band of 'classic' scroll skirting the foot, the cobalt with characteristic 'heaping and piling,' the base inscribed with a six-character reign mark within double circles.
PROVENANCE: Acquired in the Far East circa 1890-1905 (by repute).
Thereafter passed down in an Irish family.
Dragons Floating Through Swaying Lotus.
Regina Krahl
This dish appears to be the largest dragon-decorated dish of Xuande mark and period recorded, it appears to be unique, and only one other dish of this design and size, but without reign mark, and one other dish of this design and reign mark, but smaller, appear to be preserved.
The well-structured, yet vibrant painting manner employed on this dish, which is characteristic of Xuande imperial porcelains, seems to reflect the ideal of the well-balanced personality of a good emperor, who ought to be prudent and yet alert. It was never more successfully employed at the imperial kilns of Jingdezhen than in the Xuande reign (1426-35). The asymmetric decoration is admirably laid out, with the animals and surrounding lotus motifs so perfectly arranged on the available space that the areas of blue and of white are very evenly distributed throughout and a harmonious balance is achieved that makes the pattern seem almost symmetric.
The five-clawed dragon as a symbol of imperial power became important in porcelain decoration only in the Xuande period, although it is occasionally seen already earlier, and is found particularly in carved cinnabar lacquer already in the Yongle period (1403-24). One dish exists in the Shanghai Museum of the present design but without reign mark, which could predate the present piece. The dish, which is of the same size as our piece has, however, equally been attributed to the Xuande reign in Lu Minghua, Shanghai Bowuguan zangpin yanjiu daxi Studies of the Shanghai Museum Collections : A Series of Monographs. Mingdai guanyao ciqi [Ming imperial porcelain], Shanghai, 2007, pl. 3-38 (figs. 1 and 2).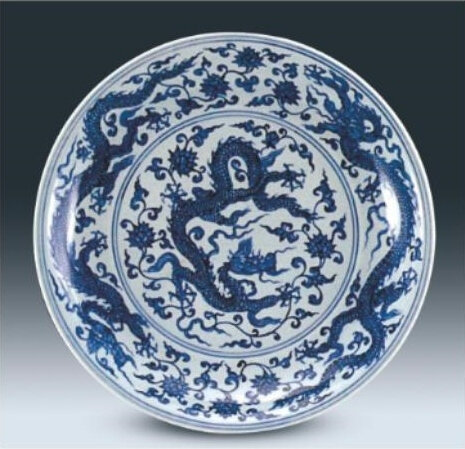 fig.1. Blue and White 'Dragon' Dish (Two Views), Early Ming Dynasty, Shanghai Museum
fig. 2. Blue and White 'Dragon' Dish (Two Views), Early Ming Dynasty, Shanghai Museum
Only one other dish of this design and of Xuande mark and period appears to be preserved, but of smaller size (19.4 cm), in the National Palace Museum, Taiwan, published in the exhibition catalogue Mingdai Xuande guanyao jinghua tezhan tulu / Catalogue of the Special Exhibition of Selected Hsüan-te Imperial Porcelains of the Ming Dynasty, National Palace Museum, Taipei, 1998, cat. no. 189 (fig. 3) and no further example is recorded in the relevant section of the Museum's complete porcelain catalogue either (Gugong ciqi lu [Record of porcelains from the Old Palace], Taipei, 1961-6).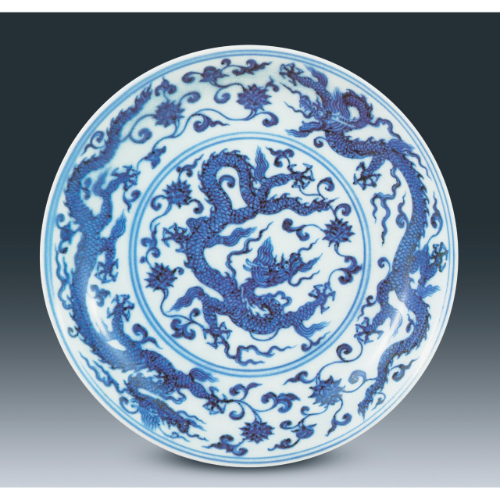 fig. 3. Blue and White 'Dragon' Dish, Mark and Period Of Xuande, National Palace Museum, Taipei
The design was used again on a dish of Chenghua mark and period (1465-87), also smaller, in the Sir Percival David Collection in the British Museum, London, that was included in the exhibition Flawless Porcelains. Imperial Ceramics from the Reign of the Chenghua Emperor, Percival David Foundation, London, 1995, cat. no. 9 (fig. 4). On the Chenghua version the design differs somewhat as the painters left more white space around the lotus scrolls by reducing the number of tendrils and transforming two of the blooms into buds. Although this dragon-and-lotus design appears to have been extremely rare in the 15th century, it formed the blueprint for dragon designs later in the Ming dynasty, in the 16th century. As the most popular blue-and-white pattern of the Zhengde reign (1506-21), it appears not only on dishes, but also on bowls of various shapes, stem bowls and slop bowls. On the dishes, the central dragon has, however, changed position and is heading upward; compare an example in the Meiyintang collection, illustrated in Regina Krahl, Chinese Ceramics from the Meiyintang Collection, London, 1994-2010, vol. 4, no. 1679 (fig. 5).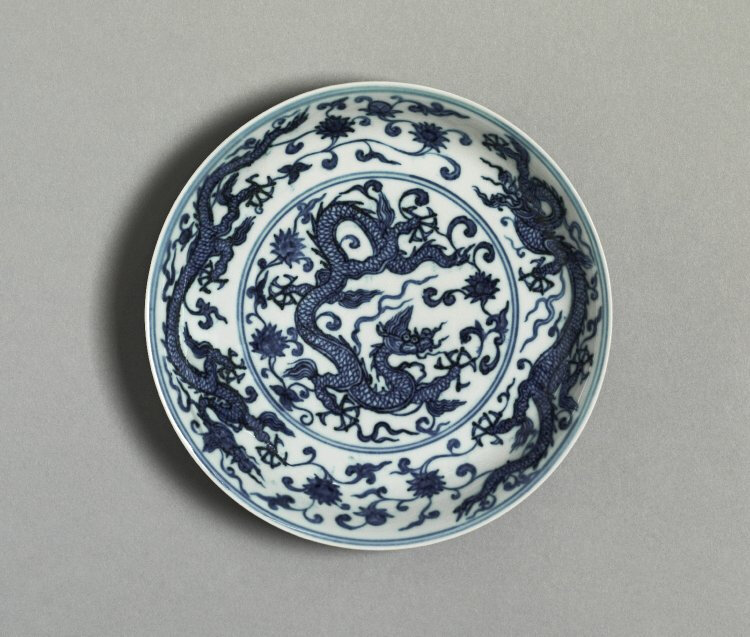 fig. 4. Dish with dragons amid lotus scrolls, Ming dynasty, Chenghua mark and period, AD1465–87. Porcelain with underglaze cobalt-blue decoration, Jingdezhen, Jiangxi province. On loan from Sir Percival David Foundation of Chinese Art, PDF,B.680, The British Museum, London © The Trustees of The British Museum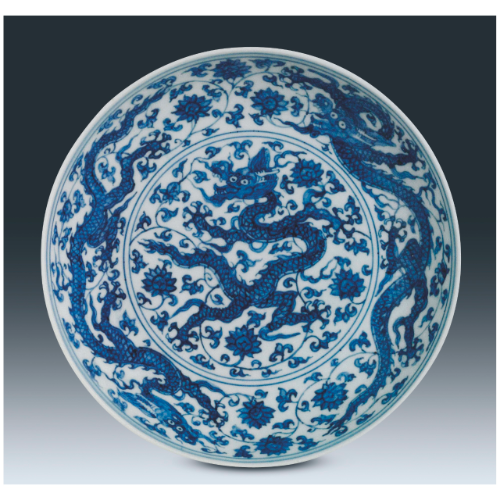 fig. 5. Blue and White 'Dragon' Dish, Mark and Period of Zhengde, Meiyintang Collection
The 'plunging' dragon, with its hind legs and tail raised high above its body, is a particularly dramatic attitude which emphasizes the animal's free-floating movement and the agitated waters around it, where the lotus plants seem to be swaying through its motion. It would seem to have been borrowed from Ding ware prototypes, where the dragon, however, has but three claws. Compare a moulded Ding dish in the Palace Museum, Beijing, with a dragon depicted in a very similar pose, in The Complete Collection of Treasures of the Palace Museum: Porcelain of the Song Dynasty , Hong Kong, 1996, vol. I, pl. 69 (fig. 6)
fig. 6. Ding Moulded 'Dragon' Dish, Song Dynasty, Palace Museum, Beijing
Sotheby's. Fine Chinese Ceramics & Works of Art. Hong Kong | 04 avr. 2012