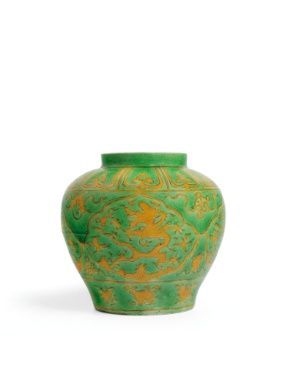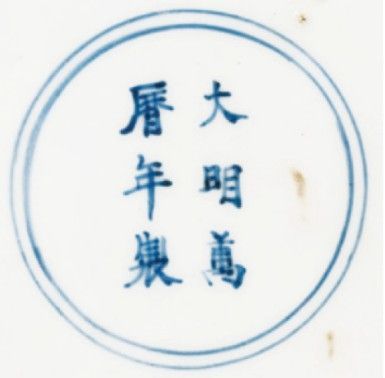 An incised green-ground yellow-enamel 'dragon' jar. Mark and period of Wanli - Photo Sotheby's
of ovoid form, the rounded sides rising from a thick footring and a recessed base to a straight neck, incised around the body and painted in ochre-yellow against a bright green ground with four quatrefoil panels, each enclosing a five-clawed dragon with a wide open mouth, curved horns and an upswept mane, writhing amidst clouds reaching for a 'flaming pearl' above rocks and waves, the panels interspersed with the 'Eight Buddhist Emblems', all tied with ribbons, below a band of petal lappets collaring the shoulder and above a border of flowering sprays around the foot, the interior and base reserved in white, the base inscribed with a six-character reign mark within a double ring in underglaze blue; 17.7 cm., 7 in. Estimation: 2,600,000 - 3,000,000 HKD
PROVENANCE: Sotheby's Hong Kong, 30th April 1996, lot 360.
Eskenazi Ltd, London.
LITTERATURE: Regina Krahl, Chinese Ceramics from the Meiyintang Collection, London, 1994-2010, vol. 4, no. 1692.
NOTE DE CATALOGUE: Jars decorated in this striking colour combination are rare in private collections but are found in several major museums, for example, in the Tokyo National Museum from the Yokogawa collection, in the Metropolitan Museum of Art, New York, and in the British Museum, London, from the Oppenheim collection, all illustrated in Oriental Ceramics: The World's Great Collections, Tokyo, New York, and San Francisco, 1980-82, vol. 1, no. 124; vol. 5, no. 206, and vol. 11, no. 96; other examples are illustrated in Geng Baochang, Ming Qing ciqi jianding [Appraisal of Ming and Qing porcelain], Hong Kong, 1993, col. pl. 73; in John Ayers, The Baur Collection Geneva: Chinese Ceramics, Geneva, 1968-74, vol. II, no. A 208; and in Idemitsu Bijutsukan zhin zuroku: Chgoku tji/Chinese Ceramics in the Idemitsu Collection, Tokyo, 1987, no. 766. Two other jars with a coarser version of this design, from the Eumorfopoulos collection in the British Museum, London, are illustrated in Jessica Harrison-Hall, Ming Ceramics in the British Museum, London, 2001, pls. 11: 174 and 175.
A rare covered example in the Palace Museum, Beijing, is illustrated in Yeh Pei-lang [Ye Peilan], Beauty of Ceramics, vol. 7: Gems of the Wucai Porcelain, Taipei, 1996, pl. 160.
Sotheby's. The Meiyintang Collection, Part IV - An Important Selection of Imperial Chinese Porcelains. Hong Kong | 09 oct. 2012 www.sothebys.com