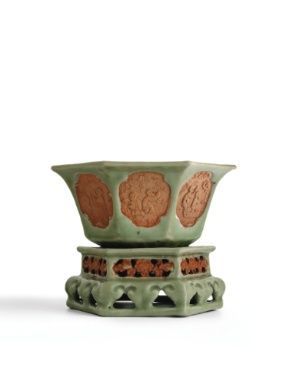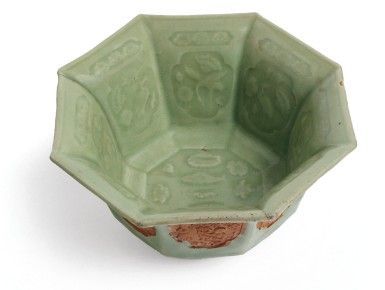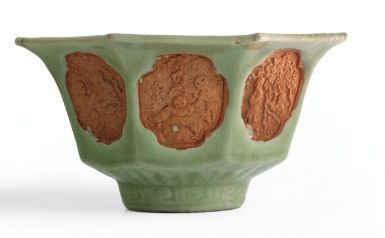 An Unusual Biscuit-Decorated Longquan Celadon 'Boys' Bowl and Reticulated Stand. Ming Dynasty, 14th Century -Photo Sotheby's
elegantly potted, of octagonal form, flaring from an angle to a wide mouth and resting on a tapered circular foot, the centre on the interior moulded with an octagonal medallion with two fish among formal lotus blooms and leaves, the inner walls with quatrefoil begonia-shaped panels depicting cranes in different poses among lotus flowers, and smaller elongated panels with three ruyi motifs above, the exterior crisply moulded with eight further panels reserved in the biscuit, of conforming shape, enclosing boys at play in garden settings, picking or holding flowers, and one seated in a tub, covering eyes and ears while being doused with water, all above simply carved lotus petals and a key-fret border encircling the foot, the bowl thickly applied with a yellowish-green glaze save for the unglazed exterior panels and a ring on the base fired brick red, the reticulated stand of hexagonal form, the flat top with a circular opening resting on a gallery of biscuit-fired openwork panels impressed with chrysanthemum sprays, above a curved pedestal with twelve ruyi-shaped legs joined by a stretcher, similarly glazed overall in a yellowish-green tone save for the panels; diameter of the bowl 21 cm., 8 1/4 in.; overall height 15.3 cm., 6 in. Estimation: 900,000 - 1,200,000 HKD
PROVENANCE: Eskenazi Ltd, London.
LITTERATURE: Regina Krahl, Chinese Ceramics from the Meiyintang Collection, London, 1994-2010, vol. 4, no. 1606.
NOTE DE CATALOGUE: This style of decoration with impressed biscuit panels is well known from octagonal vases of Longquan celadon, where the panels generally show immortals or flowers. Bowls with such biscuit decoration are extremely rare, and so is the biscuit design of boys at play.
An almost identical, but somewhat smaller bowl in the Guangdong Provincial Museum, Guangzhou, is published in Zhu Boqian, Longquan yao qingci/Celadons from Longquan Kilns, Taipei, 1998, no. 195, and again in Zhongguo taoci quanji [Complete series on Chinese ceramics], Shanghai, 1999-2000, vol. 10, pl. 78. For an octagonal stem bowl decorated in similar style with begonia-shaped biscuit panels depicting herons among lotus, see the exhibition catalogue Mostra d'Arte Cinese/Exhibition of Chinese Art, Palazzo Ducale, Venice, 1954, no. 445. An octagonal meiping with biscuit panels depicting the Eight Immortals, from the Eumorfopoulos collection in the British Museum, London, is published in R.L. Hobson. Chinese Pottery and Porcelain, London, 1915 (repr. New York, 1976), pl. 21, fig. 2. A similar stand was sold in our Los Angeles rooms, 5th June 1980, lot 1352.
Sotheby's. The Meiyintang Collection, Part IV - An Important Selection of Imperial Chinese Porcelains. Hong Kong | 09 oct. 2012 www.sothebys.com