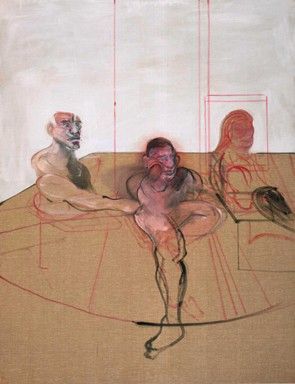 Francis Bacon, Untitled (Three Figures), C. 1981, Dublin City, Gallery The Hugh Lane © The Estate of Francis Bacon.
BRUSSELS.- The Centre for Fine Arts starts the new year with an exceptional programme of exhibitions; true to the Centre's mission, these turn a spotlight on European culture. The exhibitions explore in depth the work of a number of leading artists from neighbouring countries, focusing on 18th-century France and Antoine Watteau, on Germany after the fall of the Wall, via the monumental works of Neo Rauch, and on Ireland, with work by contemporary artists and material from Francis Bacon's archives.
In cooperation with the Palais des Beaux-Arts in Lille, BOZAR presents the first exhibition in Belgium devoted to the 18th-century French master Antoine Watteau. Antoine Watteau: The Music Lesson (8 February > 12 May 2013) highlights the musical scenes in his oeuvre and brings together paintings, drawings, and engravings by the artist and his contemporaries. The exhibition is curated by the renowned conductor William Christie, founder of the ensemble Les Arts Florissants. Christie is also at the heart of a BOZAR MUSIC concert cycle, which takes a look at the music of Watteau's time in eight concerts that will immerse audiences in the sensual atmosphere of the master's canvases.
The exhibition Neo Rauch: The Obsession of the Demiurge (20 February > 19 May 2013) is the first Belgian solo exhibition devoted to this internationally celebrated artist. Neo Rauch, who lives and works in Leipzig, presents 70 paintings and drawings that span his entire career, from 1993 to 2012. His monumental works reflect the influences of surrealism, pop art, comic-strip books, and his youth in the former East Germany. Rauch incorporates dreams into his visual idiom, which blends historical references with contemporary elements. His intriguing works have often been described as "riddles without solutions".
To mark the Irish presidency of the EU, BOZAR presents Changing States: Contemporary Irish Art and Francis Bacon's Studio (28 February > 19 May 2013). The diversity of the contemporary Irish art scene will be explored via the work of 20 artists, including Orla Barry, Gerard Byrne, Willie Doherty, Brian Maguire, Alice Maher, and Richard Mosse. The exhibition also includes a section devoted to Francis Bacon, who was born in Dublin to English parents and lived in Ireland until he was 16. Changing States presents archive material, photographs, and unfinished paintings from Bacon's studio as it was found after his death in 1992. These items offer a unique insight into the artist's psyche and working methods.
Jean-Antoine Watteau, La déclaration attendue, 18e s., Angers, musée des Beaux-Arts, Cliché musées d'Angers, Pierre David.