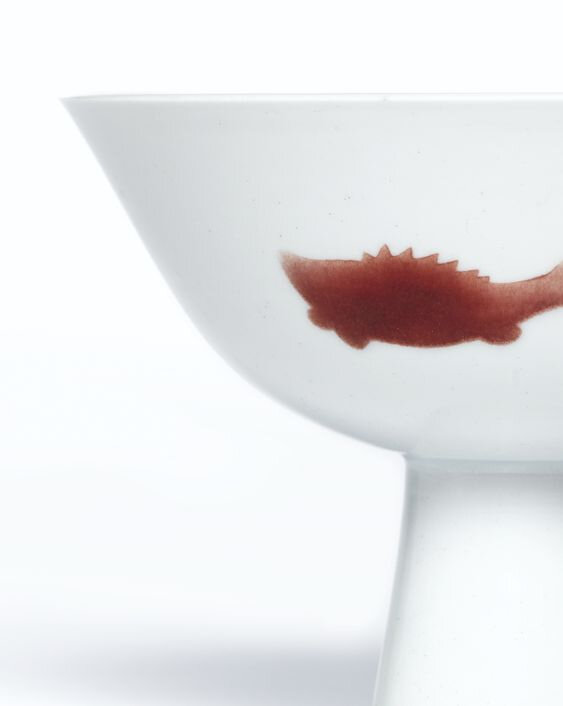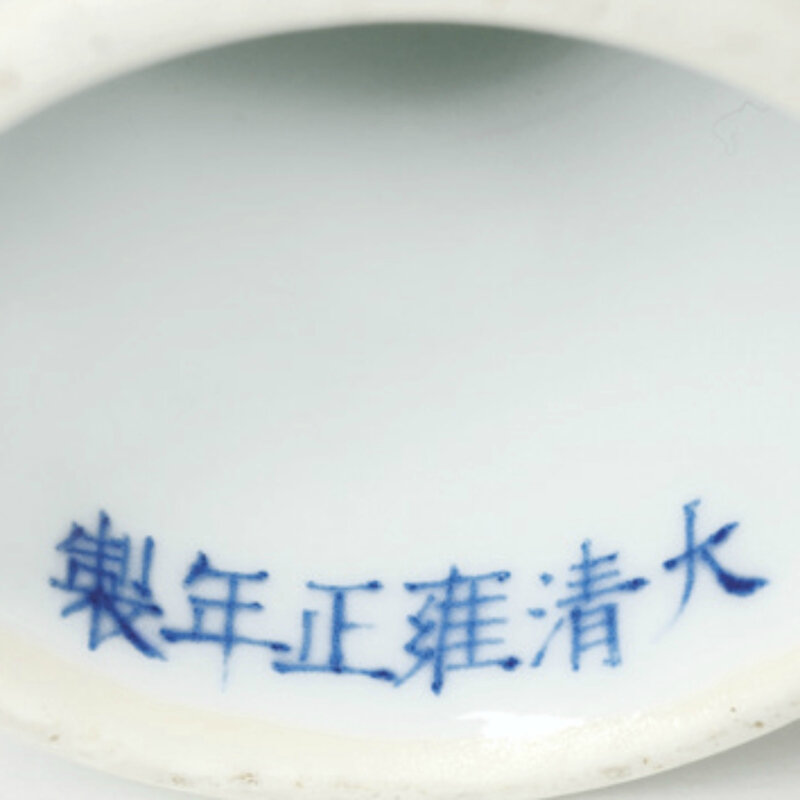 Lot 36. A fine Ming-style copper-red decorated 'Three fish' stembowl, mark and period of Yongzheng (1723-1735); 15.5 cm, 6 1/8 in. Estimate 700,000 - 900,000 HKD (69,114 — 88,861 EUR). Lot sold 1,720,000 HKD (169,823 EUR). Courtesy Sotheby's
the wide conical bowl supported on a tall hollow splayed stem, brightly decorated around the exterior in copper-red glaze on the white ground with three mandarin fish, each detailed with serrated dorsal and rounded tail fins, all fired to a bright purplish red, the interior of the stem inscribed in underglaze blue with a six-character horizontal mark, the footring left unglazed.
PROVENANCE: Collection of R.E.R. Luff.
Sotheby's London, 16th May 1967, lot 116.
Spink & Son, London.
Sotheby's London, 2nd December 1974, lot 535.
Collection of the British Rail Pension Fund.
Sotheby's Hong Kong, 16th May 1989, lot 36.
Sotheby's Hong Kong, 26th October 1993, lot 215.
Christie's Hong Kong, 1st November 2004, lot 881.
Eskenazi Ltd., London.
EXHIBITED: Dallas Museum of Art, on loan, 1985-8.
LITERATURE: Regina Krahl, Chinese Ceramics from the Meiyintang Collection, London, 1994-2010, vol. 4, no. 1717.
NOTE: Designs created through red-glaze silhouettes originated in the early Ming dynasty and are best known from the Xuande (1426-35) period, but the technique had already been developed during the Yongle reign (1403-24), when silhouettes of animals and fish were used in combination with underglaze-blue designs; see an example excavated from the late Yongle stratum of the Ming imperial kiln site, see Imperial Porcelain of the Yongle and Xuande Periods Excavated from the Site of the Ming Imperial Factory at Jingdezhen, Hong Kong Museum of Art, Hong Kong, 1989, cat. no. 38.
This silhouette technique, which makes use of copper-red glaze, possibly sandwiched between layers of clear glaze, is very different from the much more common method of painting designs in copper-red pigment before the glaze is applied. If successfully handled, it results in much more intense red designs which, however, do not allow for the rendering of detail and are best suited for silhouettes.
A very similar stembowl of Yongzheng mark and period is illustrated together with a modern copy, which differs in proportions, in Geng Baochang, Ming Qing ciqi jianding [Appraisal of Ming and Qing porcelain], Hong Kong, 1993, col. pl. 106; another is illustrated in The Tsui Museum of Art. Chinese Ceramics IV: Qing Dynasty, Hong Kong, 1995, pl. 65; one from the T.Y. Chao collection, included in the exhibition Ming and Ch'ing Porcelain from the Collection of the T.Y. Chao Family Foundation, Hong Kong Museum of Art, Hong Kong, 1978, cat. no. 75, was sold in our London rooms 8th July 1974, lot 280 and in these rooms, 19th May 1987, lot 264; and one from the Riesco collection included in the Oriental Ceramic Society exhibition The Arts of the Ch'ing Dynasty, The Arts Council Gallery, London, 1964, cat. no. 112, pl. 43, was sold in our London rooms, 11th December 1984, lot 405.
For a Ming prototype of this design with three red fish, see a stembowl of Xuande mark and period, excavated from the Xuande stratum of the Ming imperial kiln site, and included in the exhibition Jingdezhen chutu Yuan Ming guanyao ciqi/Yuan's and Ming's Imperial Porcelain Unearthed from Jingdezhen, Yan-Huang Art Museum, Beijing, 1999, cat. no. 193; and another in the National Palace Museum, Taiwan, illustrated in Mingdai Xuande guanyao jinghua tezhan tulu/Catalogue of the Special Exhibition of Selected Hsüan-te Imperial Porcelains of the Ming Dynasty, National Palace Museum, Taipei, 1998, cat. no. 99, together with two similar stemcups of smaller size, cat. nos. 81 and 87. These early fish silhouettes also depict mandarin fish, with the characteristic large round tail fins, but the outlines are still much simpler compared to the Yongzheng versions, as they are lacking the serrated back fins.
Sotheby's. The Meiyintang Collection, Part V - An Important Selection of Imperial Chinese Porcelains. Hong Kong | 08 april 2013