This figure, one of more than 250 artifacts featured in the Maya: Hidden Worlds Revealed exhibition at the Science Museum of Minnesota, captures the moments prior to a Maya bloodletting ritual. The man's position in front of the deep bowl, the bloodletting knots on his head and the cloth strips in his earlobes all indicate the ritual to come. Image courtesy of the Denver Museum of Nature and Science.
ST. PAUL, MINN.- The Science Museum of Minnesota hosts the world premiere of Maya: Hidden Worlds Revealed, a brand-new, original exhibition that sheds light on this mysterious and majestic culture and its remarkable achievements.
The ancient Maya have captured our imaginations since news of the discovery of ruined cities in the jungles of Central America was published in 1839. Extensive research has uncovered a culture with a sophisticated worldview that, during its Classic period (250-900 AD), rivaled any civilization in Europe. During this period, the Maya built elaborate cities without the use of the wheel, communicated using a sophisticated written language, measured time accurately with detailed calendar systems, and had an advanced understanding of astronomy and agriculture.
At 15,000 square feet, Maya: Hidden Worlds Revealed is the largest exhibition about the ancient Maya ever to be displayed in the United States. It uses a combination of never-before-seen artifacts, hands-on activities, and immersive environments – including re-creations of an underworld cave, the starry night sky, and a vibrantly-colored mural room – to explore the rise and eventual decline of this fascinating culture's ancient cities.
Maya is designed to give visitors a glimpse at a cross-section of Maya life – from divine kings who ruled powerful cities to the artisans and laborers who formed the backbone of Maya society. Visitors can also get a close look at the scientific work being carried out at key Maya sites across Central America to understand exactly how we know what we know of the once-hidden ancient Maya culture.
Highlights of Maya: Hidden Worlds Revealed include:
• more than 300 authentic artifacts, including spectacular examples of Maya artistry made by masters of their craft, along with objects from everyday life. Examples include an inkpot made out of a seashell from Cahal Pech, a Maya site in Belize, which still retains the dried pigment colors, hundreds of years after active use; a full assemblage from the tomb of Great Scrolled Skull in Belize that contains a jade mosaic mask, numerous vessels and figurines, and more.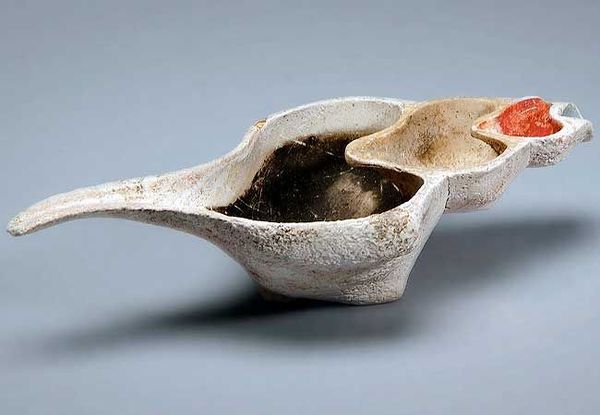 A recent find by Dr. Jaime Awe is one of the prize artifacts of the show at the Science Museum of Minnesota. A scribe used this halved conch shell for mixing and storing paints. While shell ink pots often appear in Mayan art, few actually survive. (Image courtesy Science Museum of Minnesota)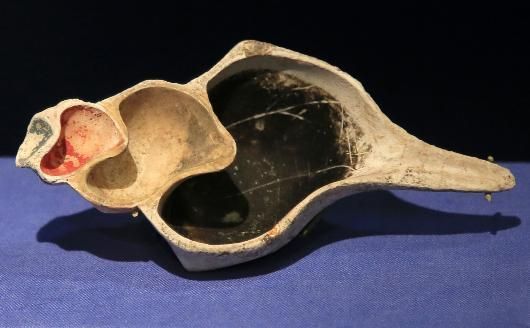 A scribe used this halved conch shell for mixing and storing paints. Few have survived. This one even had remnants of ink inside. Photo: Brian Mark Peterson
•dozens of hands-on activities that dig into Maya life during the Classic period. Visitors have a chance to decipher glyphs, build corbeled arches, explore tombs, investigate the Maya understanding of math and astronomy, and more.
• several replica large-scale carved monuments, or stelae, that were erected in the great plazas of Maya cities. Their inscriptions have given scholars valuable insight into ancient Maya history – from royal succession to political conflicts and great battles.
• an exploration of Maya architecture – from its awe-inspiring temples to the simple homes of the common people. Visitors can see a huge re-created portion of a famous frieze, or richly ornamented exterior wall portion, from the El Castillo pyramid in Xunantunich, a Maya civic ceremonial center. They'll wonder at its size and detail, and then watch as we use modern technology to make the ancient frieze's vivid colors emerge once again to their original vibrancy.
• a re-creation of the elaborate royal tomb of the Great Scrolled Skull in Santa Rita Corozal, a Maya site in Belize. Visitors can see the full tomb assemblage, which features jade, jewels, pottery and more, and explore the fascinating story that the artifacts tell us about the politics and economics of this Maya city.
• an examination of the concepts of ritual and human sacrifice that allowed the Maya to transcend the earthly world and speak with the gods of the underworld. Visitors can see the concepts of death and rebirth – concepts that were essential to the Maya – arise again and again throughout the exhibition.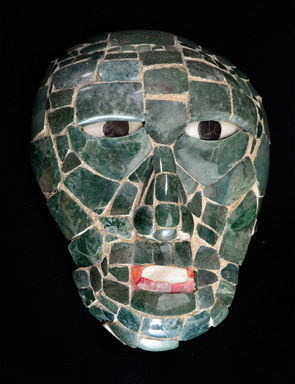 Jade Mosaic Mask. Image courtesy of the National Institute of Culture and History;
Archaeologists found this mask in a tomb in Belize. Royalty wore these ornamental masks on their belts or chests during ceremonies. Photo: Brian Mark Peterson
In many Maya communities, dental inlays and filled teeth were symbols of elite status. Photo: Brian Mark Peterson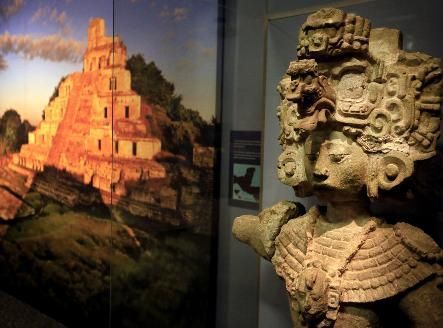 Discovered in the ruins of Templs 22 in Copan, this finely carved figure is probably a portrait of the kingdom's 13th ruler, Waxaklajuun U'baah K'awiil. Photo: Brian Mark Peterson
Replica of Altar Q, from the Late Classic Period, A.D. 776, at Copan, Honduras, on display at the "Maya Hidden Worlds Revealed" exhibit. (Pioneer Press: Scott Takushi)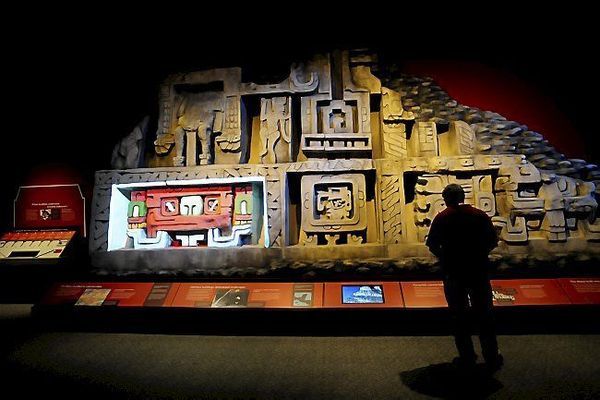 A replica of the west facade of the El Castillo pyramid, A.D. 600-800, at Xunantunich, Belize, part of the "Maya Hidden Worlds Revealed" exhibit at the Science Museum of Minnesota. (Pioneer Press: Scott Takushi)
"Maya: Hidden Worlds Revealed" which opens at the Science Museum of Minnesota is the largest show of Maya artifacts ever shown in the U.S. Not only does the exhibit explore Maya culture over the centuries, it shows how up-to-the-minute scientific techniques are revealing more and more about this ancient culture. (MPR photo/Euan Kerr)