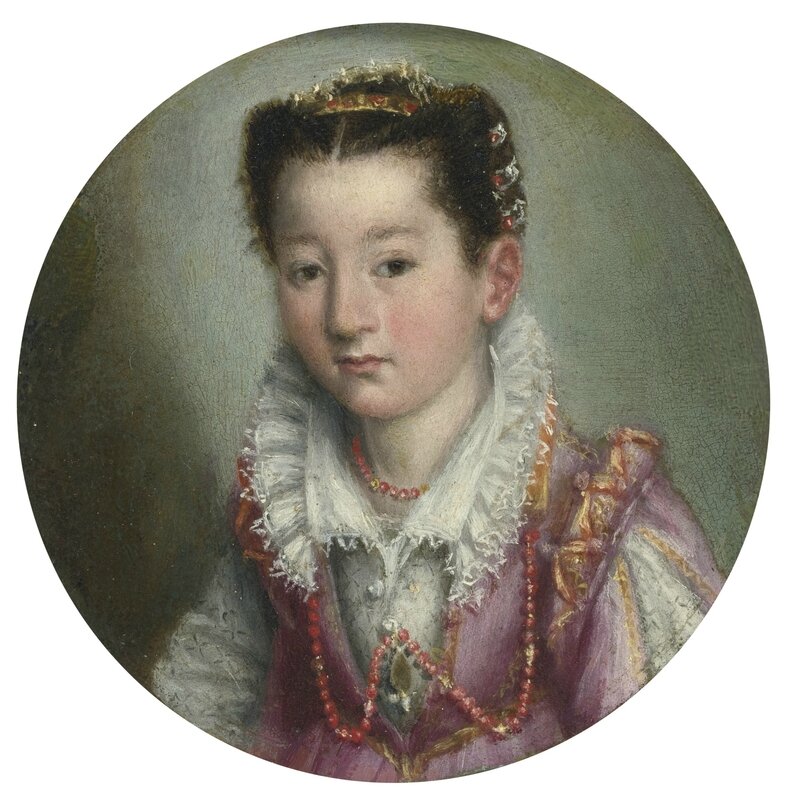 Lavinia Fontana (Bologna 1552 - 1614 Rome), Portrait of a girl, in a pink embroidered dress, wearing a coral necklace. Photo Sotheby's
oil on metal; diameter: 3 7/8 in.; 9.9 cm. Estimation 60,000 — 80,000 USD
Provenance: Anonymous sale, London, Christie's, 10 July 1998, lot 66;
Anonymous sale ("Property from a Private Collection"), New York, Sotheby's, 27 May 2004, lot 101;
There purchased by the present collector.
Lavinia Fontana was trained by her father, Prospero, who was one of the leading painters in their native city of Bologna. She followed his Mannerist style, producing religious compositions both as large altarpieces and as small, highly finished paintings for private devotion. By the late 1570s, Lavinia had become established as a portrait painter and it is this genre for which she is most famous today.
This portrait of a young girl is a wonderful example of Lavinia's depictions of children, at which she was particularly adept. As the mother of eleven children herself, she painted them with ease and naturalism, imbuing them with immense charm. The sitter, here, is a rather serious young girl, perhaps on the brink of womanhood. She wears a beautiful rose colored, embroidered gown and a coral necklace, an ancient talisman to protect children from evil influences. The artist's vivid attention to detail can be seen in the delicately painted lace collar and jewels adorning her hair.
Stylistically, this portrait appears to date from the early to mid-1580s. It is similar to a number of portraits of this period such as the Portrait of a girl with a dog (Hopetoun House, South Queensferry, Scotland, dateable to 1583-4) and Portrait of a young woman (Galleria degli Uffizi, Florence, dateable to 1580-85).1 The latter, in fact, provides an interesting comparison to the present work, despite its damaged state. Both portraits are small tondi and the figures are similarly placed within the circular space. The neutral backgrounds with heavy shadowing give an overall sense of depth to both portraits.
1. See M.T. Cantaro, Lavinia Fontana Bolognese "pittora singolare," Milan 1989, p. 133, cat. no. 4A 38, reproduced; and p. 143, cat. no. 4a 56b, reproduced.
Sotheby's. Important Old Master Paintings and Sculpture. New York | 30 janv. 2014 - www.sothebys.com