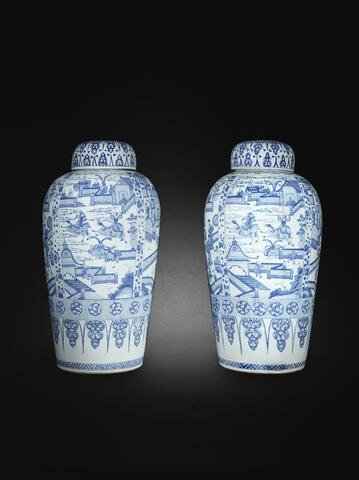 A rare pair of massive blue and white 'soldier' vases and covers, Kangxi. Photo courtesy Bonhams.
Each vase of tall baluster form rising to the high shoulder, well painted in shades of lighter and darker blue with four panels divided by narrow borders enclosing white morning glory scrolls, the panels painted with two scenes of ladies and boys at play in a fenced garden by a pavilion alternating with two scenes of boys behind fences watching two jousting mounted warriors, all above a border enclosing roundels reserved on a cracked-ice ground above pendent stiff leaves, each cover with a group of precious objects in the medallion surrounded by stiff lappets, wood stands. The taller 102cm (40½in) high (6). Estimate £160,000 - 180,000 (€190,000 - 220,000). Unsold
These 'Soldier' vases, also known as 'Dragoon vases', which stand over one meter high, owe their unusual name to Augustus the Strong, Elector of Saxony and King of Poland (1670-1733).
In the summer of 1715, after the Great Northern War, Augustus wished to downsize his army and reduce costs. However, instead of selling his army to another prince for money, he considered accepting Asian porcelain as payment instead, so as to elevate his position among European royalty.
Augustus no doubt remembered the vast treasures of porcelain in the Palace cabinets of Oranienburg and Charlottenburg he saw during his visit to King Frederick I of Brandenburg and Prussia in 1709. Augustus also knew the Prussian successor, Frederick William I, deemed all his inherited art as superficial, preferring instead to focus spending on his army. Therefore, negotiations for the exchange of porcelain and soldiers took place.
In April 1717, a total of 151 pieces of porcelain from the Palaces of Oranienburg and Charlottenburg were delivered to Augustus while 600 Dragoon soldiers without horses and officers crossed the border at Baruth between Saxony and Brandenburg-Prussia. On the advice of Frederick William I, the exchange - which had a monetary value of 26,000 thalers - took the form of a simple ritual and was declared a 'gift' between the two royals. Thus, these tall porcelains became known as 'Dragoon vases' or 'soldier vases'.
A related pair of 'Dragoon' vases from Petworth House in Sussex is illustrated in Treasures from the National Trust, London, 2007, p.49. Compare another 'Soldier' vase sold in these rooms, 12 May 2011, lot 317, and another important pair was sold in these rooms on 10 July 2006, lot 107.
Bonhams. FINE CHINESE ART. London, New Bond Street. 7 Nov 2013 - www.bonhams.com