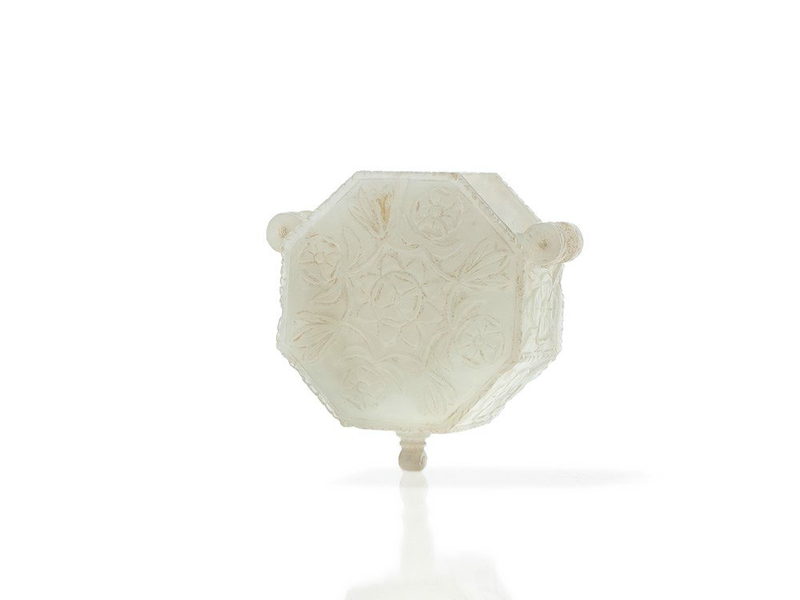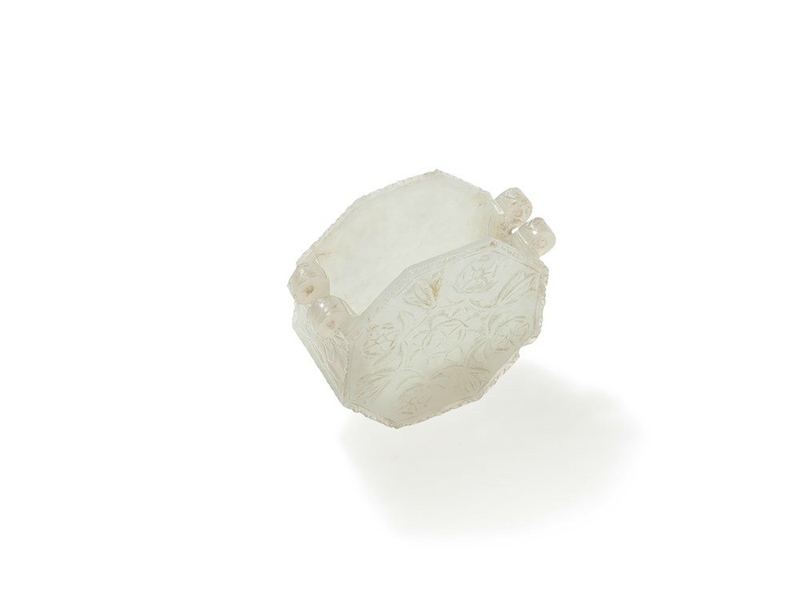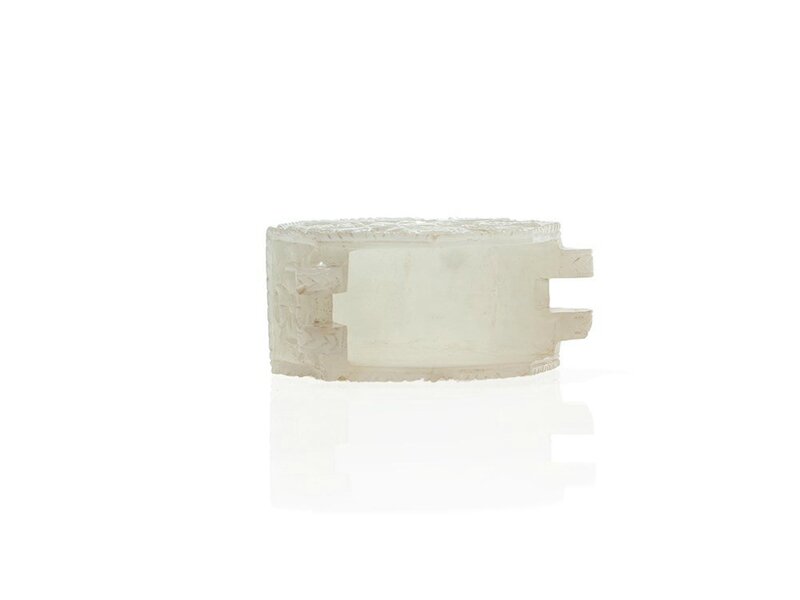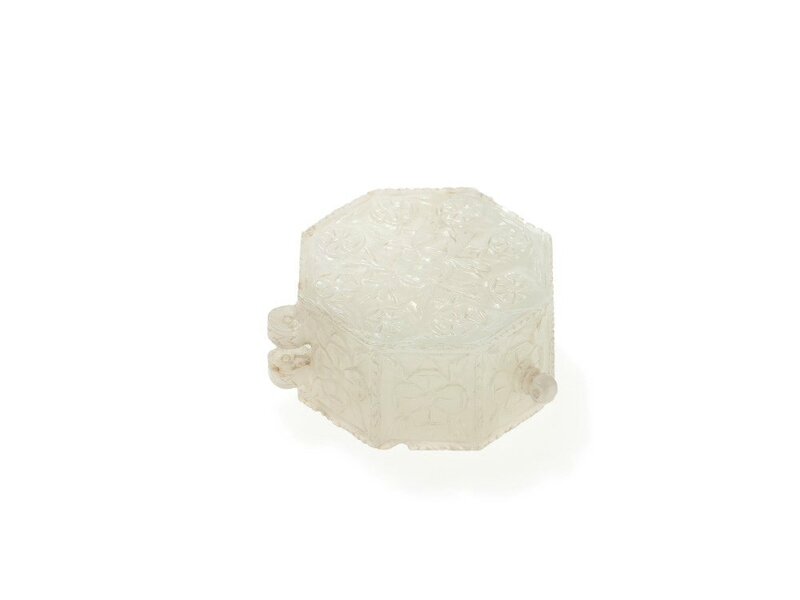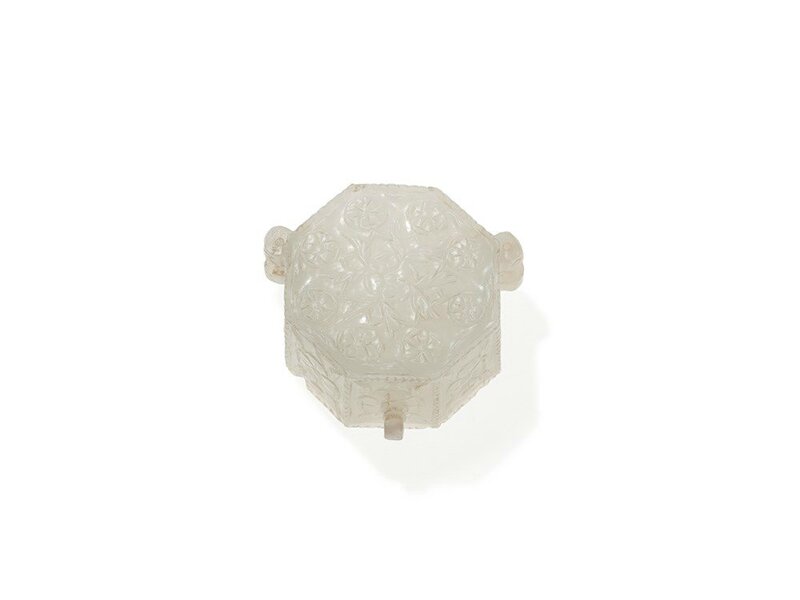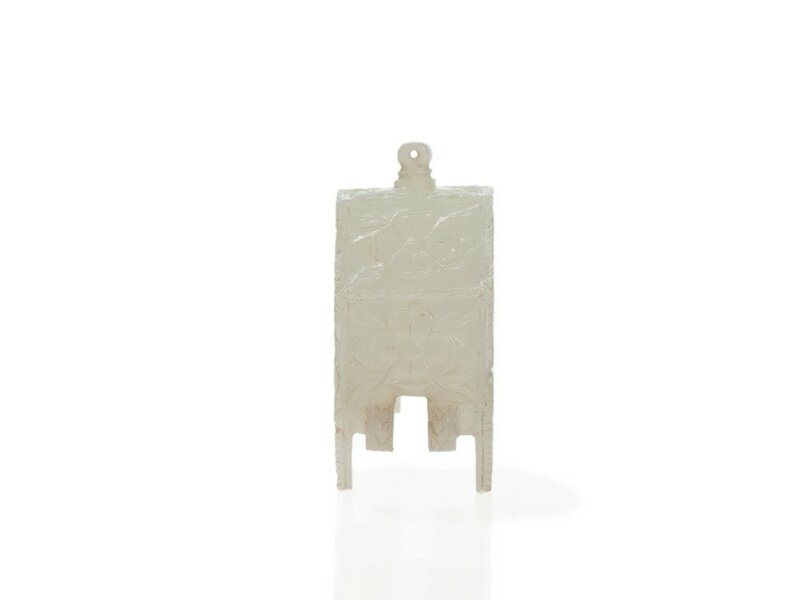 White jade Qur'an box from the Mughal Empire, India, 18th Century. Photo courtesy Auctionata.
Miniature Qur'an box with finely works flower ornaments. Elegant carving. Fine polish and oily surface. Octagonal form. Floral decor. Diameter: 4 cm. Good state of preservation. The Qur'an box is in a good state of preservation according to its age. There are minor chips along the edges. The jade has a shiny and slightly oily surface – a sign of authenticity – which brings to bear the exceptional polish of the stone. Estimate €3,200 – €4,000
Provenance: ex-collection F.R. Martin, thence Austrian private collection
This Qur'an box dates back to Mughal India and was elaborately crafted in the 18th Century. Made from fine, slightly translucent white jade it is used to store a miniature Qur'an. The case in octagonal form is carved all around in low relief. The front and reverse features a floral medallion in the centre framed by lotus as well as poppy flower heads and tendrils. In the Persian-speaking world the poppy is a symbol of love whilst the lotus signifies purity. The sides of the box show cartouches with blossoms. There are five loops thanks to which the box can be attached to clothing. Qur'an texts of this size were popular charms. The scriptures were probably not read but carried as divine talismans.
Collection F.R. Martin.
At the turn of the Century the Swedish scholar and art historian Fredrik Robert Martin (1868-1933) travelled through much of Persia. By the 1920s he had compiled an extensive and historically important collection of Islamic art, illustrating the craftsmanship of bygone dynasties. During his lifetime F.R. Martin authored many books on the subject of Islamic arts and crafts. Many of the items from the collection, about which an extensive catalogue was published, are nowadays held in the Medelhavsmuseet and the Ethnographical Museum in Stockholm.
Auctionata. Fine Asian Art. March 28. Kurfurstendamm 212, Berlin, 10719 Germany. www.liveauctioneers.com