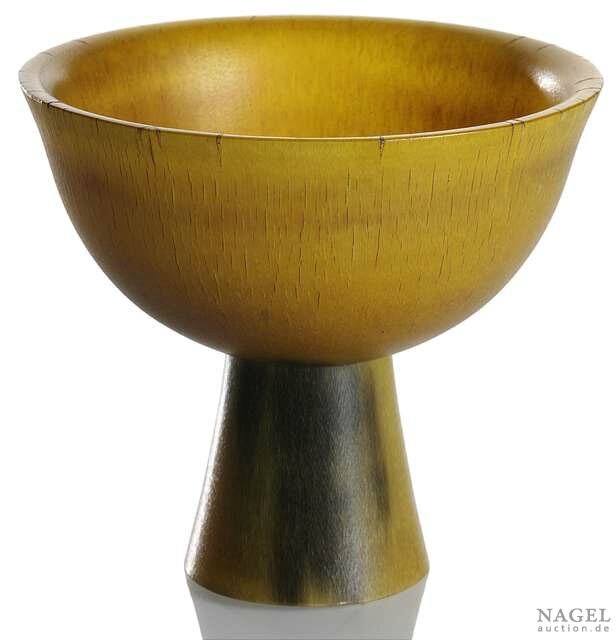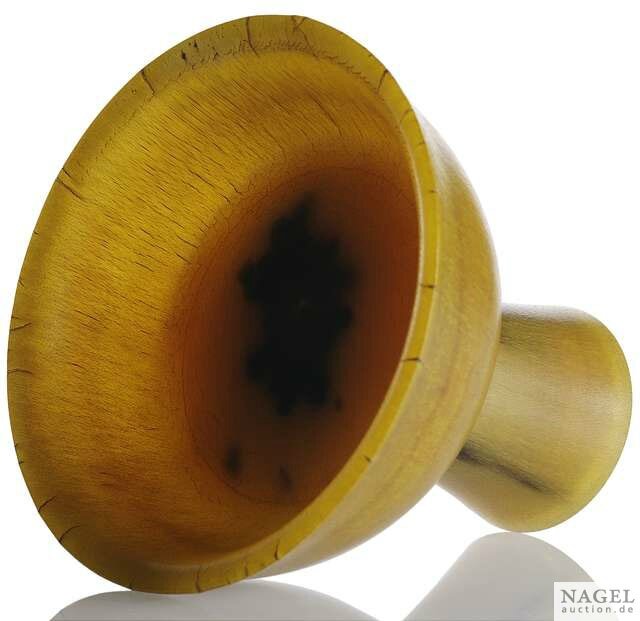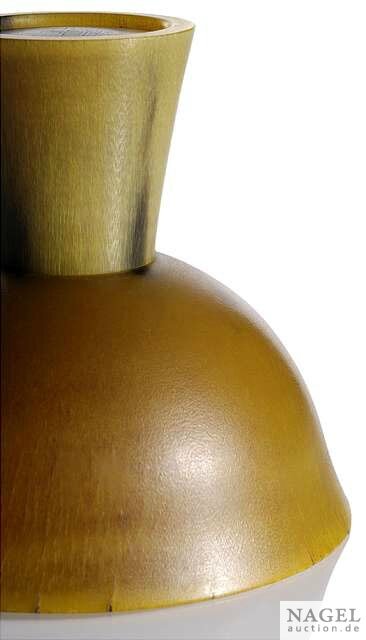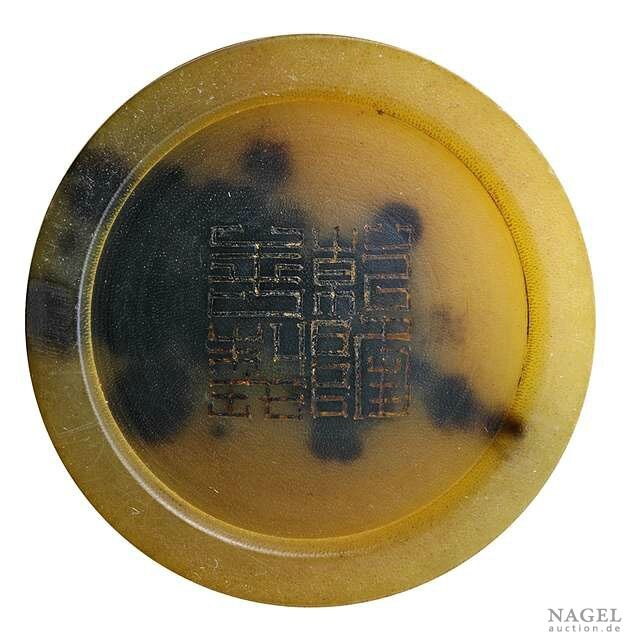 An extremely rare imperial rhinoceros horn stemcup with plain sides and massive foot, China, Qianlong four-character seal mark and of the period. Photo Nagel
Thinly carved bowl with semi-translucent sides and massive bottom resting on a conical pedestal foot. Shapes alikemay be based on Tang dynasty prototypes made of silverware and other materials. Few fine short age cracs to mouth rim,otherwise good condition. H.8,7cm/D.9,8cm. Estimate 60 000 - 100 000 €.
This stemcup lacks the bow-string bands that can be seen in various illustrated examples housed in famous museum collections and items such as the ones pubblished in J. Chapman, The Art of Rhinoceros Carving in China, London 1999 - For a similar rhinoceros carving from the Palace Museum collections Beijing, see zijinfeng Feb. 2007, p. 105.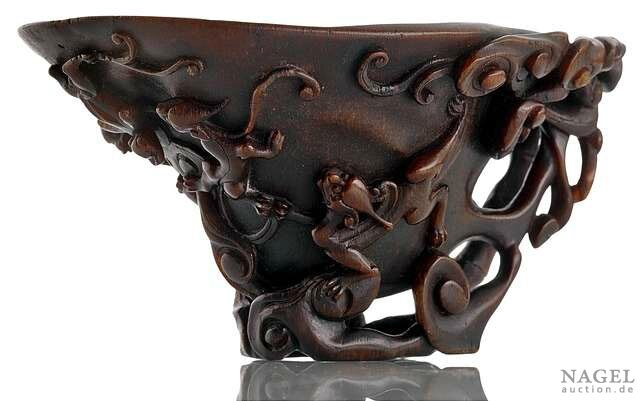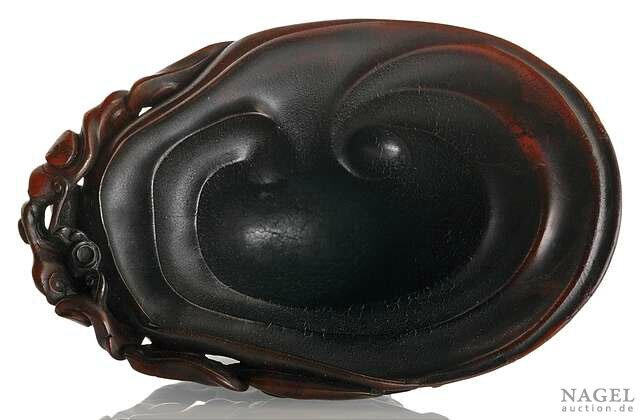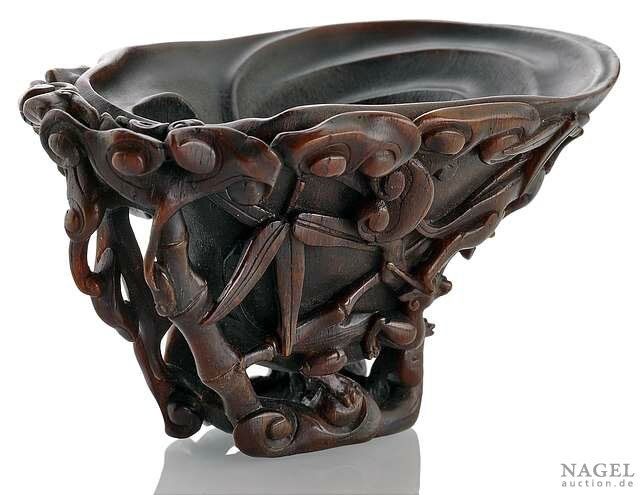 A fine carved rhinoceros libration cup with 'chilong'-dragons, bamboo and 'lingzhi', China, 18th century. Photo Nagel
of dark brown tone and conical form, the interior with stepped ridges forming the outline of a 'lingzhi'-head, on the exterior with several 'chilong'-dragon btween bamboo, the handle and base carved in openwork of bamboo rods and further 'lingzhi'. Very slightly chipped, minor restorations to stand and rim. H./D. 8,5/17 cm. Estimate 20 000 - 30 000 €.
From the property of an old German noble family,bought in 1907 by the grandfather of the present owner onthe occasion of a Chinese journey.
A similar piece offered by Christie's Hong Kong: Important Chinese Ceramics and Works of Art, 1st june 2011, p. 108f, lot 3761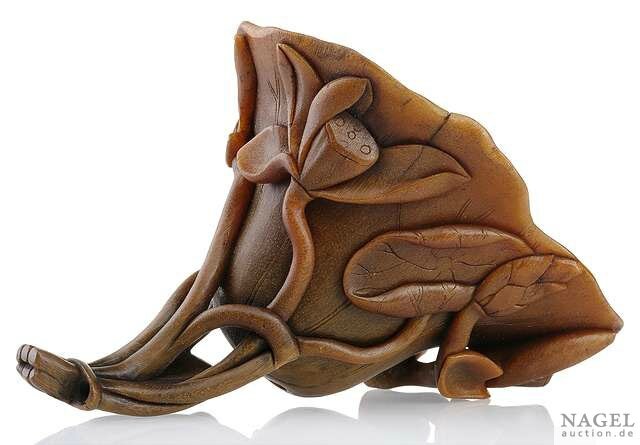 A fine carved magnolia rhinoceros horn cup, China, 16th-17th century. Photo Nagel
Property from an old Dutch private collection, brought prior 1940 by a family member of the present owner from East Asia as present to Europe - Lost details, two short age cracks. L. 17,5 cm. Estimate 15 000 - 25 000 €.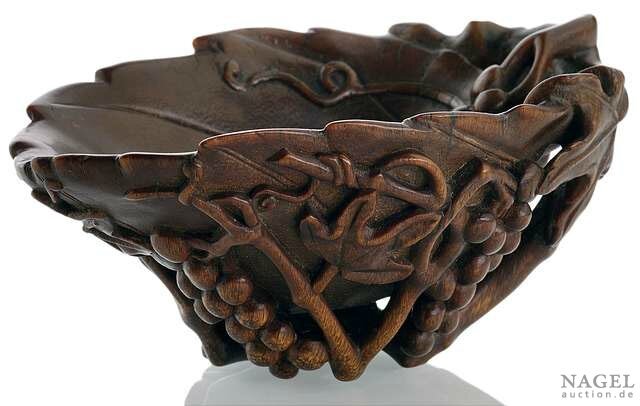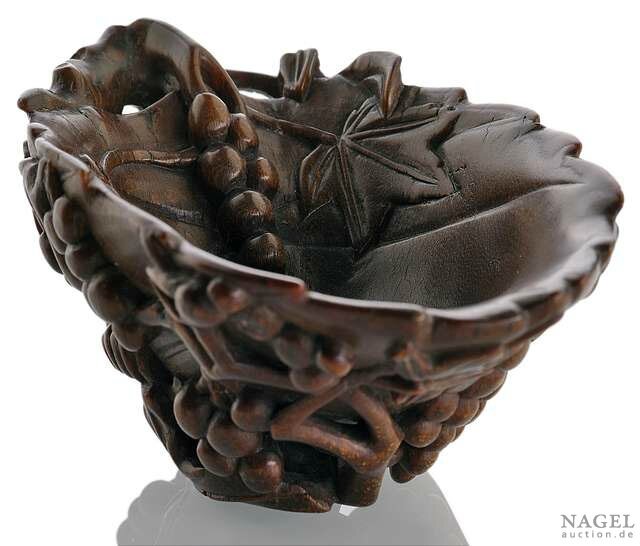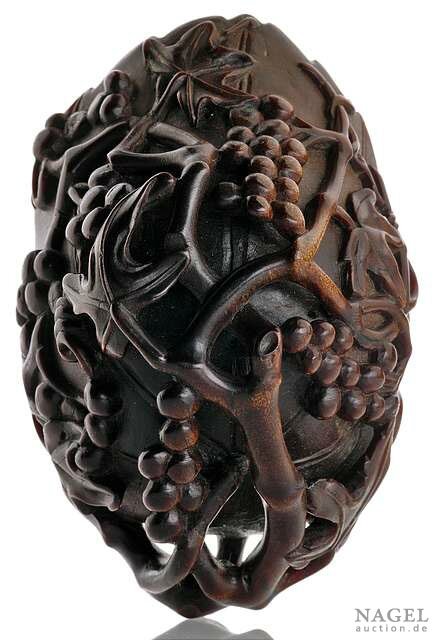 A carved rhinoceros libation cup with motif of grape-vines, China, 18th century. Photo Nagel
of oval form, the interior carved as a vine leaf with serrated border and characteristic finnings, the exterior all over carved in relief and openwork in form of grapes, vine leafs and grape wines which partly extended to the interior of the cup, base and handle in thesame decoration. H./D. 7/15 cm. Partly wear, minor restoration. Estimate 20 000 - 30 000 €.
From the property of an old Berlin private collection, bought in the earlt 1980/s from the present owner.
Similar pieces were offered by Sotheby's in NewYork: Fine Ceramics and Works of Art, 1st june 2011, lot 3763
Nagel. "Asiatische Kunst". 8.5.2014 - http://www.auction.de/