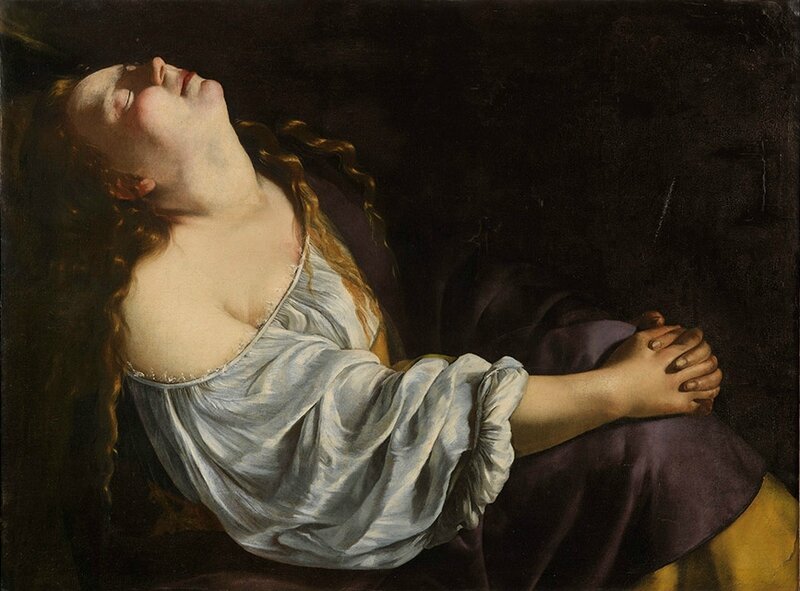 Artemisia Gentileschi, Mary Magdalene (detail). Oil on canvas, 81 x 105 cm ; 32 by 411/3 in. €865.500 – World Auction Record for the Artist. Photo: Sotheby's.
PARIS.- Today at Sotheby's Paris, the extremely rare and powerful work, by the important Italian 17th century Baroque artist Artemisia Gentileschi, achieved €865.500 ($1.179.832) against a pre-sale estimate of €200.000-300.000 – World Auction Record for the Artist. This masterpiece was rediscovered by Sotheby's Paris Old Master Department in an old collection in the South of France, after being hidden from view for 80 years.
This large canvas (81 x 105cm) was hitherto known only from an old black-and-white photograph in the photo library of an Italian dealer at the beginning of the 20th century, when it was very probably acquired by the family of the current owners. It shows a scene popular at the time, whose religious nature is discreetly evoked by the divine light in the top left-hand corner. Artemisia Gentileschi produced this profoundly Caravaggesque work by tightly framing the subject and depicting Mary Magdalene as approachably human; her sacred status is secondary. The composition is designed to make the viewer sit up and think: it surprises us and takes us aback.
Artemisia Gentileschi led a colourful and eventful life as both woman and artist – a heroine of her time, whose life and work rank her among history 's exceptional figures. She was first and foremost a woman who grew up in the exclusively masculine artistic milieu of early 17 th century Rome. She was the daughter of the celebrated Orazio Gentileschi (Pisa 1563–London 1639), acknowledged as one of the leading Caravaggesque artists; as a studio apprentice with her father and other contemporary painters, she learnt how to mix pigments and blend colours, quickly mastering the art of producing powerful, striking compositions that caught the eye.
Through hard work, determination, perseverance, character and application, Artemisia Gentileschi overcame searing difficulties and the most painful trials – most notably the notorious rape case she brought and won against the artist Agostino Tassi, which has gone down in history as a great feminist victory – to attracting numerous commissions and become famous across Europe, working as far afield as Naples, Genoa, Venice and London to establish her own name through her own individual talent.