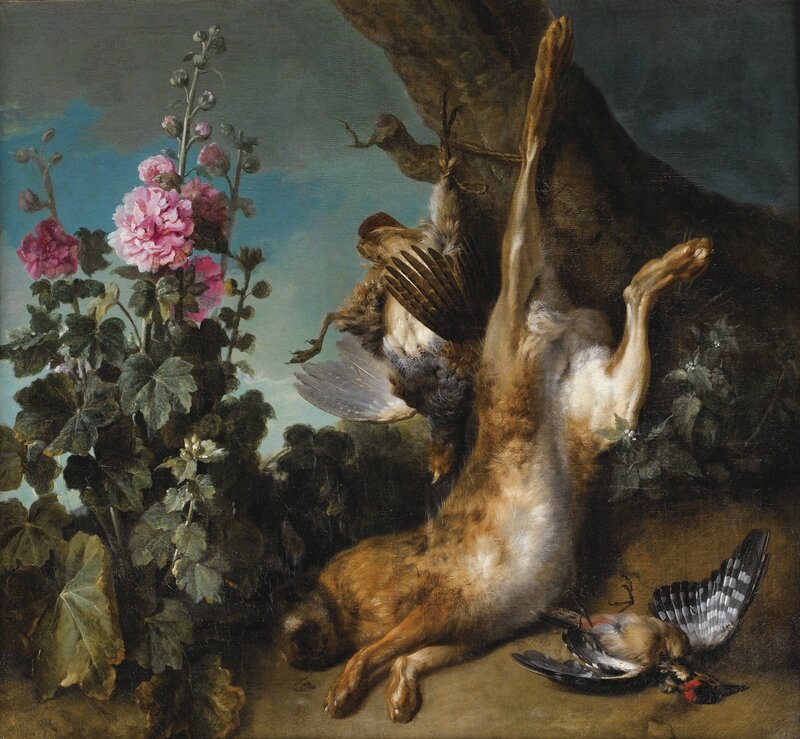 Jean-Baptiste Oudry (Paris 1686 - 1755 Beauvais), Nature morte au perdreau, lièvre et rose trémière. Estimation 70,000 — 100,000 €. Photo Sotheby's.
Signé et daté en bas à gauche peint par / JB Oudry 1718. Huile sur toile; 81 x 87 cm
Provenance: Vente anonyme, Paris, Hôtel Drouot, 17 juin 1910, lot n°51 ;
Collection Singer ;
Collection Josette Day-Solvay ;
Sa vente, Paris, Hôtel Drouot, Tajan, 26 mars 2003, lot n°71 ;
Acquis à cette vente
Bibliographie: J. Locquin, Catalogue raisonné de l'oeuvre de Jean-Baptiste Oudry, peintre du roi (1686-1755), Paris, Archives de l'art français, t. VI, 1912, p. 9-10, n°36 (dimensions erronées) ;
J. Vergnet-Ruiz, « Oudry », in L. Dimier (dir.) Les peintres français du XVIIIe siècle, Paris-Bruxelles, 1930, t. II, p. 170, n° 267 (dimensions erronées) ;
H. Opperman, Jean-Baptiste Oudry (1686-1755), University of Chicago, n.p., 1972, vol. I-II, p. 510, n° P479
Notes: Apporter douceur et poésie dans une nature morte au lièvre, opposer au corps suspendu et abandonné de toute vie une éclatante rose trémière aux couleurs chatoyantes : voilà le défi relevé par Jean-Baptiste Oudry dans notre tableau.
La vie jaillit du sol avec toute sa force pour atteindre des sommets et la mort, dans une verticalité opposée, est illustrée par ce lièvre dont la tête, déjà, disparait dans l'ombre.
Datée de 1718, notre toile se situe dans la première partie de la carrière de Jean-Baptiste Oudry, période pendant laquelle l'artiste, se détachant peu à peu de l'art du portrait, réfléchit à donner une nouvelle impulsion à sa carrière grâce à la réalisation de peintures animalières et de natures mortes qui le rendront célèbre.
Ce tableau précède de peu sa réception à l'Académie royale en février 1719. Il est intéressant à plus d'un titre de situer dans le temps cette œuvre puisqu'elle annonce déjà la peinture du temps de Louis XV, subtile, douce et agréable. Trois ans après la fin du règne de Louis XIV, l'artiste impose dans les thématiques qu'il traite son style et, par ses apports, bouleversera dans la décennie à venir la position bien établie de François Desportes avant de devenir peintre officiel des chasses de Louis XV.
Une autre version de notre tableau est connue. Datée de 1721 et légèrement plus grande sur les côtés, elle atteste du succès de cette composition et traite ce sujet avec la même poésie [1].
[1]. Collection de la comtesse Gouy de Belloc-Feuquières, château de la Graulière ; vente anonyme, Monaco, Sotheby's, 14 février 1983, n° 655, dim. 80 x 101 cm.
JEAN-BAPTISTE OUDRY ; STILL LIFE WITH A PARTRIDGE, A HARE AND HOLLYHOCK ; SIGNED AND DATED LOWER LEFT PEINT PAR / JB OUDRY 1718 ; OIL ON CANVAS ; 31 7/8 by 34 1/4 in
Bringing gentleness and poetry onto a still life with a hare, whose body is hung upside down and devoid of all life, and contrasting it with a bright hollyhock with sparkling colors was the challenge carried out by Jean-Baptiste Oudry in our painting.
Life springs from the ground with all its strength to reach beyond heights, whereas death is illustrated vertically opposing with a hare whose head is already disappearing into the shadows.
Dated 1718, this canvas falls into the first half of Jean-Baptiste Oudry's career when the artist stepped away gradually from portraiture. He contemplated in giving a new impetus to his career with the creation of animal paintings and still lifes that made him famous.
This painting was realized shortly before his acceptance into France's Royal Academy in February 1719. It is interesting in several ways to analyze this work in its era as it is announcing beforehand the subtle, soft and pleasant painting style of Louis XV's period. Three years after Louis XIV's reign, the artist employed themes he rendered with his style, and his contributions in the coming decade overturned François Desportes's established position before becoming the official hunting painter for King Louis XV.
Another version of this painting is known. Dated from 1721 and slightly larger on the sides, it demonstrates the success of this composition and handles the subject with the same poetry [1].
[1]. Collection of Countess de Gouy Belloc-Feuquières, Graulière Chateau; anonymous auction, Monaco, Sotheby's, February 14, 1983, N°655, dim. 80 x 101 cm (31-1/2 x 39-3/4 in.)
Sotheby's. Collection Louis Grandchamp des Raux : Le choix de l'élégance. En association avec Artcurial Paris, 26 mars 2015, 06:00 PM