Important Pair of Huanghuali Cabriole Leg Stools, fangdeng, 17th-18th century; 21" H x 20 1/4" W x 20 1/2" D. Purchased from Christie's, September 19, 1996, Lot 104. Estimation 100 000,00 - 150 000,00 USD. Sold for $448,400. Courtesy Quinn & Farmer image.
CHARLOTTESVILLE, VA.- Two lots of antique Chinese furniture entered in Quinn & Farmer's April 18 auction proved to be stellar investments for the consignor who purchased them at Christie's in 1996, a time when the Asian secondary market was still developing in the West.
A pair of important 17th/early 18th century huanghuali cabriole-leg stools (fangdeng) – two of only nine known examples – commanded $448,400 against an estimate of $100,000-$150,000, while a zitan kang table (kangzhuo) was bid to $247,800. Together, the two lots produced a handsome $696,200 payday (less fees) for the consignor, who had paid $120,250 for the items at the 1996 New York sale. Gross profit: $575,950.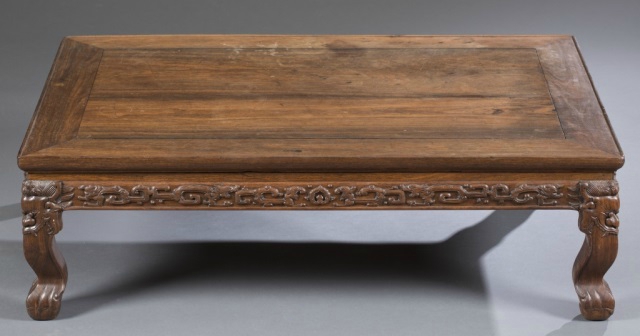 Zitan Kang Table, kangzhuo, 17th-18th century; 11 3/4" H x 38 1/2" W x 26" D. Purchased from Christie's, September 19, 1996, Lot 97. Estimation 40 000,00 - 60 000,00 USD. Sold for $247,800. Courtesy Quinn & Farmer image.
Rectangular paneled top with ice-plate edge supported on square cabriole legs ending in ball and claw feet, the qilin terminals with fanged, gaping jaws, bulging eyes, flaring nostrils and streaming hair, joined by a beaded apron richly carved with stylized angular chi dragons flanking flaming pearls.
"The Chinese pieces were an extremely wise investment, and many eyes in the trade were watching to see if that would be the case," said Stephen Usry, vice president of Quinn & Farmer. "On the Monday morning following the sale, there were five phone calls from dealers asking about the results. When I told one dealer what the pieces had sold for, he said, 'Well done. You did a great job of [marketing] them…much to my chagrin.'"
Multiple in-house bidders and four telephone bidders from China – who were assisted by Mandarin-speaking students from the University of Virginia Chinese Students Society – competed aggressively for the late 17th/early 18th-century huanghuali stools. The final two competitors were phone bidders, one of whom ultimately dropped out at $448,400.
A different Chinese phone bidder paid $247,800 for the kang table, which had been estimated at $40,000-$60,000. Ironically, the underbidder, a New York dealer, had owned the table many years ago. "He sold it to a museum, who later deaccessioned it and sold it through the 1996 Christie's sale, where our consignor purchased it. Unfortunately for the underbidder, he was not successful in reclaiming it. It has gone back to China," said Usry.
Repatriation seemed to be a recurring theme at the April 18 auction. "The Brits took an important piece of English furniture away from the colonists, as well," Usry joked, referring to a George III serpentine-front dressing chest whose maker was not specified in the catalog. "The style of the chest was very distinctive, and we suspected it was the work of an important cabinetmaker but couldn't make a positive identification."
However, several sharp-eyed dealers in England knew who had crafted the chest – a Chippendale contemporary named William Gomm. "They also knew that only six of these chests are known to exist, but they kept their cards close to their vests," Usry said. Three phone bidders from London parried in a lengthy bidding battle that ended at $76,700, approximately three times the price realized by the last such chest to reach the auction market.

After the hammer came down on the chest, one of the unsuccessful bidders asked Usry who had won the piece. "I told him it was a bidder from England, and he replied, 'Victoria Britannia! It's coming home!" Usry said. "He was elated."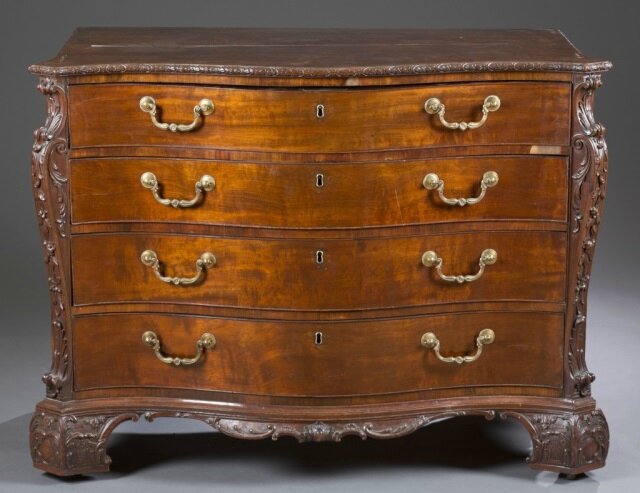 George III Dressing Chest. Mahogany with oak secondary. Serpentine top with foliate-carved edge, berried vine-carved angles on paneled and foliate bracket feet. The top drawer with green baize-lined slide above a fitted interior with lidded boxes. Rests on casters. 33" H x 45" W x 23 3/4" D. Provenance: Purchased from Christie's, October 12, 1996, Lot 110. Estimation 3 000,00 - 4 000,00 USD. Sold for $76,700. Courtesy Quinn & Farmer image.
The 180-lot auction totaled $1.19 million, inclusive of 18% buyer's premium. More than 80% of the goods sold were the property of a single consignor local to Charlottesville, leading Matthew Quinn, vice president of parent company Quinn's Auction Galleries, to comment: "We achieved our goal, which was to show people in the Charlottesville area and beyond that we're capable of doing a bang-up job of marketing, then following through with top results."
Ken Farmer, president of Quinn & Farmer, added: "An event like our April 18th sale is exactly what the Quinn family and I envisioned when we first came to Charlottesville. We wanted to combine our forces and produce global sales that would identify Charlottesville as a world-class auction destination."