Vincent van Gogh (1853 - 1890), L'Allée des Alyscamps. Oil on canvas, 36 1/8 by 28 7/8 in. 91.7 by 73.5 cm. Painted on November 1, 1888. sold for $66,330,000 to an Asian Private Collector. Photo: Sotheby's.
NEW YORK, NY.- Sotheby's flagship sale of Impressionist & Modern Art is underway in New York and a number of outstanding prices have already been achieved, including two major works by Van Gogh and Monet together commanding more than $120 million.

Hotly contested by no fewer than five bidders, Vincent van Gogh's L'Allee des Alyscamps sold moments ago for $66,330,000 to an Asian Private Collector. That price, a record for a landscape by the artist at auction, is also the highest price achieved for any work by Van Gogh since 1998.

Soon after, a battle ensued for Claude Monet's Nymphéas of 1905, which finally sold for $54,010,000, the third highest price for a work by the artist at auction. Having remained in the same collection since 1955, the appearance tonight of this little-seen work caused excitement among collectors from across the world and was purchased by an American Private Collector.
Van Gogh's L'Allee des Alyscamps
Painted in 1888, when Van Gogh was at the height of his powers and working easel-by-easel with his artistic sparring partner (and ultimate bête noire ) Paul Gauguin, L'allée des Alyscamps marks a moment of fantastic creative output for Van Gogh: many of his greatest masterpieces, including Sunflowers, Self-Portrait, L'Arlesienne and the Night Café, date from that same year. November 1888 also marks a famous turning point in the artist's personal life: just one month after this work was completed, violent disagreements with his erstwhile treasured friend Gauguin culminated in the famous slicing off of his ear. Soon after, he admitted himself to the the asylum in Saint-Remy. He died two years later, just as Gauguin was leaving for Tahiti.

This exceptional result comes on the heels of Sotheby's sale of another important work by Van Gogh. In November last year at Sotheby's New York, Still Life, Vase with Daisies and Poppies, sold for $61.8 million (estimate $30–50 million) to an Asian private collector – a new auction record for any still life by the artist.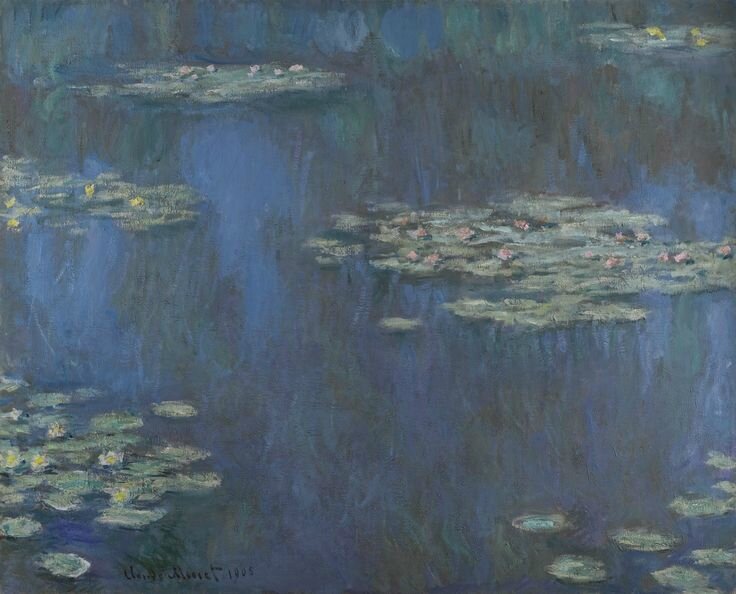 Claude Monet (1840 - 1926), Nymphéas. Signed Claude Monet and dated 1905 (lower left). Oil on canvas, 31 7/8 by 39 1/2 in., 81 by 100.5 cm. Painted in 1905. Sold for $54,010,000. Photo: Sotheby's.
Claude Monet's Nymphéas
Monet's Nymphéas paintings stand as the most iconic and celebrated series in Impressionist art. The famous lily pond in the artist's garden at Giverny provided the subject matter for most of his major late works, recording the evolution of his style and his constant pictorial innovations. The present example dates to 1905, and has remained in the same distinguished private collection since 1955. Until Sotheby's worldwide exhibitions this spring, the painting has not been viewed in public since 1945.

This work was included in the seminal exhibition held at the Galerie Durand-Ruel in 1909, which Monet titled Les nymphéas, series de paysages d'eau par Claude Monet. The artist insisted on payment for almost all the works to be included in the show, resulting in legendary dealer Durand-Ruel – who did not have the funds to bankroll the whole exhibition – having to acquire the pictures jointly with the Bernheim-Jeune brothers. Monet and the dealers chose 48 canvases, all of the same subject, which were shown in three rooms and drew the attention and admiration of countless collectors.

The first owners of the present Nymphéas were Émil and Alma Staub-Terlinden of Männedorf. Together they amassed one of the finest private collections of Impressionist art in Switzerland, with much of it being purchased over a short period of time around the end of the 1910s. The painting remained in the Staub-Terlinden's possession for many years, before being acquired by the present owner.