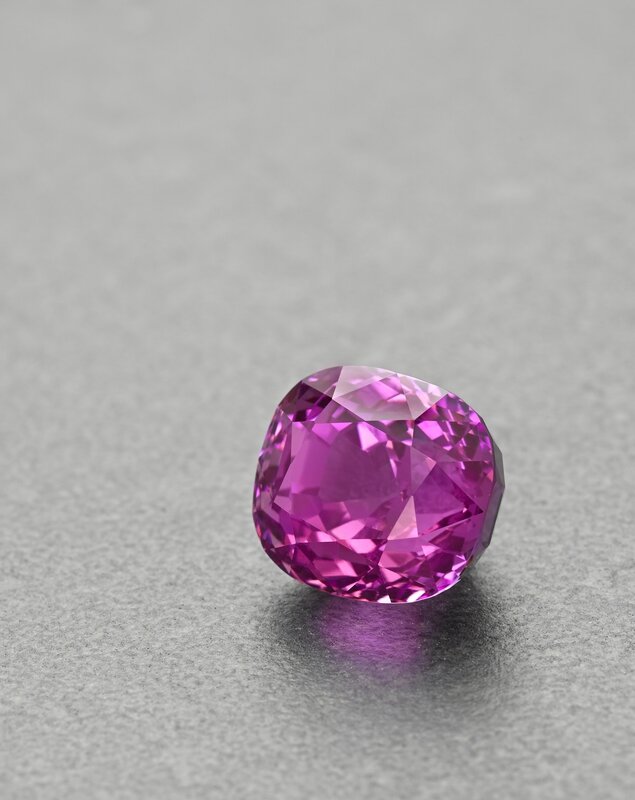 Exceptional and Rare 24.69 carats Natural Pink Sapphire, Classic TM Ceylon (Sri Lanka). Estimate on request
.
Photo: Bonhams.
LOS ANGELES, CA.- An exceptional and rare natural pink sapphire that is among the finest the market has seen in the last decade leads Bonhams' auction of Lapidary Works of Art, Gemstones and Minerals including Gold on May 19 at Bonhams in Los Angeles.

The sapphire, a classic beauty from the locality of Ceylon, weighing nearly 25 carats, is estimated to bring $600,000-800,000. Characterized by an astonishingly vivid natural pink hue that is unenhanced by heat treatment, the gem also possesses exceptional luster and transparency and is of unparalleled quality. It is one of many rare collector's gemstones that highlight this auction — gemstones of distinction suitable for mounting in jewelry by designers or for collectors to admire and retain unmounted.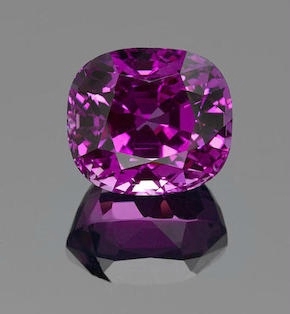 Exceptional and Rare 24.69 carats Natural Pink Sapphire, Classic TM Ceylon (Sri Lanka). Estimate on request. Photo: Bonhams.
This is a world-class natural color pink sapphire by any definition. Faceted as a mixed cushion-shape, the color is a true pink with no modifying secondary hues. Large in size for the species, the stone is rare for this locality or any other and is of particularly exceptional quality due to the excellent degree of transparency and its superb luster. This is a one-of-a-kind gemstone which should form the center of any important collection. Weighing approximately 24.69 carats and measuring 15.16 x 13.54 x 13.03 mm
Accompanied by an American Gemological Laboratories report number CS 54305 dated April 3, 2013 stating that the Pink Sapphire is "Classic TM Ceylon (Sri Lanka).
Non-heated pink sapphires are scarce. Pink sapphires are commonly heated to modify their color and appearance. No gemological evidence of heat is present.
"Total Quality Integration Rating (TQIR): Exceptional.
The unusual combination of size, provenance, absence of treatment and quality factors present in this material contributes favorably to its rarity and desirability."
Another notable gem in the sale is an exceptional Red Spinel of true vibrant red color, free of any modifying browns, estimated at $120,000-150,000. Rare due to its large size of more than 10 carats, even the style of its faceting is a reflection of its quality. The selection of an emerald-cut style is an indication that the gem cutter had great confidence in his gem rough. It is an expression of his desire to show off the incredible transparency by choosing a cut with a minimal number of facets that allow the beauty of the material to speak for itself.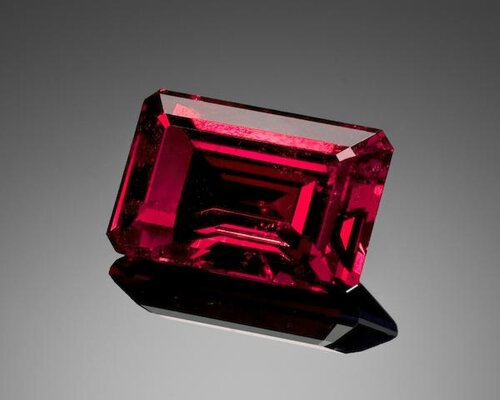 Exceptional 10.59 carats Red Spinel, Burma. Estimate 120,000 - 150,000 (€110,000 - 130,000). Photo: Bonhams.
Exceptionally large in size for the species, at over 10 carats, this gorgeous rectangular-cut stone has excellent brilliance. It is a true red having a strong saturation, but entirely allowing its inner beauty to be revealed as well as its high transparency. This is a fine collector's stone suitable for mounting as a ring or pendant. Considered to be a gem by any definition of the word: it displays exceptional color, luster and clarity which all combine to make this a desirable offering of exceptional quality. Weighing approximately 10.59 carats and measuring 15.73 x 10.20 x 6.60 mm
Accompanied by an American Gemological Laboratory report number CS 83683 dated July 3, 2014 stating that the modified rectangular step cut natural red spinel originated from Burma and that no evidence of gemological enhancements are present.
For centuries spinel was misidentified as ruby, e.g. Edward the Black Prince's "Ruby" in the British Crown jewels is, in fact, a magnificent red spinel. With gemological advances this confusion has now ceased and the gemstone has since emerged as a highly desirable stone in its own right. The rich red color of the present gem-quality stone illustrates how that original gemological confusion could have taken place. The color of the present example is perfect: it is neither too dark, nor does it bear any evidence of brown as is the case with so many reddish spinels.
Garnets representing most of the seven varieties in existence, including vibrant orange or "Mandarin" hued-Spessartites, will also be on offer. The star example of rare garnets is a collection, known as a "necklace layout," comprising 25 Demantoid Garnets from the Ural Mountains of Russia, weighing an aggregate of 29.63 carats, which is estimated at $200,000-250,000.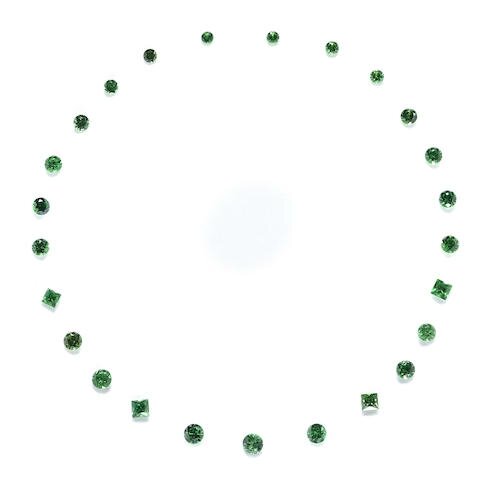 Rare Suite of Demantoid Garnets, Ural Mountains, Russia. Estimate 200,000 - 250,000 (€180,000 - 220,000). Photo: Bonhams.
Taking several years to collect rough of matching color and clarity in order to create such a fine suite of demantoid garnets, the present suite is sure to entice the most knowledgeable collector. The color of these garnets is an exceptionally vivid green--a 5 out of 5 in terms of the grading standards invented by the Russian miners and cognoscenti who have the level of connoisseurship to discern subtle nuances of color grading of this rare collector's stone. Unmodified by any yellow or brown tones, they exhibit no extinction or murkiness: each stone presents full vibrancy of color, an exceptional degree of transparency and brilliance. Consisting of 21 circular-cut garnets and 4 radiant-cut garnets. (25 pieces) Total aggregate weight: 29.63 carats. Large garnet weighs: 1.88 carats and measures 7.0 x 4.5mm
According to Gemologist and Co-Consulting Director of the Natural History Department at Bonhams, Claudia Florian, one wouldn't be able to go into the marketplace and find these easily.

She commented: "Each season, I turn away hundreds of potential gemstone consignments which are merely of common commercial value or average quality. I believe in "curating" an auction so that it contains only those gems which are rare and worthy of collection by the most discerning clients."

The auction will also feature a selection of rare exotic natural pearls, including such species as Conch, Giant Clam, rare purple pearls from the Quahog clam, Melo snails and Mississippi River pearls. Highlighting this section is an elegant conch pearl and diamond bead necklace featuring 49 pearls that is estimated at $250,000-300,000. The necklace has very feminine color composition and contrast with diamond spacers.
Conch Pearl and Diamond Necklace, Strombus gigas--"Queen Conch", Caribbean Sea. Estimate 200,000 - 250,000 (€180,000 - 220,000). Photo: Bonhams.
Comprising a total of 49 Conch pearls of slightly ovoid-shape, graduating size from 12 x 11mm at the center to 6 x 5 at the ends, illustrating the variety of colors in which conch pearls can be found including deep rose, blush, baby pink, orange, cream and salmon. Alternating with 44 briolette-cut diamond rondel beads of 4mm, weighing altogether 13.54 carats. Completed by an antique platinum and diamond clasp accented with three larger diamonds, weighing approximately 1.50 carats total by estimation, bordered by small single cut diamonds, mounted in platinum. Total approximate weight of pearls 169.08 carats. Length 22in
There is a single fossil lot available in the auction, but it is an exceptional one: an incomparable Sea Floor Block with Opalized Fossils, estimated at $200,000-250,000. It is the largest and most complete example of an assemblage of fauna from Coober Pedy, Australia, ever to come to auction, and no finer example can be found in any museum worldwide.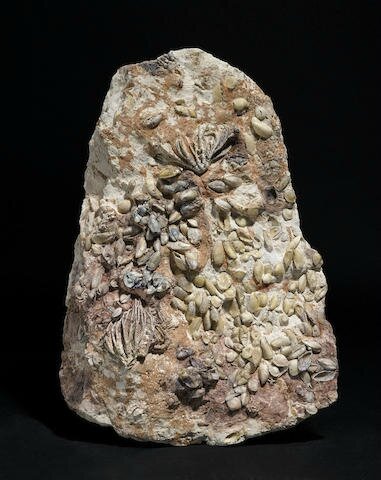 Incomparable Sea Floor Block with Opalized Fossils, Eyrena tatei, Cyrenopsis meeki, Euspira reflecta, Laevitrigonia bensimoni, Isocrinus australis, Ophioglyphoida sp., Early Cretaceous, Aptian, Bulldog Shale, Coober Pedy, South Australia. Estimate 200,000 - 250,000 (€180,000 - 220,000). Photo: Bonhams.
This piece measures: 37 x 26 x 6 inches.
This extremely rare sea floor block represents the most complete assemblage of fauna from this locality in existence. There is nothing comparable in any museum in the world. Replete with a variety of opalized mussels, the specimen boasts two complete crinoid crowns, two partial crinoid crowns, three complete brittle stars and one partial brittle star.

Australia is the only place on Earth where opalized animals are found. Opalization occurs solely in the fortuitous circumstance in which a silica solution leaks into a naturalmold left by a decayed animal in soil that has become rock over eons. The fossil, composed of opal, becomes a natural cast of the once-living creature.

Though closely resembling plants, crinoids are filter-feeding marine echinoderms. There are approximately six hundred extant species, but prehistoric crinoids existed in much greater abundance and diversity than today.

Popularly known as brittle stars or serpent stars, ophiuroids are from the class Ophiuroidea. As echinoderms, they are characterized by lattice-like internal calcite skeletons and hard, spiny outer surfaces. Closely related to starfish, with five long, slender arms, they crawl across the sea floor using these flexible, serpent-like appendages for locomotion.

Since 1915, Coober Pedy, which boasts over seventy opal fields, has supplied most of the world's gem quality opal. Known for its below-ground residences, a response to the searing temperatures of the region, the town's name originates from the local Aboriginal term, kupa-piti, which means white man's hole.

The present brittle star specimen represents a paleontological mystery. Two Australian brittle star species exist from the Cretaceous: Ophioglyphoida sp. and Ophiomicros bathursti. Like Ophioglyphoida, the present brittle star specimen displays rectangular adambulacral plates. However, Ophioglyphoida had delicate spines down each side of the arms. The lack of spines on the present specimen may indicate that it is not Ophioglyphoida, but rather Ophiomicros bathursti- or, alternatively, that the fragile structures were simply not left intact. Perhaps the specimen represents an undescribed species.
Also on offer will be a collection of lapidary carvings from the renowned firm of Constantin Wild of Idar-Oberstein, Germany. It includes a variety of at least 30 gemstone creations made of precious materials created throughout the last 40 years. Leading the collection is a magnificent, illuminated, carved Ruby Sculpture of an Eagle, estimated at $30,000-50,000. Also included will be highly sought-after flower studies and traditional Russian character figures, as well as functional items such as inlaid pietra dura mineral boxes or gemstone bowls.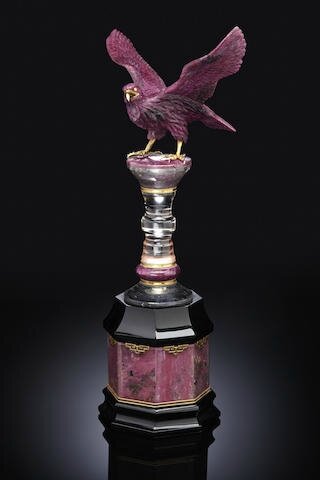 Magnificent Illuminated Carved Ruby Sculpture of an Eagle. By Constantin Wild, Idar-Oberstein, Germany. Estimate 30,000 - 50,000 (€27,000 - 45,000). Photo: Bonhams.
This spectacular carving comprises a large eagle of Tanzanian ruby, with its wing span of 9 inches, having 18K yellow gold feet and beak, accented with diamond set eyes rimmed in 18K gold. The tiered base is carved of Russian black obsidian, ruby and rock crystal while the octagonal base comprises inset slabs of ruby which houses a light fixture that provides a soft pinkish red glow from within. This is a stunning and unique lapidary work of art. Height 18in
Note: Constantin Wild
Born in 1964, Constantin Wild is the 10th generation of the famous Wild family in Idar-Oberstein, Germany. The family has dedicated its four-hundred-year history to the cutting and sculpting of gemstones.
The family tradition began with transforming agates and quartzes found locally into astonishing "objects d'art". Later, during the mid-1880s, the importation of various rough gems and minerals from all over the world into Germany brought their creativity to new heights.
Constantin, who joined the business in 1984, has not only followed the family tradition but has also added his own signature style. Today his masterpieces can be admired in prestigious collections all around the world.
Lapidary works by artist Luis Alberto Quispe Aparicio, whose work has been featured before at Bonhams, will also be offered. Sure to make a unique statement is a carved and illuminated Rock Crystal 'Polar Bear' Vodka Set comprising a decanter and six vodka shot glasses in the form of polar bears on an ice flow with a concealed light fixture beneath, estimated at $60,000-80,000. Another featured item by the same artist is a one-of-a-kind, fully functional Ruby Clutch Handbag - the first ever created entirely of panels of ruby inlaid into gold vermeil, estimated at $25,000-35,000.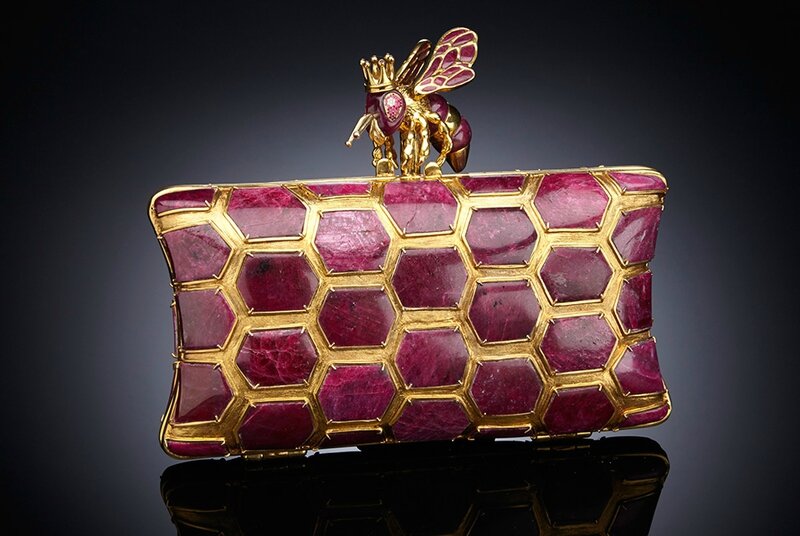 Unique carved Ruby clutch handbag "Kleodora-The Queen Bee', By Luis Alberto Quispe Aparicio. Estimate: $25,000-30,000 (€22,000 - 27,000). Photo: Bonhams.
This unique, functional art object was inspired by a Greek Queen Bee Goddess named Kleodora who fed the great god Zeus and taught the art of divination to young Apollo, giving him the gifts he needed to become the god of light, music and poetry.

The materials composing the clutch handbag were carefully chosen, having as their main component solid hand carved hexagonal slabs of fine Tanzanian ruby--a gemstone representing the expression of the fiery energy of the sun, nobility and royalty. Ruby is said to bring prosperity and protection, as well as keep one healthy and beautiful. Adorning the eyes are dozens of pave diamonds and faceted rubies. The crown is also decorated with several diamonds. Mounted in gold vermeil. Measuring 7 1/2 x 6 1/2 x 2 in
Note: Luis Alberto Quispe Aparicio
Luis Alberto Quispe Aparicio follows a second-generation family tradition, begun by his father, in the creation of objets d'art.
An engineer by profession, he grew up surrounded by artwork, sculptures, gemstones and minerals from around the world. Artists, master carvers and jewelers continuously visited and worked at their family studio in Lima, Peru during his formative years. Having recently spent a year in Paris specializing in the study of luxury goods, he now travels the world to bring a revolution of designs to their studio. Inspired by life experiences and nature following various visits to Africa, he has produced a "Wildlife Collection". Equally new to his body of work are Racing Car models, hand-made to scale in gemstones and gold. All of his works merge sculpting techniques with those of jewelry fabrication, and it is their unusual design work that separates them from traditional carving from Europe.
Today, although his family travels around the world searching for the rarest gemstones to incorporate into their work, their studio specializes in carving ruby. The second hardest mineral after diamond, few artists have managed to successfully work with ruby since it requires a very advanced technique for both carving and polishing involving two or three times as many tools and time as other materials. His works are displayed in museums in the United States and Europe and enjoyed by private collectors around the world.
Minerals in the sale include 30 lots of California gold, offered at enticing estimates, to be sold to benefit an educational charity: The William and Marian Ghidotti Foundation. These historic specimens came from one of the most sought after and beloved American mines and are of a rare crystallized form with a quartz matrix that is desired by mineral collectors. A highlight of this section includes a large Gold-in-Quartz Specimen, weighing 46.52 ozt., estimated at $40,000-60,000.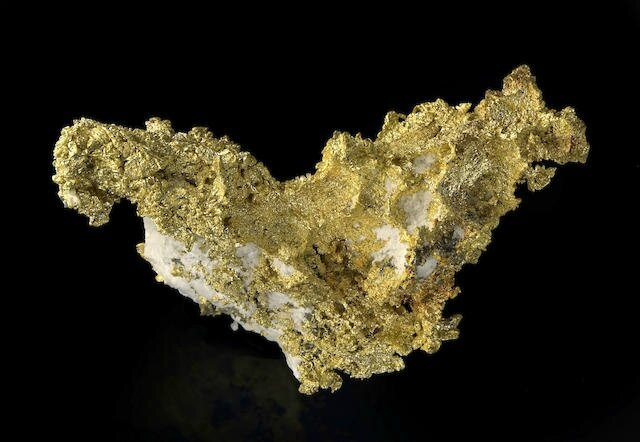 Magnificent and Very Large Gold-in-Quartz Specimen. Original Sixteen to One Mine, Alleghany, California. Estimate: $40,000 - 60,000 (€36,000 - 53,000). Photo: Bonhams.
Exemplifying the three habits of crystallized gold - octahedral, dodecahedral and cubic – this magnificent specimen displays particularly distinct, perfect cubes. To one end, complex, extraordindarily fine crystallized gold appears, while the other end exhibits coarsely crystallized growth. Fully three-dimensional, the specimen balances beautifully on three gold points, with the crystallization at the upper portion evoking the appearance of a bird; this top portion represents a different deposition from the other gold in the specimen. Gross weight 46.520 ozt (1448.8 grams). Approximate net weight of gold: 41.23 ozt (1282.38 grams). Measures 17 x 10 x 7cm
The William and Marian Ghidotti Foundation Historic Gold Collection