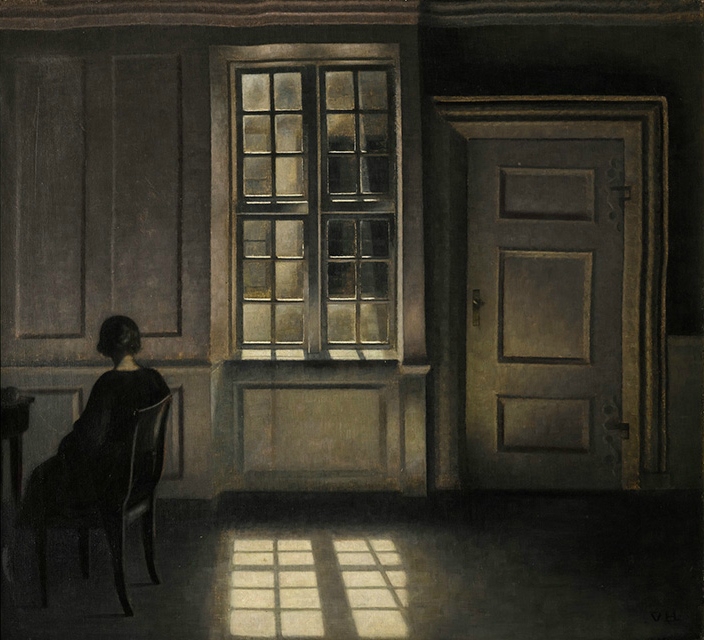 Vilhelm Hammershøi, Interior, Strandgade 30, circa 1905. Estimate: £700,000-900,000. Photo: Sotheby's.
LONDON.- This spring Sotheby's will bring to the market a striking interior by Vilhelm Hammershøi, remarkable for its introspective and beguiling qualities. Interior, Strandgade 30, painted circa 1905, was acquired directly from the artist and has remained in the collection of the same family ever since. Estimated at £700,000-900,000, it will be offered for sale in an auction of 19th Century European Paintings in London on 21 May 2015.

Nina Wedell-Wedellsborg, Head of Sotheby's Denmark, commented: 'Hammershøi is an artist whom Danish people hold close to their hearts. But with his ascent to international status through recent high-profile exhibitions, record-breaking prices at auction, and his unique aesthetic that finds resonance among collectors of both Old Master and modern and contemporary art, he has been embraced around the world, in academic circles, among art collectors, and also by the wider public.'

Claude Piening, Head of 19th Century European Paintings, commented: 'Hammershøi's paintings present the viewer with a haven of tranquility in which time slows almost to a standstill, yet they tantalise with mystery and unanswered questions. His vision both harks back to the interiors of Johannes Vermeer, and anticipates the qualities that define the work of twentieth-century painters including Edward Hopper, Andrew Wyeth, and Gerhard Richter. It is perhaps this universality that so appeals to the collecting community.'

Strandgade 30 in Copenhagen, where the artist and his wife Ida lived from 1899 to 1909, serves as the setting for Hammershøi's most important interiors. The small living room seen here, situated at the back of their first-floor apartment with its window overlooking the courtyard, was a motif that fascinated the artist throughout his decade at the address. With or without a figure, by sunlight, candlelight or moonlight, the room is always shown with the door and window closed to evoke Hammershøi's hermetically sealed world. The only contact to the outside is the sun's rays, which illuminate the window panes and project on to the floor; while inside, the narrative is steeped in mystery: although Ida appears to knit, the position of her head turned towards the window suggests her gaze is directed elsewhere, or lost in contemplation.

The composition is the basis of at least nine significant oils of 1900 to 1909, five of which are in public collections in Scandinavia, London and New York, including Moonlight, Strandgade 30, acquired by the Metropolitan Museum of Art in 2012.