LONDON.- Phillips presents highlights from the June Contemporary Art Auctions including highlights by Ai Weiwei, Bruce Nauman, Andy Warhol, Sigmar Polke, Raqib Shaw, Andreas Gursky, Yue Minjun, Damien Hirst and Mark Bradford. The Contemporary Art Sales will offer over 200 lots with a combined pre-sale estimate of £22.7-34.3 million ($34.7-52.3 million / €31.2-47.1 million).
The Contemporary Art Evening Sale presents 53 lots and carries a pre-sale estimate of £17,925,000 - £27,275,000 ($27.3-$41.6 million / €24.6- €37.4 million).
Of the 39 artists whose works are offered in the Contemporary Art Evening sale 15 have represented their countries at the Venice Biennale in the past. These artists include Lucian Freud (1954, UK), Gerhard Richter (1972, Germany), Sigmar Polke (1986, Germany), Damien Hirst (1993, UK), Yue Minjun (1999, China), Rosemarie Trockel (1999, Germany), Neo Rauch (2001, Germany), Robert Gober (2001, US), Chris Ofili (2003, UK), Gilbert & George (2005, UK), Ed Ruscha (2005, US), Giuseppe Penone (2007, Italy), Bruce Nauman (2009, US), Danh Vo (2015, Denmark) and Sarah Lucas (2015, UK).
Highlights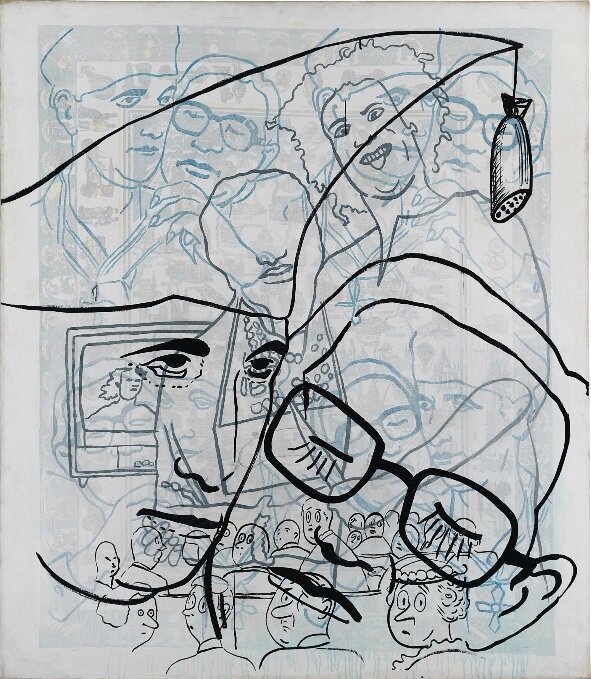 Sigmar Polke, Carnival, 1979, acrylic and graphite on printed canvas, 150 x 130 cm (59 x 51 1/8 in.). Estimate £1,000,000 - 1,500,000. Image courtesy of Phillips.
In the 1960s, Sigmar Polke instigated the Kapitalistischer Realismus (Capitalist Realism) movement along with Gerhard Richter and Wolf Vostell. This uniquely German Pop permutation was an ironic celebration of the country's buoyant postwar economy, standing in direct opposition to the Socialist Realism that was popularised and endorsed by the Communist party. Carnival inverts expectations of conventional portraiture. Polke bodies forth a kind of surrealist accretion populated by the ghosts of Socialist Realism, the icons of consumerist complacency, and his own somnolent likeness. All are levelled onto the same picture plane in a pageant of dreamlike and shifting perspectives. A demand is made of the viewer to filter through numerous physical and conceptual layers in order to assemble a visual coherence. A strangely enfeebled self-portrait is doubled, tripled, quadrupled as layers recede. The würst dangling carrot-like from the clown's cap figures an ironic sanctification of German consumer culture akin to Warhol's Coca-Cola or Campbell's soup can, while a worried TV audience hovers nervously beneath. Carnival deconstructs hierarchies. Across different artistic movements, social hegemonies and staid conventions, Polke dreams a fractal reality that radiates intellect and wit.
PROVENANCE : Private Collection, Belgium
Barbara Gladstone Gallery, New York
Private Collection
Christie's, London, Post-War and Contemporary Art Evening Auction, 14 October 2010, Lot 35
Acquired at the above sale by the present owner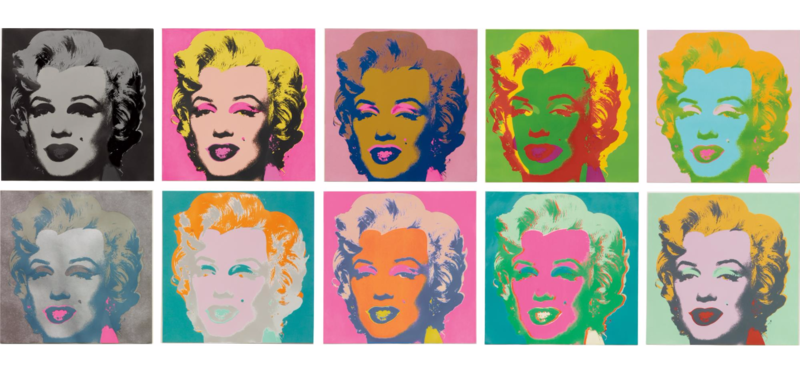 Andy Warhol, Marilyn Monroe, 1967, portfolio of screenprints on paper, in 10 parts, each 91.4 x 91.4 cm (36 x 36 in.). Initialled and stamp numbered on the reverse; further numbered on the reverse A124.086, A130.086-138.086. Published by Factory Additions, New York. This work is comprised of 7 prints numbered 62 and 3 prints numbered 137 from an edition of 250 plus 26 artist proofs. Includes original corrugated portfolio box. Estimate £1,000,000 - 1,500,000. Image courtesy of Phillips.
Eternal and haunting, Andy Warhol's Marilyn Monroe is an idol of terrifying power. It is an image with which our culture is saturated to the extent that to this day its original impact reverberates, is recapitulated, in continuing affirmation of Warhol's searing inquest into fame and consumerism. Warhol first created a silkscreen of Monroe in 1962, just weeks after her death at the age of thirty-six. He used a publicity still from her 1953 movie Niagara. The archetypal picture of Monroe in ascension to stardom, this photograph presents a relaxed and sensuous visage: suggestively parted lips, perfect hair, an inviting and smoky gaze. It is a face guilelessly at odds with the brutal and unrelenting serialisation to which Warhol would subject it. Warhol's well-documented factory-line production methods are at perhaps their most poignant in his treatment of Marilyn. As a pin-up and sex symbol, she was expected to maintain a paradoxically spotless public image; Warhol exposes the tragic contradictions of such celebrity in his Marilyn's sphinx-like mask.

Much as his electric chairs or car crashes, there is something macabre in the Marilyns. Brought into being so soon after her untimely death, they capture and preserve her in idealised state. Warhol's choice of the Niagara publicity shot hit a tragic note when his first Marilyns went on display in Castelli Gallery in 1962; many visitors wept at the face before them, which bears the innocence of her early career before fame and illness took their fatal toll.
PROVENANCE: Galerie Ileana Sonnabend, Paris
Collection of Micheline & Claude Renard
Christie's, London, Post-War and Contemporary Art Evening Sale, 8 February 2006, lot 46
Private Collection, New York
Phillips, New York, Evening Sale, 6 March 2014, lot 12
Acquired at the above sale by the present owner

LITERATURE: K. McShine (ed.), Andy Warhol: A Retrospective, New York: Museum of Modern Art, 1989, . 220 (illustrated)
C. Heinrich, T Sokolowski, et al., Andy Warhol - Photography, New York: Stemmle Publishers, 1999, p. 55 (illustrated)
G. Celant (ed.), Super Warhol, Milan: Skira, 2003, p. 266 (illustrated)
F. Feldman and J. Schellmann, Andy Warhol Prints: A Catalogue Raisonné 1962-1967, 4th ed., New York: Distributed Art Publishers Inc. and The Andy Warhol Foundation for the Visual Arts Inc., 2003, cat. no. 11.22-31, pp. 68-69 (illustrated)
A. Warhol, G. Mercurio, D. Morera, The Andy Warhol Show, London: Thames & Hudson, 2005, pp. 88-89 (illustrated)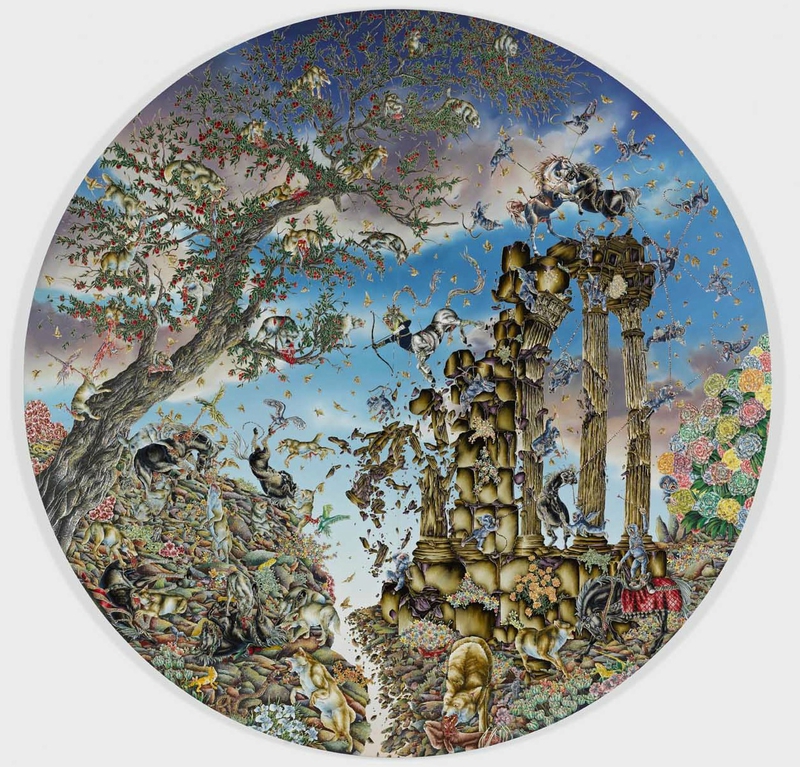 Raqib Shaw, Arrival of the Horse King from the series Paradise Lost, 2011-2012; oil, acrylic, enamel, glitter, rhinestones on birch plywood; diameter 273.7 cm (107 3/4 in.). Signed and dated '"Arrival of the Horse-King" (PARADISE LOST SERIES) Raqib Shaw 2011-2012' on the reverse of the left panel. Signed and dated 'Raqib Shaw 2011-2012' on the reverse of the right panel. Estimate £700,000 - 1,000,000. Image courtesy of Phillips.
Raqib Shaw creates opulent and fantastical visions unlike those of any other artist. Bursting with carnality, his jewel-like surfaces teem with real and hybrid creatures that fight and roar through vivid landscapes. The lurid crowds of Hieronymus Bosch are evoked, as are the fluidly elegant dynamisms of Mughal hunting scenes. His work is infused with personal experience and shaken with an intricate cocktail of other influences: the present lot is from a series inspired by Milton's epic poem Paradise Lost, which Shaw reconceived as a quixotic song to his own childhood memories. Shaw works in a unique fashion, beginning his flora and fauna as line drawings before transferring them individually to acetate; using a projector, he builds his vast compositions from the centre outwards, before applying stained glass liner to seal off the lines. He then delicately pools paint through a fine nozzle into each area, works the individual sections with a porcupine quill, and finally adorns this intensely wrought surface with gold, glitter and crystals. In Arrival of the Horse King from the series Paradise Lost, his meticulous method results in a startling scene. The trees are filled with wolves; scintillating horses clash in a painfully blue sky, as birds tear eyes from sockets and flesh from bone; classical ruins shatter, strung with screaming ape-faced Cupids and psychedelic flowers. In this postmodern Silk Road of glitter and death, neon blossoms, gleaming halberds and sharp teeth abound, ropes of crystal drawn taut across the composition. This is an orgiastic earthquake of a painting, a gaudy and exhilarating tableau that exults in beautiful carnage.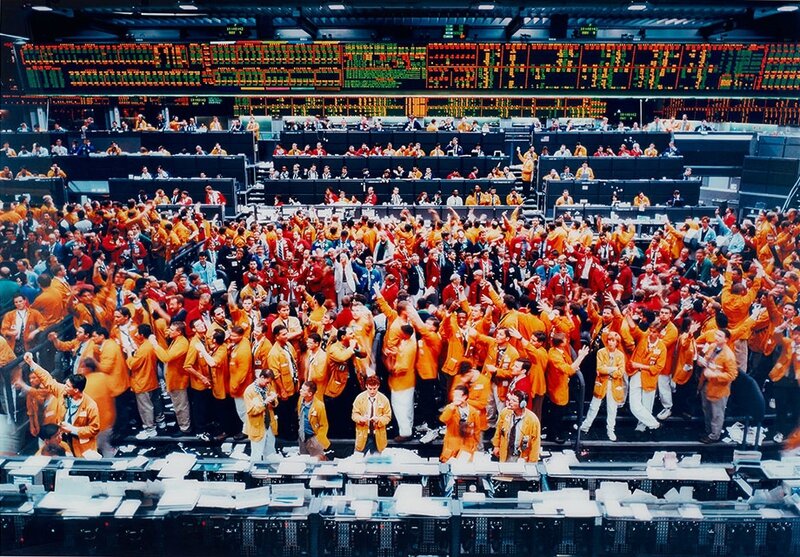 Andreas Gursky, Chicago, Mercantile Exchange, 1997. chromogenic print, in artist's frame
sheet 181.6 x 244.5 cm (71 1/2 x 96 1/4 in.) frame 185.4 x 248.3 cm (73 x 97 3/4 in.). Signed, titled, numbered and dated 'Chicago, Mercantile Exchange '97 6/6 A. Gursky' on the reverse. This work is number 6 from an edition of 6. Estimate £650,000 - 850,000. Image courtesy of Phillips.
Andreas Gursky's photography marries dispassion and fixation. In his large-scale photographs of the contemporary landscape - tower blocks, shipyards, and roadways - the artist assumes distance from his subjects even as he remains alert to their sublimity. Tracing back to 1990, Gursky's interest in the stock exchange as a place of human activity is long standing. Dating from that year, Tokyo Stock Exchange depicts a scene comparable to Chicago, Mercantile Exchange; a central desk forms the focal point around which is organised the theatre of human emotion. In other work, the artist casts his gaze over similar institutions in Kuwait and Hong Kong. In each instance, he strikes a careful balance between studied composition and the expressive force of the human gesture. Human activity becomes communal; crowds become entities in themselves, and assume their own distinct energy. Once the image has been arranged, Gursky declines to pass any judgement. Chicago Mercantile Expression, as other of his work, is ultimately an affirmation of distress as it is of rapture.
PROVENANCE: Private Collection, USA
Acquired from the above by the present owner in 2006

LITERATURE: Andreas Gursky: Photographs from 1984 to the Present, exh. cat., Wolfsburg, Kunstmuseum, 1998, p. 55 (another example illustrated)
Andreas Gursky 1998-99, exh. cat., Milwaukee Art Museum, Milwaukee, 1999, cover and no. 7 (another example illustrated)
Andreas Gursky: Werk -Works 80-08, exh. cat., Krefeld Kunstmuseum, Krefeld, 2009, p. 155 (another example illustrated)
N. Degen, The Market (Whitechapel: Documents of Contemporary Art), London: MIT Press, 2014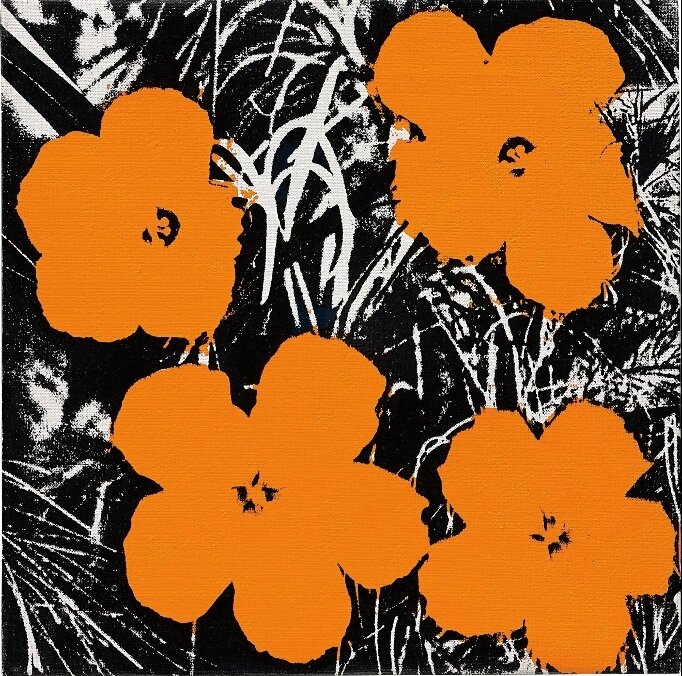 Andy Warhol, Flowers, 1964; synthetic polymer, silkscreen ink on canvas; 35.6 x 35.6 cm (14 x 14 in.). Signed 'ANDY WARHOL 64' on the overlap. Stamped by the 'Andy Warhol Art Authentication Board Ltd. and numbered 'A112.965' on the overlap. Estimate £650,000 - 850,000. Image courtesy of Phillips.
Andy Warhol's Flowers are some of the most remarkable images of his career. Conceived in 1964, their opening exhibition at Leo Castelli's New York gallery saw the artist blossom to international stardom. The series is a gorgeous embodiment of some of Warhol's most enduring themes: these are flowers of mass-production, beauty, and death. There is a rich history of flowers in art. David Bourdon likened Warhol's to 'cut out gouaches by Matisse set adrift on Monet's lily pond' (David Bourdon, The Village Voice, 3 December 1964); this wistful image captures a sense of the array of floral referents Warhol could draw upon. Long weighted with symbolic associations of transience, sensuality and glory, flowers play an important role in European vanitas still life paintings of the 16th and 17th centuries. These arrangements often appear on the surface to be a celebration of material wealth or natural beauty, but contain pointed references to death and decay. Strewn among skulls, rotten fruit and hourglasses, the fast-fading splendour of flowers made them potent symbols of the evanescence of all worldly things. Warhol's flowers convey a similar vulnerability. Hovering above a dark and deeply textural grassy background, their flatly vivid colour appears on the verge of burning out or being swallowed up.
PROVENANCE: Ileana Sonnabend, Paris
Fred Hughes, New York
Thomas Amman Fine Art, Zurich
Heiner Bastian, Berlin
Stellan Holm, New York
Peder Bonnier Gallery, New York

EXHIBITED: Paris, Sonnabend Gallery, Andy Warhol: Flowers, May 1965

LITERATURE: N. Frei, G. Prinz (eds.), The Andy Warhol Catalogue Raisonné, Paintings and Sculpture 1964-1969, vol. 02B, New York, 2004, n.p, no. 1535 (illustrated)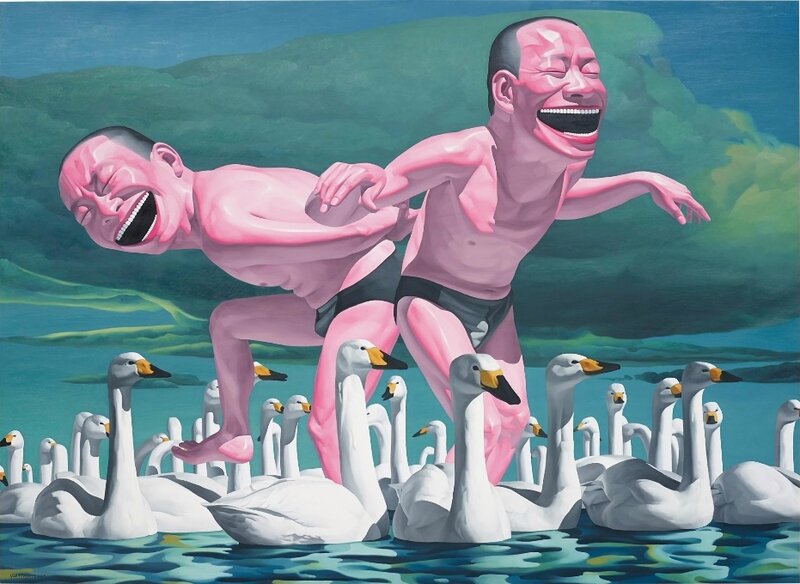 Yue Minjun, Free at Leisure No. 11, 2004; oil on canvas, 220 x 300.7 cm (86 5/8 x 118 3/8 in.). Signed and dated 'yue minjun 2004' lower left. Signed and dated in Chinese on the reverse. Estimate £500,000 - 700,000. Image courtesy of Phillips.
The fixed grin of Yue Minjun is an icon of contemporary China. Instantly recognizable, its uncanny and relentless repetition throughout his oeuvre defies easy analysis. Our initial impression is one of humour or levity, but the smile, seen in endless series, becomes a mask rather than revealing true emotion; the expressive loses all expression, and we are faced with a compelling, hysterical blankness.

Yue was raised in socialist China, working on oil platforms; he later moved to the Songzhuang artists' colony in the eastern suburbs of Beijing. He first came to prominence in the late 1980s, among a new wave of artists who had seen the end of the Cultural Revolution and emerged vividly from the monolith of Social Realism. In 1992 critic Li Xianting coined the term 'Cynical Realism' to describe this movement, characterised by irony and disenchantment in the face of China's dizzying social and economic change.
PROVENANCE Arario Gallery, Beijing

EXHIBITED Shenzhen, He Xiangning Art Museum, Reproduction Icons: Yue Minjun Works: 2004-2006, 3 June-11 June 2006
Cheonan, Arario Gallery, Absolute Images: Chinese Contemporary Art, 28 June-20 August 2006

LITERATURE Reproduction Icons: Yue Minjun Works, 2004-2006, exh. cat., He Xiangning Art Museum, Shenzhen, 2006, pp. 116-117 (illustrated)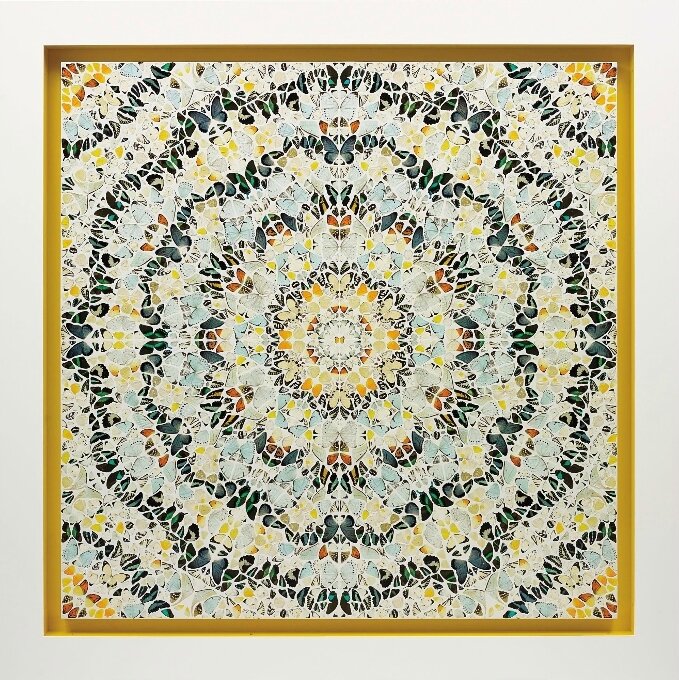 Damien Hirst, Veneration, 2007; butterflies, household gloss on canvas; canvas 182.8 x 182.8 cm (71 7/8 x 71 7/8 in.) framed 223.2 x 223.2 cm (87 7/8 x 87 7/8 in.). Signed, titled and dated '2007 Damien Hirst "Veneration"' on the reverse. Estimate £450,000 - 650,000. Image courtesy of Phillips.
Through the butterfly, Damien Hirst finds a new way to approach those most enduring of themes – beauty, religion and mortality. His interest in the insect is longstanding, dating back to the very early years of his career. Whether pressed into household paint or arranged in kaleidoscopic form, his work with the butterfly, as with other species, has attracted both controversy and wonderment. The butterfly was at the heart of In and Out of Love (1991), Hirst's first solo exhibition in an ex-travel agent's office in Woodstock Street, London. The show was spread over two floors; one where butterflies were born and fed, and another where the deceased insect was set into wetly painted canvases. Fearlessly approaching mortality, the work resonates with much of the artist's work. In 2001, Hirst began to focus his attention on the butterfly's wing. Arranging these already intricate forms into yet more elaborate patterns, he began his iconic 'Kaleidoscope' paintings. It is to this body of work that Veneration belongs. Celebratory in effect, the piece is aptly titled; enlivened by an explosive energy, the work joyously bursts forth. Veneration is a practice common to Roman Catholicism, in which saints are honoured, frequently through interaction with outward signs. Raised by a mother of Catholic heritage, this tradition remains an important influence on Hirst's work. Yet Christianity is by no means the only religion towards which Veneration gestures. In its composition, not least the circular form at its centre, the piece recalls a mandala, a significant symbol in Buddhist and Hindu belief. Drawing together these strands of ritual, Veneration is a richly symbolic piece in which the artist brings his own preoccupations into conversation with histories of religious thought.
PROVENANCE The Artist
Private Collection, London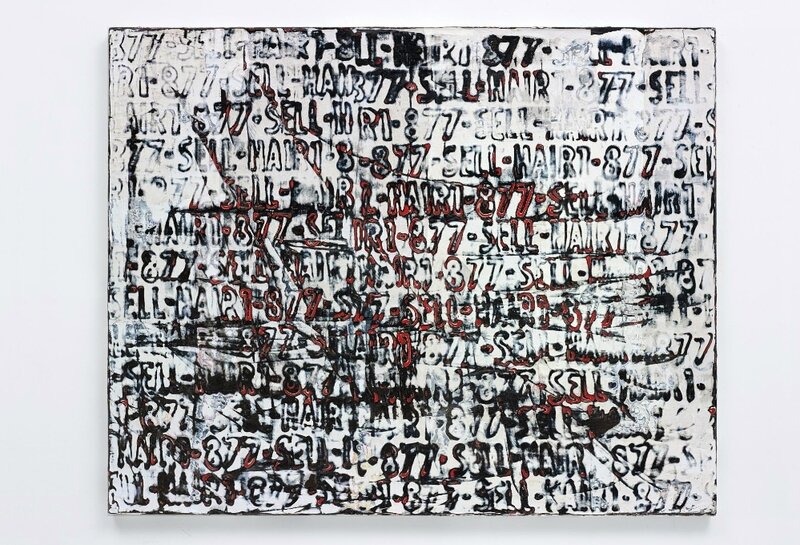 Mark Bradford, Waiting on Forever, 2011, mixed media collage on canvas, 102.6 x 122.3 cm (40 3/8 x 48 1/8 in.). Signed, titled and dated 'Waiting on Forever 2011 Mark Bradford' on the reverse. Estimate £400,000 - 600,000. Image courtesy of Phillips.
Mark Bradford's work is defined by a twin process. He starts with pieces of found media, among them posters, fliers and hairstylists' endpapers, and from them creates densely layered pieces: accretions of text and image. In this process, remnants of experience are piled atop each other, alternately rearranged and subsumed.

Often deriving this raw material from the streets of Los Angeles' Leimert Park, the extent to which it remains decipherable varies between pieces. In Waiting on Forever, 2011, constituent parts are largely legible. The words 'SELL', 'HAIR' and the telephonic fragment '1-887' suggest that the source is promotional material for the sale of hair - a practice which Bradford would have encountered working in his mother's salon. Yet in the repeated and blurrily overlaid iterations of these characters, the original material dissipates. It is replaced by a more nebulous presence: an abstracted atmosphere, emerging yet distinct from the raw material.
PROVENANCE Sikkema Jenkins & Co., New York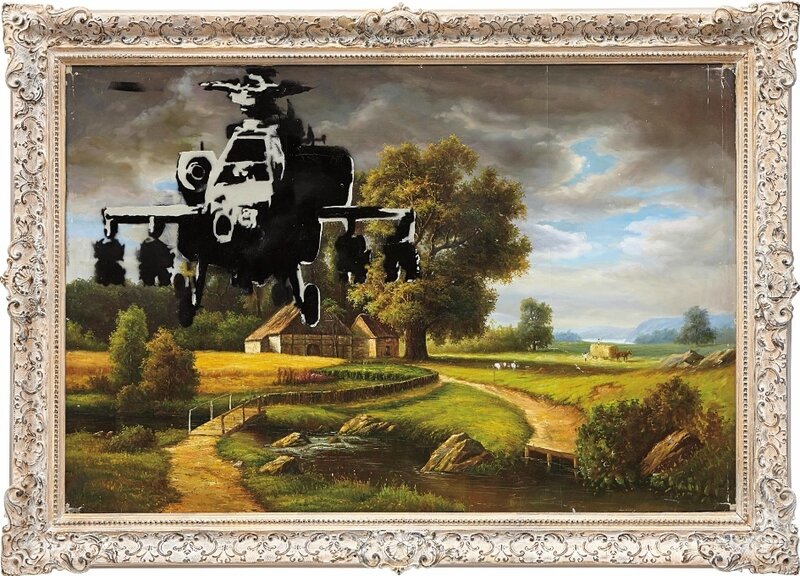 Bansky, Study for Happy Choppers, 2003, spray paint on found framed oil painting, 79 x 109.7 cm (31 1/8 x 43 1/4 in.). This work is accompanied by a certificate of authenticity issued by Pest Control. Estimate £300,000 - 400,000. Image courtesy of Phillips.
An inveterate provocateur, Bansky works under the veil of pseudonymity to create work of visual audacity and satiric potency. With a background in graffiti, much of his work is site-specific, incorporating features of the urban landscape. Whether a figure emerging from behind a telephone box or a stenciled phrase rebuffing a CCTV camera, his pieces respond to and reimagine their surroundings. They prompt both laughter and reflection, challenging authority as they challenge their environment. Even when he isn't creating street art, Banksy borrows heavily from its methodologies; his work refashions preexisting objects, be they walls or paintings, with wit and polemic intent.

Study for Happy Choppers belongs to a series entitled Crude Oils, and references a contemporary controversy – principally that surrounding the Iraq War. The conflict was the subject of considerable debate, and accusations were made that coalition military action was motivated by Iraq's supply of oil. Study for Happy Choppers gestures towards this debate; the title refers not only to the materiality of the piece but also to the political climate of the time. This willingness to engage boldly and unapologetically with world events characterises much of Banksy's work.
PROVENANCE Private Collection, Vienna
Dorotheum, Wien, Zeitgenossische Kunst, November 28, 2007, Lot 272
Private Collection, New York

EXHIBITED Vienna, Kunsthalle Exnergasse, Bad Press: Banksy, 25 June-26 July 2003