Exterior of Masterpiece London 2015 with 'Adam' and 'Eve' by Richard Hudson, represented by Leila Heller Gallery. Photo: Deniz Faragulle.
LONDON.- The Preview Day of the sixth edition of Masterpiece London ended with reports of record visitor numbers and strong sales across the board. The Fair draws collectors, curators, and designers from all over the world who view and purchase exceptional works of art spanning over 4,000 years of art history. This year the Fair welcomed a record 8,900 visitors on its opening day to the stunning Thames side location of the Royal Hospital Chelsea, an increase of over 26% on last year.

"Opening day has proved better than ever!" said Raffaello Tomasso, at Tomasso Brothers Fine Art (Stand C2). "Visitors have loved the stand," added Dino Tomasso, "and we've met an enormous number of new contacts." Amongst several opening day sales was a Franco-Italian early C19th marble bust of Pyrrhus depicted as the Greek god Ares, sold for a price in the region of £100,000.
Strong sales were reported across the board including the sale of the prime piece at Rupert Wace Ancient Art (Stand C21), Hygiea for a six figure sum. Symbolic & Chase (Stand C7) sold an important diamond and ruby Boucheron cuff for a seven figure sum and Koopman Rare Art (Stand C30), silver specialists sold their fair highlight The Great Seals of the Queen's Bench, 1838.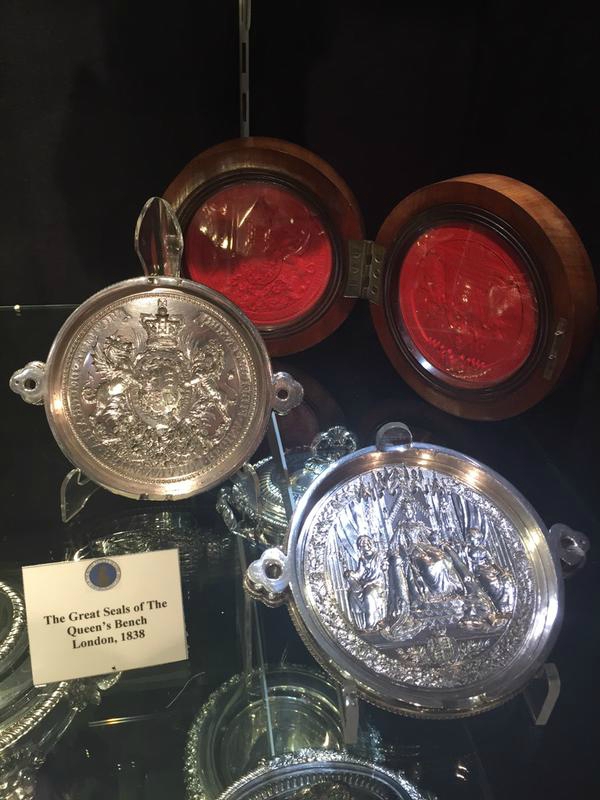 The Great Seals of the Queen's Bench, 1838. Photo courtesy Koopman Rare Art.
Modern British has performed particularly well with a previously unknown work by Henry Moore, a lead Helmet, 1950, discovered by Osborne Samuel (Stand D24) and sold to a private Canadian collector who flew in especially for the Fair. Richard Green (Stand D26) got off to a good start, including the sale of a fine painting by L.S. Lowry and Dickinson (Stand D2) sold works by Chagall, Miró and Rodin on Preview Day. Robertaebasta (Stand B42) were delighted with the opening day achieving many sales including an important work by Alighiero Boetti, 1988. The Tom Scott collection of clocks offered by Carter Marsh & Co (Stand D11) achieved lots of attention with the Medici Tompion selling for £4.5million and a further 5 long case clocks taking the total to an "astonishing" £8million. In the decorative arts Ronald Phillips (Stand D6) sold The Castle Howard mirrors, a set of four George II giltwood mirrors, circa 1740, and Robert Young Antiques (Stand C11) got off to a flying start with much of their stock selling within only a few hours of the fair opening.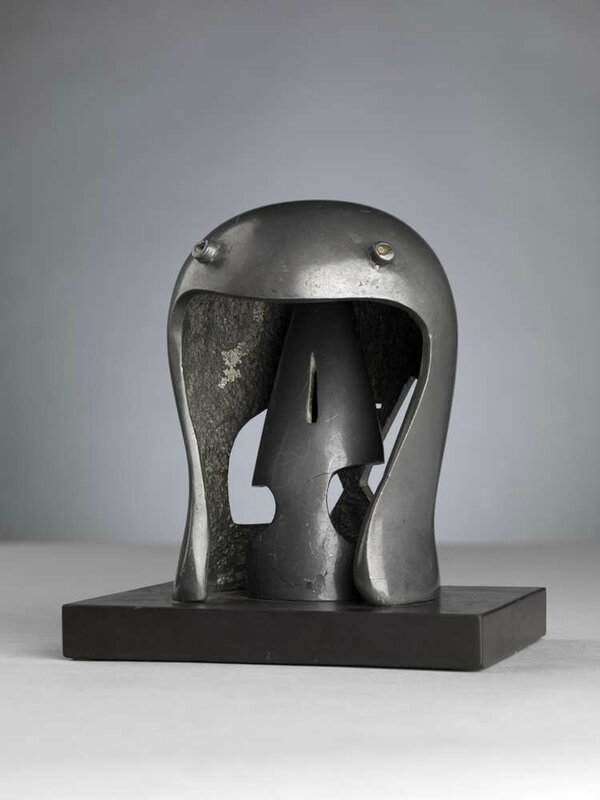 Henry Moore, Helmet, 1950. Lead, Unique Signed on the base" To Ann Zwinger from Henry Moore" 16 x 14 x 11 cm (6 1/4 x 5 1/2 x 4 1/4 in) Reference: LH2/279a. Photo courtesy Osborne Samuel.
Laurence Stephen Lowry, At the Seaside. Signed and dated lower right: L.S. Lowry 1957; inscribed AT THE SEASIDE on the overlap Oil on canvas: 20 x 24 in / 50.8 x 61 cm Framed size: 26 ¼ x 30 ¼ in / 66.7 x 76.8 cm. Photo courtesy Richard Green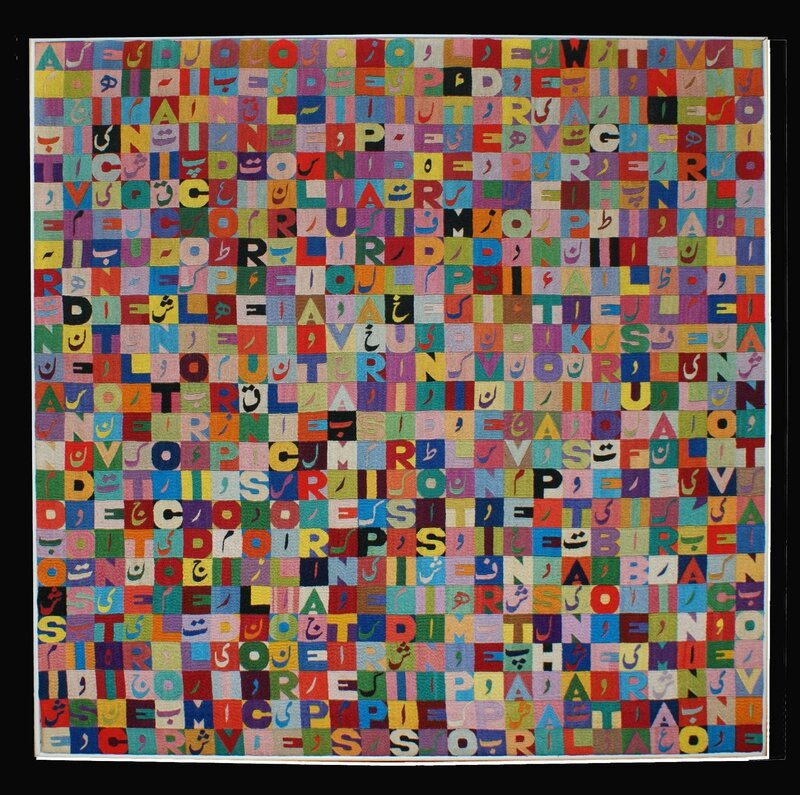 Alighiero Boetti, ALTERNANDOSI E DIVIDENDOSI. Embroidered tapestry, 1988. Dimensions: 107 cm x 108 cm. Photo courtesy Robertaebasta.
The Castle Howard mirrors, a set of four George II giltwood mirrors, circa 1740. Height: 39 in; 100 cm. Width: 28.5 in; 73 m. Photo courtesy Ronald Phillips.
J-F Courville, Chief Operating Officer, RBC Wealth Management, said 'We are delighted to continue our sponsorship of Masterpiece London with the introduction of the Fifth Plinth. Inspired by Trafalgar Square's Fourth Plinth, the Fifth Plinth in the Royal Bank of Canada lounge will feature a different 'Masterpiece' each day. Our sponsorship of the Fair also forms part of a larger dialogue between artists and collectors which the Royal Bank of Canada supports through a $7 million annual global commitment to the arts.'
High profile guests that attended included Evegeny Lebedev, Mila Kunis, Andrew Lloyd-Webber, Jasper Conran, Robbie Williams, Jade Jagger, Roman Abramovich, Dasha Zhukova, Paul McCartney and wife Nancy Shevell, Petra Ecclestone, James Stunt, Tamara Ecclestone, Sir Howard Hodgkin, Audrey Gruss, Terence Disdale, The Earl & Countess of Derby, Daniel Katz, Scott Snyder, Fredrikson Stallard, Jamie Drake, Ellie Cullman, Lord Constantine, Basia Briggs, Nick Foulkes, Princess Michael of Kent, Sol Campbell, and Scott Snyder as well as the Chelsea Pensioners, all of whom added to the buzz of the Preview Day.

Museum collectors and patrons included Carlos Picon (The Metropolitan Museum of Art), Rosie Mills (LACMA), Sir Nicholas Penny (National Gallery), Peter B Kerber (Getty Museum), Jessica Harrison-Hall (British Museum), Rita Freed (Museum of Fine Arts, Boston), and Duncan Bell (Rijksmuseum), to name but a few.
The 2015 Fair saw major unveilings from our exhibitors, including an unseen and uncatalogued pastel work by Claude Monet, which was discovered on the back of an existing pastel given by Monet to Paul Durand-Ruel's (Monet's dealer) granddaughter on her wedding day, offered by Richard Green (Stand D26); one of the largest fancy vivid Old-Cut yellow diamonds to ever come to market, weighing just over 114 carat, was unveiled by Symbolic & Chase (Stand C7); Dickinson (Stand D2) presented a monumental painting measuring over 4.5 metres tall by Robert Delaunay, the husband of Sonia Delaunay who is currently the focus of a major retrospective at Tate Britain.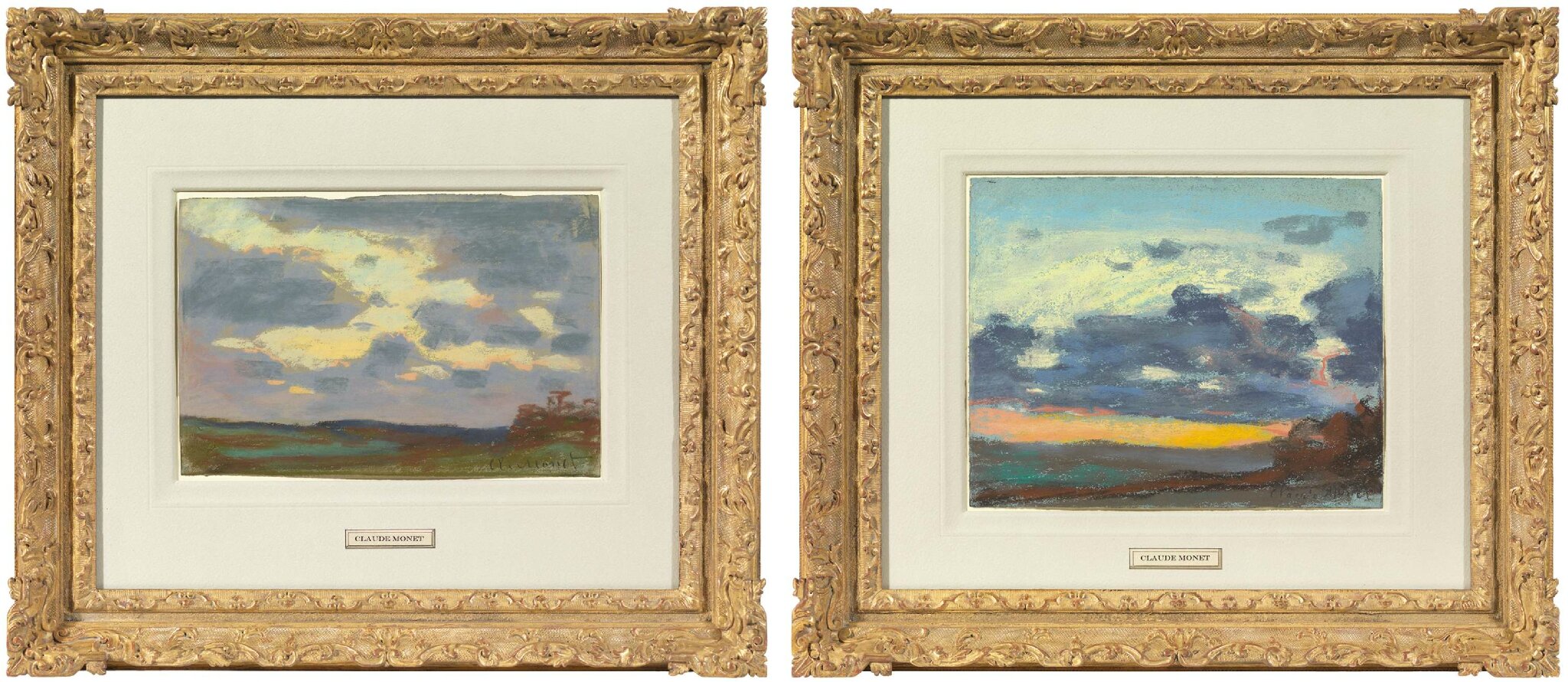 Claude Monet (Paris 1840 – 1926 Giverny), Etude de ciel; verso Le Havre, la jetée. One of a pair, signed lower right: Claude Monet. Pastel on paper: 7 ½ x 9 ½ in / 19.2 x 24 cm. Frame size: 15 x 17 ¼ in / 38.1 x 43.8 cm. Executed circa 1868. Etude de ciel. One of a pair, signed lower right: Claude Monet. Pastel on paper: 6 ½ x 9 ½ in / 16.4 x 24.5 cm. Frame size: 15 x 17 ¼ in / 38.1 x 43.8 cm. Executed circa 1868. Photo courtesy Richard Green.
Provenance: Given by Monet as a wedding present to Anne-Marie Durand-Ruel (1901-1990), granddaughter of Paul Durand-Ruel, who married Jacques Lefébure on 13th December 1924;
by descent in a private collection, France
Exhibited: Paris, Galerie Paul Durand-Ruel, Tableaux par Claude Monet, 6th-19th June 1928, no.43 or 44.
Literature: Photo Durand-Ruel 10600 (Archives Durand-Ruel)
Daniel Wildenstein, Claude Monet, Catalogue raisonné, vol. V, Supplément aux peintures: Dessins, Pastels, Index, Lausanne 1974, p.164, P53, illus.
Photo Durand-Ruel 10601 (Archives Durand-Ruel)
Daniel Wildenstein, Claude Monet, Catalogue raisonné, vol. V, Supplement aux peintures: Dessins, Pastels, Index, Lausanne 1974, p.164, P52, illus.
Notes: These astonishing, vibrant pastels have not been exhibited since 1928 and represent an aspect of Monet's oeuvre that is still little known, despite the excellent exhibition The Unknown Monet: Pastels and Drawings at the Royal Academy, London in 2007[1]. They were given to the granddaughter of Monet's dealer Paul Durand-Ruel as a wedding present in 1924 and have stayed in the family ever since. Although about a hundred pastels by Monet survive, in later life he rarely referred to them and played down their significance, preferring his public to believe that he tackled nature only through plein-air oil painting directly in front of the motif.
As Richard Kendall points out in his essay 'Monet's pastels in private'[2], these studies of skies are not intended to be transferred directly into oil compositions, but rather are exercises in capturing the fleeting effects of nature in a medium more rapidly responsive than that of oil paint. A similar exercise was carried out by John Constable in the 1820s, when he used small oil on paper sketches to investigate the changing sky as the 'chief organ of sentiment' that determined the mood of a landscape. Kendall comments that the 'granular softness' of pastel 'was unusually appropriate to the changeability of nature itself. Improvising textures and transitions of hue as the scene evolved in front of him, Monet could blur the edge of a moving cloud with his fingertips or add streaks of light as the sun suddenly illuminated a tree or path'[3].
Apart from the London pastels made after 1900, the vast majority of Monet's pastels describe the area around Le Havre in Normandy where Monet grew up. The present pair form part of a group of nine which Daniel Wildenstein dates circa 1868, as two, Apres la pluie (private collection)[4] and Le soir (private collection)[5] are signed and dated 1868 by Monet himself. Wildenstein suggests that these pastels may have been made near Montivilliers on the outskirts of Le Havre, when Monet was painting a portrait of Mme Gaudibert (Musée d'Orsay, Paris), daughter of a local notary and wife of one of his staunchest early patrons[6].
Like the Richard Green Etudes de ciel, Après la pluie and Le soir show a stretch of land with trees to the right, looking towards a dramatic, stormy sunset. The pastels have a 'serial' quality, but it is impossible to say whether they were made in the same evening or even in the same year. We do not have, as with Constable, the advantage of the artist's notations of dates, times and weather conditions.
What is not in doubt is the subtlety of Monet's response to what he sees before him. The first Etude de ciel shows a bar of orange sunset as clouds of moody indigo rush towards us out of the picture and the upper sky clears with the calm of approaching night. Dribbled lines of rose-coloured pastel reveal Monet's frantic notation of the light seeping round the clouds, a final burst of the glories of the day. The boldness of his technique is breathtaking. The intensity of Monet's colours and his striking pattern-making can be compared with the oil Towing a boat, Honfleur, 1864 (Memorial Art Gallery of the University of Rochester)[7], a sunset over the lighthouse of Honfleur. For the sky in this painting Monet seems to have referred to a pastel of circa 1862-64, View of the sea at sunset (Museum of Fine Arts, Boston)[8], taking from it the cloud structure and the bars of golden sunset offset by the purple-grey of the shadowed clouds.
On the verso of the present Etude de ciel is a sensitive study of Le Havre, la jetée[9], tying these pastels securely to Monet's boyhood Normandy haunts. Hidden under the mount, the verso was unrecorded by Daniel Wildenstein when he compiled his 1974 catalogue raisonné of Monet's pastels. It has now been recorded and authenticated by the Wildenstein Institute, making a delightful addition to Monet's pastel oeuvre. He exploits the blue colour of the paper to evoke the moisture-laden, azure-tinted coastal light. Wispy clouds are suggested by sinuous, dragged lines of white and grey-blue, the waves by interwoven, undulating strokes of blue, green and cream. There is tremendous confidence and joie-de-vivre in the way in which Monet suggests the powerful horizontal thrust of the jetty, the coloured shadows playing on the shaft of the lighthouse and the holidaymakers who stroll along the jetty, enjoying the sea air. Predominant tones of blue, yellow-cream and black are offset by a single, red-clad figure among the throng.
In the second half of the 1860s Monet was struggling to make his way as an artist in Paris, but frequently returned to the area around Le Havre where his father and Aunt Lecadre still lived. His life was complicated by his liaison, strongly disapproved of by his family, with Camille Doncieux and the birth of their son Jean on 8th August 1867. The lighthouses and jetties of Le Havre and Honfleur are frequent motifs in his oil paintings of these years, featuring in L'Entrée du port de Honfleur, 1867 (Norton Simon Museum, Pasadena, CA)[10], which shows a crowded jetty and a similar cloudscape to the present pastel. La jetée du Havre (private collection)[11], painted around February 1868 and rejected by the Salon of that year, combines dashing waves, a stormy sky and a rainbow, perhaps reflecting the mixture of turbulence and happiness in Monet's life. The pastels and oils, which feed off each other, reflect Monet's commitment to plein-air sketching and painting in this period. The Le Havre journalist Léon Billot stumbled across Monet on a day 'cold enough to crack the pebbles', 'huddled in three overcoats….and with his face half-frozen', studying a snow effect. Billot commented: 'There are soldiers of art who lack nothing for courage'[12].
In the second Etude de ciel the light is gentler, but the clump of trees is more brightly lit, catching the last rays of the setting sun, vigorously dashed in with few reddish strokes. Clouds undershadowed in lilac-grey move like fretwork across a primrose sunset. Monet makes use of the rough texture of the paper to suggest the edges of clouds breaking up and the constantly shifting patterns of the sky. The mass of the clouds is given an almost sculptural strength with broad, blocklike swathes of colour, while their edges are composed of dragged, dancing strokes, allowing the radiant sunset to filter through. By manipulating tones, Monet creates a heavenscape of great depth, from the lowering, earth-hugging clouds to the infinite blue beyond.
The use of the pastel medium was woven into Monet's Normandy roots. Millet had made pastels in Normandy in the 1840s and 50s, Delacroix in Dieppe in 1852 and 1854. Monet's most crucial influence, however, was the pastels of Eugène Boudin, encountered in the late 1850s with Boudin's exhortation to Monet to work directly from nature itself. Monet later owned Boudin's pastel On the beach, 1863 (Musée Marmottan Monet, Paris)[13], a vivid, rapid notation that conjures up the brisk salt breeze.
Claude Monet signed this pair of Etudes de ciel and indeed most of his pastels, indicating that he valued them and regarded them as works of art in their own right. Over the years he often made presents of his pastels to family, friends and colleagues, intimate and heartfelt gifts. The present pair of sky studies was given by Monet in 1924 as a wedding present to Anne-Marie Durand-Ruel (1901-1990), the granddaughter of Paul Durand-Ruel, the art dealer who, above all others, had been the architect of the artist's career and the man who was responsible for the critical and commercial success of the Impressionist movement. Full of vitality, full of the freshness and experiment of youthful genius, these Etudes de ciel could not have been a more appropriate gift for a youthful bride.
We are most grateful to Flavie Durand-Ruel for information on the provenance.
[1] See London, Royal Academy of Arts/Williamstown, MA, Sterling and Francine Clark Art Institute, The Unknown Monet: Pastels and Drawings, 2007, exh. cat. by James A Ganz and Richard Kendall.
[2] Ganz and Kendall, op. cit., pp.119-159.
[3] Ibid., p.123.
[4] Wildenstein 1974, op. cit., vol. V, p.163, P48, illus.
[5] Ibid., p.163, P49, illus.
[6] Ibid., p.163, P48.
[7] 21 ¾ x 32 ¼ in / 55.5 x 82 cm. Daniel Wildenstein, Monet Catalogue Raisonné, Cologne 1996, vol. II, pp.22-23, no.37, illus. in colour.
[8] 6 x 15 ¾ in / 15.3 x 40 cm. Wildenstein 1974, vol. V, p.161, P34, illus. See Ganz and Kendall, p.131, fig. 111, illus. in colour.
[9] 9 ½ x 7 ½ in / 19.2 x 24 cm.
[10] Wildenstein 1996, op. cit., vol. II, p.47, no.87, illus. in colour.
Ibid., vol. II, p.55, no.109, illus. in colour.
[11] Ibid., vol. II, p.55, no.109, illus. in colour.
[12] Quoted in ibid., vol. I, p.69.
[13] Illus. in colour in Kendall, op. cit., p.127.
114-carat fancy vivid Old-Cut yellow diamond. Photo courtesy Symbolic & Chase
Robert Delaunay, La Ville de Paris, La Femme et La Tour Eiffel, 1925. Photo courtesy Dickinson.
The Design Committee this year extended its remit to celebrate the diverse range of outstanding objects that the exhibitors offer every year. The committee was comprised of Philip Hewat-Jaboor (Chairman of Masterpiece London), Robin Anthony (Curator, Royal Bank of Canada), Susan Moore (Art Market Correspondent and Associate Editor at Apollo Magazine), Dr Brian Allen (Chairman, Hazlitt Gooden & Fox), Francis Sultana (Furniture and Interior Designer), Jamie Drake (Interior Designer), and Stephen Harrison (Decorative Arts Curator, Cleveland Museum of Art). The Outstanding Display of the Year Award went to Steinitz (Stand D10) and Object of the Year Award went to The Hanover Tompion No 417 at Carter Marsh & Co (Stand D11). In addition to these, the committee also awarded the 'Painting of the Year Award' to La Ville de Paris, La Femme et la Tour Eiffel, by Robert Delaunay, 1925, offered by Dickinson (Stand D2), 'Jewel of the Year Award' to Wartski (Stand C1) for their The Fall of the Damned by René Lalique, a cast and chased gold pendant suspending a baroque pearl, 1902, 'Work of the Year by a Living Artist' went to Yayoi Kusama for her work Waves, offered by Nukaga Gallery (Stand B12).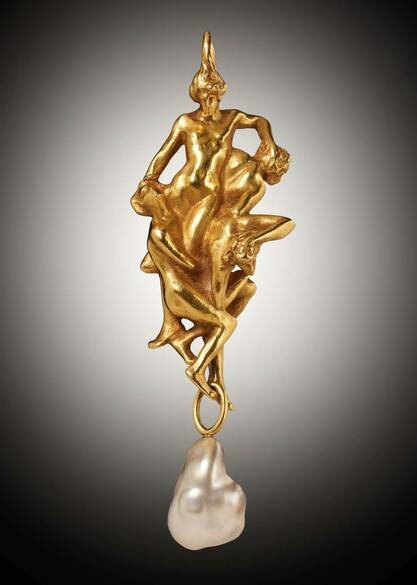 René Lalique, The Fall of the Damned, 1902. Photo courtesy Wartski