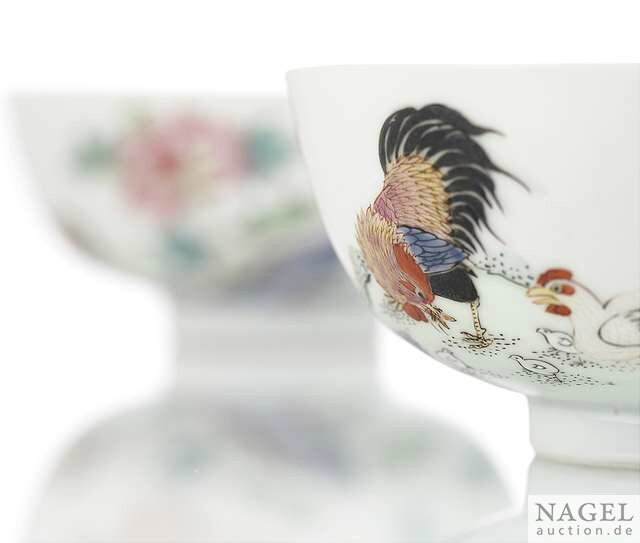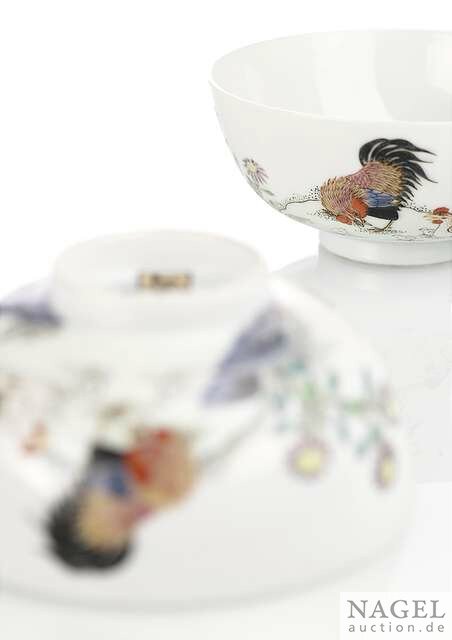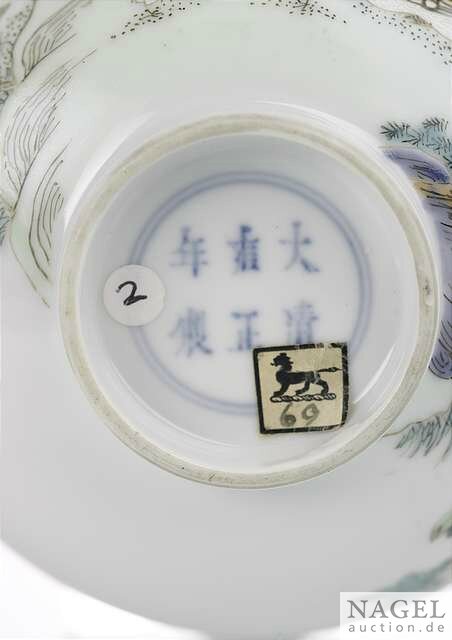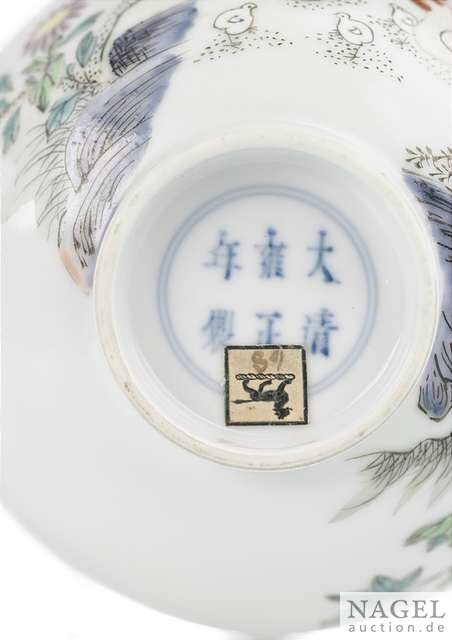 A very rare pair of Imperial famille rose 'chicken bowls', China, underglaze blue Yongzheng six-character marks and period. Estimate 30000/40000 €. Lot sold 100.000 €. Photo Nagel
each finely potted and supported on a straight foot rising to shallow gently rounded sides, the exterior painted in bright 'famille-rose' enamels with a continuous scene of a cock pecking at an insect, a hen and three chicks clambering on a grassy bank amidst a branch of flowering aster in yellow and purple and a sprig of blooming pink peony issuing from a decorative rock, the base inscribed with a six-character mark in three columns within a double-circle. D. 11,3 cm. One bowl with a fine starcrack to base (not through the body) otherwise good condition
Property from a German private collection, former collection Lord Illford of Bury, Sotheby's London, 8.7.1975, Lot 147, old label Geoffrey Hutchinson no. K/64
Note: In its subject the present bowls are based on a Chenghua prototype found on smaller cups; however the treatment of the design reveals a complete Yongzheng reinterpretation of the original. While he broader proportions of the bowl provide a larger canvas on which to reformat the scene, the quiet intimate mood of the Chenghua version has been substituted for one that is more dramatically conceived. The craftsman has supplemented the garden setting with further plants to harmoniously fill the broad area of space while leading the eye around the bowl through the selective use of bold red and black enamel. The elegant yet naturalistic depiction of plants, roosters and hens, with their fuller tails and proud poses that appear to occupy their garden space rather than float within it, reflect the elegant style of the Yongzheng period.
A pair of bowls of this design was included in the exhibition Ch'ing Polychrome Porcelain, Hong Kong Oriental Ceramic Society, Hong Kong, 1977, cat. no. 70, also with the Yongzheng reign marks inscribed in three columns; and another related bowl from the Martin-Hurst Collection is illustrated in G.C. Williamson, The Book of Famille Rose, London, 1927, pl. LTT. A closely related example in the Chang Foundation, Taipei, is illustrated in Selected Chinese Ceramics from Han to Qing Dynasties, Taipei, 1990, pl. 139; a pair of bowls in the Umezawa Kinenkan Museum, Tokyo, was included in the exhibition Shincho toji. MOA Museum of Art, Atami, 1984, cat. no. 38; another pair was sold at Christie's London, 12th May 2009, lot 166. further two in the Palace Museum, Beijing, published in Toji taikei, vol. 43, Tokyo, 1973, p. 94, figs. 15 and 16; and one from the collection of Edward T. Chow, sold Sotheby's London, 19th May 1981, lot 429, and now in the collection of Au Bak Ling.
Although the subject of a cock and hen with chicks in a garden is known from paintings of the Song dynasty it was first encountered on porcelain during the Chenghua period. The renewed interest in 'chicken' paintings may be connected with the thoughts of the philosopher Chen Baisha who is known to have been summoned to the court by the Chenghua emperor. Chen's teaching of an optimistic pragmatism nurtured by simplicity, sincerity and gratefulness for life seems well illustrated by the rustic scene of chickens and chicks and would have appealed to the Qing emperors.
Nagel Auktionen, "Asian Art", 06/06/2015