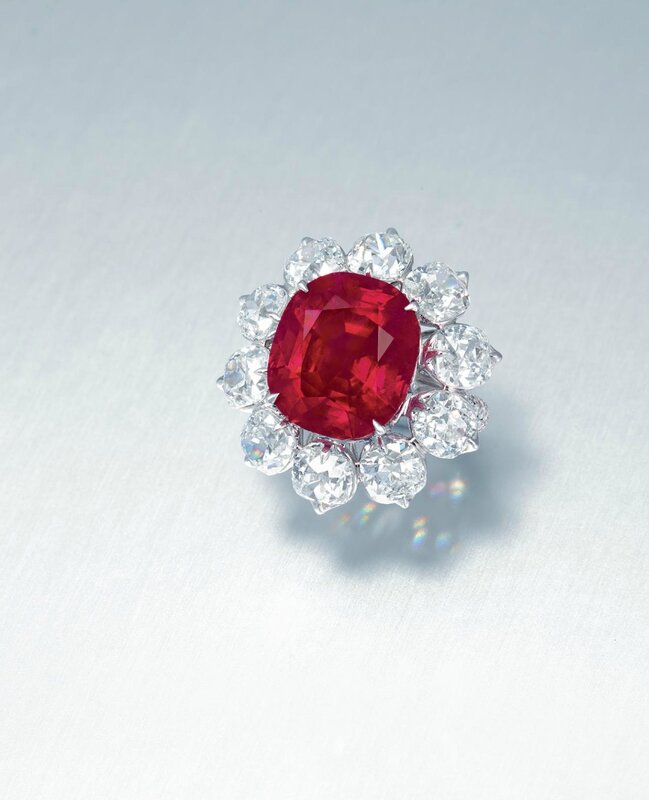 Lot 2121. The Crimson Flame. An extrordinary 15.04 carats Burma Mogok 'Pigeon Blood Red Ruby and Diamond ring. Estimate HK$78,000,000 – HK$120,000,000 ($10,111,608 - $15,556,320). Price realised HKD 141,800,000. Photo Christie's Image Ltd 2015
Set with a cushion-shaped ruby, weighing approximately 15.04 carats, within a cushion-shaped diamond surround, to the pavé-set circular-cut diamond three quarter-hoop, mounted in gold, ring size 5½. The ruby dimension is 14.74 x 13.02 x 8.77 mm
Accompanied by premium report no. 80282 dated 12 February 2013 from the SSEF Swiss Gemmological Institute stating that the ruby is of Burma (Myanmar) origin, with no indications of heating and the colour of this ruby may also be called 'pigeon blood red' in the trade; also accompanied by an appendix stating that the ruby possesses extraordinary characteristics and merits special mention and appreciation. The ruby shows an impressive size and weigh, combined with a vivid red colour and an attractive cutting style. The inclusions found by microscopic inspection represent the hallmarks of classical ruby mines in the Mogok valley in Burma (Myanmar), well known for its wealth in gems since historic times. Its vivid and saturated red colour, poetically referred to as 'pigeon blood red', is due to a combination of well-balanced trace elements in this stone, characteristic for the finest rubies from Mogok. A natural ruby from Burma of this size and quality is very rare and thus can be considered an exceptional treasure
Report no. 13020031 dated 12 February 2013 from the Gübelin GemLab stating that the ruby is of Burma (Myanmar) origin, with no indications of heating and this colour variety may also be called "pigeon's blood red" in the trade; also accompanied by an appendix stating that the ruby possesses a combination of outstanding characteristics. It displays a homogeneous and richly saturated colour, which typifies the finest of these gems. The depth of colour, combined with a high clarity and brilliance, all contribute to the beauty of the gem. Such a combination of characteristics is very rare in Burmese rubies of this size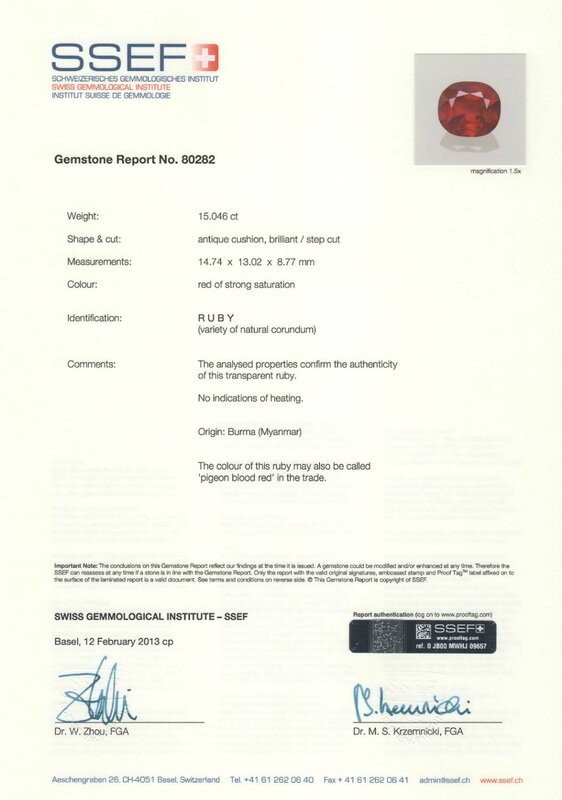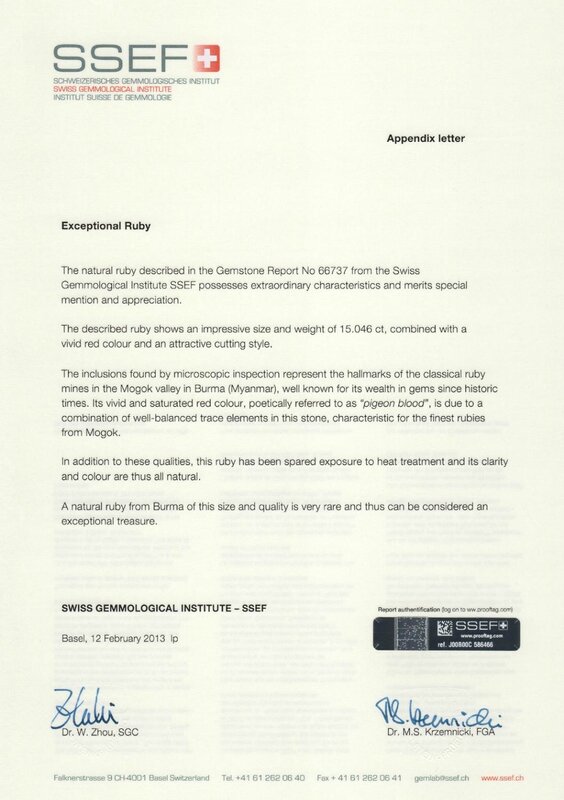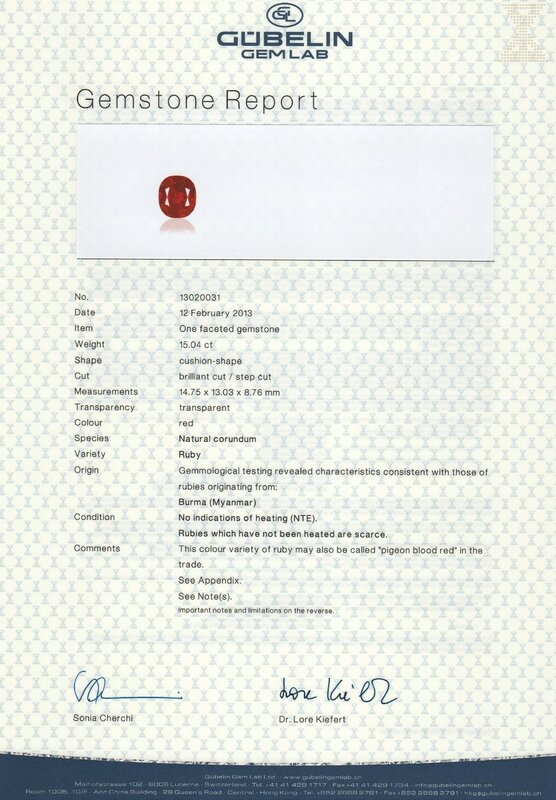 The Crimson Flame
Of all the gemstones that appear on the market with any regularity, it is the fine Burmese ruby that is the rarest and most sought after. Rubies of this origin first came to the attention of Europe at the beginning of the 15th Century though their existence had initially been corroborated in legendary fashion by the 13th Century explorer, Marco Polo. Numerous reports from other travellers described the sumptuous treasures of the Burmese royals.
So unique are the quality elements exhibited by the rubies found here that it has emerged as the standard by which other stones are judged. Historically, they have been mined in the Mogok Valley in the northern part of Burma which is approximately two miles long and a half a mile wide. One of the main reasons is due to the high chromium content in the ground, which accounts for the very specific colour, an extremely saturated red, of the rubies stemming from these mines, sometimes referred to as 'pigeon blood' and which has long been considered the most desirable. Another factor is their natural fluorescence, which has the effect of making the stone 'come alive' and appear internally illuminated.
Not only are the famous ruby mines of the Mogok Stone Tract yielding fewer and fewer stones over five carats, but also the market has seen a diminishing number of pieces of antique ruby jewellery and old Burmese gems appearing for sale.
The 'pigeon-blood' hue continues to be considered among the most exquisite traits in the world of gems. Proof of this lies in the fact that, other than coloured diamonds, no other gemstone enjoys such elevated prices per carat.
Whereas emeralds, sapphires and diamonds appear on the market in sizes more considerable than fifteen carats, large rubies of Burmese origin are exceedingly rare. To have an unheated stone weighing more than fifteen carats with near perfect crystallization and a 'Pigeon Blood' red colour is in today's market - the dream of every gem-stone connoisseur.
Christie's. HONG KONG MAGNIFICENT JEWELS, 1 December 2015, Convention Hall