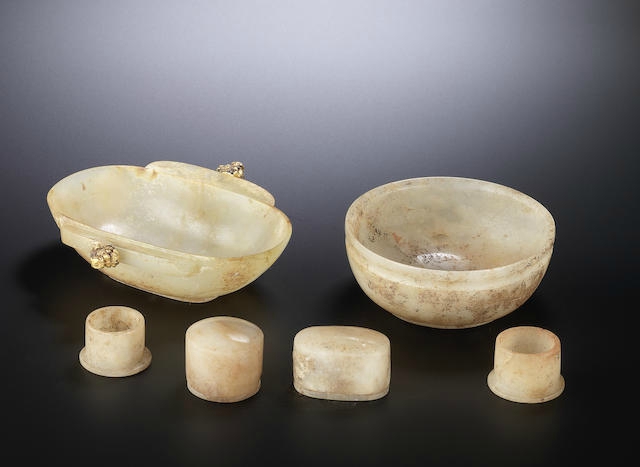 Lot 36, A group of small pale brown and grey jade vessels, Western Han Dynasty. Estimate HK$ 200,000 - 300,000 (€23,000 - 35,000). Photo: Bonhams.
Comprising: a small jade ear cup with long 'ear'-handles attached with gilt metal fittings on the sides, the stone of a greyish-white tone with brown inclusions; a small jade bowl carved with a groove below the mouth rim, the pale greyish-white stone with brown areas; three small circular boxes of greyish-white tone, one with a cover; and a small rectangular greyish-white jade box and cover with rounded sides. The ear cup 9.3cm (3 3/4in) long (8).
Published and Illustrated: Art and Imitation in China, Hong Kong, 2006, p.222, no.99 (the ear cup)
Exhibited: University Museum and Art Gallery, The University of Hong Kong (14 October - 17 December 2006) (the ear cup)
Note: The advances in jade-carving techniques instigated during the Warring States period and continued throughout the Han dynasty. Jade lapidaries with the assistance of metal tools were able to efficiently hollow out large pebbles to form toiletry boxes, bowls and cups.

A Han dynasty jade ear cup is illustrated in Compendium of Collections in the Palace Museum: Jade 4, Beijing, 2011, p.187, no.242. Another ear cup, Han dynasty, in the Freer Gallery of Art, Washington D.C., is illustrated by M.Sullivan,The Arts of China, California, 1999, p.86, fig.5.36. Compare with a similar jade bowl from the Liaoning Provincial Museum, illustrated by Gu Fang, The Pictorial Handbook of Ancient Chinese Jades, Beijing, 2007, p.278.
Bonhams. THE SZE YUAN TANG COLLECTION OF CHINESE JADES, 11:00 HKT - HONG KONG, ADMIRALTY