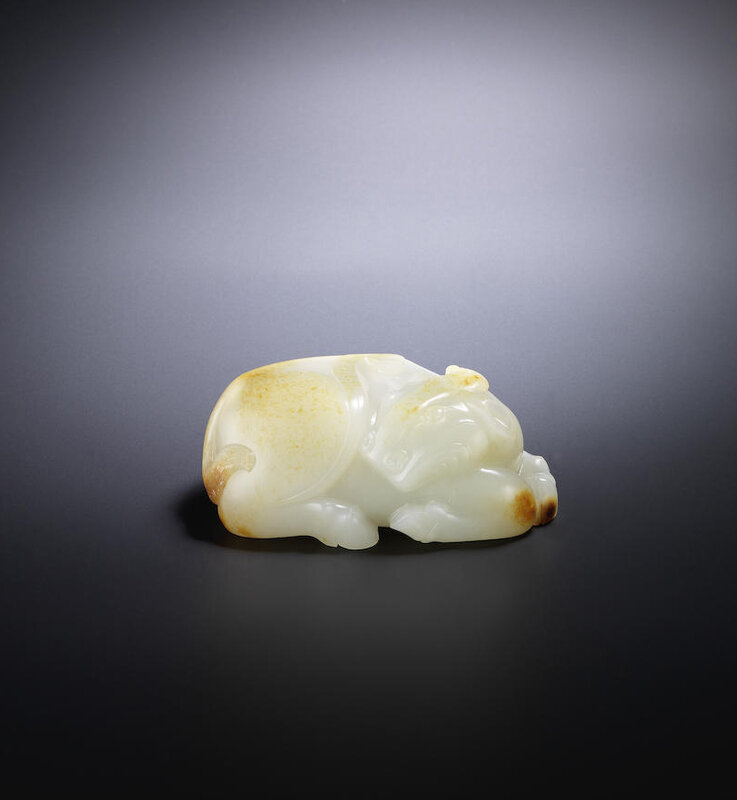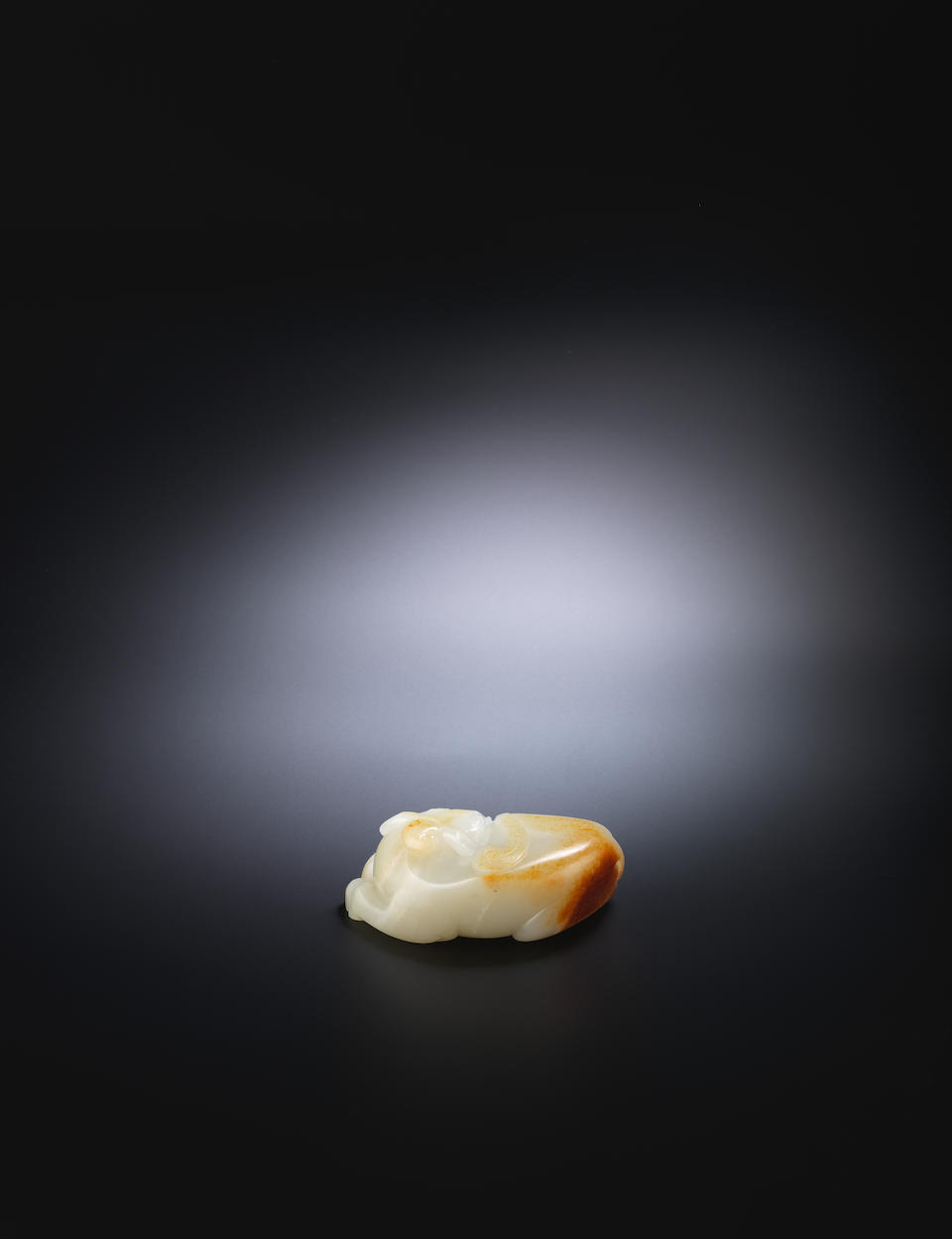 Lot 47. A pale green and russet jade carving of a mythical beast, 17th-18th century; 10cm (3 7/8in) long. Estimate HK$200,000 - 300,000 (€23,000 - 34,000). Sold for HK$ 1,360,000 (€ 162,498). Photo Bonhams.
The recumbent beast with legs tucked beneath its large body with hairy tail flicked to the right, its head turned left looking backwards with bulging eyes, a twisted horn, hollowed nostrils and tubular ears, the stone of an even pale green tone with russet speckles and inclusions.
Published and Illustrated: Art and Imitation in China, Hong Kong, 2006, p.153, no.39
Exhibited: University Museum and Art Gallery, The University of Hong Kong (14 October - 17 December 2006)
Note: The identification of the present lot's mythical beast is challenging, however, though lacking a clearly defined dragon head and scaly body, the depiction of hooves and a single horn suggests the creature's close resemblance to a qilin.

Discrepancies in the mythical beast's iconography can possibly be attributed to the different reigning tastes and sensibilities of any given period. Earlier representations of mythical beasts for example were typically exaggerated in style, reinforcing a powerfully fearsome and mythical quality. This would have been appropriate as such early jade animal carvings were produced with the intention to protect and ward off evil. See J.Rawson, Chinese Jade from the Neolithic to the Qing, London, 1995, pp.349-357. By the Qing dynasty however, such jades became ornamental objects of desire and prized possessions for those of the scholarly class and wealthy officials; intended for sumptuous pleasure and discerning admiration, rather than for practical purposes.

The qilin is reputed to have a skin formed of five colours. It resembles a stag, with hooves but with the tail of an ox and the head of a dragon. It is often also labelled as a unicorn, as it sometimes is portrayed with only one central horn. The qilin is considered a benevolent creature and is one of the most auspicious omens in Chinese mythology, for it is said that the magnificent beast only appears during the reign of a benevolent ruler. Furthermore, it also symbolises longevity, grandeur, felicity, illustrious offspring and wise administration.
Bonham's. THE SZE YUAN TANG COLLECTION OF CHINESE JADES, 11:00 HKT, HONG KONG, ADMIRALTY