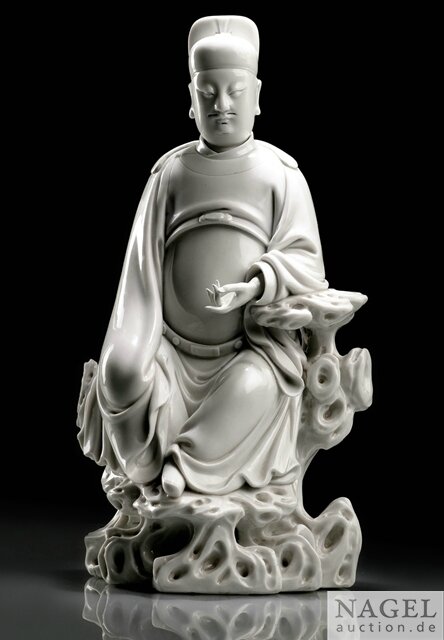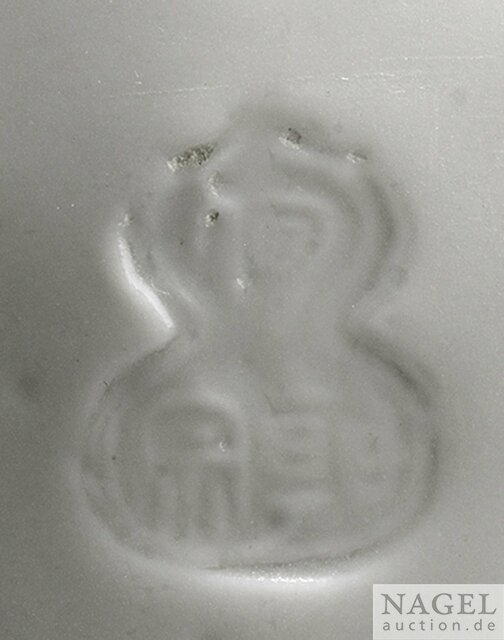 Lot 541. A finely modeled Dehua figure of Wen Chang, impressed gourd-shaped potter's mark He Chaozong, 17th century. Estimate 30000/50000 €. Photo Nagel.
the God of Literature depicted seated on a tall rockwork plinth raised on one side to support his arm, his face with fine features pierced for the insertion of real hair as moustache and beard, his head covered in a tall official's cap with raised back and two long streamers, a voluminous robe over an undergown and elaborate belts with applied plaques, his left hand holding a ruyi scepter and his right hidden under long double sleeves, the base hollowed out, the reverse impressed with an indistinct gourd-shaped potter's mark reading - H. 31,7 cm - Left hand replaced, the hat bands and the belt buckle partly restored, firing crack to reverse at the rock ending in a fine hairline at the back
He Chaozong - He Chaozong, the Dehua kilns' most famous potter and greatest figure sculptor, lived and worked in the late Ming period, around the late 16th and early 17th centuries. Property from an old German private collection, bought from Sotheby's London, 3.7.1984, Lot 67. His figures are characterised by remarkable sculptural quality, with most delicate facial features and bold garment folds. He is mainly known through his extant work, which often bears his seals, but very little is recorded about the man himself. His works defined the characteristic Dehua style, and his images, which have provided models for porcelain sculpture until today, established a standard that has never since been reached again.
The present figure is a finely modelled example of a well-known group of sculptures depicting the God of Literature, designed by He.
A very similar figure with a square He Chaozong mark, from the Koger collection in the John and Mable Ringling Museum of Art, Florida, was included in the exhibition Blanc de Chine. Divine Images in Porcelain, China Institute Gallery, New York, 2002, cat. no. 40, and is also illustrated in Rose Kerr and John Ayers, Blanc de Chine. Porcelain from Dehua, Chicago, 2002, p. 32, fig. 21, together with a similar figure from the Hickley collection, with the sceptre in the right hand, cat. no. 27; another, also with square mark but lacking the ruyi sceptre, is illustrated in Henry Trubner, Royal Ontario Museum. The Far Eastern Collection, Toronto, 1968, pl. 95; another smaller figure is compared with a slightly earlier model cast in bronze in Robert H. Blumenfield, Blanc de Chine. The Great Porcelain of Dehua, Berkeley and Toronto, 2002, p. 105
Nagel Auctions. "Asiatische Kunst", Sale 736, 06.05.2016