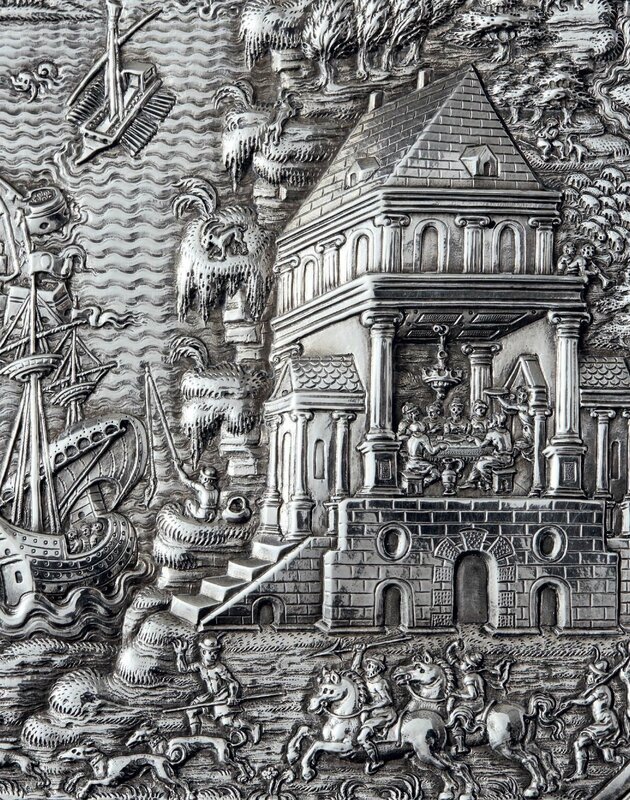 Lot 567. Miroir en argent, vers 1580-1600, apparemment sans poinçon. Estimation €4,000 – €6,000 ($4,511 - $6,766). Photo Christie's Image Ltd 2016.
Ovale, le cadre à bordure d'oves avec un bouton en fleur, l'attache en volute et anneau de préhension, l'endroit avec miroir et le revers repoussé et ciselé d'une scène de ville portuaire avec au premier plan une chasse au lièvre devant un pavillon de chasse où festoient trois couples; Hauteur: 15 cm. (5 ¾ in.)
AN UNMARKED SILVER MIRROR, CIRCA 1580-1600
Notes: La scène délicatement ciselée et riche en détails dont le thème central n'a pu être identifié mais qui rappelle une vue de ville telle que Gènes, Naples ou encore Lépante, est à rapprocher des tazze Aldobrandini aujourd'hui dispersées dans plusieurs collections publiques et privées (voir Christie's Londres, the Wernher Collection, 5 juillet 2000, lot 18 et Christie's New York, the Morgan Collection, 26 octobre 1982, lot 68). Certaines similarités sont à relever: la disposition des divers éléments en perspective, le traitement du sol, la chasse au premier plan très comparable au décor de la tazza du Victoria and Albert museum à Londres (voir J. Hayward, Virtuoso Goldsmiths, Londres, 1976, pp. 164-65, pl. 364), de même que la forme de nuages identique à ceux de la tazza dans la collection Schroder (voir T. Schroder et D. Lambert, Renaissance Silver from the Schroder Collection (Wallace Collection), Londres, 2007, No 55, p. 168).
Pourtant l'ensemble manque de 'souplesse' et les personnages semblent plus raides que sur les tazze. L'absence de poinçonnage n'aide pas, bien que cela soit assez commun pour des pièces Renaissance, rendant une attribution difficile. Mais ceci fut aussi le cas pour les pièces Aldobrandini, longtemps attribuées à des orfèvres augsbourgeois avant qu'une étude approfondie et comparative permette de suggérer une fabrication italienne. Bien sûr il a également été dit que le ciseleur était peut-être un des ces orfèvres itinérants d'origine flamande ou allemande, qui sillonnaient l'Europe, important avec eux leur sources iconographiques et ornemanistes.
Cette difficulté à donner une nationalité à l'auteur nous oblige ainsi à la comparer aussi à d'autres plaques, tout particulièrement les scènes de chasse réalisées par l'orfèvre zurichois Abraham Gessner vers 1600 (voir Sotheby's on the premises, the Mentmore sale, 21-27 mai 1977, lot 685, Sotheby's Londres, the Rothschild and Rosebery collection, Mentmore, 11 février 1999, lot 77, revendu chez Sotheby's New York, Masterworks, 1 février 2013, lot 10), ou encore avec le travail de ciselage exécuté par Gregor Bair vers 1585 sur un bassin d'Augsbourg illustré dans H. Seling, Die Kunst der Augsburger Goldschmiede 1529-1868, Munich, 1989, vol. II, pl.93.
Enfin le cadre du miroir rappelle celui d'un autre vendu chez Christie's Paris, Le Cabinet de Jacques et Galila Hollander,16 octobre 2013, lot 396, du moins dans la forme et l'attache de préhension, mais dont la plaque centrale repoussée d'une scène représentant Vénus et Cupidon observant Vulcain forgeant l'armure d'Enée, porte le poinçon d'Ulrich Boas, Augsbourg, vers 1590.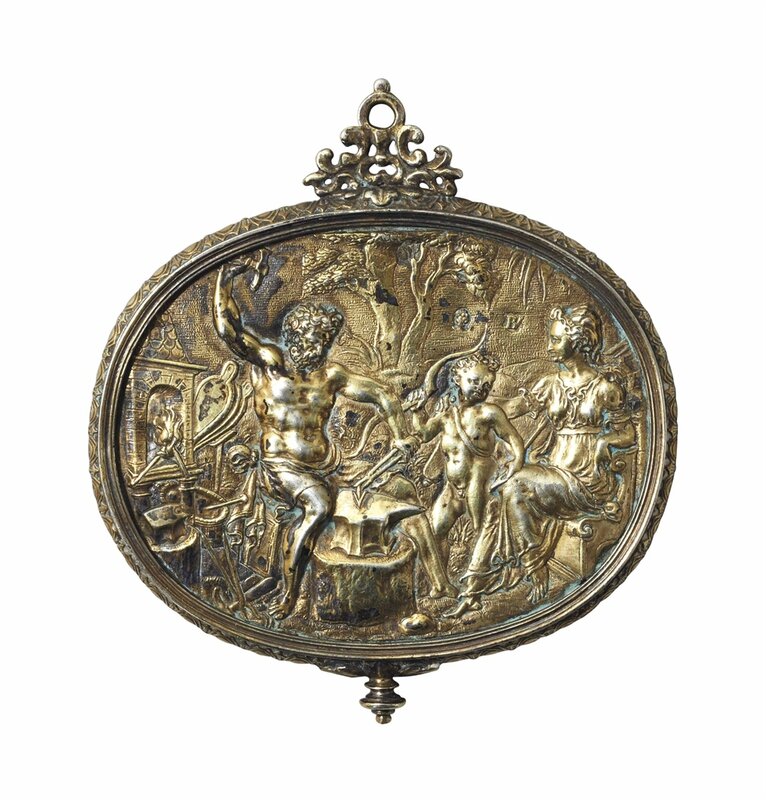 Miroir par Ulrich Boas, Augsbourg, vers 1590. Photo Christie's Image Ltd 2013.
Christie's. LE GOÛT FRANÇAIS, 3 - 4 May 2016, Paris