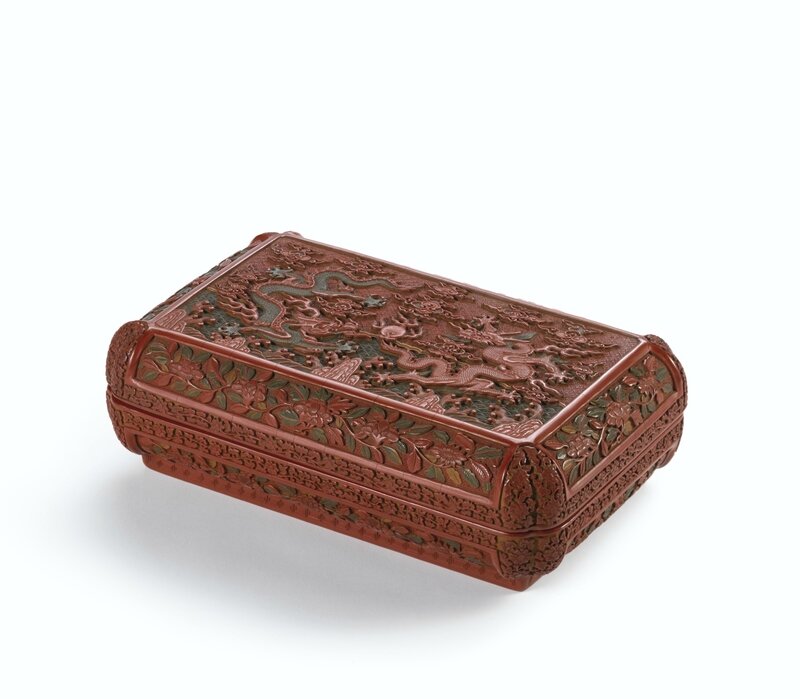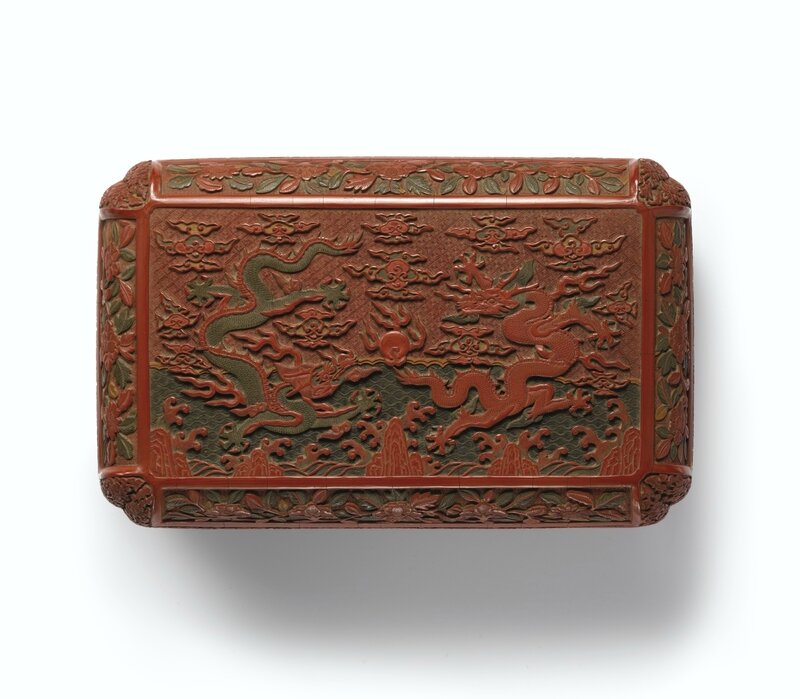 Lot 160. An important three-coloured cinnabar lacquer 'dragon' box and cover, mark and period of Wanli, dated to the renchen year (in accordance with 1592). Estimate 2,500,000 — 3,000,000 HKD. Lot sold 4,840,000 HKD. Photo Sotheby's.
of rectangular form with slightly bombé sides and cusped corners, all supported on a rectangular foot, deftly carved in varied levels of relief through the rich cinnabar lacquer and two fine black and yellow layers to the green ground below with a green and a red five-clawed dragon in mutual pursuit of a 'flaming pearl', their sinuous scaly bodies writhing in midair among ruyi-shaped clouds above jagged rocks battered by crested waves, all reserved on a ground of red floral diapers and green undulating waves, the sides decorated with composite floral scrolls of chrysanthemum, peony and camellia with leaves highlighted in green and ochre yellow, enclosed within recessed cartouches against a ground of densely foliate lotus scrolls, the box similarly decorated with floral cartouches recessed on a lotus scroll-ground, the foot incised with key-fret, the interior and base lacquered in black, the latter dated with an incised six-character reign mark in gilt; 32.5 cm, 12 3/4 in.
Notes: This box is remarkable not only for its extremely fine carving, but in addition for its unusual colouration. The thick lacquer coating is composed of consecutive layers of green, red, orange, yellow, green and red lacquer. While the design of the box has been carved to reveal the usual colours of red and green, with yellow employed for details such as leaves and clouds, the outstandingly rare orange lacquer has been exposed, paired with yellow, only in form of a lobed line to depict the water's choppy surface at the horizon, thus separating water from air.
Boxes of this type with indented corners were popular in the Wanli reign and were produced both in porcelain and lacquer until the end of the Ming dynasty. Although closely related boxes are known, the present piece is outstandingly fine in quality and notable for the dragons which have retained all five claws on their feet rather than having one claw removed, as is often the case on comparable pieces; for example see three boxes in the Palace Museum, Beijing, published in Carved Lacquer in the Palace Museum, Beijing, 1985, pls. 228 and 229, both bearing the same eight-character inscription inside the foot as the present piece, da Ming Wanli renchen nian zhi (corresponding to 1592), and pl. 248, similarly inscribed but dated to the yiweiyear (corresponding to 1595). A similar box without a reign mark was included in the exhibition East Asian Lacquer. The Florence and Herbert Irving Collection, Metropolitan Museum of Art, New York, 1991, cat. no. 37, where it is noted that these boxes were used principally as presentation boxes to house important documents or gifts.
Compare also polychrome carved boxes of this form, but decorated with a single frontal dragon within a lobed panel, also dated to the yiwei year of the reign of Wanli, including one in the Palace Museum, Beijing, illustrated in Wang Shixiang, Ancient Chinese Lacquer, Beijing, 1987, pl. 65; and another sold at Christie's Hong Kong, 27th May 2008, lot 1563. See also a cinnabar lacquer box depicting a phoenix and a dragon in a similar composition as on the present piece, also dated to therenchen year of the Wanli reign, in the Palace Museum, Beijing, published ibid, pl. 238; and another included in Fritz Low-Beer, 'Chinese Lacquer of the Middle and Late Ming Period', Museum of Far Eastern Antiquities. Stockholm Bulletin, no. 24, 1952, p. 34, pl. 24, figs. 89-90, sold at Christie's London, 9th June 1975, lot 121.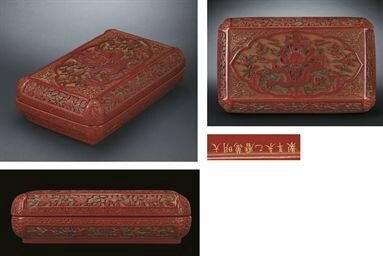 An very rare and important carved polychrome lacquer box and cover, Wanli incised and gilt yiwei cyclical date corresponding to 1595, and of the period. Price Realised HKD 4,807,500 (USD 618,740) at Christie's Hong Kong, 27th May 2008, lot 1563. Photo Christie's Images Ltd 2008.
This rectangular form was at the same time also popular for porcelain boxes, see, for example, a related blue and white piece in the collection of Kwong Yee Che Tong, included in the exhibition The Fame of Flame. Imperial Wares of the Jiajing and Wanli Periods, University Museum and Art Gallery, The University of Hong Kong, Hong Kong, 2009, cat. no. 96. The constant dialogue between different workshops is evident when comparing porcelain and lacquer pieces. For example, diaper patterns originally taken from brocade designs and incorporated into the carved lacquer repertoire in the 14th century began appearing on porcelain designs in the 16th century; see a Wanli mark and period wucai rectangular box decorated with a pair of dragons in a panel which is surrounded by a diaper pattern, sold at Christie's London, 26th October 1964, lot 96.
Sotheby's, Chinese Art through the Eye of Sakamoto Gor, Hong Kong, 08 Oct 2013