GENEVA.- The November – December auction series at Koller features a large sculpture by Chinese conceptual artist and dissident Ai Weiwei; important works by Gabriele Münter, one of the founders of the Blaue Reiter movement; an oil on canvas by Keith Haring from his European travels in the mid-80s, and a large painting by Swiss artist Albert Anker estimated at approximately $1 million. Koller's first stand-alone Photographs auction in almost a decade features portraits of personalities such as Muhammed Ali, Desmond Tutu and Marilyn Monroe by master photographers like Richard Avedon and Thomas Hoepker. Rare works by Tiffany can be found in the Art Deco & Art Nouveau auction, and innovations and complications by Patek Philippe are featured in the auction of Watches. The Jewellery auction will offer some world-class rubies and diamonds, as well as highly attractive signed pieces by David Webb, Van Cleef & Arpels and René Kern.
PostWar & Contemporary – Prints and Multiples
Ai Weiwei, Louise Bourgeois and Banksy
The 3 December auction at Koller features an oil and acrylic on canvas by Keith Haring, "Red, Yellow, Blue #22" from 1987 (lot 3477), which was formerly in the collection of Austrian singer-songwriter, actor and poet André Heller. It was given to Heller on the occasion of the birth of his son, and is dedicated by the artist (CHF 300 000 – 400 000).
Lot 3477. Keith Haring (Reading/Pennsylvania 1958 - 1990 New York ), Red, Yellow, Blue #22, 1987. Acrylic and oil on canvas, 75 x 75 cm. Signed, with the artist's signet, titled, dated and dedicated on the reverse: RED-YELLOW-BLUE #22 Jan. 12. 87 K. Haring FOR FERDINAND Keith. Estimate CHF 300 000 / 400 000 (€ 277 780 / 370 370).
Provenance: - Tony Shafrazi Gallery, New York (with the label on the reverse).
- Former collection André Heller (Dedication to Heller's son Ferdinand).

Keith Haring was born in Reading Pennsylvania in 1958 and learned to draw at a young age. Through his father, an engineer and amateur caricaturist, he began to enjoy cartoons. He soon dropped his studies at the Ivy School of Professional Art in Pittsburgh, as he did not wish to pursue a career as a commercial graphic designer. Now certain that he wished to make a real commitment to art, he moved to New York in 1978 and enrolled at the School of Visual Arts. There Haring encountered a flourishing art scene and soon met other artists such as Andy Warhol, Jean-Michel Basquiat, Kenny Scharf and Madonna. In addition to the energy of this scene, he was also inspired by artists such as Jean Dubuffet, Pierre Alechinsky and Christo. He developed his own unmistakable style: the graphic expression, the predominantly strong black line, the lively colours and art in public spaces. Even when he experimented with performance art, video and other media, drawing remained his primary medium. In the early 1980s he used the black panels on the subway in order to draw non-stop. These "Subway drawings" helped him to process thoughts and ideas.

In 1981 Haring exhibited for the first time at the Wesbeth Painters Space and in 1982 there followed a solo show at Tony Shafrazi in New York. At the same time he took part in documenta 7 in Kassel, the Sao Paulo Biennale and the Whitney Biennale. This success was also demonstrated in his large public works, for example clock designs for Swatch and a campaign for Absolut Vodka.

After having been diagnosed with AIDS in 1988, in the following year he set up the Keith Haring Foundation, which provides financing and graphic material for AIDS organisations as well as programs for children. It is also dedicated to expanding the audience for his works through exhibitions, publications and the licensing of his pictures. He used many of his late works to raise awareness for AIDS.

In the mid 80s Haring spent some time in Paris, where, amongst other places, he often spent time working in the studio of his friend George Condo. At that time Condo was working on extended canvases, endless automatic works in which every part of the canvas was filled with small figures and other objects. Keith was also influenced by these pictures and this style of composition and produced his own densely crafted works. Condo writes about this period in Paris: "Keith opened up a new direction in painting, and it was interesting for him to come to Paris. He was thinking in terms of Calder-like, Léger-like large colour surfaces, which he then covered with drawings, and in leaving a white space around the forms... he began to combine specific pictures with one another, broke the margins a bit and made them look more painted and less graphic…He made a couple of things in the style of the Cubist period, but then introduced his graffiti-like approach. Keith wanted to keep the abstract language of Léger, Kandinsky and Klee and definitely the black and white sculptures of Dubuffet" (cit. George Condo in Ditch, Jeffrey/Geiss, Susanne/Gruen, Julia: Keith Haring. New York 2008)

These new approaches and influences are very clearly present in the work offered at auction here, as well as the entire series "Red Yellow Blue". The series was painted from 11 to 13 January 1987 and comprises 26 pictures, which were later shown at the Tony Shafrazi Gallery in New York. Our picture came shortly afterwards, for the birth of André Heller's son, from his collection, and therefore bears the dedication "FOR FERDINAND Keith".
Another highlight of the sale is Ai Wewei's sculpture "Untitled (Foster Divina)" from 2010 (lot 3486). Inspired by Renaissance texts on ideal proportions, and assembled in precious Huanghuali wood using an ancient Chinese technique that employs neither nails nor glue, the pierced sphere seems to float in space even while it rests on the ground. Ai Weiwei is one of the most important conceptual artists of our time, and the sense of precisely enclosed space in this work recalls certain of his architectural projects, such as the "Bird's Nest" stadium in Beijing (CHF 180 000 – 260 000).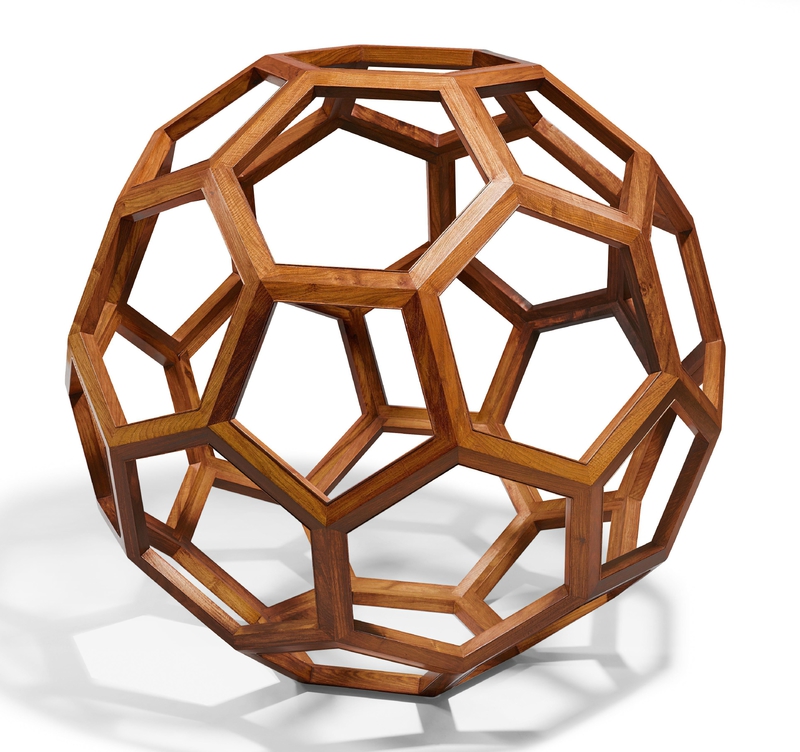 Lot 3486. Ai Wewei (Bejing 1957 - lives and works in Bejing and Berlin), Untitled (Foster Divina), 2010. Huanghuali wood. Diameter 130 cm. Estimate CHF 180 000 / 260 000 (€ 166 670 / 240 740).
With the artist's confirmaton of authenticity, Bejing Peking May 2012.

Provenance: - Galerie Urs Meile, Bejing/Luzern.
- Acquired in 2012 form the above by the present owner, since then private collection Switzerland.

Literature: - Meile, Urs: Ai Weiwei: Works from 2004 – 2007, Zurich 2008, p. 36-39.
- Brougher, Kerry/Kataoka, Mami and others: Ai Weiwei: according to what?, New York 2012, p. 14-17.

Ai Weiwei is one of the most important conceptual artists within contemporary art; and at the same time, through his political engagement he is one of the most influential, although in part also the most controversial. As hardly any other artist has achieved, he combines the art of the present with the traditions of his country and with history. This is powerfully demonstrated in the present work.

De divina proportione is a book by Luca Pacioli from 1509, with illustrations by Leonardo Da Vinci. It contains images of a geometric polyhedron, which corresponds to the form of the sculpture by Ai Weiwei. In his treatise on the "Divine Proportion", Pacioli harks back to the ideal forms already discussed in antiquity. Of the five Platonic solids, the icosahedron is the one which possesses twenty equilateral triangles. If the 12 corners are truncated into surfaces, this becomes a truncated icosahedron, which is an Archimedean solid: the form which Ai Weiwei has chosen for his sculpture "Foster Divina". This is a ball, composed of pentagons and hexagons, with all the edges being of the same length. They thus form a structure which precisely defines the space it encompasses.

Regular polyhedrons possess the greatest possible symmetry, which is essential to the Platonic solids. This was important in antiquity and then also in the Renaissance, because it was through such geometric forms that they sought to explain the structure of materials, amongst other things. The approach was not so mistaken in fact, since with our knowledge of molecular structure today, amazingly we discover many geometric essential forms. Thus for example the fullerene molecule (C60) has exactly the same form as the truncated icosahedron.

The present sculpture, with its precise sense of space, reveals many similarities to Ai Weiwei's architectural projects. The extreme precision produces a simultaneous feeling of heaviness and lightness. According to a statement he made, however, Ai Weiwei first discovered the form in a toy which his cats were playing with. This design fascinated him. Typically he has combined something commonplace with something very important and traditional. Perhaps it is no coincidence that the football is also in the form of a truncated icosahedron. In 2008 Ai Weiwei collaborated with Herzog and DeMeron on the "Bird's Nest" stadium building in Beijing and it could be that for him this association with this world famous sport fits in well with his concept of a playful interaction with tradition.

Ai Weiwei has made a small series of such spheres in various sizes: some, as with the present sculpture, have just the framework; some have the form of a ball with closed surfaces. He makes them from Huanghuali wood, a material which was used for classical Chinese furniture. He also uses a traditional technique of interlocking pieces without nails which comes from the Ming and Qing Dynasties. This reference to tradition is very important in Ai Weiwei's work.
The auction also contains an interesting selection of three-dimensional works by other contemporary artists such as Daniel Spoerri ("Die Spieler", lot 3453, CHF 60 000 – 120 000); Markus Lüpertz ("Susanne", lot 3432, CHF 60 000 – 80 000), and Lucio Fontana ("Natura morta", lot 3436, CHF 60 000 – 80 000).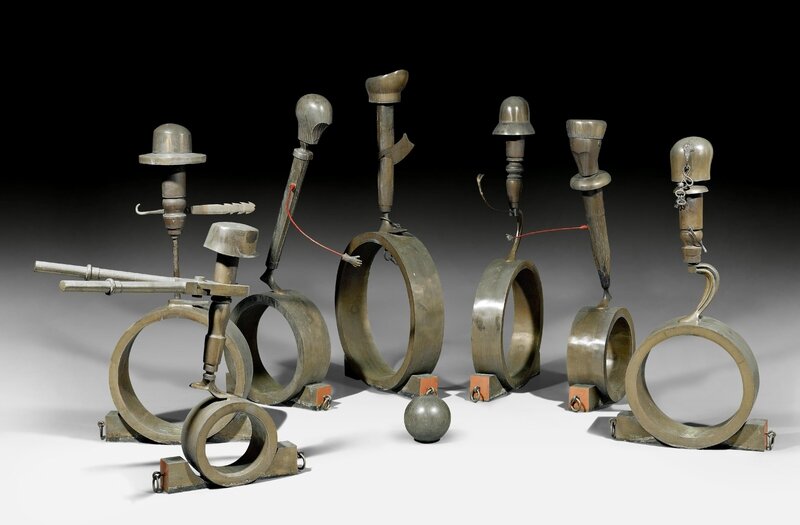 Lot 3453. Daniel Spoerri (Galati/Romania 1930 - lives and works in Vienna), Die Spieler, 1985. Bronze. Sculpture composed of 7 figures and a ball. Height ca. 150 cm each. Each with the incised signature: Daniel Spoerri, as well as with the incised number: 3/8. Estimate CHF 180 000 / 260 000 (€ 166 670 / 240 740).
We thank the artist and Mrs. Barbara Räderscheidt for the confirmation and for the kind support.

Provenance: Private collection Switzerland.

Literature: Violand-Hobi, Heidi E.: Daniel Speorri. Biographie und Werk, Munich 1998, p. 120.

"I never wish for anything – I let things happen" – Daniel Spoerri's curiosity about life drove him constantly in the search for renewal, and not only within art. This tendency may have come from the fact that he describes himself as stateless.

Daniel Spoerri was born in Rumania. His father, a Rumanian, lost his life in 1941 under the National Socialists, whereupon his mother fled with her son to Switzerland, which was her native country. There Daniel Spoerri studied commerce and some years later studied at the performing arts school in Zurich, where he obtained a grant to study ballet in Paris. In Bern he was subsequently appointed principal dancer at the state theatre. In 1956 he took over the production of an avant-garde piece by Picasso. From then onwards, Daniel Spoerri was surrounded by numerous artists, directors and writers. In 1959 he moved to Paris, where he became cosignatory of the "Nouveau Réalisme" manifesto, and developed his trademark work: the "Tableaux piège" (snare-picture) which he was to develop over the next 50 years in various forms. His "Tableaux piège" are characterised by an assemblage of everyday objects such as plates, cutlery and glassware, which has come about through "chance with deeper meaning". This is a play on reality, in which he seeks to avoid a reproducible configuration, otherwise the tension would be lost if repeated. On the other hand, a work remains alive, provided that the mystery is predominant.

In Tuscany, near Monte Amiata, the famous sculpture garden "Il Giardino di Daniel Spoerri" was opened in 1997. Over an area of 14 hectares Daniel Spoerri has exhibited his art works, as well as a collection from his close artist friends. In the last 20 years his sculpture garden has grown rapidly, with approximately 100 installations by 55 different artists, which can be found in this paradisiacal landscape amongst olive trees, cypresses and open meadows.
Above a hill, an edition of "Die Spieler" is erected, of which we are offering at auction the complete third set from an edition of 8: the seven sculptures, which also function as autonomous works, each stand on a circular lower body support, with the head parts personified using simple means. Together they appear as "circus performers", who apparently without much success are fighting over a ball, the "globe". Daniel Spoerri has identified the participants of this game as follows: the priest, recognisable through his head gear in the form of a Catholic priest; the prey, held by a long pincers; the dandy, who bows elegantly holding out his hand in greeting; the lady scratching herself, with the bent claw, as if she wishes to scratch herself; the writer, recognisable presumably by the sword of sharp words; the horseman, wearing an ornamented helmet; and the SS-officer, wearing an SS cap and armed with an axe.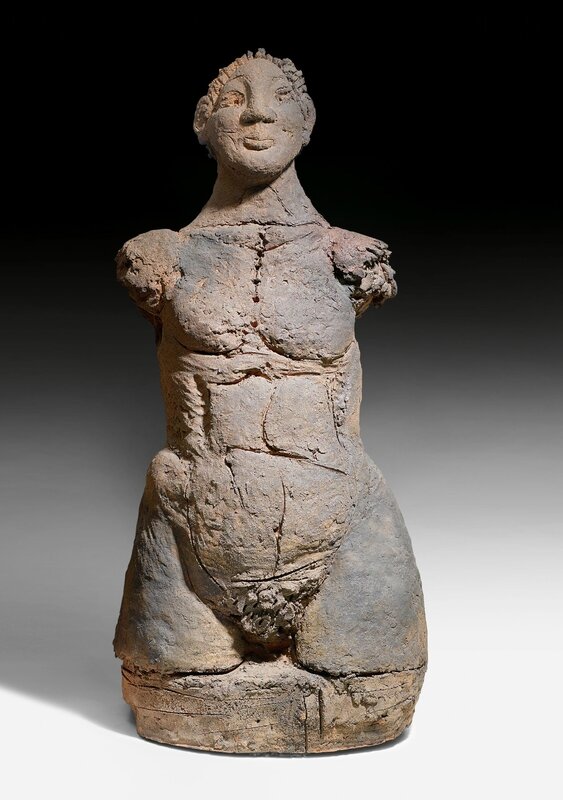 Lot 3432. Markus Lüpertz (Reichenberg 1941 - lives and works in Düsseldorf), Susanne, 1986. Terracotta, 160 x 70 x 70 cm. Monogrammed on the reverse at the bottom: ML. Estimate CHF 60 000 / 80 000 (€ 55 560 / 74 070).
Exhibition: - Zurich 1986, Markus Lüpertz. Skulpturen in Ton. Galerie Maeght Lelong, October – November.
- Karlsruhe 1991, Markus Lüpertz. Rezeptionen-Paraphrasen. Städtische Galerie im Prinz-Max-Palais, October - December.
- Karlsruhe 1999 - 2002, Permanent loan, Städtische Galerie Karlsruhe.

Literature: - Dupin, Jacques/Blistène,Bernard, Markus Lüpertz. Skulpturen in Ton. Zurich 1986 (ill. no. 1).
- Schulz-Hoffmann, Carla, and others: Markus Lüpertz. Rezeptionen - Paraphrasen. Karlsruhe 1991, no. 72 (ill. 116).
- Schmalenbach, Werner, and others: Landesausstellung 1990. Ursprung und Moderne. Linz 1990, p. 46.
- Paparoni, Demetrio. Art in wonderland. Markus Lüpertz, in: Tema Celeste, International Art Review, no.25, April-June 1990, p. 30 (ill. p. 32).
- Schmeller, Véronique. Eighty. Paris 1990 (ill. p. 129).

In the 1960s in Germany a young generation of artists emerged who were to alter art and the cultural world for years to come.

They all had a political standpoint, so that critiques of the economic miracle and society were a constant theme; at the same time, this very society chafed at the provocative new art. However, these artists questioned the conventional concept of art and traditional formal principles and sought their own way forward. Alongside Markus Lüpertz, members of this generation included Anselm Kiefer, Georg Baselitz, Jörg Immendorf and A.R. Penck, who were all in their different ways to return to figural expressionist painting.

Markus Lüpertz fled with his family from Bohemia to the Rhineland in 1948. After two unsuccessful attempts at an apprenticeship, between 1956 and 1961 he attended the Werkkunstschule in Krefeld and earned money working in mining and road building. His studies at the Kunstakademie Düsseldorf only lasted a year and he was then unenrolled. Even his commitment to the French Foreign Legion was of short duration. In 1962 he then moved to West Berlin, in order to avoid military service; and here his real artistic career started. With Hödicke, Diehl, Petrick and Sorge, Lüpertz founded the cooperative gallery "Grossgörschen 35". In 1969 Klaus Gallwitz exhibited his works for the first time in a show in Baden-Baden. In the following year, he received the Villa Romana prize and spent a year in Florence. In 1974 he was appointed professor of painting at the Kunstakademie Karlsruhe and in 1988 he became director of the most important art academy in Germany, the Kunstakademie Düsseldorf, a post he held for 20 years. He brought in internationally renowned artists as professors, such as Jannis Kounellis and Rosemarie Trockel, and influenced an entire generation of German artists.

In 1986 Markus Lüpertz created an impressive series of clay sculptures, which at a primary level show the influence of Picasso and Giacometti, with a detailed knowledge of the art of the Expressionists and their models in primitive art, which is not to be dismissed lightly. Nevertheless, these rough, bulky sculptures are not about the depiction of a woman or a message using the vehicle of art, but a question as to what art and the sculptor can produce and what this triggers in the viewer, as Jacques Dupin describes incisively:

" Die Arbeit Lüpertz': Entzückung und Entführung, das Wiedererscheinen eines verbrannten Erbes, die Urbarmachung der Wüste … Durch das Anhäufen von Gespenstern und das Abziehen von Materie und, umgekehrt, durch die Vertreibung des Gespenstes mit dem Atem und der Erschaffung eines fremden Körpers. Es ist ein Hymnus – die immer gleiche Dithyrambe – auf die Frau, auf die unmögliche Gottheit, deren straffe und gebrochene Nackheit aus der Kühle ihrer Kerben und in ihren aufstiebenden Eruptionen zum Leben erwacht. Als würde sie jedesmal aus dem Auseinanderbersten ihrer Spannungen, aus ihrem skulpturalen Erscheinen, aus der Entfaltung ihrer Weiblichkeit neu geboren. Eine Weiblichkeit, die um so vollendeter ist, als sie unvollständig bleibt, um so intensiver strahlt, als sie liebevoll gemartert wurde." (cit. Jacques Dupin, in: Exh. Cat: Markus Lüpertz. Skulpturen in Ton, October – November 1986, Zurich 1986).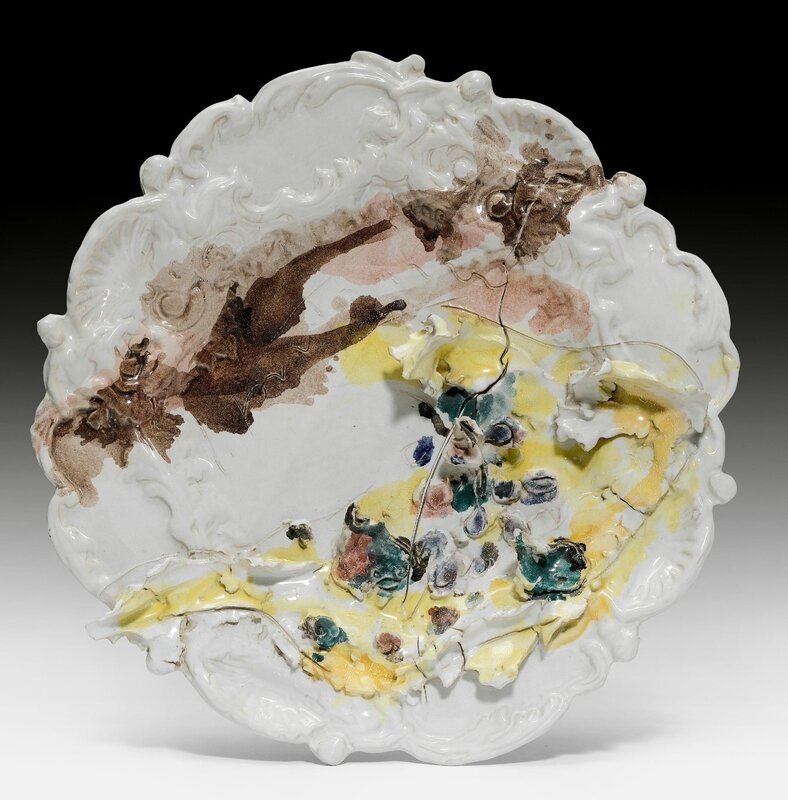 Lot 3436. Lucio Fontana (Rosario/Argentina 1899 - 1968 Comabbio), Natura morta, 1950-55. Plate. Ceramic painted in brown, yellow, pink, green and blue, glazed; Diameter 50 cm. With the incised signature: L. Fontana. Estimate CHF 60 000 / 80 000 (€ 55 560 / 74 070).
The work is registered at the Fondazione Lucio Fontana, Milan, under the number: 3357/1. We thank the archive for his kind support.

Provenance: Former private collection Italy.

As early as 1935 Lucio Fontana was gaining experience in the ceramics workshops of Albissola Mare and then in 1937 in Sèvres, with the result that he knew the material thoroughly, knew how to handle it, and, as we can see here, was fully in command of it. The soft, malleable material allowed him experiment, and so it turned out that the first cuts (tagli) were produced in the ceramic works, before they were applied to the paintings. In Fontana's art the main question is the idea (concetto) and in the sounding out and further development of that idea, genres and techniques have no role to play.

The plate offered here at auction is a wonderful example on the one hand of his ceramic work, but on the other hand, above all, of his concept and its thorough implementation. Since a canvas in the traditional sense before Fontana was always two-dimensional, so the base of a plate was always flat, so that it could be used. Lucio Fontana broke with all these traditions: the canvas was cut and thereby opened up to three-dimensionality; the base of a plate was moulded, so that a sculpture emerged, which enlarged the space. In addition there are also cuts on our plate, so that the artist has removed its actual function and submitted it completely to his concept.

The exceptional importance of his ceramic work is also apparent in its influence on his direct successors, such as the ZERO artists, but also the next generation of artists such as Thomas Schütte, Rosemarie Trockel and Norbert Sprangenberg.
Among the prints in the auction is an outstanding work by Louise Bourgeois, "Girl with Hair". Created in 2007-2009 with Archival dyes on silk, it is part of an edition of only twelve (lot 3744, CHF 50 000 – 70 000). Andy Warhol is represented by several works in this sale, notably the now-classic "Flowers" from 1970 (lot 3733, CHF 18 000 – 24 000), and from the street artist phenomenon Banksy comes "Choose Your Weapon" (lot 5041), in which the weapon in question is a pit bull wielded by a figure in a hooded sweatshirt (CHF 12 000 – 18 000).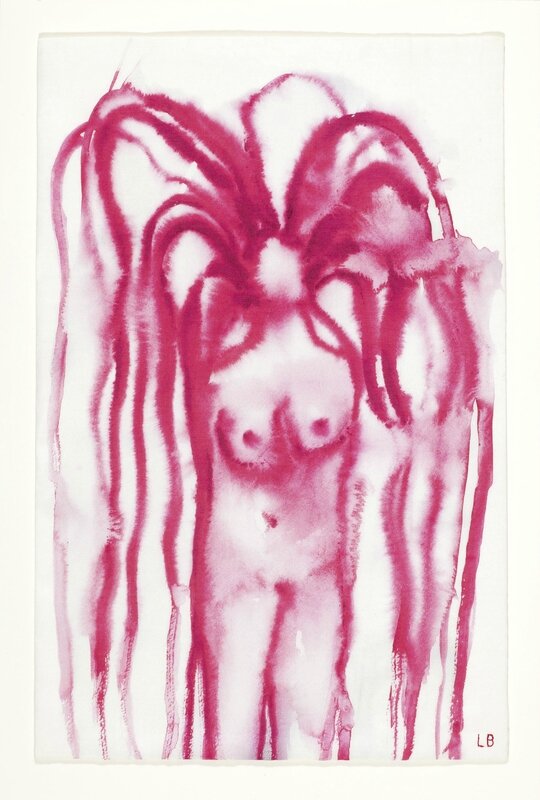 Lot 3744. Louise Bourgeois (Paris 1911 - 2010 New York), Girl with hair, 2007-2009. Archival dyes printed on silk taffeta. 1/12. Size 58.5 x 38 cm. Lower right with embroidered monogram: LB, as well as numbered on the reverse: No. 1/12 and inscribed: BOUR-13383. Estimate CHF 50 000 / 70 000 (€ 46 300 / 64 810).
Literature: Online-catalogue of the Museum of Modern Art, Cat. No. 237.1.

"The people I most admire are interested in portraits, in the symbolic and recognisable unique essence of a person. I, on the other hand, am interested in the portrait of a relationship, in how a relationship can be woven, in the influence which people have over one another." (cited Louise Bourgeois, in: Crone, Rainer/Graf Schaesberg, Petrus: Louise Bourgeois. Das Geheimnis der Zelle, Munich, 1998, p. 49)

Wild, irrepressible and defenceless, the "Girl with Hair" steps towards the viewer. The wild hair standing in peaks frames the anonymous face as well as the naked body of a woman. Nothing in this image is restrained: not the aggressive red colour, nor the flowing, spontaneous lines, nor the composition which fills the page, nor the defenceless girl. The young woman depicted here enters directly into a relationship with the viewer, will not let them go, follows them with her eyeless gaze. It begs the question, Towards what? Why? Who? The viewer is immediately in dialogue with the image, except that they then automatically block out the image to protect themselves. But that is also a form of reaction, of communicating with the subject.

Louise Bourgeois, one of the most important and influential sculptors of the 20th century, brings together in "Girl with Hair" some of the central themes of her work. There are the basic themes of humanity, such as birth and death, fear and love, the human body and sexuality. This is why her works can be understood intuitively, even if, because of the many layers, they remain puzzling. The vulnerable femininity on display, combined with a colour, which with its red tone and its haziness gives rise to associations of blood, as well as the hair reminding us of spider legs, allow for a multiplicity of interpretations, which makes the full dimension of this picture hard to grasp. At the same time, the symbolic elements touch the viewer very emotionally, galvanising them: "My work unsettles the viewer, but no one wishes to be disturbed." (ibid, p. 11)

Louise Bourgeois was born in Paris in 1911 and moved with her husband, the American art historian Robert Goldwater, to New York in 1938. In the 1920s in Paris, she had already taken drawing lessons, and had enrolled initially at the Sorbonne to study philosophy and mathematics, before deciding to study art. It was only in 1982, at the age of 77, that she achieved recognition as an artist with her first large retrospective in the Museum of Modern Art, New York. Bourgeois attracted wide attention internationally with her participation in Documenta 9 in 1992 and the Venice Biennale in 1993. Today she is one of the most renowned female artists in the world, and has been honoured with numerous international solo shows. Louise Bourgeois died in New York in 2010.
Lot 3730. Andy Warhol (Pittsburgh 1928 - 1987 New York), Flowers, 1970. Colour screenprint. 157/250. Signed on the reverse: Andy Warhol, also with the stamped number. Sheet size 91.4 x 91.4 cm on firm Vélin. Published by Factory Additions, New York. Printed by Aetna Silkscreen Products, New York. Estimate CHF 50 000 / 70 000 (€ 46 300 / 64 810).
From the 10-part portfolio.
Provenance: - Galerie Andrea Caratsch, Zürich.
- Purchased from the above by the present owner, since then privately owned Switzerland.

Catalogue raisonné: Feldman/Schellmann, no. II.73.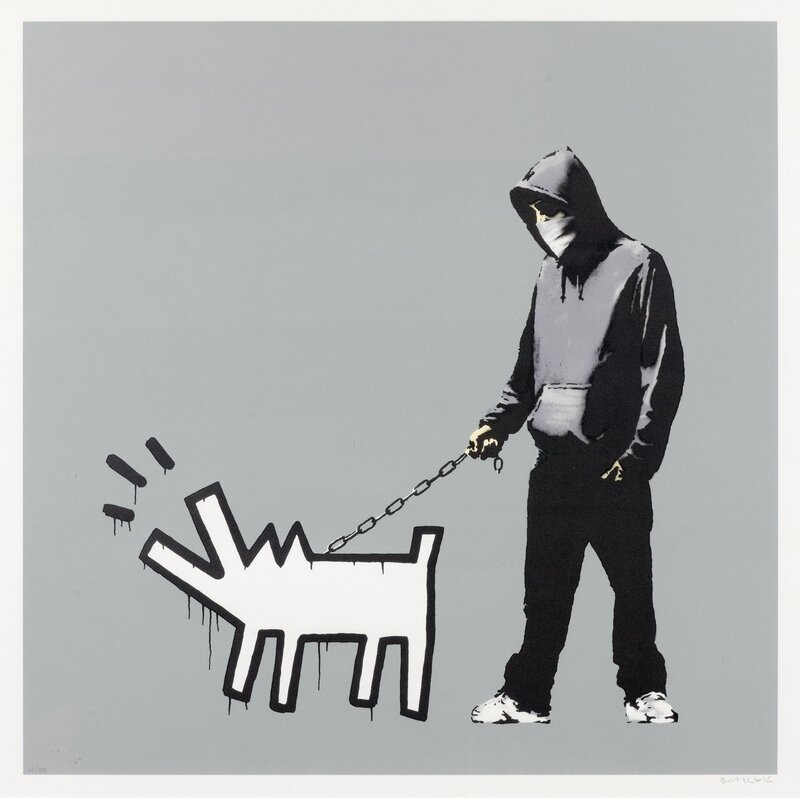 Lot 5041. Banksy, Choose your weapon, 2010. Colour screenprint. 45/100. Signed lower right: BANKSY. Image 60 x 60 cm on vélin 64 x 64 cm (visible measure). Estimate CHF 12 000 / 18 000 (€ 11 110 / 16 670).
Provenance: - Gallery Guy Hepner, New York.
- Bought there in 2011 from the present owner, since then privately owned Switzerland.
Impressionist & Modern Art
Important works by a founder of the Blaue Reiter
The Modern Art auction on 2 December features three works from as many distinct periods in the career of German Expressionist artist Gabriele Münter. One of the founders of the Blaue Reiter movement, Münter painted "Vereiste Strasse" (Icy Street) in 1911, the year of the group's first exhibition, and another version of the painting offered here was exhibited in that historic show (lot 3220, CHF 200 000 – 300 000). The other two works by Münter in this sale, "Zigeunerwagen II" (Gypsy Wagon II) from 1920, and "Rotes Moos" (Red Bog) from 1959, clearly document the artist's stylistic shift towards abstraction. In the latter work, Münter uses shimmering planes of color and dark contours to define the landscape, the composition of which nevertheless recalls certain works from her early Blaue Reiter period (lots 3225 and 3229, CHF 100 000 – 150 000 each).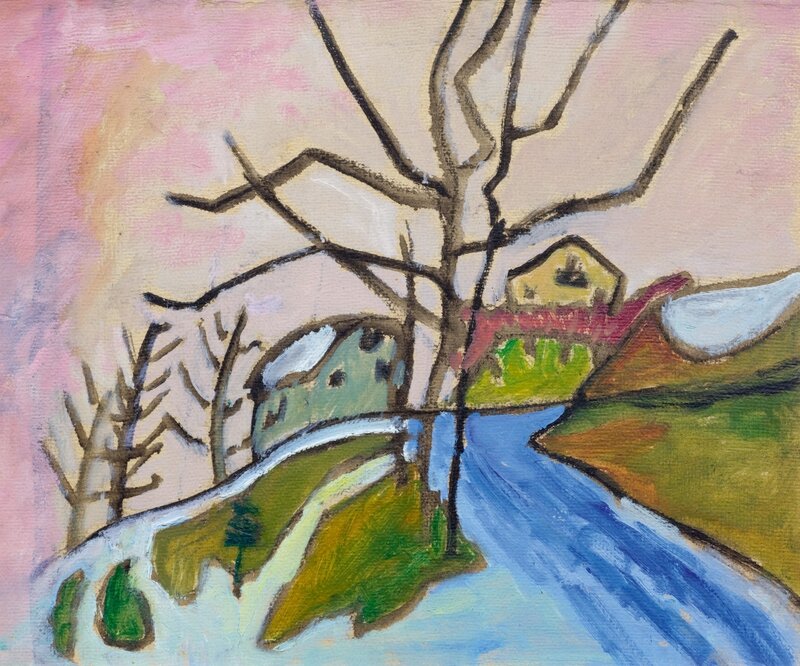 Lot 3220. Gabriele Münter (Berlin 1877 - 1962 Murnau), Vereiste Strasse, 1911. Oil on board, 34.9 x 40.5 cm. On the reverse with the estate stamp. Estimate 200 000 / 300 000 (€ 185 190 / 277 780).
This work will be included in the Catalogue raisonné of paintings by Gabriele Münter, published by the Gabriele Münter and Johannes Eichner Foundation.

Provenance:
- Galerie Gunzenhauser, Munich.
- Private collection, Germany (bought in the 70s at the gallery above).

After the early death of her parents, her first private drawing classes in Dusseldorf, and a two-year stay in America, Gabriele Münter moved to Munich in 1901. As it was forbidden at that time for women to study at a public art academy, the young emancipated woman first entered the school of the association of female artists (Künstlerinnen-Verein) and later a private art school called the "Phalanx", where Kandinsky was first her teacher and, a short time later, her lover. Münter and Kandinsky travelled to many different places and their painterly style was strongly influenced by their nascent relationship with the Fauves. In her journal Münter wrote: "Ich habe da nach kurzer Zeit der Qual einen großen Sprung gemacht – vom Naturabmalen – mehr oder weniger impressionistisch – zum Fühlen des Inhaltes, zum Abstrahieren – zum Geben des Extraktes." (A. Hoberg (Ed.), Wassily Kandinsky und Gabriele Münter in Murnau und Kochel, 1902-1914. Briefe und Erinnerungen, Munich 1994, pp. 45f.)

Landscape played a central role in Münter's work, is one of the artist's most popular subjects, and was also her personal favourite. She covered the most varied range of landscapes, experimented with colours, light and types of weather, and so created a palette of the most diverse works. In her painting Münter concentrated on sharp forms and contours, ignoring the detail and reducing the landscape to its essential simplicity. The paintings consist of colour planes, which interact harmoniously. They depict concrete, yet abstracted landscapes. The flat compositions, the absence of shadow, and the framing of individual planes are Münter's stylistic devices, in which the present painting is unequalled. The central barren tree is a motif which Münter made use of in several works. In "Vereiste Strasse" she places the trunk in the centre of the picture. The leafless branches rise up in the red sky. The snow lies on the meadow and is punctuated with isolated patches of green grass, not yet or no longer covered in snow. The title of the painting is evident from the icy blue of the street. Our painting "Vereiste Straße" from 1911 was produced within the context of a series of winter pictures (paintings and drawings) from the winter of 1910/1911, which with the sparing quality of the pictorial material and dominance of the line, mark a change in style, which is clearly distinct from the pictures of 1910 with their contoured areas of colour. The contour line seems to have become independent, and to have taken control of the picture. In this painting the dark outer line still marks the contours of the colour areas, but the line frees itself from this role and gains autonomy as a graphic element. "Whoever looks carefully at my paintings, there they will find the draughtsman" wrote Gabriele Münter looking back in 1952. What is notable in this composition is how Münter succeeded in causing the corporeality of the areas of colour to recede and the lines, with their graphic function, to come to the fore. In this way, individual pictorial motifs are established as stable components of her pictures.

Together with other important Expressionist painters such as Franz Marc and of course Kandinsky, she is one of the founding members of the Munich Blaue Reiter group. Although Münter was at the centre of the Blaue Reiter, she never took up the development towards abstraction, but remained within a painting style which is abstracted, but still figurative. In December 1911 the first Blaue Reiter exhibition ("Die erste Ausstellung der Redaktion der Blauen Reiter") opened, showing around 43 works by 14 artists, of which 5 were by Münter. The painting presented at auction here was produced in the same year. A second, somewhat larger example, was part of this unique exhibition and thereby underlines the importance of our "Vereiste Strasse".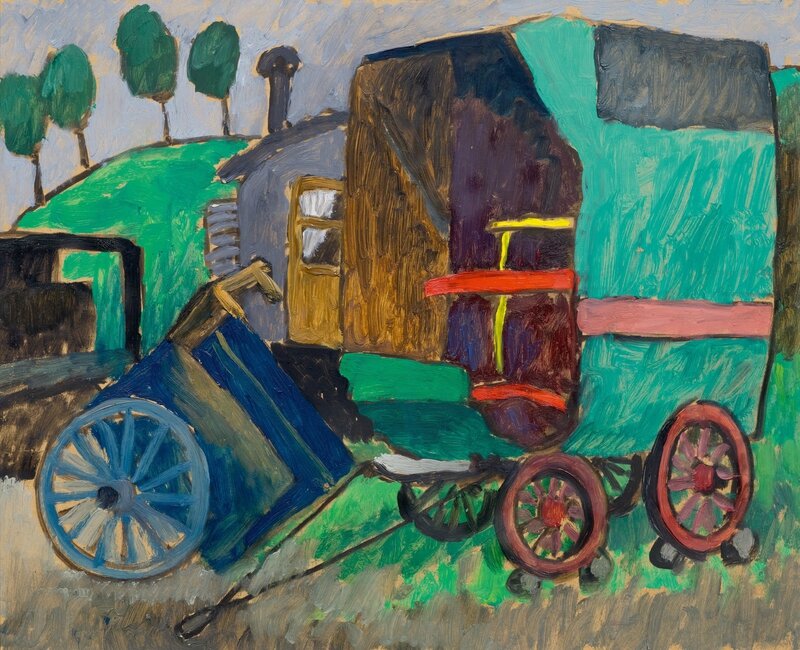 Lot 3225. Gabriele Münter (Berlin 1877 - 1962 Murnau), Zigeunerwagen II, 1930. Oil on board, 37.7 x 45.7 cm. On the reverse with the estate stamp. Estimate 100 000 / 150 000 (€ 92 590 / 138 890).
This work will be included in the Catalogue raisonné of paintings by Gabriele Münter, published by the Gabriele Münter and Johannes Eichner Foundation.

Provenance: - Galerie Gunzenhauser, Munich.
- Private collection, Germany (bought in the 70s at the gallery above).

Placed directly in the centre of the picture, the door laid wide open, and with a second caravan part leaning against it, the emptiness and abandonment of the gypsy caravan arrests our attention. This very intense, suspenseful picture – intense in its composition, in the choice of colours and concept of space - marks a moment of change, from Münter's period of wandering to a more peaceful, stable time in her life.
The post war years in Scandinavia after her separation from Wassily Kandinsky, and the 1920s, which saw frequent relocation and a prolonged solitude, had left Gabriele Münter deeply unsettled. In this period, it was above all her drawings – fluid portrait drawings of "pure line" – as well as the familiar motif of the Murnau Alpine foothills, to which she returned again and again – which kept her grounded. A longer stay in Paris in 1929 /1930 with Johannes Eichler, her second companion, lent a new impulse to her creative work. In the same year she travelled again to the South of France. Here too she worked constantly with pencil and oil, and was inspired by the landscape and life of the South of France. In terms of quality and quantity, her painting during this period in France at the beginning of the 1930s, saw a great upturn. She fought again for her pictorial style, swung between the tendencies of "Neue Sachlichtkeit" and expressionism, freed herself again and again from perspective, sought the simplification of form and volume with contoured areas of colour. In the work "Zigeunerwagen II" this struggle is tangible. The restless, short brush strokes lend the picture a strong dynamic, which is heightened by the ground colour glistening through, and the permeability of the paint. The eschewal of perspective in the composition strengthens the presence of the individual pictorial elements, dovetails them, releases the individual areas of colour from their intrinsic function and allows them to stand autonomously side by side. Of especial interest with "Zigeunerwagen II" is the choice of subject, the openness to experiment in subject matter, which had already been presaged in Münter's time in Scandinavia. Thanks to the inspiration from her stay in France, her range of subjects had broadened again. Instead of the peaceful landscapes and still lifes, people and their direct environment became the pictorial subject matter. As with all experimentation in subject matter, in many of the pictorial elements there is nevertheless a return to Münter's own expressionistic tradition of the "Blauer Reiter" period. Not only the contours of the forms, but also the reduction in detail and the expression of objects in geometric terms, are tied into this pictorial language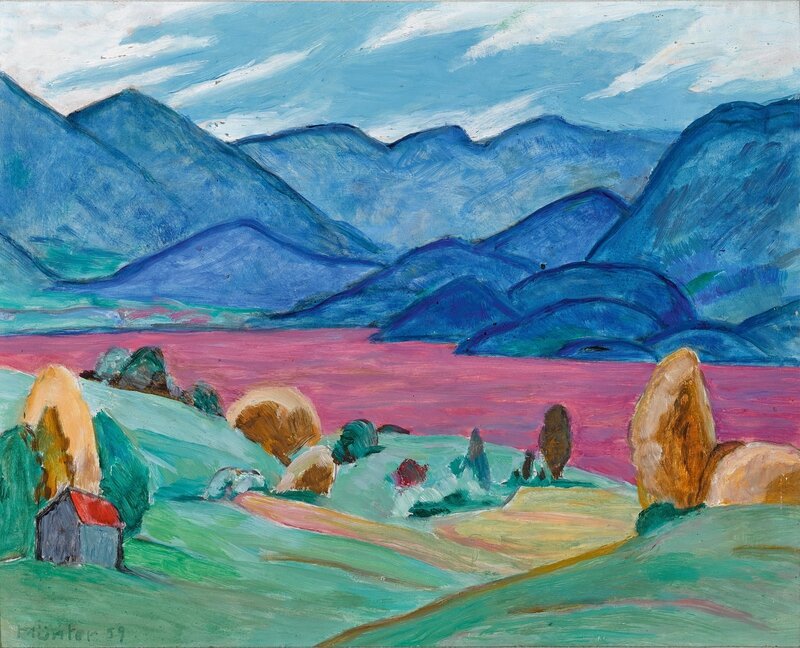 Lot 3229. Gabriele Münter (Berlin 1877 - 1962 Murnau), Rotes Moos (Red Bog), 1959. Oil on board, 33 x 41 cm. Signed and dated lower left: Münter 59. Estimate 100 000 / 150 000 (€ 92 590 / 138 890).
This work will be included in the Catalogue raisonné of paintings by Gabriele Münter, published by the Gabriele Münter and Johannes Eichner Foundation.

Provenance: - Galerie Gunzenhauser, Munich.
- Private collection, Germany (bought in the 70s at the gallery above).

The work "Rotes Moos", which Münter painted in her mature later period, consists of areas of colour harmoniously brought together. They depict a concrete, yet strongly abstracted landscape. Münter felt much more committed to the "concept of nature" than to abstraction, and found in the flat composition of the mountainous landscape, the absence of shadow and the contouring of individual areas, a fitting stylistic device, which is brought to bear splendidly in the present painting.
In her late work, Gabriele Münter consistently used motifs from the Blauer Reiter period. Thus, we are struck by how close "Rotes Moos" is in composition and colour to the painting "Seelandschaft mit drei Kugelbäumen" circa 1909. The blue mountain chain looms in the upper half of the picture and only appears to be separated from the green of the fields in the foreground by the red horizontal band of moss. The lack of spatial depth is replaced by the dominant colouring, so that the (dark) contours of the landscape elements are used only in a very targeted way. In many cases the areas of colour are placed directly alongside one another, or they are separated by the shimmering ground colour.
"Rotes Moos" reverberates splendidly with Münter's art and skill, whereby the radical position of her early years has yielded to an inner harmony, which in the luminosity and interplay of colours gives witness to an intensity, which characterises Münter's work in her best years.
Other important works in the auction include a magnificent floral still life by German impressionist Lovis Corinth (lot 3214, CHF 220 000 – 280 000), and a festive Bastille Day scene by Raoul Dufy, "Le Bal populaire" from 1906 (lot 3209, CHF 330 000 – 380 000).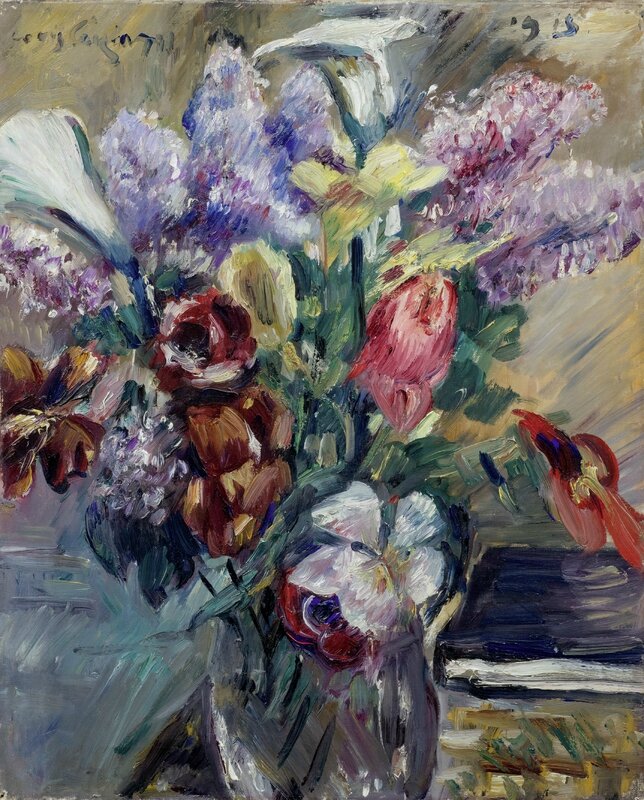 Lot 3214. Lovis Corinth (Tapiau 1858 - 1925 Zandvoort), Tulpen, Flieder und Kalla, 1915. Oil on canvas, 62 x 50 cm. Signed upper left: Lovis Corinth, and dated upper right: 1915. Estimate 220 000 / 280 000 (€ 203 700 / 259 260).
We thank Dr. Bettina Best for her scientific support.

Provenance: - Galerie Thannhauser, Berlin.
- Graphisches Kabinett, Bremen.
- Private collection, Austria.

Exhibition: - Wuppertal 1999, Lovis Corinth. Von der Heydt Museum, no. 34 (with ill. p.131).

Literature: - Berend-Corinth, Charlotte: Die Gemälde von Lovis Corinth. Werkkatalog. Mit einer Einführung von Konrad Röthel, München 1958, no. 647, p. 137 (with ill. p. 640).
- Berend-Corinth, Charlotte/Hernad, Béatrice, Lovis Corinth: Die Gemälde, Werkverzeichnis. Mit einer Einführung von Hans-Jürgen Imiela, München 1992, no. 647, p. 137 (with ill. p. 670).

Stand-alone still lifes barely feature in the early work of Corinth. From the end of the first decade of the 20th century, however, he dedicated himself more and more often to this subject, and subsequently still lifes assumed an important and central role in the artist's oeuvre.
This may be a convergence of several reasons: – Corinth's activity as teacher at a painting school for women; his wife Charlotte as instigator, who knew how to tempt him out of his depressive moods with flowers; and not least the physical limitations resulting from his stroke in 1911. Thereupon he began to engage intensely with nature, flowers and landscape, which came to dominate towards the end of his work.

"To capture and express nature in all its forms, building and destroying, as does nature itself, and so to become a part of her – that is Corinth's credo, like that of Goethe (...). Corinth's painting is the equivalent of the creativity of nature. Painting as natura naturans, the formula, probably first employed by Ludwig Justi, which encompasses the confusing double aspect of Corinth's painting: on the one hand, the painterly materialisation of all things in nature and at the same time a painterly hymn to creation and life, and, on the other hand, the transformation of the whole of nature into painting and thereby the de-materialisation and spiritualisation of all concrete things, their elevation to that autonomy and unreality of pure painting, which Lovis Corinth formulated as the highest goal." (Peter Klaus Schuster: "Malerei als Passion. Corinth in Berlin", Exh. Cat. Munich, Berlin, 1996, pp. 54. f.)

The present still life of flowers was created by Lovis Corinth at the age of 57, at the height of his career. In this year, 1915, he had been re-elected as president of the Berlin Secession and so organised the Secession exhibition in the new exhibition hall at the Kurfürstendamm. He supplied the exhibition with four works, including two still lifes, which were created in Klopstock Strasse Berlin, directly before and after our still life of flowers.

Within the interplay of colours, the two Callas lilies at the top and a white flower below on the jug form the brightest points of light in the painting. Many further areas of white highlighting create a sense not only of a positive bright light, but suggest a certain quality in the flowers.
This is a painting on the threshold between bearing witness to the object and automatic painting, flowing between light and dark, flowering and fading, with the greatest intensity of colour and cadence, in the most extreme delicacy in the substance of the flowers – but also the solidity of the bellied vase, as well as the angular book.
Even if Corinth's paintings are known for their dual aspect of fullness of life and closeness to death, it is the former which dominates in the still lifes of flowers with lilacs, calla and tulips. This work has an especially powerful effect, with this new expressive style of short, pulsing brush strokes and glowing colours. The artistic yearning for freedom is strongly emphasised here in Corinth's style, and the artist's will to live is apparent.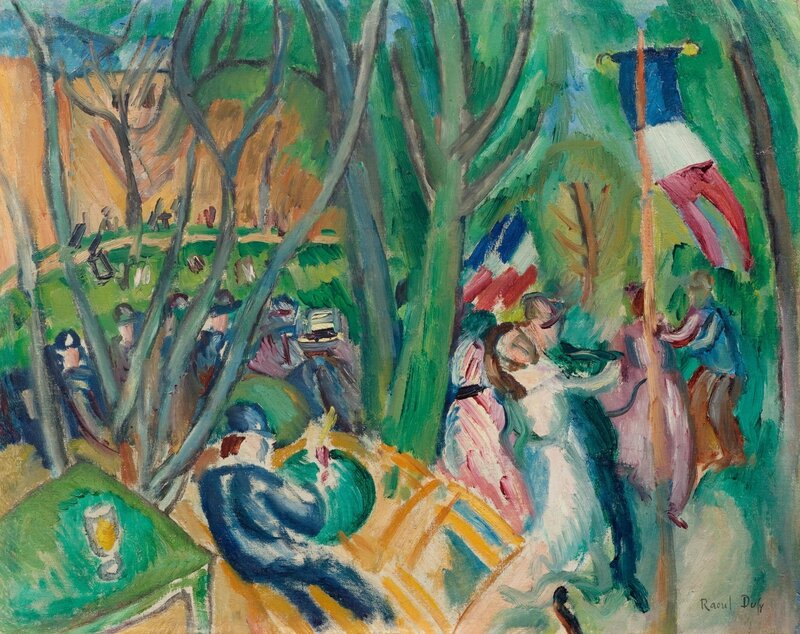 Lot 3209. Raoul Dufy (Le Havre 1877 - 1953 Forcalquier), Le bal populaire, 1906. Oil on canvas, 34 x 42 cm. Signed lower right: Raoul Dufy. Estimate 330 000 / 380 000 (€ 305 560 / 351 850).
Provenance: - Collection Gustave Coquiot, Paris.
- Galerie Charpentier, Paris December 1959.
- Private collection, Switzerland.

Exhibition: Milan 1969, Galleria del Milione, no. 4 (with ill.).

Literature: Lafaille, Maurice: Raoul Dufy. Catalogue Raisonné de l'oeuvre peint de 1895 à 1915, 1972, vol. I, no. 244 (with ill.).

Raoul Dufy's fauvistic work Le bal populaire is a feast of colour and form expressed in a language which was new at the time and this fine painting is therefore very significant. It shows, both in its subject and its technique, the decisive moment in the history of art in which the pioneer Raoul Dufy found himself.
The works of the Fauves exhibited in the 1905 Salon d'Automne had greatly impressed the young painter. After his training at the École des Beaux-Arts du Havre he began to explore new, non-academic ways of artistic expression. He was introduced to the fauvist style of painting, particularly by this friend Albert Marquet. Both spent the summer of 1906 in Le Havre, Trouville and Honfleur.
In Le Havre they celebrated the French National Day, 14 July. Each started a small series of paintings on this theme, which was very well suited to the fauvist language of form and colour. The famous "Rue pavoisée" paintings depict the day's festivities in Le Havre. These works thus form the high point of Dufy's examination of this important, expressionistic art movement.

We see couples dancing in a public garden. The trees of the park coil wildly towards the sky and the national flags clatter. Behind the branches are hints of the variously coloured contours of the musicians in a medium-sized orchestra, and in the foreground we see a person drinking wine at a table, observing the dancers.

We see many other artistically important influences, which will intensify even further in the coming years and will cause Dufy to finally move away from Fauvism. We recognise the flow and composition of Cézanne. There are also elements, which will shortly emerge from this artistic discourse and lead from 1907 to Cubism. Particular segments of the picture consciously subvert the academic perspective. So for example the table, the seated figure, and the dancers are to be seen from independent perspectives. This lends the whole picture a pulsating effect, while the composition is not without harmony, this also being a characteristic of the much celebrated works of Cezanne from the same years.
The entire setting mirrors the dance, the music and the diversity of colour, and so conveys the festivity and joy of that moment. It is symbolic of the joy which the young painter must have felt, to be able to express himself in this new style.
Photographs
Stand-alone auction with celebrity portraits
Koller Auctions is holding its first stand-alone photography auction in almost a decade, and the 440-lot catalogue is certain to keep photography collectors busy for weeks to come. Among the rarer works in the December 3 auction is a print of Muhammed Ali showing off his right fist by Thomas Hoepker, a counterpart to the more widely known "left fist" photo (lot 1716, CHF 8 000 – 12 000). A portrait of Archbishop Desmond Tutu by Richard Avedon (lot 1727) is particularly striking and also quite rare; it was made for an advertising campaign on risk management for Winterthur which featured a quote by Tutu: "Of course faith is a risk – but one which I would never risk living without" (CHF 12 000 – 18 000).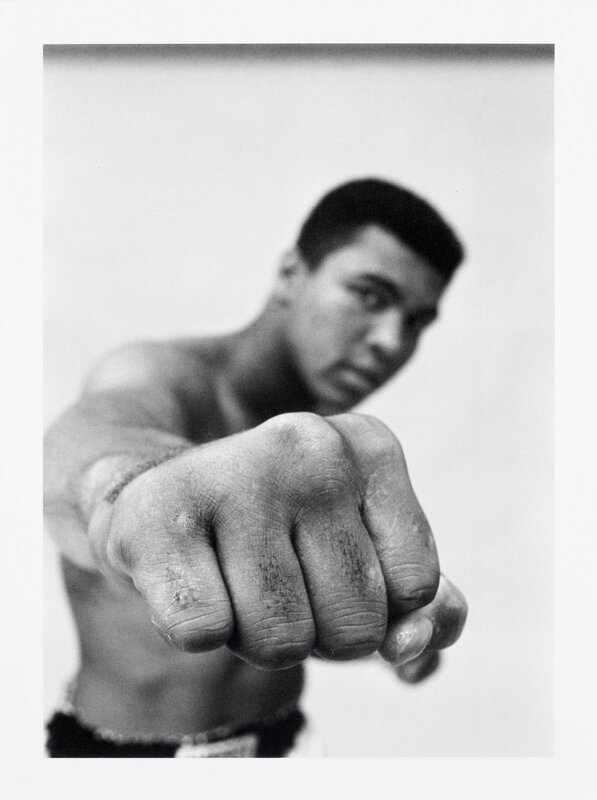 Lot 1716. Thomas Hoepker (1936), Muhammad Ali shows off his right Fist, Chicago, 1966. Original photography. Archival Pigment Print. Later departure, around 2009. Image size: 49.3 x 35.4 cm; Sheet size 55.5 x 41.5 cm. Verso signed, photographed and numbered handwritten 22/25. Estimate 8,000 / 12,000 (€ 7 410/11 110).
Literature: Hoepker, Thomas. Big Champ. Muhammad Ali photographed. New York, 2015 (fig. P 4).
Pohlmann, Ulrich (ed.). Thomas Hoepker Photographs 1955-2005. Munich, 2005 (fig. P 5).

The Munich-born Thomas Hoepker 1936 is one of the best known German photojournalist. His portraits of photographers such as Kristall, magnum, twen, The Star and the magazine Geo are famous all over the world and deeply anchored in our pictorial memory. Thomas Hoepker has always understood himself as an order photographer, who works for the printed series: "I am not an artist, but an artist of the picture" (according to Pohlmann 2005, p. 7). His paintings are shown in galleries and museums at international exhibitions and are found in numerous book publications. Hoepker is a member of the photo agency MAGNUM, whose president he even had time Weil, and lives in New York.

As a photojournalist for The Star got Hoepker 1964 the possibility of Boxer Cassius Clay, aka Muhammad Ali, 10 years to photograph while at regular intervals. Together with his former female star journalist Eva Windmöller, he accompanied the boxing legend in 1966 to London and then to Chicago. "It's not the end of the year, but it's the end of the year." Brian London. " (Hoepker, 2015, p. 6). The pictures went around the world and have become icons.

This edition is sold out on the secondary market and is currently only offered rare at international auctions!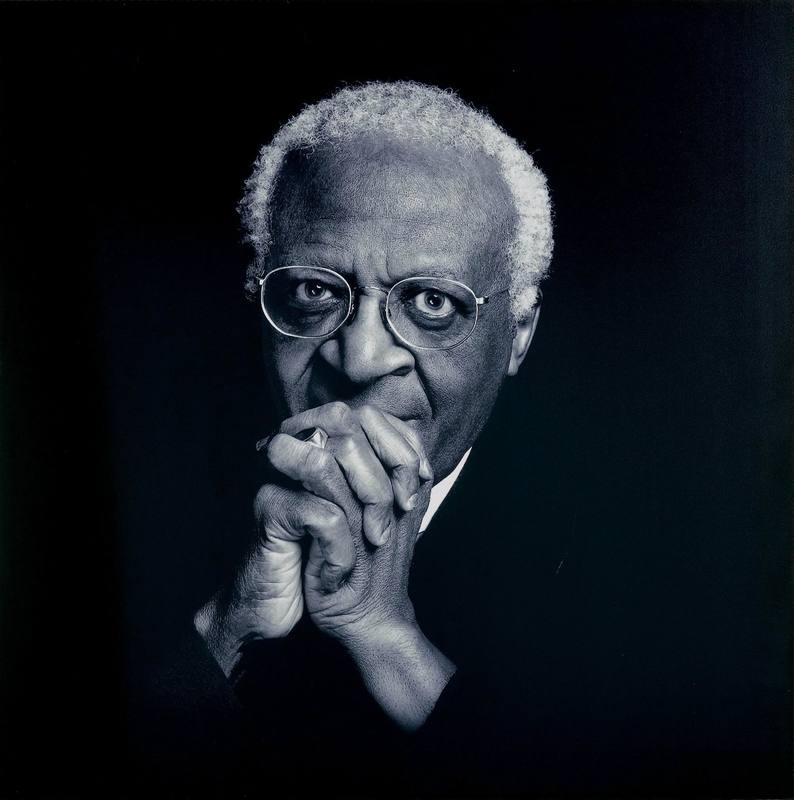 Lot 1727. Richard Avedon (1923-2004), Archbishop Desmond M. Tutu. Original photography. Archival pigment print mounted on aluminum plate. Vintage, 2000. Approx. 120 x 120 cm. Estimate 12,000 / 18,000 (€ 11 110/16 670).
Framed.
Literature: Avedon, Richard, Giovanni Agnelli, GK Kasparov, including Book of Experts. Zurich, Winterthur International u. McCann-Erickson, 2000.
Avedon, Richard and Harry N. Abrams (ed.). Richard Avedon Portraits / Richard Avedon; Essays by Maria Morris Hambourg and Mia Fineman and Richard Avedon; Foreword by Philippe de Montebello. New York, 2002.

Quite unusual for the work of Richard Avedon, the present work owes a commercial order for the insurance company Winterthur International. The printed advertisement entitled "ARCHBISHOP DESMOND M. TUTU" was initiated by McCann-Erickson, Geneva, and published in August 2001. The South African human rights activist Desmond Mpilo Tutu was born in 1931 in Klerksdorp, South Africa. In 1984 he received the Nobel Peace Prize for his tireless struggle against racial equality in the course of apartheid. Under the motto "Of course, the risk of a risk of death" the aforementioned campaign of Winterthur Versicherung was published. Tutu became the first black Anglican bishop of Johannesburg in 1984. From 1986 to 1996 he taught and preached as Archbishop of Cape Town and Primate of the Church of the Province of South Africa. Especially Tutus role in the Palestinian issue, the Second Iraq War, for the recognition of homosexuals in Africa, and most recently his trenchant criticisms of the ANC (African National Congress) drawing his political commitment.

"Archbishop Desmond Tutu; a radiant personality despite Decades of tireless fighting" (Richard Avedon, Book of Experts, thumbnail).

Richard Avedon's portraits are mostly not conducted by commercial considerations, but from personal conviction. "Avedon's portrait work constitutes a modern-day pantheon of many of the major artistic, intellectual, and political figures of the late twentieth century, and, as, it is to the time-honored tradition of public portratiure -century French photographer, Nadar, whose telling portraits of rare individuals captured the creative genius of his generation, so Avedon, a century later, collected the key players and directed them in a brilliant portrait of an era that was questioning, unruly, and self -consciously alive. " (Philippe de Montebello in Richard Avedon portraits, Preface).

Richard Avedon summarizes in his contrasting portrait sentiment characterful personality focused on. The view is directed towards the observer, the hands are folded in front of the mouth for prayer. The contours of the body have dissolved in air - the dark montage has fused with the background. A transcendent union of image and person has taken place, the body of the portrayed seems to float like a spirit in the air. Only in his eyes is the reflection of the flash light of the camera by the photographer's hand, which allows us to return to the ground of reality. This view we will certainly never forget.

Provenance:

- Donation by the photographer to the participating members of the project the company Winterthur International.
- Swiss private possession.
Other highlights include the hard-to-find volume 1 of Richard Hamilton's "Polaroid Portraits" (lot 1714, CHF 8 000 – 12 000). Made between 1968 and 1974, the book contains an original polaroid self-portrait of Hamilton followed by 32 reproductions of portraits made by his artist friends, including John Lennon, Jasper Johns, Francis Bacon and Andy Warhol (CHF 8 000 – 12 000).
Lot 1714. Richard Hamilton (1922-2011), Polaroid Portraits. Vol 1 (from 2). With 1 original photograph and 32 photographic fig. Polaroid recording. 9.5 x 7.3 cm. Stuttgart, London, Reykjavik, Hansjörg Mayer, (1973). Book 16.3 x 12.4 cm. [3] Bll .; Panel. White original leather cover and original leather slipcase (17 x 12,7 cm). Estimate 8,000 / 12,000 (€ 7 410/11 110).
Literature: . Catalog raisonné: Hamilton, Richard, Etienne Lullin u Stephen Coppel, Richard Hamilton: Prints and Multiples 1939-2002, Winterthur, 2003, pp 278-279 (specifies an edition of 50 copies, the imprint is however "46 / annotated 75 "hs.).

One of 50 hs. Num. Explanation of the special issue with 1 original Polaroid photograph by Richard Hamilton (GA). Im imprint by the artist sign. -

The Polaroid images shown were taken by friends of the artist between 16 March 1968 to 11 November 1971, showing portraits of the artist various everyday situations. The original photograph shows a self-portrait of the artist from 3.1.72 (corrected and corrected by the artist " 5.12.73 ") and was stuck over the printed frontispiece:" On the opposite side of the polaroid, Hamilton punctured the date with a pencil and wrote the new date of creation of the glued polaroid over it "(Cat Raisonné). - hardly ever acted on international auctions.
Swiss Art
Museum-quality work by Albert Anker
Albert Anker once again holds the pole position in the Swiss Art auction at Koller on 2 December, with a touching genre scene depicting an elderly woman spinning, next to her sleeping grandson (lot 3032, CHF 900 000 – 1.4 million). A sublime view of the Stockhorn (lot 3083) by Cuno Amiet was painted as a sort of art therapy by the artist, as it was the first work he created after more than fifty of his early paintings were destroyed in a catastrophic fire in Munich's Glaspalast (CHF 350 000 – 450 000).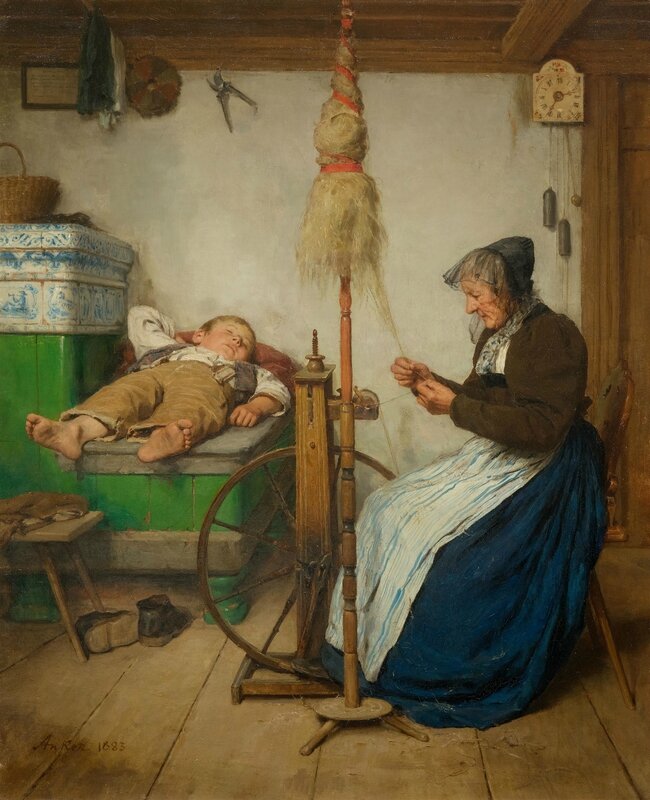 Lot 3032. Albert Anker (1831 Ins 1910), A grandmother at a spinning wheel and a sleeping boy on an oven bench, 1883. Oil on canvas, 81 x 65 cm. Signed and dated lower left: Anker 1883. Estimate CHF 900 000 / 1 400 000 (€ 833 330 / 1 296 300).
Provenance: - Private collection, Bern, 1928.
- Important private collection, Zurich.

Literature: Kuthy, Sandor und Bhattacharya-Stettler, Therese: Albert Anker - Werkkatalog der Gemälde und Ölstudien, Basel 1995, p. 160, No. 302 (with ill.).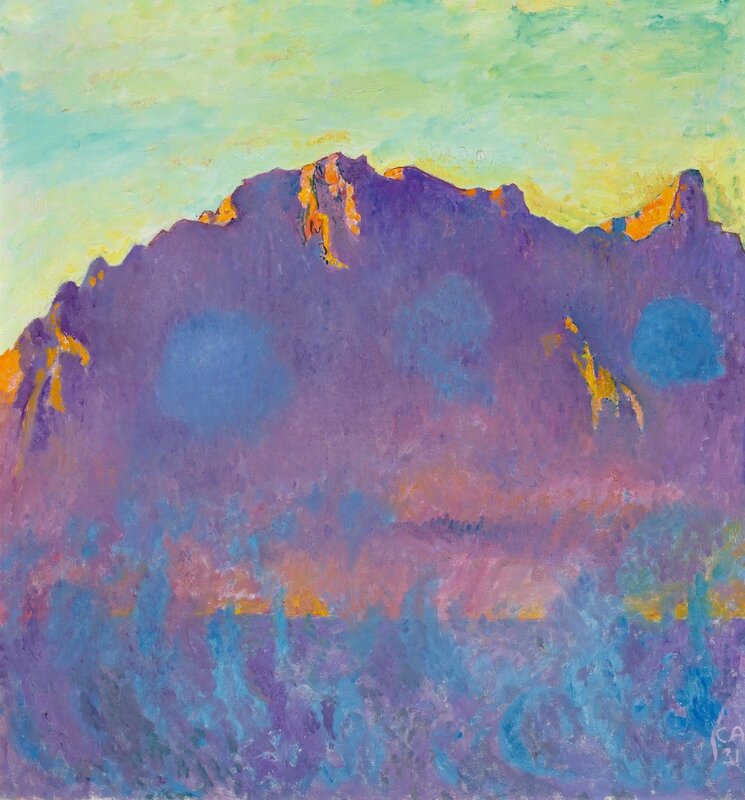 Lot 3083. Cuno Amiet (Solothurn 1868 - 1961 Oschwand), View of the Stockhorn, 1931. Oil on canvas, 98 x 91 cm. Monogrammed and dated with flame lower right: CA 31. Estimate CHF 350 000 / 450 000 (€ 324 070 / 416 670).
Provenance: - Acquired from Cuno Amiet by the father of the present owner.

According to oral history, Cuno Amiet initially did not want to sell this painting to the father of the current owner, as it was the first work to be created after the fire of the glass palace.
Among the other works in this sale which includes works by Swiss artists such as Félix Vallotton, François Bocion and Augusto & Giovanni Giacometti, is a particularly striking portrait of a Valais woman and her daughters in traditional dress by Ernest Bieler, a master of this genre (lot 3077, CHF 250 000 – 350 000).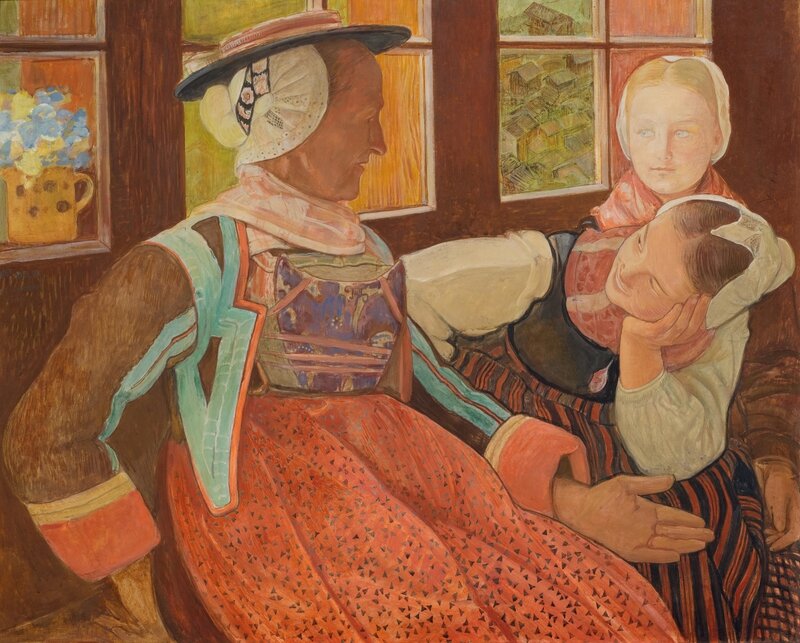 Lot 3077. Ernest Bieler (Rolle 1863 - 1948 Lausanne), La Groucha, Les Haudères, 1924. Tempera on board, 76 x 93.5 cm. Signed, inscribed and dated centre left: Est. BIELER. LES HAUDERES. 1924. Estimate CHF 350 000 / 450 000 (€ 324 070 / 416 670).
Provenance: - Swiss private collection.
The present work will be sold with the original frame of the artist.
Art Deco & Art Nouveau
Masterworks from Tiffany Studios
Several highly interesting Tiffany Studios creations will be offered in the 2 December auction at Koller, including a bronze and Favrile glass "Nautilus / Mermaid" lamp from circa 1910 (lot 1077, CHF 35 000 – 45 000). Cast after a model by the talented art nouveau sculptor Louis Gudebrod, this was among the first electrified light fixtures produced by Tiffany Studios. The complex form of the lampshade and its consequent fragility prevented this model from being created in great numbers, and examples today are relatively rare to the market.
Lot 1077. Tiffany Studios N.Y., "Nautilus-Mermaid" Table Lamp, circa 1910. Estimate CHF 35 000 / 45 000 (€ 32 410 / 41 670).
Favrile glass and bronze with a brown patina. The base stamped Tiffany Studios New York, 28631, CLT CO. H. 40 cm.
Among the works by Emile Gallé offered in this sale are a large table lamp with cherry branch motifs (lot 1080A, CHF 25 000 – 35 000), and a beautiful acid-etched overlay glass vase with aquatic decoration (lot 1076, CHF 10 000 – 15 000).
Lot 1080A. Emile Gallé, Table Lamp, circa 1900. Yellow glass, with blue and green overlay and etched with cherry branches. Signed Gallé. H. 76 cm. Estimate CHF 25 000 / 35 000 (€ 23 150 / 32 410).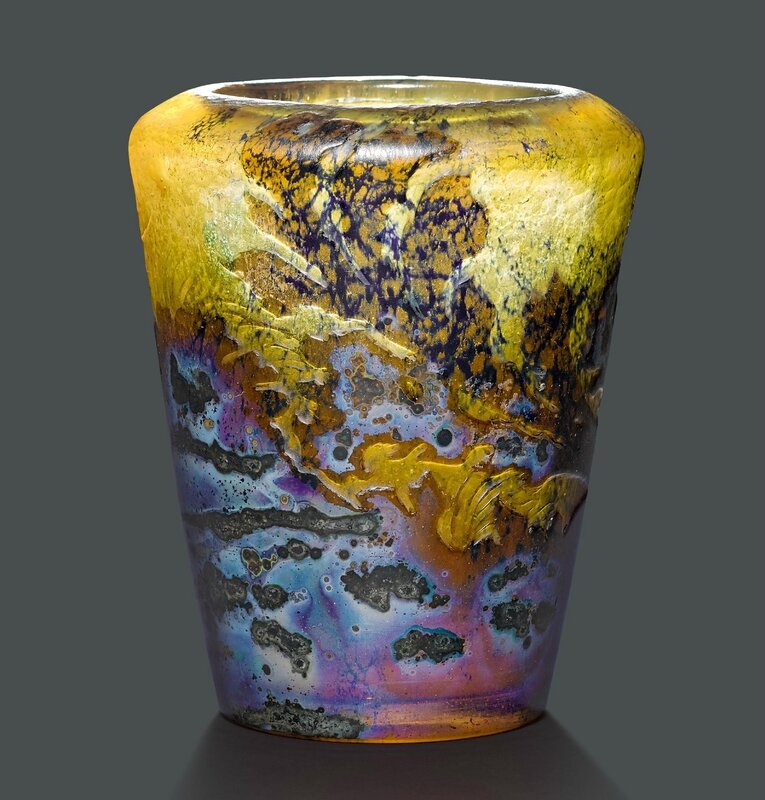 Lot 1076. Emile Gallé, Vase, circa 1900. Yellow glass with brown overlay and blue iridescence, finely engraved with an underwater scene. Signed Gallé. H. 12 cm. Estimate CHF 10 000 / 15 000 (€ 9 260 / 13 890).
Design
Mod tapestries and rare models
Tapestries from the Modern period have become fashionable elements of interior design, and among the examples in the 2 December auction, a colourful example by Friedensreich Hundertwasser is typical of the Austrian artist's unique style (lot 1271, CHF 20 000 – 30 000).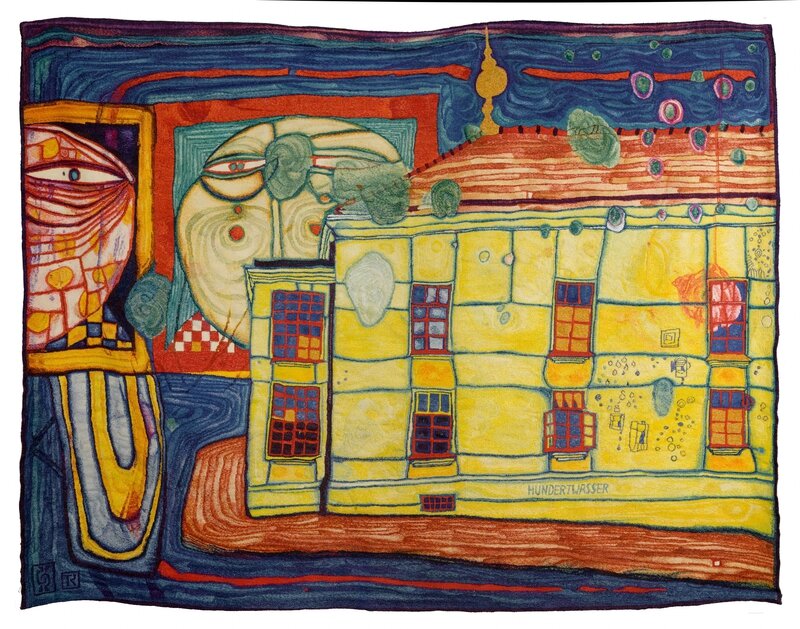 Lot 1271. Friedensreich Hundertwasser (1908 - 2000), Tapestry, "Franz Josef Spital", 1981, after a work from the year 1972/3. Knotted byTheo Riedl for Gobelinos Riedl Mexico. Estimate CHF 20 000 / 30 000 | (€ 18 520 / 27 780).
Polychrome wool. The bottom signed in the center. The label on the back, signed, dated and titled. 203 x 272 cm.
A "Credenza Persiana" cupboard by Marco Bagnoli designed for Meta Memphis (the successor to the Memphis Milano movement cherished by David Bowie) is one of only three examples produced to this day (lot 1270, CHF 20 000 – 30 000).
Lot 1270. Marco Bagnoli (1949), Cupboard "Credenza Persiana", designed in 1991 for Meta Memphis. White-painted wood. 131 x 50 x 185.5 cm. Estimate CHF 20 000 / 30 000 | (€ 18 520 / 27 780).
Only 3 of a limited edition of 35 have been produced up until now.
Many interesting works by von Marc Newson can also be found in this sale, such as the suite of four "Bucky II" chairs, inspired by a Frank Lloyd Wright model, "Bobie 1".
Jewellery
Signed pieces by Van Cleef, René Kern and David Webb
An enamel, gemstone and diamond necklace with two matching bracelets by the highly sought-after jewellery designer David Webb will be offered in the 30 November auction at Koller, and displays his signature Maltese cross (lot 2077, CHF 50 000 – 70 000). Among the other signed pieces is an Art Deco diamond bracelet by Van Cleef & Arpels (lot 2206). It dates from circa 1930 and is set with over 29 carats of diamonds.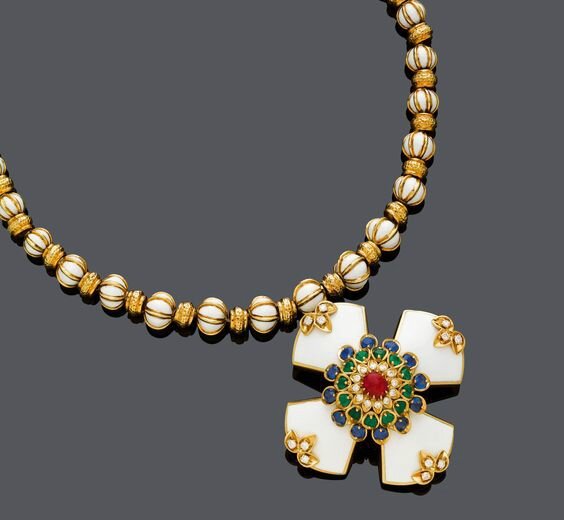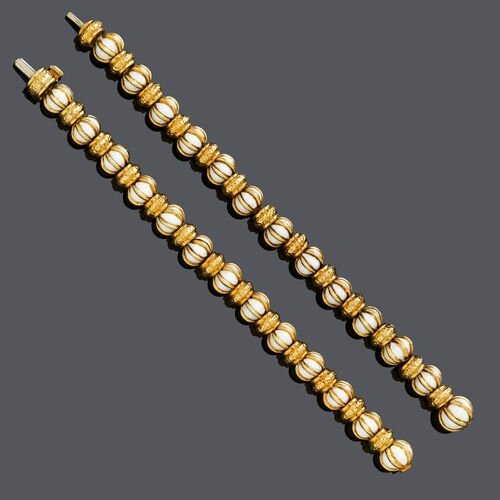 Lot 2077. An enamel, gemstone and diamond necklace with two matching bracelets, by David Webb. Estimate CHF 50 000 / 70 000 (€ 46 300 / 64 810).
A suite of white enamelled, ribbed boules and textured rondels, suspending a detachable cross pendant/clip-brooch with white enamelled arms and an applied flower set with 1 ruby-cabochon of ca. 2.00 ct, diamonds, emeralds and sapphires. Total weight of diamonds ca. 1.90 ct, of emeralds ca. 4.00 ct and of sapphires ca. 6.40 ct. L 48,5 cm. Second necklace to join to a sautoir, or to split in 2 bracelets and 1 extension part. L bracelets ca. 17 cm, total necklace 43,5 cm. Pendant signed Webb.
A Burmese ruby and diamond ring promises to be one of the most popular lots in the auction, with its very fine unheated ruby of 7.05 ct (lot 2122, CHF 90 000 – 140 000). The top lot of the sale is a teardrop-shaped 6.18 ct diamond ring signed by Dusseldorf jeweller René Kern, created circa 1969 (lot 2024, CHF 160 000 – 240 000).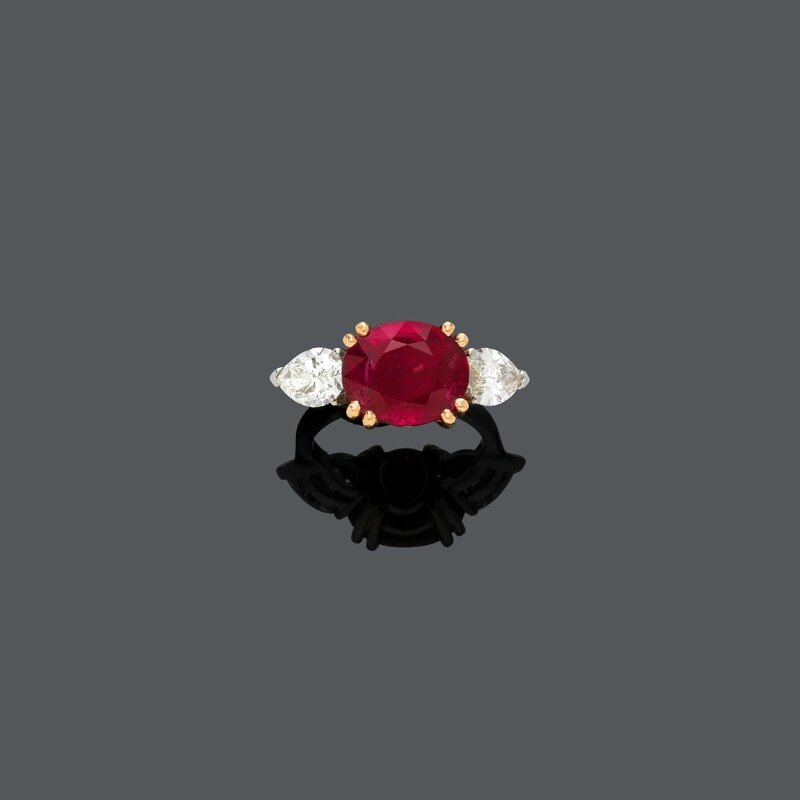 Lot 2122. 7.05 ct, not heated Burma ruby and diamond ring. Estimate CHF 90 000 / 140 000 (€ 83 330 / 129 630).
Platinum 900 and yellow gold 750. Set with 1 oval, very fine Burma ruby of 7.05 ct, not heated, flanked by 2 pear-shaped diamonds totalling ca. 2.00 ct, ca. K-L/VS2, and ca. M-N/SI1. Size ca. 53.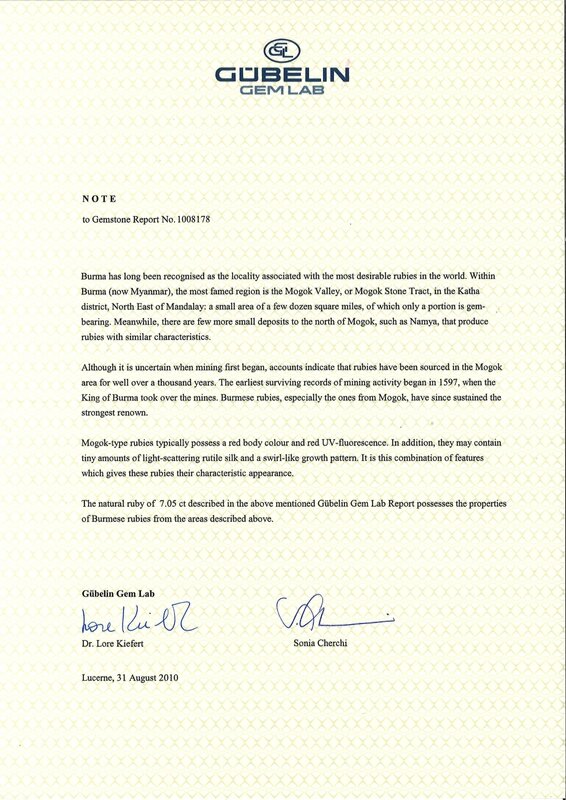 With Gübelin-Report no. 1008178, August 2010 and verbal test of the diamonds by GGTL.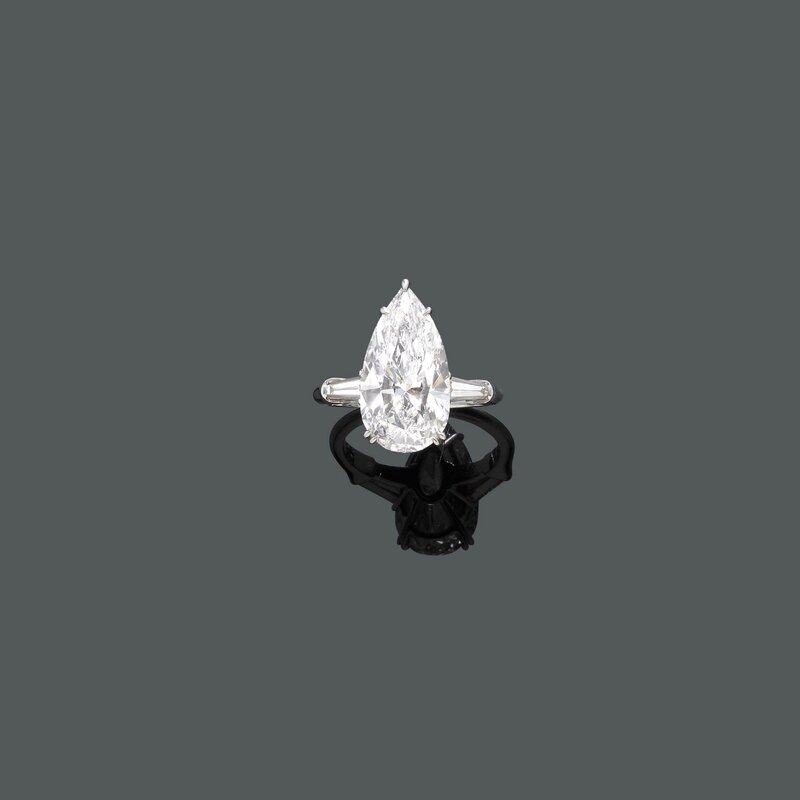 Lot 2024. A 6.18 ct pear-shaped diamond ring by René Kern. Estimate CHF 160 000 / 240 000 (€ 148 150 / 222 220).
Platinum 800 with iridium. Set with 1 pear-shaped diamond of 6.18 ct, E/VVS1, in 5-prong setting, flanked by 2 tapered baguette-cut diamonds weighing ca. 0.40 ct. Signed Kern. Size ca. 55.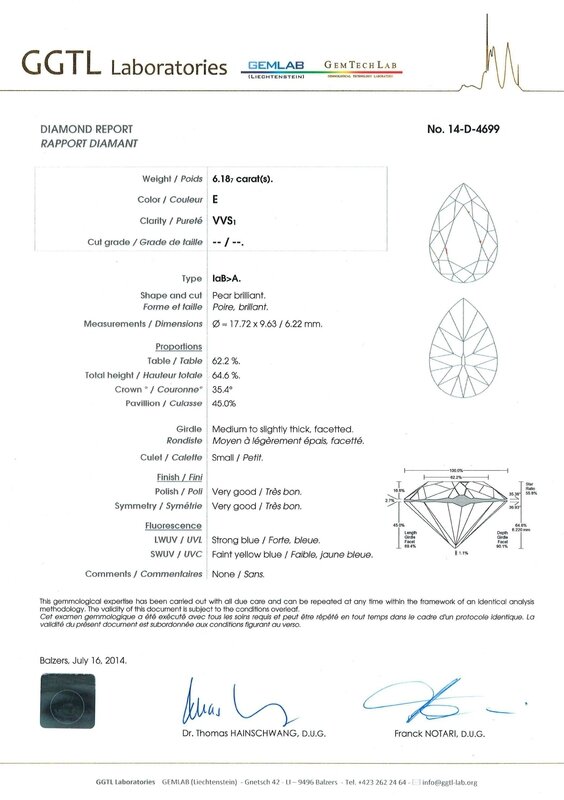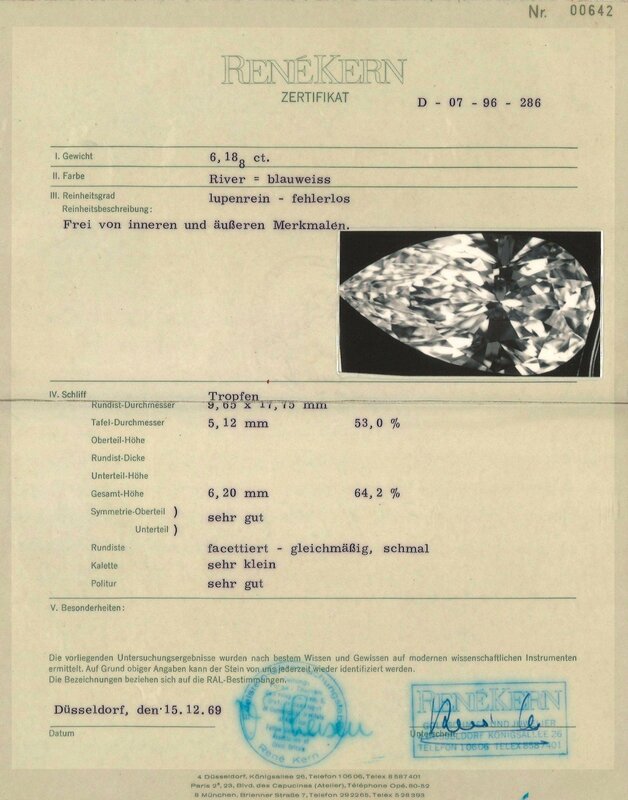 With GGTL-Report no. 14-D-4699, July 2014, and original certificate by René Kern, December 1969.
Watches
Rarities by Patek Philippe
One of the first waterproof chronographs made by Patek Philippe is the top lot of the watches auction on 30 November (lot 2574). Dating from 1961, it has a two-tone dial and bears an estimate of CHF 180 000 – 300 000.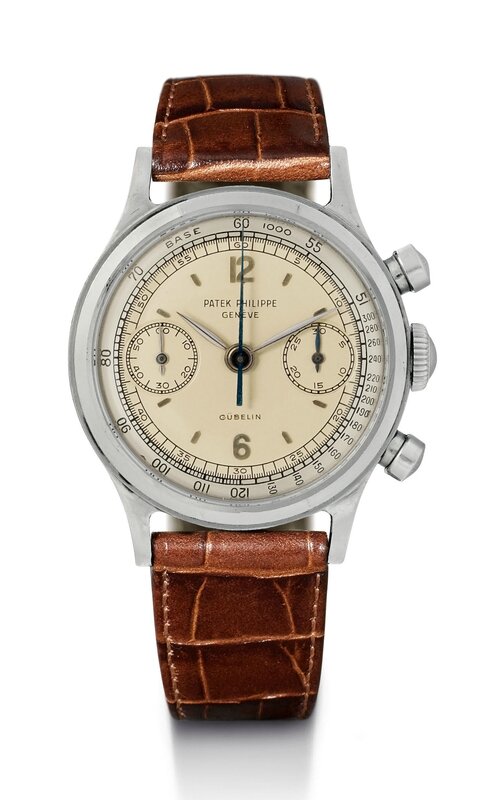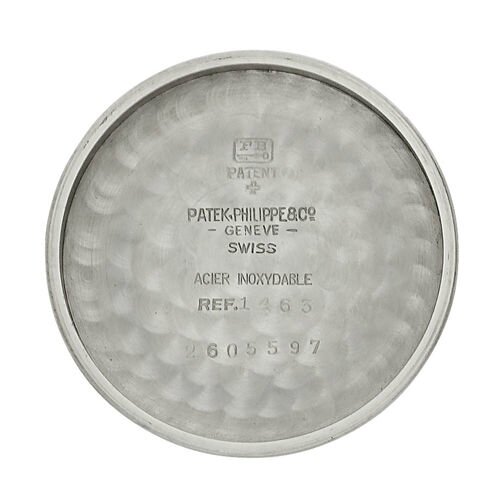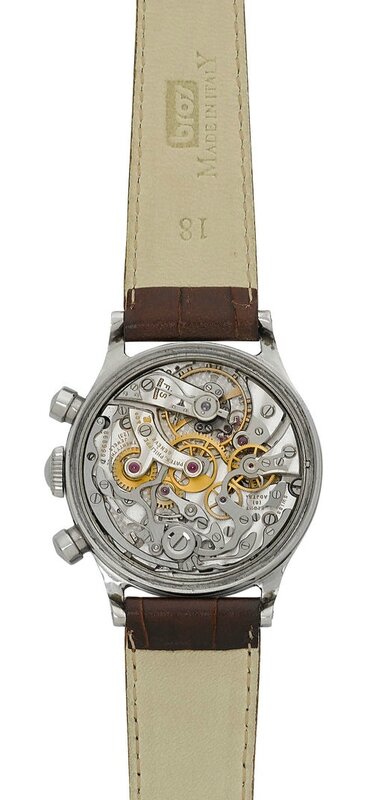 Lot 2574. Patek Philippe, chronograph with two-tone dial, 1961. Estimate CHF 180 000 / 300 000 | (€ 166 670 / 277 780).
Stainless steel. Ref. 1463, waterproof case No. 2 605.597, screw-down case with additional dust-cover. Silver-plated, two-tone dial with applied indices and numerals, outer tachymeter scale, signed: Patek Philippe Genève and jeweler's signature: Gübelin. Fine chronograph movement No. 868.999, Cal. 13". Leather band with tang buckle. Case, dial and work signed. D 35 mm.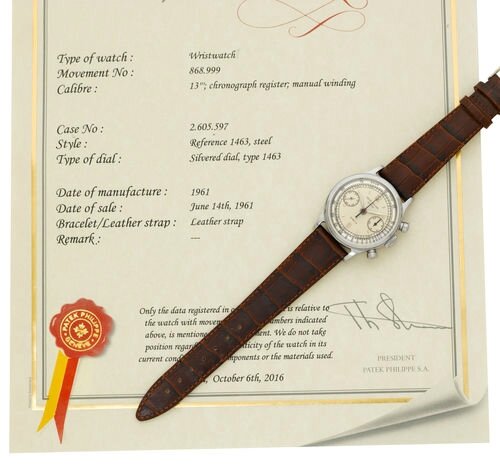 With an excerpt from the Patek Philippe Archives, which confirms that watch was manufactured in 1961 and sold on 14 June 1961. Reference 1463 was manufactured in yellow gold, pink gold, and very few were produced in stainless steel. This newly discovered watch is very well-maintained. The two-tone dial is in almost pristine original condition, with the protective lacquer showing a warm base tint. The chronograph movement appears almost untouched.
A Patek Philippe gold pocket watch from 1911 is another rarity in this sale (lot 2565). It has a minute repeater complication, sweep chronograph hand and minute counter, and an estimate of CHF 17 000 – 28 000.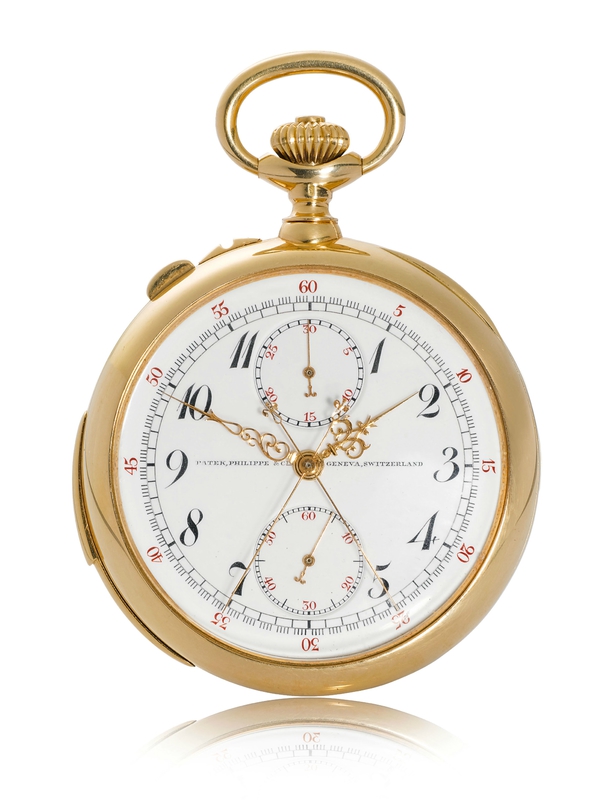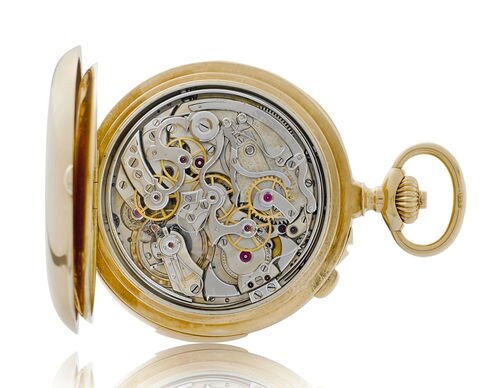 Lot 2565. PATEK PHILIPPE, complicated minute repeater with fly-back chronograph and minute counter, ca. 1911. Estimate CHF 17 000 / 28 000 | (€ 15 740 / 25 930).
Yellow gold 750. Very fine, open pocket watch, "Bassine" type, polished case No. 282.204, with lateral minute repeater lever at 8h, chronograph pusher at the crown, locking lever at 11h, fly-back pusher at 10h. White enamel dial signed: Patek Philippe & Cie Geneva, Switzerland, with black Breguet hands, minutes in red, sub-dials for minute counter and small second, gold Louis XIV hands. 18-ligne movement No. 157.206 with minute repeater on two gongs, angled chronograph mechanism, compensation balance with Breguet hairspring and swan neck adjustment. Signed Patek Philippe & Co. Manufactured in 1911, sold on 7 April 1921. D 51 mm.
Very rare collector's item.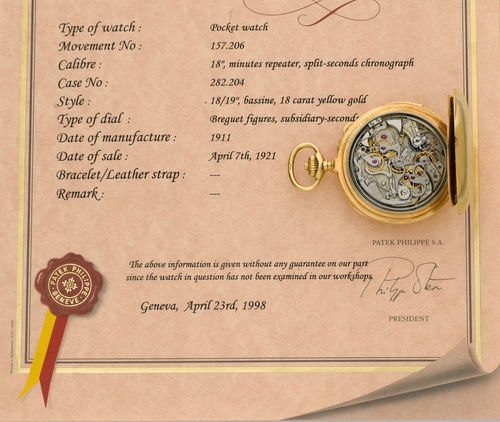 With excerpt from the Patek Philippe Archives.
Wine and Vintage on 16 November at Koller Geneva
Time for a Kelly bag and one of the best Burgundy wines
On 16 November, Koller Geneva will host two auctions: Fashion, Luxury & Vintage, and Fine Wine. The Vintage auction features fashion creations and designer handbags by the likes of Hermès, Chanel, Louis Vuitton, Christian Dior, Yves Saint Laurent, Prada, Fendi, and Lanvin. Among the highlights are a Hermes mini Kelly bag in burgundy red crocodile skin (lot 776, CHF 15 000 –17 000) and a Hermes "Constance" bag in emerald green crocodile (lot 777, CHF 13 000 – 15 000). Koller Geneva will also present a series of 1980s fashion photographs from the collection of Swiss journalist Gingi Herzog-Beck, documenting the seasonal collections of Christian Dior, Lanvin, Givenchy and Chanel.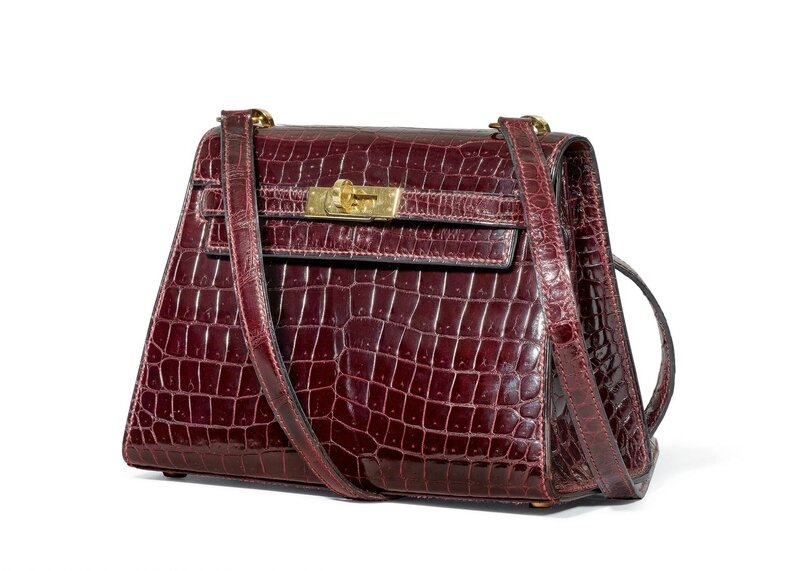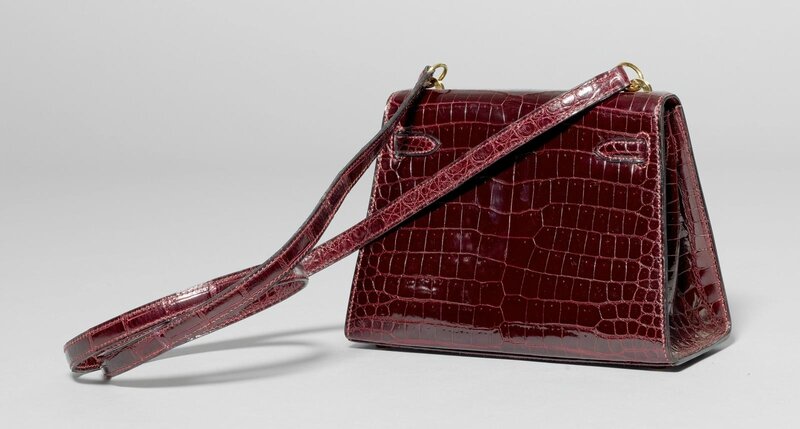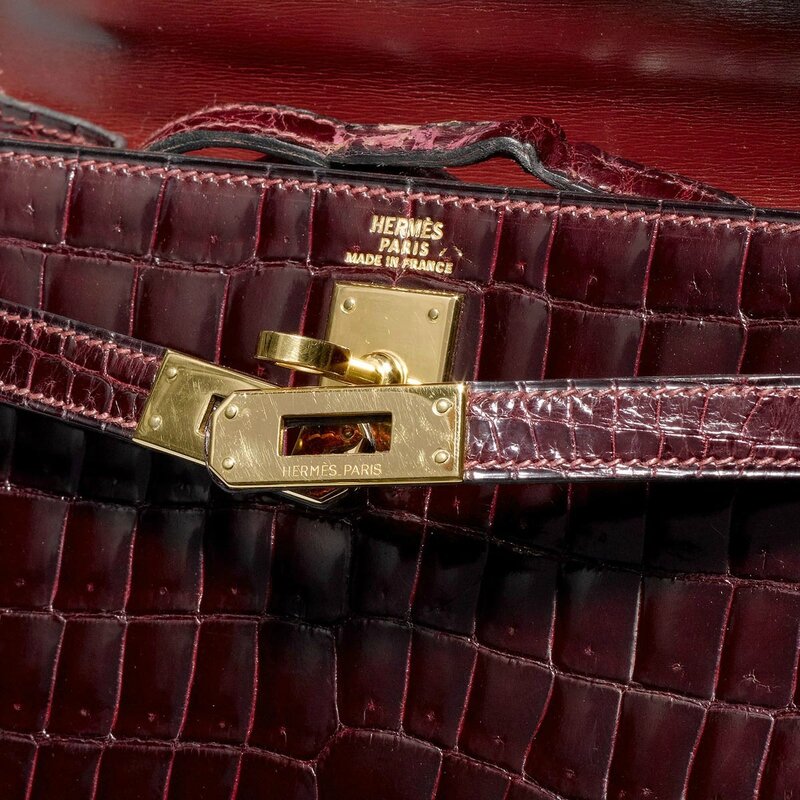 Lot 776. Hermès Paris Made In France. Sac "mini Kelly" 20 cm en crocodile porosus bordeaux. Estimation 15 000 CHF / 17 000 CHF (€ 2 310 / 3 700).
garniture en métal plaqué or, bandoulière. Avec housse de protection. Nous y joignons une deuxième bandoulière (à faire recoudre aux extrémités). Excellent état général (légère patine d'usage, quelques petites éraflures, traces de la plaque de fixation des initiales manquante). Ce lot a été confectionné à partir de peaux d'espèces dont l'exportation et l'importation sont réglementées par la CITES.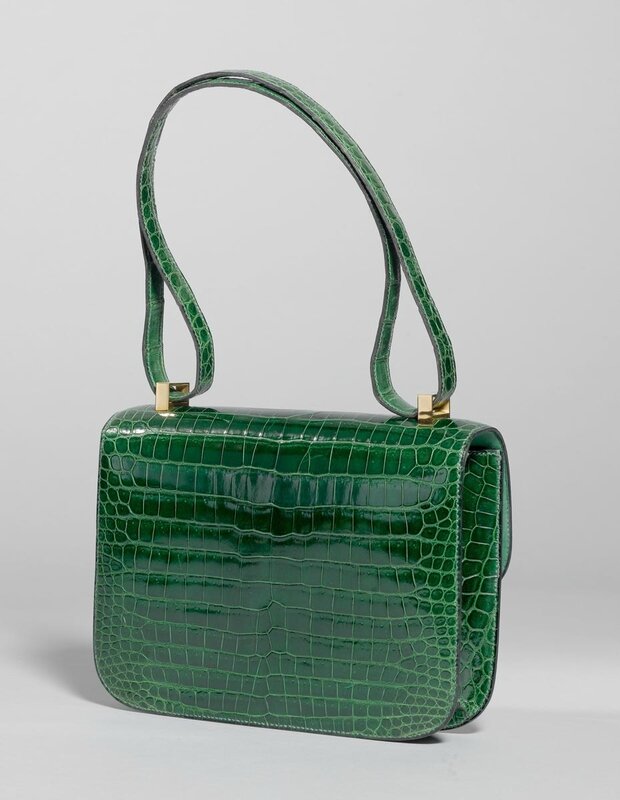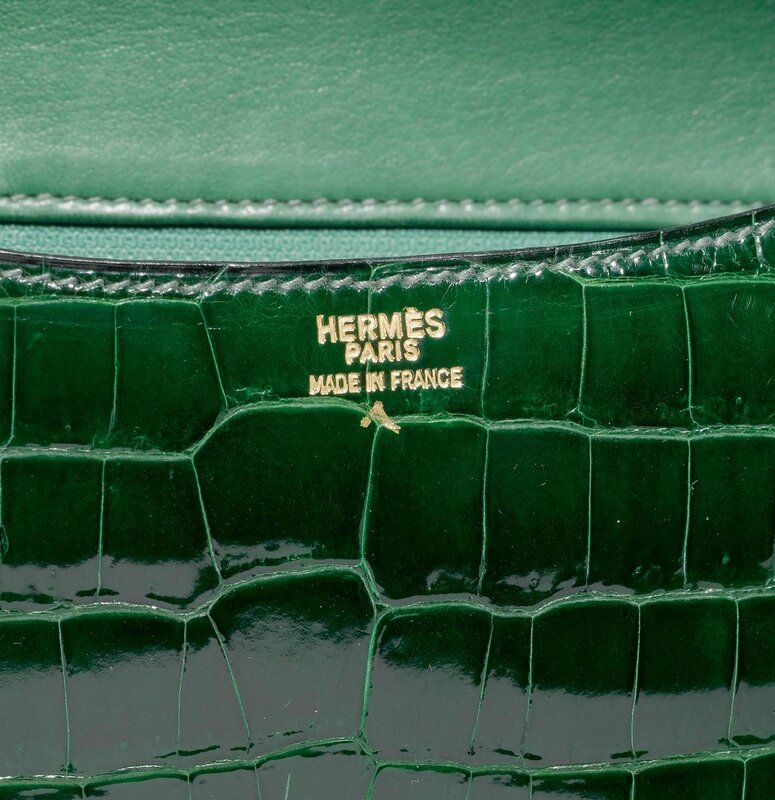 Lot 777. Hermès Paris Made In France. Sac "Constance" en crocodile porosus vert émeraude. Estimation CHF 13 000 – 15 000 (€ 12 040 / 13 890).
garniture en métal plaqué or, fermoir figurant un H, anse transformable en bandoulière. Avec housse de protection. H 17, L 22 cm. Parfait état (légère patine d'usage, quelques petites éraflures).
Ce lot a été confectionné à partir de peaux d'espèces dont l'exportation et l'importation sont réglementées par la CITES.
The Fine Wine auction presents over 400 lots from the most prestigious vineyards of Burgundy and Bordeaux, including a bottle of 1993 Romanée Conti (lot 120, CHF 7 500 – 9 500), a nice vertical selection of Côte Rôtie, Guigal la Mouline, between 1983 and 1995 (lots 128 and 129, CHF 2 400 – 2 900 and 1 500 – 2 100), and many fine mature Bordeaux wines including Giscours 1989, Lascombes 1996, and a magnum of Prieuré Lichine 1990 (lot 196, CHF 100 – 140).