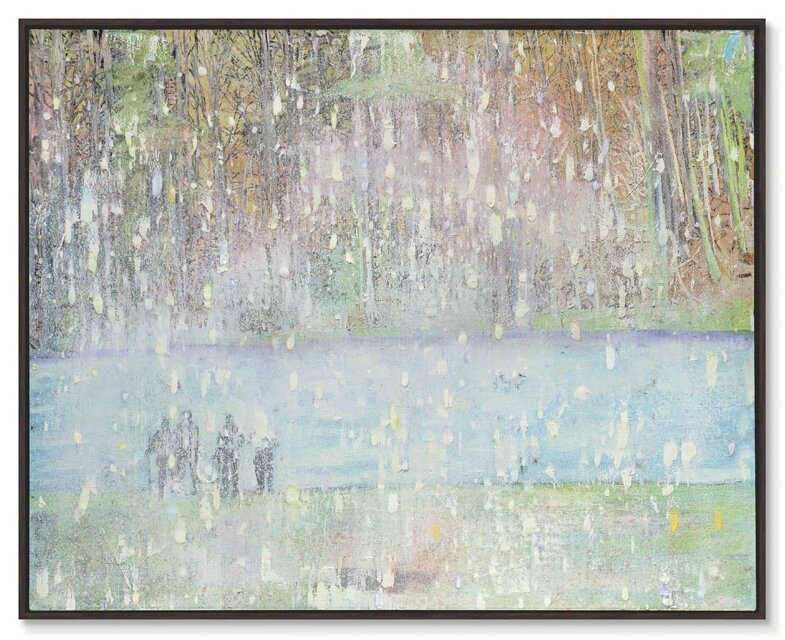 Peter Doig, Cobourg 3 + 1 More (1994), estimate £8,000,000 -12,000,000. © Christie's Images Limited 2017.
LONDON.- Christie's Post War and Contemporary Art Evening Auction will present Peter Doig's Cobourg 3 + 1 More (1994, estimate: £8,000,000-12,000,000), which stands among the great icons of Doig's early oeuvre. A visionary apparition rendered on a majestic scale, Cobourg 3 + 1 More conjures a distant, half-remembered reality beneath a shimmering membrane of scattered pigment. Recently awarded the Art Icon Award at London's Whitechapel Gallery, Peter Doig placed himself in the Canadian landscape of his youth next to his brother. Acquired in 1994 by German insurance company Provinzial Rheinland Cobourg 3 + 1 More comes to auction for the first time in its history and will be exhibited at Christie's New York from 24 to 26 February and at Christie's King Street from 3 March as part of the 20th-Century series of sales ahead of the auction on 7 March 2017 in London. Provinzial Rheinland will use the proceeds of the sale to uphold a long-standing tradition of engagement with the arts and culture in the Rhine region whilst also continuing to acquire the works of young contemporary artists, a focus of the corporate collection from its inception.

Dr. Walter Tesarczyk, Chairman Provinzial Rheinland: "It is with a heavy heart that we part with Peter Doig's Cobourg 3 + 1 More. However, this sale presents us with the opportunity to maintain our support for arts and culture in the Rhine region and also enables us to secure and expand our collection of 250 works by 80 international artists. Many of these works are displayed in our Düsseldorf headquarters, giving more than 2000 employees free and unfettered access to contemporary art."

Francis Outred, Chairman and Head of Post War and Contemporary Art, EMERI: "Back in 1994 when the tendency was for cool conceptual art, Provinzial Rheinland displayed a brave collecting vision by recognising that Peter Doig was developing a new approach to painting which gave new life and energy to the medium. Standing in front of this work one is taken to a different world and through the whiteout gradually we see a memory of his childhood home landscape and begin to pick out the silhouettes of Doig himself and his brother. Up close the thick texture of snow and staccato brushmarks create a tapestry of paint, the like of which nobody had seen before."

Cobourg 3 + 1 More was painted in London in 1994 – a pivotal year that saw the production of some of Doig's most celebrated canvases including Ski Jacket (Tate, London) and Pond Life, both included in his Turner Prize exhibition that year, as well as Blotter (Walker Art Gallery, Liverpool). Marking the culmination of the artist's meditations on the snow-filled landscapes of his Canadian youth, Doig depicts four figures – including flickering traces of him and his brother – standing on the shore of a frozen lake in Cobourg, where he grew up. As the blizzard subsumes their forms, foreground and background dissolve into a near-cinematic expanse of painterly abstraction, dramatising the slippages of reverie, daydream and memory. A centrepiece of Doig's major touring retrospectives at Tate, London (2008) and the Fondation Beyeler, Basel (2015), the work represents a tour de force of the diverse influences that nourished his early painterly aesthetic, filtering, splicing and recombining the languages of Jackson Pollock, Gerhard Richter, Claude Monet, Mark Rothko, Barnett Newman, Pierre Bonnard and Pieter Bruegel.

As Peter Doig has said: "We've all experienced the sensation of light dropping and producing strange natural effects, and I think in a way I am using these natural phenomena and amplifying them through the materiality of paint and the activity of painting … When I was making the "snow" paintings I was looking a lot at Monet, where there is this incredibly extreme, apparently exaggerated use of colour." The painting bears witness to Doig's fascination with Claude Monet's study of winter light: spellbound visions of frozen beauty, punctuated by revolutionary prismatic effects. At the same time, Cobourg 3 + 1 More demonstrates the depth of Doig's engagement with the legacy of abstraction. Beneath the Pollock-esque furore of action painting that covers the surface, Doig crafts an architectonic structure reminiscent of Barnett Newman's 'zip' paintings: a decisive influence on the artist during his formative years. Against the three horizontal planar divisions of the canvas – a structure that runs like a golden thread throughout Doig's practice – a forest of vertical lines springs up on the horizon, splintering the canvas into infinite shards. In counterpoint with this underlying geometry, Doig's reverberant chromatic strata echo the quivering colour fields of Mark Rothko, unfurling and mingling across the canvas as if on a single continuum.