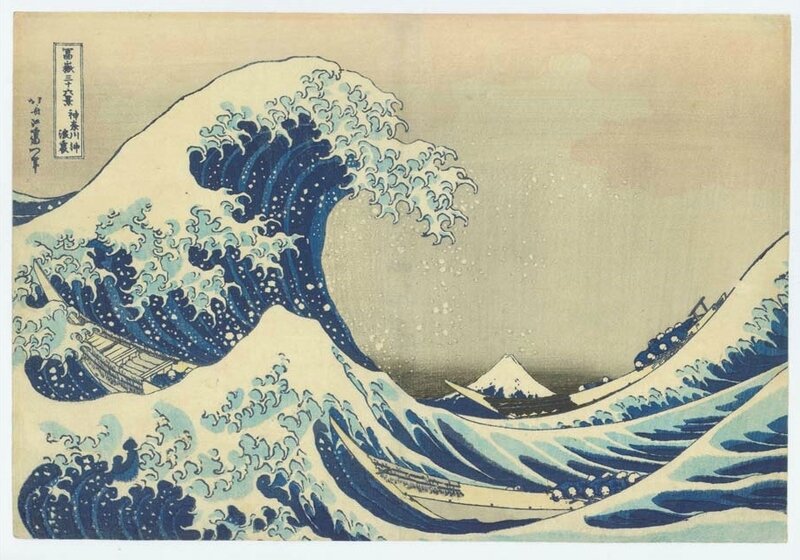 Katsushika Hokusai (1760–1849), In the Well of the Wave off Kanagawa (Kanagawa-oki nami ura), 1832. Color woodblock print: ōban yoko-e; H. 9 ⅞ × W. 14 ⅝ in. (25.1 × 37.1 cm). Series: Thirty-six Views of Mount Fuji (Fugaku sanjūrokkei); signed: Hokusai aratame Iitsu hitsu; publisher: Nishimuraya Yohachi (Eijudō). Courtesy Sebastian Izzard LLC Asian Art.
NEW YORK, NY.- Asia Week 2017 highlights hundreds of Japanese works of art as part of the broader celebration of the continent's arts. From a pre-historic Jomon period pot to 17th century armor to iconic prints of the 19th century, post-war calligraphy, and contemporary sculpture, the annual event includes works of art spanning three millennia.

The exhibitions are being held by the Japanese Art Dealers Association, its individual members, and affiliated galleries. JADA's members are Sebastian Izzard LLC Asian Art, Leighton Longhi, Inc. Oriental Fine Art, Mika Gallery, Erik Thomsen Gallery, and Koichi Yanagi Oriental Fine Arts, all based in New York City.

Affiliated galleries are Bachmann Eckenstein Japanese Art, of Basel Switzerland; The Art of Japan, Medina, WA; and, from New York, Bonhams, Carole Davenport Japanese Art, Ronin Gallery, and Scholten Japanese Art.
Nemuri Todai (Sleeping Lamp Stand), 14th century, Kamakura-Muromachi period, tall lamp stand; lacquer, color, and wood. H. 31 x W. 10 3/5 x D. 11 1/8 in. (79 x 27 x 28.3 cm). Courtesy Mika Gallery
JADA 2017: An Exhibition by the Japanese Art Dealers Association March 11 – 13, Ukrainian Institute of America, 2 E. 79th St.
A collaborative exhibition by five of New York's leading dealers in Japanese art, JADA 2017 includes masterpieces both well known and unfamiliar and striking ceramics, paintings, screens, prints, and sculpture.

Among the more unusual works is a 14th century "sleeping lamp stand," or Nemuri Todai. Made of lacquered wood, color pigments, and metalwork, the circular panel, which reflected light, shows a scene of three children at their studies, one of whom has drifted off to sleep.

JADA 2017 will present a fine impression of The Great Wave, the iconic design from Hokusai's wellknown series of landscape prints depicting views of Mount Fuji. The artist was one of approximately 70,000 adherents to a popular cult of Fuji worship that practiced prayers and pilgrimages devoted to the sacred mountain. Hokusai's series of 46 views of the mountain can be seen as paean to the sacred spirits who resided there.

Also on view will be a gold lacquer writing box and document box with horse design. The 200-year-old set consists of a smaller writing box that holds implements for writing calligraphy, and a larger box that originally was used for storing valuable documents. The high-relief gold and silver décor was created by sprinkling gold and silver powders onto the wet lacquer surface, with subsequent polishing.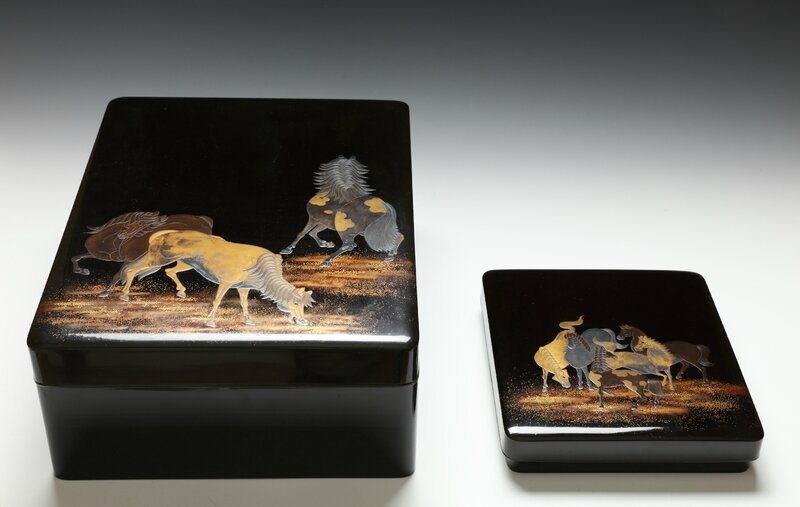 Writing and Document Box Set with Horses, Edo period (1615-1868), 19th Century. Black lacquer on wood with gold and silver maki-e and kirigane. Document Box: 6 x 16 x 12 in. (15.5 x 40 x 31.2 cm). Writing Box: 2 x 10 x 9 in. (5 x 24.2 x 22.7 cm). Courtesy Erik Thomsen Gallery.
Another highlight will be a resplendent full suit of armor designed by Noguchi Zesai, a master Edo-period armor maker. Made of lacquered leather and iron, other metals, gourds, animal skin and fur, chainmail, and other materials, the armor is one of only two known examples with address, signature, and date. The Zessai design incorporates special features including a vent across the abdomen that can be opened for cooling. On the sides of the sleeves are secret compartments. The red mask, with purposely broken silver teeth, is another signature element of Zessai's design. Rising from the sides of the helmet, rather than the front, as is typical, are reeds of an iris plant, which are symbolic of the samurai's sword.
Noguchi Zessai, Roku Mai Do Gusoku Armor (detail), 1689, signed. Lacquer, iron, wood, animal skin and fur, silk, chainmail, and copper. Courtesy Leighton R. Longhi, Inc. Oriental Fine Art.
The dynamic Meiji period allegory, The Fury of Priest Raigō, by Kobayashi Kiyochika, shows the vengeful priest as he starts to exert his wrath on a retired emperor who had denied him a promised promotion. Adopting a Western style of brushwork, the self-taught Kiyochika presents the ancient story, dating to the 12th century, at the moment the priest transforms himself into a scourge that would devastate the emperor and destroy his sacred books and scrolls, depriving him of the solace of worship.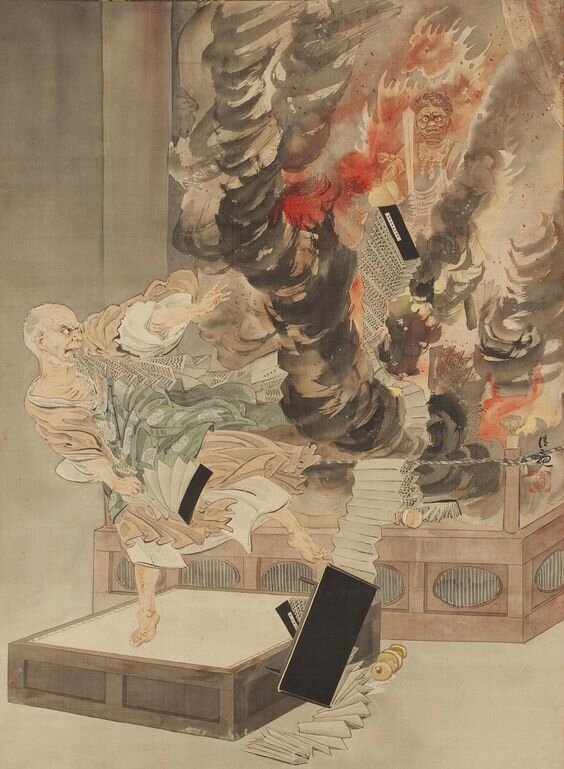 Kobayashi Kiyochika (1847–1915), The Fury of Priest Raigo; hanging scroll: ink and color on silk; Meiji era, circa 1875–85; 108 x 78.8 cm; Signed: Kiyochika; Sealed: Kiyochika. Courtesy Sebastian Izzard LLC Asian Art.