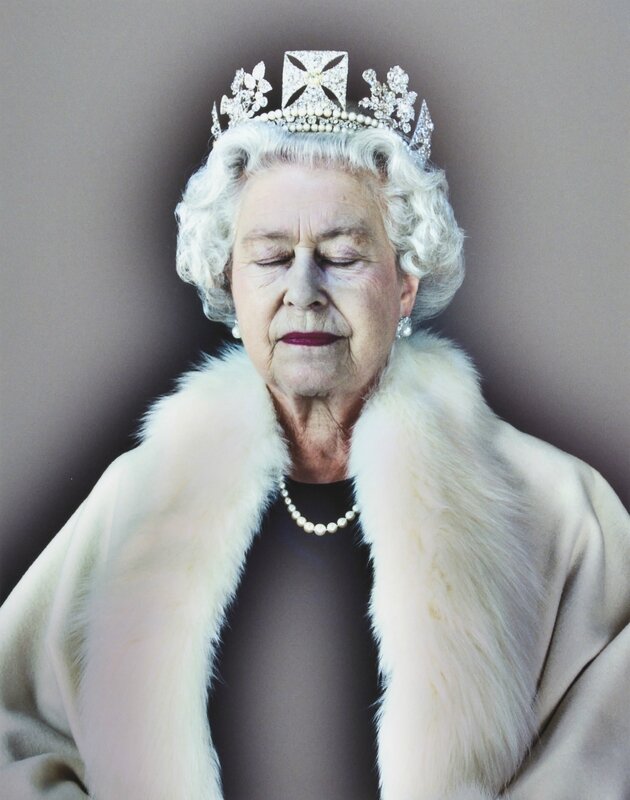 Lot 40. Chris Levine (B. 1960), Lightness of Being, 2004. Unique pigment print, flush-mounted to aluminium. Signed and dated 12 in pencil and with the photographer's blindstamp in the lower margin, image: 128.3 by 102.3cm.; 50¼ by 40¼in.; sheet: 138 by 110cm.; 54⅓ by 43¼in. Estimate 50,000 — 70,000 GBP. Lot sold 187,500 GBP. Photo: Sotheby's.
LONDON.- Sotheby's Made in Britain sale in London today soared past pre-sale expectations to realise a total of £ 2,605,752 (est. £1.3-2 million), with 90% of the lots finding a buyer and 74% these exceeding their high-estimates.
The auction was led by a record for pioneer of 'light art' Chris Levine as his strikingly modern portrait of Queen Elizabeth II tripled its pre-sale estimate to sell for £187,500 (£50,000-80,000). During the photoshoot, Queen Elizabeth II was required to sit still for 8 seconds at a time, and between each exposure she closed her eyes to rest. Levine was struck by the beauty of her meditative state and snapped the shutter, resulting in this powerful image. A further five artist records at auction were achieved, including for photographer Rankin*, designer Joseph Walsh, Charlotte Colbert, Elisabeth Vellacott, Austin Wright and a collaboration by Richard Woods and Sebastian Wrong.
Quintessentially Modern British artworks highlighted the sale, with intimate works by L.S. Lowry, Henry Moore, Elisabeth Frink and Barbara Hepworth all achieving strong results. A number of prints by David Hockney sold for a combined £156,500 (est. £49,800-70,200) – offering first-time collectors the opportunity to acquire works by one of Britain's best-loved artists. Two original design used for Oxfam's 2016 Christmas card collection were sold with proceeds donated to the charity; an early sketch for a piece to feature in Grayson Perry's next Serpentine show that sold for £6,875 (est. £1,000-2,000) and Adam Dant's Why Don't You Guy Upstairs at £4,500 (est. £600-800).
Every single one of the ceramics offered today were sold, achieving a grand total of £139,376 (est. £33,600-50,400) - reaffirming the insatiable demand in the market for British studio ceramics. The selection included ten works by the eminent potter Dame Lucie Rie, which all exceeded their pre-sale high estimates, including an early earthenware bowl with a lilac glaze that brought £25,000 against an estimate of £800-1,200.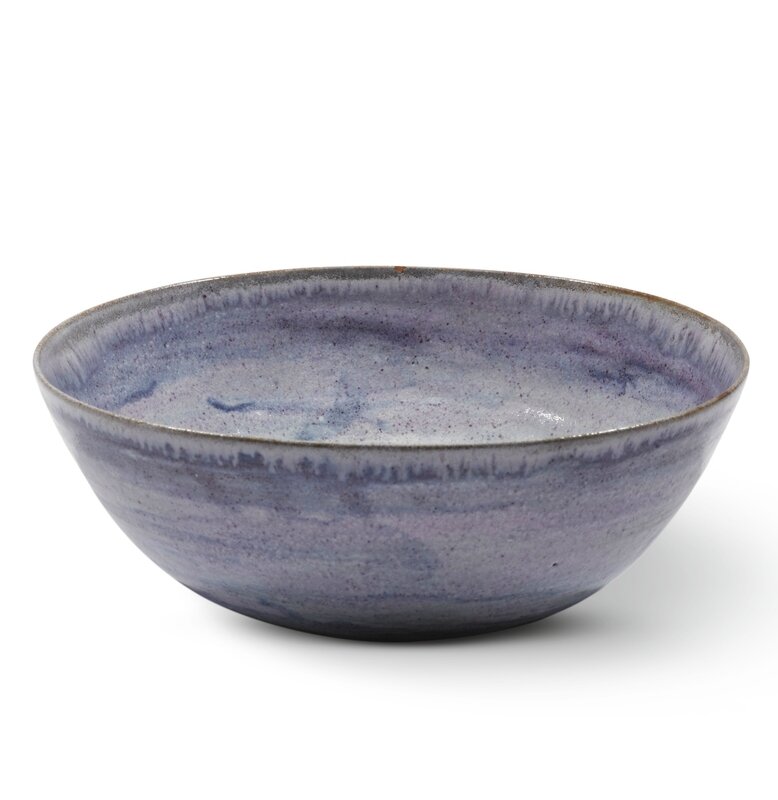 Lot 114. Dame Lucie Rie (1902-1995), An early earthenware bowl, signed with Artist's initials, earthenware with a lilac glaze, diameter: 18.5cm.; 7¼in. Executed circa 1930. Estimate 800-1,200 GBP. Lot sold 25,000 GBP. Photo: Sotheby's.
Robin Cawdron-Stewart, Head of Sale, said: "When the sale first started in 2014, it was something that no other auction house here in Britain had really done before – looking at the broader picture of British arts and crafts over the past century and celebrating this diversity and creativity. The results seen today reflect how these British artists are now being celebrated on an international scale, with collectors responding to works at every price level."