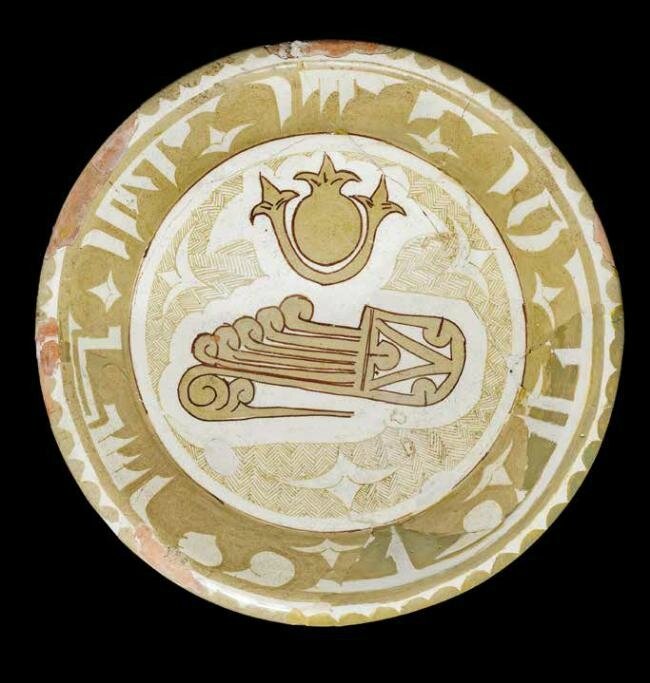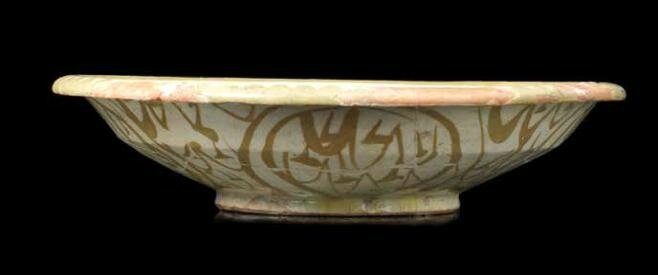 Lot 99. A rare 'imitation lustre' slip-painted pottery bowl, Central Asia, 10th Century, 21.7 cm. diam. Estimate £15,000 - 20,000 (€18,000 - 23,000). Photo: Bonhams.
of shallow rounded form on a short foot with everted rim, decorated in ochre and manganese on a cream ground with a stylised reed instrument and pomegranate motif, the interstices with hatched design overlaid with palmette motifs, the border with a band of inscription in kufic, the rim with an undulating design, the exterior with a series of roundels on a ground of abstract vegetal interlac
Note: Inscriptions: al-'ilm ashraf al-a[hsab wa al-muru]wah ashbak [al-ansab], 'Knowledge is the most noble of [all] values and chivalry the most intricate quality of one's heritage'.
The dish features a painted design which resembles the Chinese sheng, a reed instrument consisting of vertical pipes which was used in China and Central Asia. It is known to have been used by the Uighurs of Xinjiang, a Turkic people whose Empire reached Persia at the beginning of the 9th Century AD. A depiction of a sheng can be found on a 9th Century silver ewer from Central Asia, illustrated in V.P. Darkevich, Decorative Metal of the East, 8th-13th centuries, Academy of Sciences Archaeological Institute, Moscow, 1976, p.77 & pl.7. For an illustration of a sheng see J.A. Van Aalst, Chinese Music, New York, 1964, p.81.

For a comparable bowl of red clay decorated in imitation lustre attributed to Tashkent see Jangar Ya. Ilyasov, 'Exotic Images: On a New Group of Glazed Pottery of the 10th and 11th Century' in Journal of the David Collection, vol. 4, Copenhagen, 2014, p. 82, fig. 65.
Bonhams. ISLAMIC AND INDIAN ART, 25 Apr 2017, 11:00 BST, LONDON, NEW BOND STREET