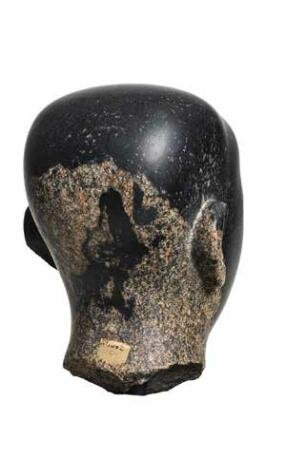 Lot 58. An Egyptian granite head of a priest, Late Period, late 26th Dynasty, circa 610-525 B.C. Estimate £60,000 - 80,000 (€68,000 - 91,000). Photo: Bonhams
His head characteristically shaven, with elongated eyes beneath gently curving brows, the upper lids indicated, the slightly smiling mouth with soft, rounded lips, the philtrum defined above, the curvature of the top of the head and temples, and the fleshy underside of the chin, naturalistically and subtly carved, 16cm high
Provenance: with Nicolas Koutoulakis, Paris, 1950s.
Private collection, Paris, acquired from Nicolas Koutoulakis prior to 1958.
Anonymous sale; Tajan, Drouot Paris, 13 November 2001, lot 85.
Private collection, Europe, acquired at the above sale.
Exhibited: Amsterdam, Allard Pierson Museum, 17 November 2006 – 25 March 2007.
Published: C. Andrews and J. van Dijk (eds), Objects for Eternity, Egyptian Antiquities from the W. Arnold Meijer Collection, Mainz, 2006, no. 3.55.
Note: The 26th Dynasty, or the so-called Saite Period (named as the capital was at this time in the city of Sais in the Nile Delta), was a time of great prosperity, stability and, consequently, artistic endeavour. The style of the period is characterised by reverence for the traditional canons of proportion, and an emerging desire for realism, resulting in sculpture which is full of character.
The present lot belongs to a well-known category of sculptures, often referred to as the "egg-head" type; they depict priests of religious cults, instantly recognisable by their shaven heads. The stone used here was clearly carefully selected, and the sculptor made sensitive use of the pink, speckled part of the material, incorporating it into the back of the head, leaving the face uncompromised by the change in colour. For another Late Period granite male head, predominately black in colour with pink aspects, see Virginia Museum of Fine Arts, Richmond, no. 69.51. See also R. Fazzini, Images for Eternity, Egyptian Art from Berkeley and Brooklyn, New York, 1975, cat. 104a, p. 121, for a priest head with very similar treatment of the eyes, brows and upper lids.
Bonhams. ANTIQUITIES, 6 Jul 2017, 10:30 BST, LONDON, NEW BOND STREET