Lot 134. An impressive diamond necklace, in the 'Garland Style', early 20th century. Estimate: £240,000-£280,000. Photo: Sotheby's
LONDON.- A remarkable collection of English and continental silver spanning over 500 years, exquisite vintage jewels and objects of vertu from the renowned antiques dealer, S.J. Phillips is to be offered for sale at Sotheby's on 18 October 2017. Celebrating the rich and distinguished history of London's oldest family-owned dealership, the sale will comprise some 260 prized lots from this much-loved treasure house.

Founded in 1869 by Solomon Joel Phillips, S.J. Phillips has long been a London institution known for offering pieces of superlative quality and beauty. Establishing themselves as the largest silver dealers of the mid-19th century, the company attracted the patronage of the great collectors of the 20th century, including generations of the Rothschild family. Today, the business is run by the greatgrandsons of Solomon Joel Phillips – brothers, Nicolas and Jonathan, and their cousin, Francis – and continues to attract a loyal and illustrious clientele, including renowned tastemakers and members of the aristocracy, many of whom have a strong and personal relationship with the revered dealers.

Nicolas Norton, Director of S.J. Phillips and great-grandson of the original founder, said: "Earlier this year, we moved to our new premises on the second floor of 26 Bruton Street, marking a new chapter in our history. Owing to the smaller space we now have available, we are no longer able to display all of our collection successfully and have decided to part with a number of beautiful objects which we hope will bring pleasure to new owners. S.J. Phillips and Sotheby's have been neighbours on New Bond Street for over a century now and this sale celebrates our fantastic working relationship."

Commenting on the forthcoming sale, David Bennett, Sotheby's Worldwide Chairman, International Jewellery Division said: "Spanning over a century of jewellery design, this sale offers collectors an opportunity to acquire timeless pieces, rich with the charm and romance inherent in vintage jewels." Sotheby's Silver Specialist, James Clare added, "Like many others, I wandered past S.J. Phillips of 139 Bond Street countless times, peering through the windows almost daily too see their latest treasure. It is a great pleasure to offer this collection at Sotheby's to a worldwide audience, giving our buyers the opportunity to buy a piece of silver epitomising the family ethos of quality and fine taste, as well as taking away a piece of the company's rich Bond Street history."

A Loyal and Illustrious Clientele of Renowned Tastemakers
Dame Anna Wintour DBE, journalist, editor and previous editor-in-chief of Vogue - "A visit to S.J. Phillips has always been the highlight of any London trip for me--and, indeed, this is also the case for many of my friends. What I find especially captivating are the estate pieces, those dazzling, romantic reminders of past eras and personal histories. Tortoise-shell hair combs by Cartier from the Twenties sit alongside 19th century rococo charm bracelets by Boucheron. Some pieces date to the 17th century --family heirlooms, lovers' baubles, memento mori. It will be thrilling to see so many of the Nortons' exceptionally beautiful and highly curated treasures find new homes, and to see my great friends embark on the next chapter of the S. J. Phillips story in their new Bruton Street location."

Jasper Conran OBE, British designer – "I was first introduced to SJ Phillips one dark, wintery afternoon over thirty years ago by the author Bruce Chatwin. He said to me "Let's go and see Marie Antoinette's hatpins". This was, I thought an extremely odd and incongruous proposition to come out of Bruce's mouth, he of the backpack and muddy boots, totally spare aesthetic and witheringly scornful of the pursuit of possessions by others. However, upon entering the glittering Aladdin's cave of a shop on Bond Street and meeting the extraordinarily friendly and learned members of the Norton family I could quite see how even Bruce might be captivated, I was certainly spellbound. There, nestling in the vitrines with Marie Antoinette's sparklers glittered a myriad of beautiful objects of historical interest and sometimes great value, often invested with tales of romance, connoisseurship, revolution and lost fortunes. Heady stuff.

Since then, like Truman Capote's heroine Holly Golightly, if feeling a bit down I make a beeline for SJ's not necessarily to purchase Barbara Hutton's perfectly matched canary yellow diamonds but to be soothed and amused by being amongst them."

The Duke of Bedford – "It is a place? shop? gallery? I have always loved to visit, not only for the friendship of the Norton family but to see such amazing jewellery, silver, and objects. It is certainly true that there is no such thing as a free lunch - the lunch is delicious, but one almost inevitably buys something. My family and I have been involved with Martin, Jonathan, Nicolas and Francis for over 50 years. To use Tina Turner's words, I would say that S J Phillips is 'simply the best."

Highlights from the Sale

Continental Silver
The Marquess of Abercorn's tray, 1791 A fine George III silver-gilt tray, this is an exceptional example of the work of 18th century London silversmith, James Young, expertly and boldly engraved with the coat of arms of John James Hamilton, 1st Marquess of Abercorn. Estimate: £150,000 – 200,000.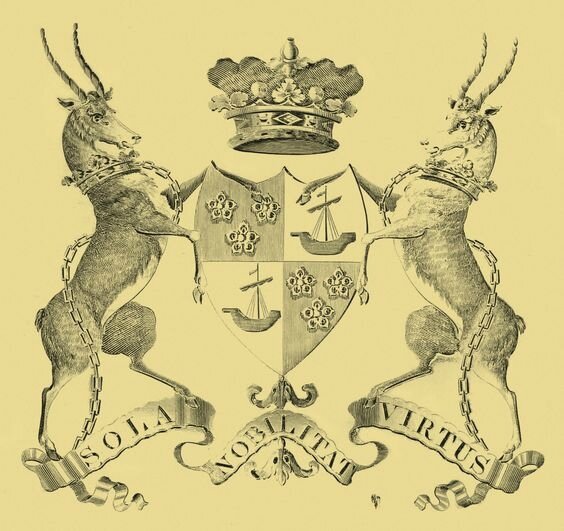 Lot 149. The Marquess of Abercorn's Tray. A fine George III silver-gilt tray, James Young, London, 1791. Estimate: £150,000 – 200,000. Photo: Sotheby's.
on four leaf-capped scroll bracket feet, the upcurved border chased with a band of quilting, the ground engraved with a broad band of scrolling acanthus tied to Grecian palmattes on a matted ground, the center engraved with a coat-of-arms and the motto SOLA NOBILITAT VIRTUS below a Marquess's coronet, the underside applied with four contemporary carrying handles; 75cm., 29 1/2 in. wide; 9,225gr., 296oz.
Provenance: John James Hamilton, 1st Marquess of Abercorn (1756-1818)
Sotheby's, London, 25 October 1962, lot 126
Sotheby's, London, 9 April 1964, lot 127
Christie's, London, 22 May 1991, lot 38
LLiterature: Stanley C. Dixon, English Decorated Trays, 1964, ill. p.13
Thomas Lawrence, John James Hamilton, 9th Earl, and 1st Marquess of Abercorn, KG (1756-1818), courtesy of a private collection
Note: The arms are those of Hamilton for John James Hamilton, Marquess of Abercorn (Fig. 1), who was born in July 1756, the posthumous son and heir of Captain John Hamilton R.N. (1714-1755) by his wife Harriet (née Craggs), widow of Richard Eliot of Port Eliot, Cornwall. John James was educated at Harrow before going up to Pembroke College, Cambridge, where he was a contemporary of William Pitt the younger (1759-1806) to whom he was related by marriage through the Eliot family. After leaving university, Hamilton was MP for East Looe in 1783/84 and for St. Germans between 1784 and 1789. It was at this period that he became a particular ally of his friend Pitt during the latter's first tenure as Prime Minister.
On 9 October 1789 Hamilton succeeded his uncle James as the 9th Earl of Abercorn, a title bestowed on an ancestor by James I in 1606. In 1790 he was further elevated as the Marquess of Abercorn. His surviving political correspondence from this time shows that he was immersed in local Irish politics and electioneering as well as the problem of Catholic Relief and Catholic Emancipation. Following the enactment of the Militia Act in 1793, Abercorn became honorary commander of the Tyrone Militia with which he continued to be associated until his resignation in 1800.
Although Abercorn, the only nobleman of his day to hold titles in England, Ireland and Scotland, resided when in London at the family mansion, 22 (now 25) Grosvenor Square, his principal residence was at Bentley Priory (Fig. 2), Stanmore, north west London, originally built in 1766. He purchased this property in 1788 and immediately employed Sir John Soane to oversee extensive improvements 'in which convenience is united with magnificence in a manner rarely to be met with' (Daniel Lysons, The Environs of London, 1810, vol. II, p. 375). Soane's scheme included a picture gallery, a grand Portland stone staircase, a dining room measuring 40 by 30 feet, and a saloon and music room each measuring 50 by 30 feet. The Marquess's lavish expenditure also included improvements to the gardens and park. Visitors to Bentley were from Abercorn's wide circle of political, literary and theatrical friends and acquaintances, including Pitt, Wellington, Canning, Liverpool and Sidmouth; the poets Wordsworth, Moore and Thomas Campbell; and the actors Sarah Siddons and John Kemble. Sir William and Lady Emma Hamilton were also welcome guests, as was Sir Walter Scott who in 1807 wrote his epic poem Marmion there.
Later recalling the Marquess of Abercorn in a review of James Boaden's Memoirs of the Life of John Philip Kemble, Scott wrote that he (Kemble) 'was a frequent and favourite guest at Bentley Priory, which was then the resort of the most distinguished part of the fashionable world. Its noble owner, the late Marquis of Abercorn, has been so long with the dead, that to do justice to his character, much misrepresented in some points during his life, can be ascribed to no motive which interest or adulation could suggest. He was a man highly gifted by nature, and whose talents had been improved by sedulous attention to an excellent education. If he had remained a Commoner, it was the opinion of Mr Pitt, that he must have been one of the most distinguished speakers in the Lower House. The House of Lords does not admit to the same display either of oratory or of capacity for public business; but when the Marquis of Abercorn did speak there, the talents which he showed warranted the prophecy of so skilled an augur as Pitt. Those who saw him at a distance accused him of pride and haughtiness. That he had a sufficient feeling of the dignity of his situation, and maintained it with perhaps an unusual degree of state and expense, may readily be granted. But that expense, however large, was fully supported by an ample fortune wisely administered, and in the management of which the interests of the tenant were always considered as well as those of the landlord. He racked no rents to maintain the expenses of his establishment, nor did he diminish his charities, which were in many cases princely, for the sake of the outward state, the maintenance of which he thought not unjustly, a duty incumbent on his situation. Above all, the stateliness of which the late Marquis of Abercorn was accused, drew no barrier between the Marquis of Abercorn and those who shared his hospitality.' (Article XI, 'Life of Kemble. – Kelly's Reminiscences,' from the Quarterly Review, April 1826, The Miscellaneous Prose Works of Sir Walter Scott, vol. VI, Paris, 1838)
Away from London and its environs, Lord Abercorn spent much time at his Irish seat, Baronscourt, co. Tyrone.
Abercorn was married three times, first on 20 June 1779 to Catharine (died 19 September 1791), first daughter of Sir Joseph Copley, 1st Bt., by whom he had five children; and second on 4 March 1792 to his first cousin, Lady Cecil Hamilton (who may have been his mistress during the lifetime of his first wife), by whom he had a daughter. Following the couple's divorce by Act of Parliament in 1799 (on account of her adultery with Captain Joseph Copley, the brother of her former husband's first wife), Abercorne married on 3 April 1800 Lady Anne Jane Hatton, widow of Henry Hatton of Great Clonard, co. Wexford, and daughter of the 2nd Earl of Arran.
James Young, the 18th Century London manufacturing silversmith who eventually became proprietor of a business described as 'of consequence and respectability,' was the son of Richard Young, Citizen and Carter (Carman) of London, and his wife, Elizabeth. He was baptised at St. Stephen, Coleman Street, on 29 June 1735. Arthur Grimwade (London Goldsmiths, p. 712) gives an outline of his career, from the beginning of his apprenticeship to John Muns of Gold Street, Gutter Lane, on 4 October 1749, to the entry of his first mark as a smallworker on 21 July 1760, and through his various changes of address and brief partnership with Orlando Jackson in 1774 at Aldersgate Street, to the record of his eventual removal to 70 Little Britain in 1788.
Young was made free of the Company of Carmen by patrimony in June 1759 (London Metropolitan Archives, COL/CHD/FR/02/850). The registers at Goldsmiths' Hall record his removal to Clerkenwell on 22 January 1766 shortly after his two sons, James and Thomas, were baptised at St. James's, Clerkenwell, respectively on 5 April 1764 and 25 November 1765.
Young's partnership with Jackson, a chaser and native of Scotland, produced one of the most interesting groups of silver of 1774/75: the actor David Garrick's fluted tea and coffee service (Sotheby's, London, 19 October 1961, lot 95, and Sotheby Parke Bernet, New York, 20 March 1970, lot 201; now in the Victoria & Albert Museum, London). Grimwade's estimation of Young's output – 'of elegant neo-Classical design and fine finish, particularly his epergnes' – is based upon the relatively small number of objects to have been identified bearing his mark, either alone or with Jackson. The most spectacular of these are the two 'marine' centrepieces of 1780 and 1786 (based on the original Paul Crespin example in the Royal Collections), the first made for the Duke of Rutland and the second probably for John Fitzgibbon, created Viscount Fitzgibbon and Earl of Clare in 1795 (Kathryn Jones and Christopher Garibaldi, 'Crespin or Sprimont? A question revisited,' Silver Studies, The Journal of The Silver Society, no. 21, London, 2006, pp. 25-38). Another exceptional example of Young's work is this present tray; fine by any standards of salver and tray making it is also expertly and boldly engraved within a border of excellently rendered rosettes and scrolled foliage in bright-cut.
Although the engraver responsible for that decoration is not known, it is tempting to attribute it to the studio of John Thompson (d. 1801) of 44 Gutter Lane, which was a few minutes' walk from Young's workshops at 70 Little Britain. Charles Oman was of the opinion that Thompson had 'worked up a considerable business' by the end of the 18th Century.' He also notes that Thompson's last and best-known apprentice was Walter Jackson (1780?-1834) whose style of engraving, recorded in an album of pulls of crests and coats-of-arms acquired by the Victoria & Albert Museum in 1976, is familiar from the heraldry on many trays and salvers produced for Rundell, Bridge & Rundell during the first two decades of the 19th Century (Charles Oman, English Engraved Silver, 1150-1900, London, 1978, pp. 113-123). It is also worth comparing the engraving on the tray in this lot with that on a James Young soup tureen and cover of 1790, which may also have been undertaken at Thompson's (Sotheby's, New York, 26 April 2008, lot 282).
James Young retired in 1793. His Little Britain premises, described as 'A VALUABLE LEASHOLD ESTATE, consisting of a spacious dwelling-house, in perfect repair, with numerous fixtures, extensive warehouses and workshops, eligibly situate . . ., with an established Trade, of consequence and respectability,' were announced for auction on 14 May 1793. 'On the same and following day will be sold,' according to the advertisement, 'the neat Household Furniture, valuable implements, utensils, and remaining Stock in Trade of Messrs Young's working goldsmiths, retiring from business. The utensils comprise a very valuable piercing press, a complete set of swages and piercing punches, anvils, dies, stakes, a complete set of casting utensils, and a capital assortment of beautiful modern patterns in lead and brass. The furniture consists of bedsteads, beds, and bedding, carpets, chairs, tables, glasses, kitchen utensils, &c. &c. . . . Mr. Smith [the auctioneer] is authorized to receive proposals for the purchase of the Lease, fixtures and utensils by private contract' (The Gazetteer and New Daily Advertiser, London, Wednesday, 1 May 1793, p. 4d).
James and Thomas Young, described as working goldsmiths of Little Britain, subsequently dissolved their partnership on 21 June 1793 (The London Gazette, London, 22 June 1793, p. 534a). Afterwards James Young went to live at West Hill, Battersea Rise, Surrey, where he died in his 86th year on 9 September 1820 (The Gentleman's Magazine, London, October 1820, p. 376b). As if to emphasis his former connection with the City of London (and Aldersgate Street, where he was in residence between about 1774 and 1788), Young was buried at St. Boldolph, Aldersgate Street, on 15 September 1820.
A French parcel-gilt silver vase, cover and stand, circa 1815 Created by leading Strasbourg goldsmith, Jacques-Frederic Kirstein in the early 19th century, this exceptional silver vase is finely cast and chased in high relief with a lion hunt. A very similar vase is in the Musée Des Arts Decoratifs, Strasbourg. Estimate: £70,000 – 100,000.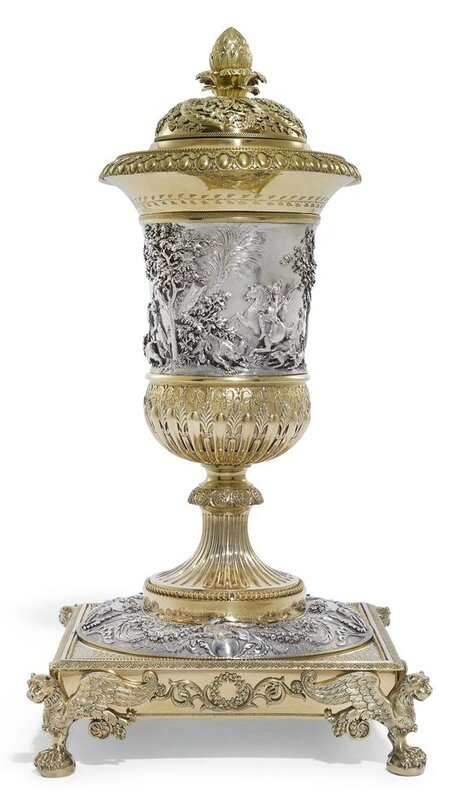 Lot 85. A French parcel-gilt silver vase, cover and stand, Jacques-Frédéric Kirstein, Strasbourg, circa 1815. Estimate: £70,000 – 100,000. Photo: Sotheby's.
beaker-shaped body with detachable sleeve, finely cast and chased in high relief with a lion hunt, a lion and lioness defend their cubs from mounted Roman horsemen and foot soldiers, stippled Kirstein Orfe a Strasbourg, square base on winged lion supports similarly chased with a griffin eagle overcoming a snake, vases of flowers and scrolling foliage on matting, base signed Composé et execute par Kirstein Orfre à Strasbourg, detachable cover with pierced grapevine sleeve; 35cm., 13 3/4in. high; 2452gr., 78oz. 16dwt.
Exhibited: Hans Haug, Le Siècle d'or de l'orfèvrerie de Strasbourg, Chez Jacques Kugel, Paris, 10-31 October, 1964, no. 160
Note: A very similar vase is in the Musée Des Arts Decoratifs, Strasbourg (ref. MAD 5502). A gift in 1897 from Mgr. Paul Muller-Simonis, who inherited a fortune from both his parents, it is described as `témoigne de l'extraordinaire talent de modeleur de Kirstein et de sa maîtrise de la technique de la fonte à la cire perdue'1(testimony to the extraordinary talent of Kirstein as a sculptor and his complete mastery of lost wax casting).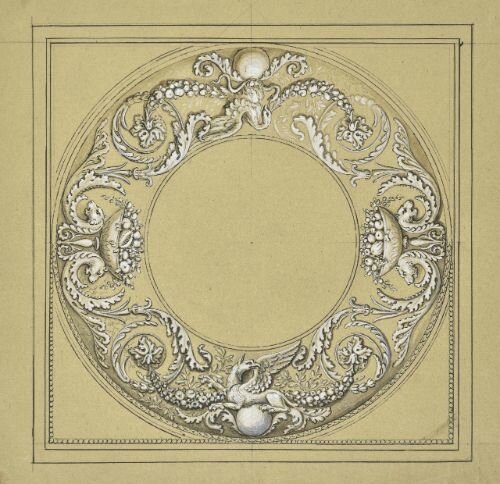 Jacques-Frédérick (1765-1838, also known as Joachim Frédérick) Kirstein, thought to have studied under Robert-Joseph Auguste in Paris,2 came from the third generation of a family of leading Strasbourg goldsmiths. As 'artiste célèbre pour ses vases, tableaux et dessus de tabatières ciselès en haut et en bas relief,' he became renowned for his skill in highly detailed chased and cast vases and plaquettes in gold and silver, winning gold medals at the Exhibitions of 1810 and 1834 (ex. catalogue, Alte und Neue Strassburger Goldschmidtarbeiten und uhren, Strasburg-Els, 7-11 August, 1915, p. 60). As his reputation travelled abroad, Kirstein's 'pictures' in precious metal, often of hunting scenes, a love of which he inherited from his forester grandfather, were added to boxes made up by goldsmiths in other countries.
Another example of a lion hunt by Kirstein, 'one of the treasures which go to make up the Queen's collection'…`a sumptuous relic of the Regency of George IV,' set under a piece of rock crystal, was mounted by the London goldsmith John Northam, 1813-14 (Charles Truman, Eighteenth Century Gold Boxes of Europe, Woodbridge Suffolk, 1990, p. 288 and 394 and 441).
1`témoigne de l'extraordinaire talent de modeleur de Kirstein et de sa maîtrise de la technique de la fonte à la cire perdue', from Deux Siècles d'Orfèvrerie a Strasbourg, XVIIIe-XIX Siècles dans les collections du musée des Arts Décoratifs, Strasbourg, 2004, p. 72.
2 Hans Haug, Inventaire des collections publiques françaises L'orfèvrerie de Strasbourg dans les collections publiques Françaises, Palais du Louvre 1978, p. 157
A pair of Romanian silver-gilt octagonal dishes, circa 1640 Made by Andreas Eckhardt, these striking dishes are thought to have been engraved with the arms, coronet and motto of Achatius Barcsai, Prime Minister of Transylvania in 1658, almost 20 years after their creation. Estimate: £20,000 – 30,000.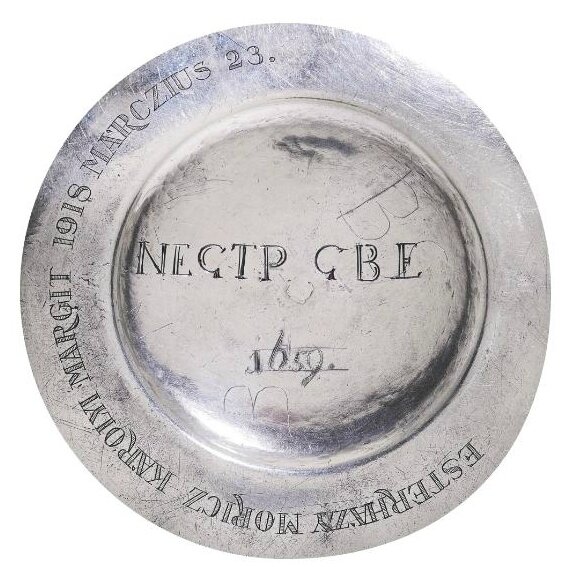 Lot 69. A pair of Romanian silver-gilt octagonal dishes, Andreas Eckhardt, Sibiu (Hermannstadt), circa 1640. Estimate: £20,000 – 30,000. Photo: Sotheby's.
octagonal, the central raised bosses engraved with the arms, coronet and motto of Barcsai, the raised borders richly embossed and chased with pomegranate and medlar fruit, foliate scrolls and other motifs, the undersides engraved with the initials 'NEGTP GBE' and dated '1659', one further inscribed 'ESTERHAZY MORICZ KAROLYI MARGIT 1918 MARCZIUS 23.'; 26cm., 10 1/4 in. wide; 998gr., 32oz. 1dwt.
Provenance: Dr. Heller's Lexicon, Sotheby's, London, 4 December 2012, lot 215
Literature: Exh. Cat. Couven-Museum Aachen, 2003, no. 31
Dr. Istvávn Heller and Prof. Dr. Ulrich Schneider, article published in conjunction with TEFAF Maastricht 2003, pp 16-21, Masterpieces of European Goldsmiths' works 1560-1860, Couven Museum, Aachen, 2003, no. 4
Note: The inscriptions on the bosses read: 'ACHA : BAR : D : G : PRI : TRAN : PAR : RE : HVN : DOTE : SIC : COMES:' (Achativs Barcsai Dei Gratia Princeps Transsilvaniae Partium Regni Hungariae Dominus Siculorum Comes.)
It is possible that the Barcsai arms which were engraved around 1659, coinciding with Achatius Barcsai becoming prime minister of Transylvania in 1658, are slightly later than the dish itself. The goldsmith is first recorded working in 1602 and to have made an item 57 years later would have been unusual for those times. Another silver-gilt example, engraved with the Barcsai arms, was sold Sotheby's Geneva, 12 November 1990, lot 137.
The later inscription that reads: 'ESTERHÁZY MORICZ KÁROLYI MARGIT 1918 MÁRCZIUS 23.' refers to the marriage (23 March 1918) of Moritz Graf Esterházy (otherwise Móric Esterházy de Galantha), 1881-1960, and Margit Karolyi, 1896-1975.
Esterházy, the son of Miklós Esterházy (1855-1925) and his wife Franziska (née von Schwarzenberg), 1861-1951, was briefly Prime Minister of Hungary towards the end of the First World War. He afterwards remained in politics but was ultimately arrested in 1944 by the Gestapo for failing to support the German occupation. He was deported to Mauthausen concentration camp, from which he was liberated in 1945, but upon his return to Hungary was arrested by the Communists. He was able to leave his native country for Austria in 1956.
Vintage Jewels
An impressive coloured diamond necklace, circa 1910 Designed as a line of bows millegrain-set with circular-cut diamonds, this exquisite necklace features front suspending swags and pendent floral motifs set with cushion-shaped diamonds of yellow tint. Estimate: £240,000-£280,000.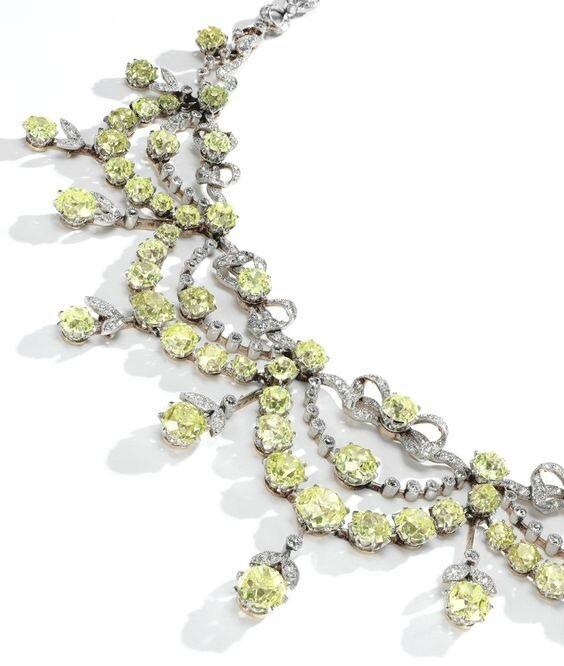 Lot 134. An impressive diamond necklace, in the 'Garland Style', early 20th century. Estimate: £240,000-£280,000. Photo: Sotheby's.
Designed as a line of bows millegrain-set with circular-cut diamonds, the front suspending swags and pendent floral motifs set with cushion-shaped diamonds of yellow tint, length approximately 395mm, composite.
Note: The closing years of the 19th century to the beginning of World War I were years of largely peaceful affluence, characterised by the elegance and extravagance of its cosmopolitan elite and known as 'La Belle Epoque'. During this era, jewellery developed a distinctly elegant style under the guidance of tastemakers such as Louis Cartier. This so-called 'Garland Style' drew from the rich visual vocabulary of 18th century French ornament, adapting motifs such as laurel wreaths, floral swags, ribbon bows and tassels to create jewels of opulent, yet delicate and refined beauty, perfectly suited to the pageantry on display at court and the many glamorous balls and events that populated the social calendar. Jewels in the Garland style owe their lightness of touch to the introduction of platinum, the strength and rigidity of which allowed jewellers to create highly intricate and attenuated forms without sacrificing structural integrity. The whiteness of platinum, particularly paired with diamonds and pearls, matched this jewellery perfectly to the pastel colour schemes favoured by the fashionable couturiers of the day.
The design of the present necklace, distributing its wealth of diamonds within an intricate arrangement of swags, bows and floral motifs, achieves an elegance and refinement that perfectly embodies this seminal style.
Cf:. David Bennett, Daniela Mascetti, Understanding Jewellery, Suffolk, 1989, page 245, plate 379 and pages 262-287 for illustrations of jewels in the Garland style.
Gem set and diamond bracelet, 1950s Designed as an articulated flowering branch and set with carved emerald flowers and carved sapphire and ruby leaves, this bracelet is further accented with onyx, sapphire and ruby cabochons and set throughout with single-cut, marquise-shaped and baguette diamonds. Estimate: £120,000-£150,000.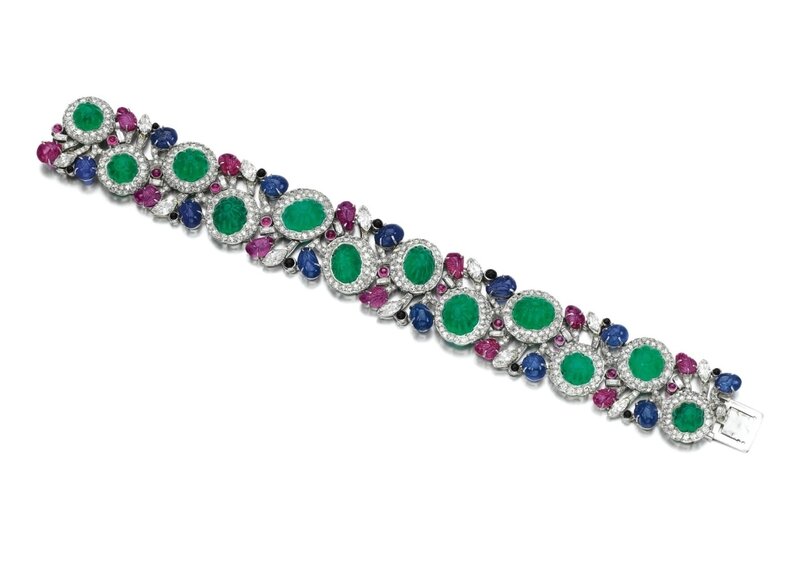 Lot 251. Gem set and diamond bracelet, 1950s. Estimate: £120,000-£150,000. Photo: Sotheby's.
Designed as an articulated flowering branch, set with carved emerald flowers and carved sapphire and ruby leaves, further accented with onyx, sapphire and ruby cabochons and set throughout with single-cut, marquise-shaped and baguette diamonds, length approximately 182mm, French assay marks.
Note: Though dating from the 1950's, the design of this bracelet draws its inspiration from a series of jewels produced by Cartier in the 1920's known as 'Tutti Frutti'. Throughout a series of trips to India starting in 1911 Jacques Cartier was awarded commissions from figures such as the Maharajas of Patiala and Kapurthala to remount their jewellery collections in the contemporary Parisian style. The carved stones found in these Indian jewels captured the imagination of Cartier and his gifted designer Charles Jacqueau, who framed them within the fashionable art deco aesthetic. Setting them in bracelets designed as meandering vines, and clustering them into giardinetto brooches, these new designs created a vogue for Indian-style jewels and fashions that spread throughout Europe and America, and had an enduring influence on the designs of a number of other jewellery houses throughout the twentieth century.
Cf:. Hans Nadelhoffer, Cartier, Thames & Hudson, London, 2007, pages 155-175, for more information on this style of jewellery.
Gem set and diamond necklace, late 19th century Composed of links set with cushion-shaped and oval stones including hessonite garnet, pink and white sapphire, aquamarine, pink and yellow topaz, yellow zircon, green tourmaline and alexandrite, this necklace features a pendant set with an octagonal hessonite garnet within a floral open work border with rose diamonds and spaced with similar smaller clusters set with circular-cut spinels. Estimate: £35,000-£45,000.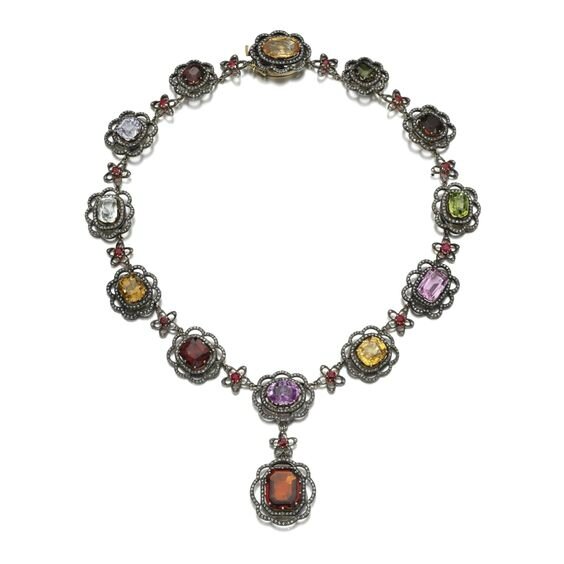 Lot 74. Gem set and diamond necklace, late 19th century. Estimate: £35,000-£45,000. Photo: Sotheby's.
Composed of links set with cushion-shaped and oval stones including hessonite garnet, pink and white sapphire, aquamarine, pink and yellow topaz, yellow zircon, green tourmaline and alexandrite, the pendant with an octagonal hessonite garnet, each within a floral open work border set with rose diamonds and spaced with similar smaller clusters set with circular-cut spinels, length approximately 390mm, pendant detachable, two diamonds deficient.
Fabergé
A gold and enamel timepiece, 1908 - 1913 Created by Henrik Wigström, this red enamel clock is embellished with gold floral motifs and ribbons. Estimate: £120,000 – 180,000.

Lot 138. A Fabergé gold and enamel timepiece, workmaster Henrik Wigström, St Petersburg, 1908-1913. Estimate: £120,000 – 180,000. Photo: Sotheby's.
of shaped rectangular form, the surface of translucent red enamel over sunburst engine-turning within an acanthus leaf border, the projecting corners applied with rosettes, the tied ribbon surmount suspending four-colour gold floral festoons, the bezel of opaque white enamel reeds bound with gold ribbon, the face enamelled in translucent opalescent white, painted with Roman numerals and entwining laurel and inscribed 'Fabergé', ivory back, silver-gilt scroll strut, struck with workmaster's initials and Fabergé, 56 and 88 standards, scratched inventory number 3?0949, 1913 London import marks for Fabergé; height 11.7cm, 4 5/8 in.
Note: The House of Fabergé remains justly famous for the exquisite enamels created by its master craftsmen a century after the closure of the workshops during the Russian Revolution. This timepiece and the preceding three lots partly illustrate the vast array of rich colours of Fabergé objects; of the 145 colours produced, dark red was the most technically difficult to achieve. Having been mounted in gold, rather than the much more common silver, makes these four objects especially luxurious.