2017 was another impressive year for Old Masters at Sotheby's, with saleroom successes on both sides of the Atlantic including a record-breaking result for Joseph Wright of Derby's arresting An Academy by Lamplight which sold for £7.3 million, more than double its estimate. J.M.W. Turner's Ehrenbreitstein, one of only six works by the artist still in private hands, sold for £18.5 million in London in July. Click through to see the top results from across sales in New York and London.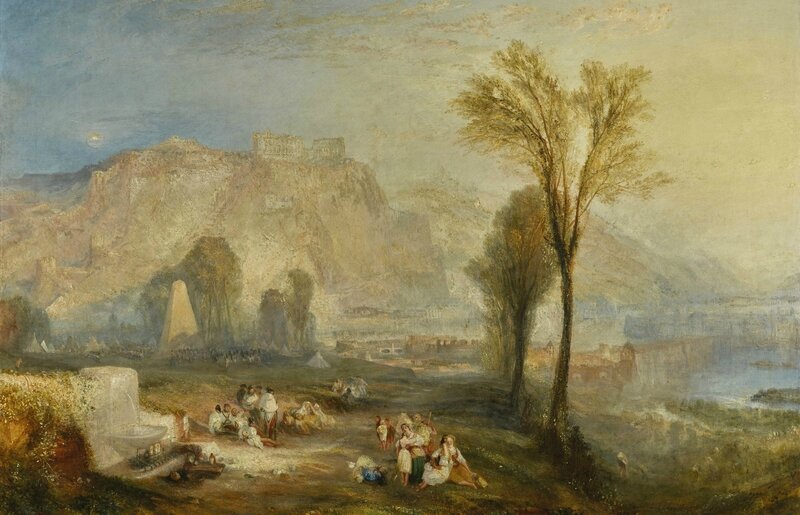 Joseph Mallord William Turner, Ehrenbreitstein, or The Bright Stone of Honour and the Tomb of Marceau, From Byron's Childe Harold. Sold for £18,533,750. © Sotheby's
The only oil painting by Turner of a German subject left in private hands, this magnificent picture is one of the artist's great late masterpieces. It is at once indebted to Claude, but also pre-emptive of the leaps to be made in the art of landscape painting in decades to come, particularly by the Impressionists. When it was exhibited at the Royal Academy in 1835 Ehrenbreitstein elicited huge critical acclaim and it has been considered one of the artist's most celebrated masterpieces ever since.
Joseph Wright of Derby, A.R.A., An Academy by Lamplight. Sold for: £7,263,700. © Sotheby's
The greatest masterpiece by Wright of Derby left in private hands, this picture is one of the most iconic images of the British Romantic movement. An Academy by Lamplight is one of a small number of important early candlelit subject paintings, all of which were painted in the late 1760s and early 1770s before he travelled to Italy, which both established the artist's contemporary celebrity and for which he is most famous today.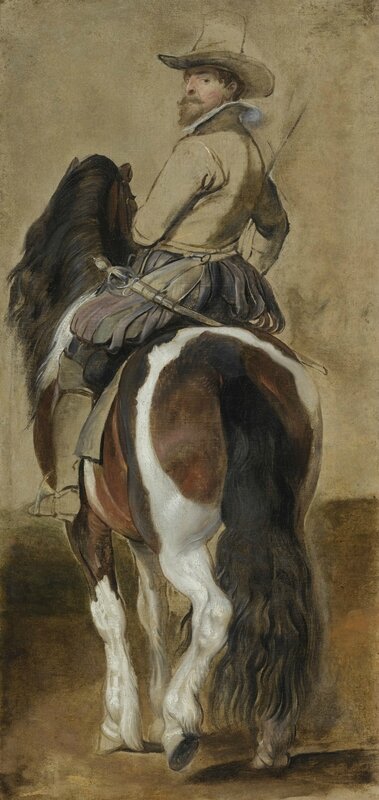 Sir Peter Paul Rubens, Study of a Horse with Rider. Sold for: £4,060,000 ($5,075,000). © Sotheby's
This newly discovered work is a rare example of a large-scale animal study by Rubens. Until recently, the painting had been associated with Sir Anthony Van Dyck, and was exhibited as a work by that artist in Genoa in 1955. However, the picture's attribution has been impossible to discern with any certainty until now.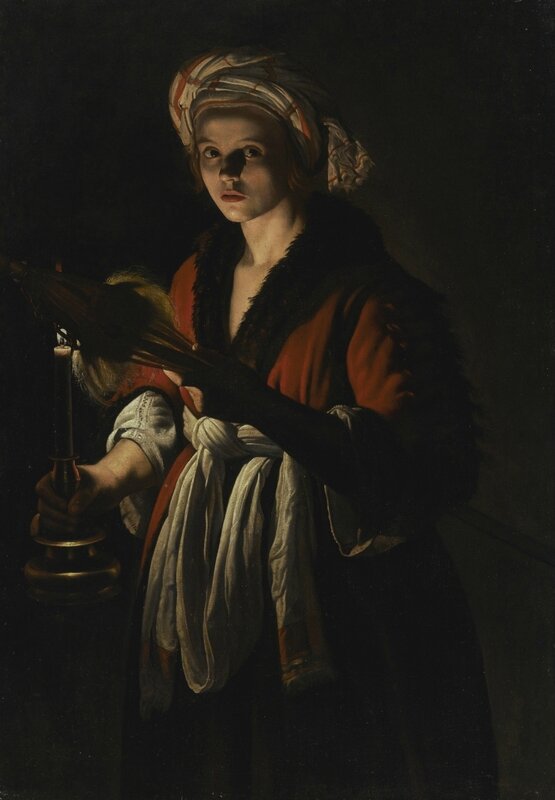 Adam de Coster, A Young Woman Holding A Distaff Before A Lit Candle. Sold for: £3,880,000 ($4,850,000). © Sotheby's
In this painting, the glow of a single flame illuminates the various rich fabrics and delicate features of a young woman set against a dark background. Vivid shadows cast throughout the composition define her engaging visage as well as the patterned details of her sleeve, the tufts of fur that line her robe, and the wispy tendrils of the distaff she holds near the candle. The same rich crimson color found in her robe and striped headdress is also subtly detectable in her supple lips, the apple of her cheeks, and the sheen of the stem of the candlestick.
Willem Drost, Flora. Sold for: £3,700,000 ($4,625,000). © Sotheby's
William Drost's enchanting Flora was painted during the artist's brief stay in Venice during the 1650s and has hitherto remained unknown to scholars. The work should be considered one of Drost's very best paintings, comparable to his undisputed masterpiece, the Bathsheba in the Louvre. It is a remarkable synthesis of the artist's early training in Amsterdam under Rembrandt and the more mature style he developed in Venice, when he came under the direct spell of Titian, to whom this work is a clear homage.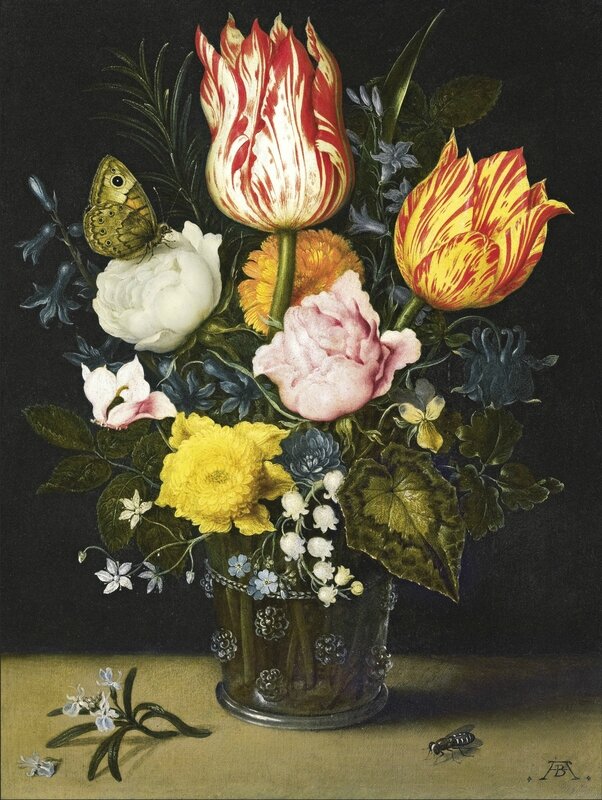 Ambrosius Bosschaert the Elder, Still life of flowers in a Berkemeijer glass beaker. Sold for £2,971,250. © Sotheby's
Ambrosius Bosschaert was one of the very first artists to specialise in still-life painting. In his finest works such as this he rendered his subject with a meticulous naturalism leading to the suggestion that it might have been commissioned by a botanist. The smooth surface of the copper lends this work a rich enamel-like finish which combines with the extraordinary detailing of the flowers and insects to lend this small panel a richness which transcends its scale.
Bartolomé Esteban Murillo, Ecce Homo. Sold for £2,746,250. © Sotheby's
Whether painting genre scenes or religious subjects, Murillo's greatest achievement lies in his ability to portray individuals as convincing human beings and to express their emotional state. In this exceptional late work, categorised by Diego Angulo Iñiguez as the best example of the composition, Murillo creates a powerful image of great psychological and painterly subtlety. In his interpretation of the Ecce Homo the Sevillian master pays homage to Titian, while at the same time producing an invention that is profoundly original.
Bernardo Bellotto, Venice, Piazza San Marco looking east towards the Basilica, Circa 1739: Sold for £2,521,250. © Sotheby's
This quintessential view of Venice was painted by all the great view painters of the Serenissima, including Michele Marieschi, Antonio Canaletto and Francesco Guardi. To this majestic group can be added Bernardo Bellotto, to whom this splendid example of the Piazza San Marco was correctly reattributed when it was published by Beddington in 2004. The artist trained in the studio of his uncle, Canaletto, and by the age of sixteen was producing work of such quality that it was indistinguishable from, and indeed often sold as, the work of his celebrated uncle.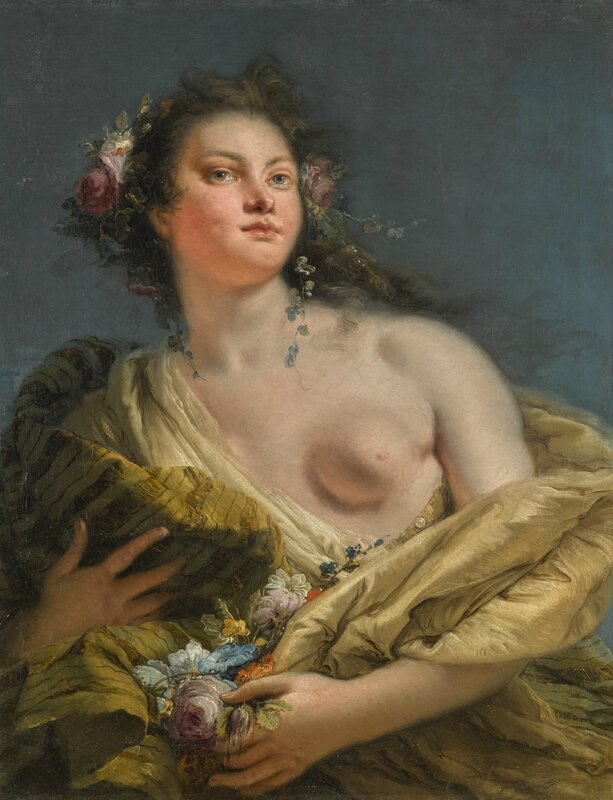 Giovanni Battista Tiepolo, Portrait of a Lady as Flora. Sold for £2,408,750. © Sotheby's
This is one of only a very small number of paintings of beautiful women in fancy dress by Tiepolo to have survived. Though they occupy only a tiny part of his output, these depictions of idealised feminine beauty remain among the most famous and easily recognised of all Tiepolo's works. Painted during the artist's last years in Venice in the late 1750s, this canvas was very probably among a series of 'half-length figures of women done a capriccio' recorded in a letter of 1760 as painted for the Empress Elizabeth of Russia. Completely unknown and unrecorded before its reappearance in 2008, the present canvas is without doubt the most beautiful and important Tiepolo discovery of recent years. The remarkable pristine condition of this canvas, unlined and with all of its original brushwork and impasto intact, is here revealed for the first time following its recent restoration.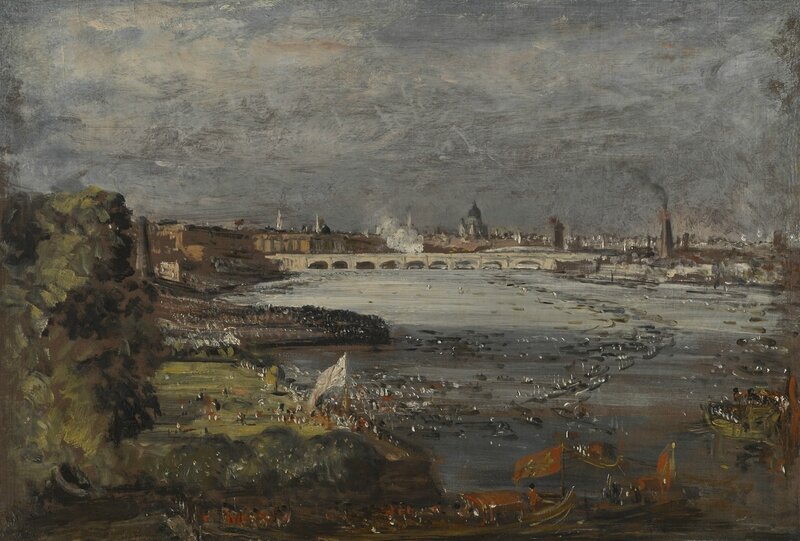 John Constable, R.A., The Opening of Waterloo Bridge, seen from Whitehall Stairs, London, 18 June 1817. Sold for: £2,289,000. © Sotheby's
This recently rediscovered sketch is an important, previously lost, early study for one of John Constable's most celebrated paintings, The Opening of Waterloo Bridge (Tate Gallery), which the artist exhibited at the Royal Academy in 1832. Probably the artist's first attempt at working out the composition, it is believed to be the picture Constable showed to Joseph Farington in 1819, an event recorded in the latter's diary for 11 August that year but which hitherto no previously known sketch has been traced.