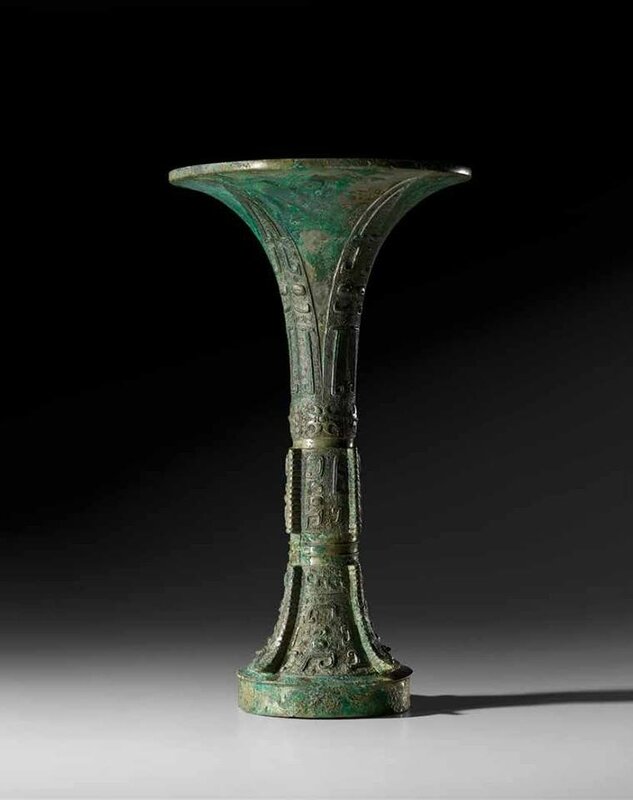 Lot 8030. A Finely Cast Archaic Bronze Ritual Wine Vessel, Gu, Shang Dynasty, Anyang phase (1300–1050 BC); 12 1/4in (31.1cm) high. Estimate US$ 70,000 - 100,000 (€ 57,000 - 81,000) © Bonhams 2001-2018
The slender vessel cast at the flaring trumpet-form neck with four blades each enclosing attenuated cicada forms with double eyes forming dispersed taotie masks in raised relief above a fine leiwen ground and extending from an unusual horizontal band of raised eye-centered cusped quatrfoils, the central knop cast with descending kuilong forming taotiemasks bisected by raised knotched flanges separated from the lower band by paired relief 'bowstring' lines, the flanges repeated on the flared foot enhancing elaborate horizontal kuilong with c-shaped horns and well-defined snouts, the surface displaying a brilliant emerald green patina with vivid malachite encrustations on the exposed silvery gray surface.
Provenance: J.J Lally & Co., New York, 2008
Note: Bronze gu were among the most important vessels used in state rituals of the late Shang dynasty. The blade motif at the neck of these slender vessels is an Anyang innovation, (R. Bagley, Shang Ritual Bronzes in the Arthur M. Sackler Collections, p. 229); the distended cicada form is shown in a gu published by J. J. Lally, Chinese Archaic Bronzes. The Collection of Daniel Shapiro, 2014 no. 3, along with the descending kuilong at the knob and base. The unusual cusped quatrefoil band below the flanges can be found on a gu published by Eskenazi, Ancient Chinese Bronzes from an English Private Collection, no. 1, page 10. An impressive gu of similar size to our lot, was sold at Christie's, New York, 15 March 2015, lot 3178; another also offered at Christie's, New York, 18 September 2014. See a related bronze sold in our Hong Kong rooms 29 November 2016, lot 28. A smaller inscribed example was sold in these rooms on 12 September 2016, lot 8012.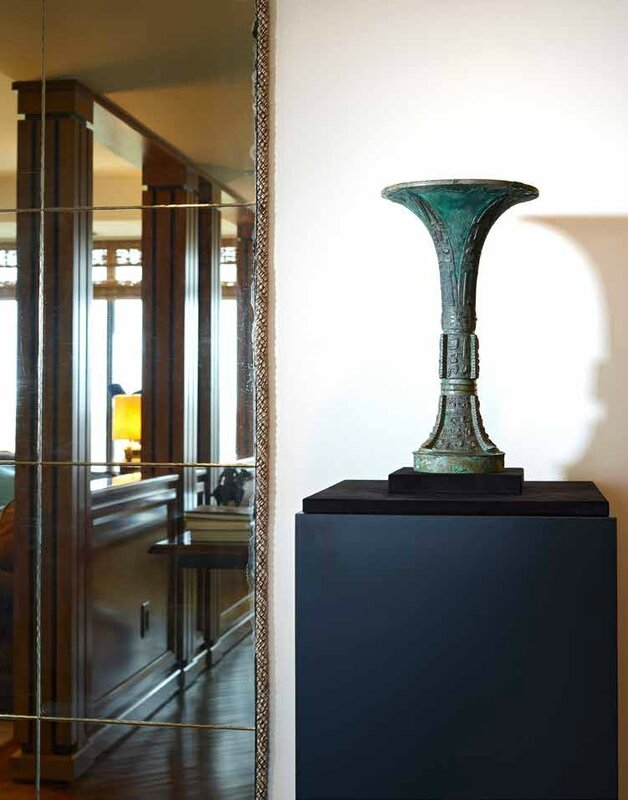 Property from the Collection of Sally S. and Decatur H. Miller III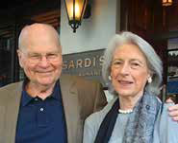 Bonhams is pleased to offer objects from the collection of Sally S. and Decatur H. Miller III, highly regarded Baltimore collectors and philanthropists of the arts. Decatur was born into a prominent Baltimore family. He took great pride in the family's longstanding civic ties as a champion of community and artistic causes. In addition to being a trustee at the Walters Art Museum, Decatur also held leadership posts with the Baltimore Symphony Orchestra and the Enoch Pratt Free Library. In his professional life, Decatur was a chairman and managing partner of the Baltimore law firm Piper & Marbury, now the global law firm DLA Piper.

Sally was an equally enthusiastic supporter of the arts and cultural causes in Baltimore. A student of art history, she devoted much of her intellectual curiosity to the local institutions. She served as trustee of the Baltimore Museum of Art, as well as member of the Walters Art Museum and the Maryland-based Art Seminar Group. In addition to cultural foundations, Sally also dedicated her time to civic organizations, serving on the boards of Union Memorial Hospital and Planned Parenthood of Maryland.

As collectors, the Millers gravitated towards early Chinese art, and their home on North Charles Street elegantly displayed classical sculptural pieces from China's Shang, Zhou and Tang dynasties with contemporary paintings and photography. The following ten works of art from the Miller collection evince their careful connoisseurship and keen eye toward excellence while celebrating the rich heritage of Chinese art.