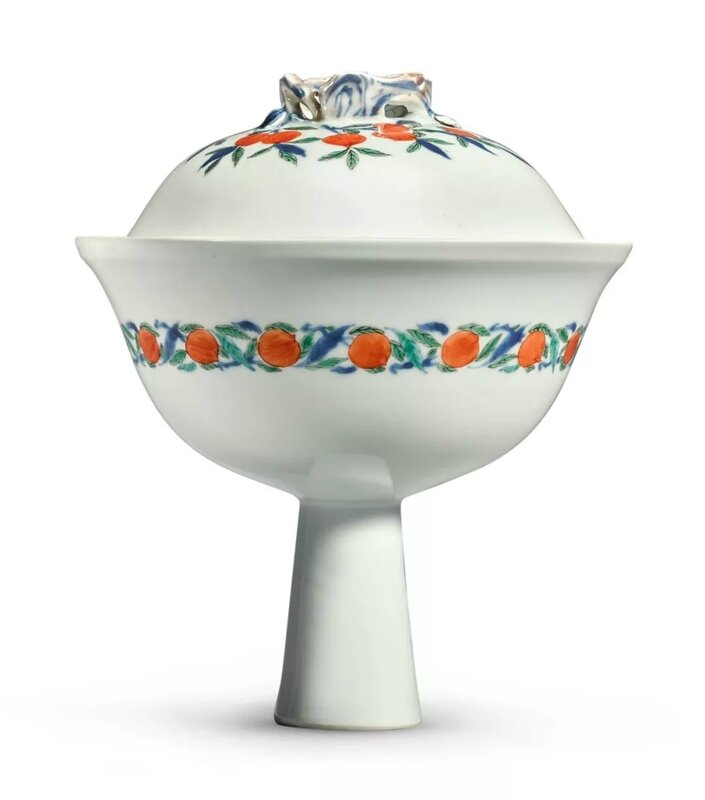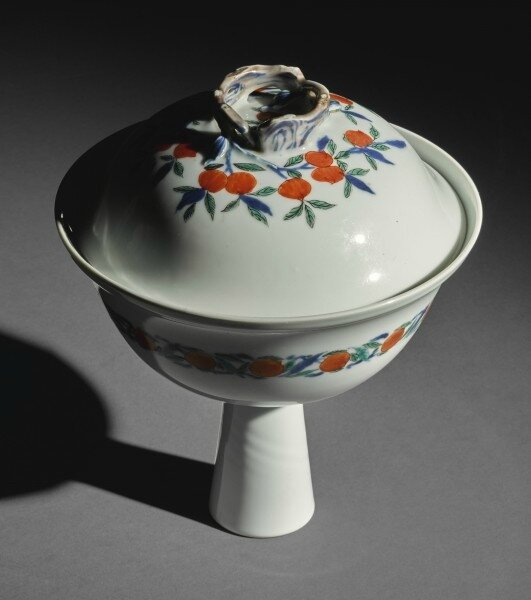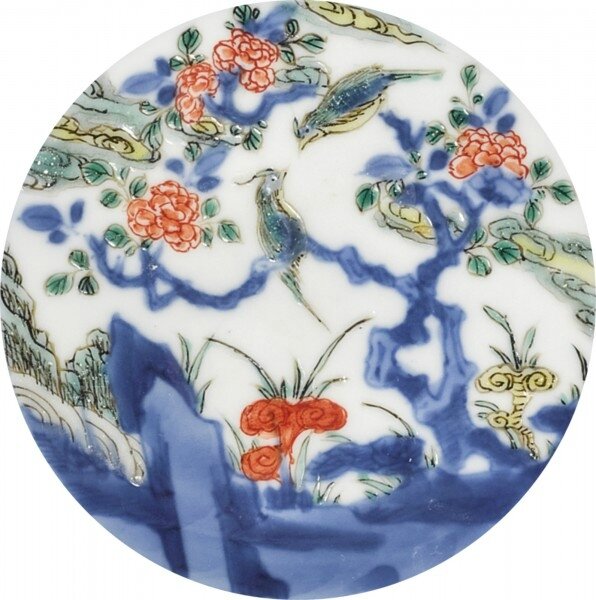 LOt 346. A rare famille-verte 'Peach' stembowl and cover, Qing dynasty, Kangxi period (1662-1722). Height 7 1/8 in., 18.2 cm. Estimate 150,000 — 250,000 USD. Lot sold 150,000 USD. © Sotheby's
the finely potted bowl with deeply rounded sides rising to a slightly flaring upright rim all supported on a hollow conical stem, the exterior delicately painted with a band of vibrant iron red peaches interwoven with underglaze-blue and emerald green leaves, the interior with a central medallion enclosing a pair of birds perched in a blossoming peony tree above rocks and lingzhi, the domed cover with a gently everted rim and an openwork circular knop naturalistically modeled in the form of an aubergine and blue enamled gnarled branch issuing leaves and continuing around the dome with painted branches of fruiting peaches, (2), coll. no. 418.

The Jie Rui Tang Collection.
Provenance: Collection of Duncan Beresford-Jones, Esq. (1903-2000), Castle Hedingham, Essex, England.
Christie's London, 6th June 2000, lot 358.
Exhibited: Embracing Classic Chinese Culture: Kangxi Porcelains from the Jie Rui Tang Collection, Sotheby's, New York, 2014, cat. no. 31.
Note: The refined potting and restrained soft enamels of this stembowl exemplify the best qualities of Jingdezhen artistry of the late Kangxi period. Although it is unmarked, the fineness of the craftsmanship indicates that it was made with the imperial family in mind. The painted peaches, a conventional emblem of immortality, further suggest that the stembowl was intended as a birthday gift.
In the Ming and Qing dynasties, major festivals were held for the 60th, 70th, and 80th birthdays of the emperor and the emperor's mother. These celebrations could last for weeks and involved numerous banquets, performances, and processions, as well as gifts made for the emperor to receive and to bestow in Beijing. So many porcelains were required for the Kangxi emperor's 60th birthday (1713) that the Jingdezhen kilns had to start producing the works more than two years in advance; the same was true for his 70th birthday (1723), which he missed by only three months.
Given the 'longevity' theme and superb quality of this stembowl and those of its type, they were probably commissioned for the Dowager Empress or Emperor Kangxi on the occasion of their 60th birthdays (1673 and 1713, respectively), or in anticipation of the emperor's 70th birthday (1723). Peter Y. K. Lam documents exceptional porcelains produced for these events in 'Myriad Longevity without Borders: Some Qing Imperial Birthday Ceramics from Hong Kong Collections', Arts of Asia, vol. 40, no. 5, September - October 2010, pp. 106-117.
The present example is the only one known with its complete original cover. The only other known example with a cover, but with a later replaced finial, is from the collection of Ernest Grandidier in the Musée Guimet, Paris (coll. no. G 3493) and illustrated in Oriental Ceramics, Tokyo, 1981, vol. 7, pl. 154 (fig. 1).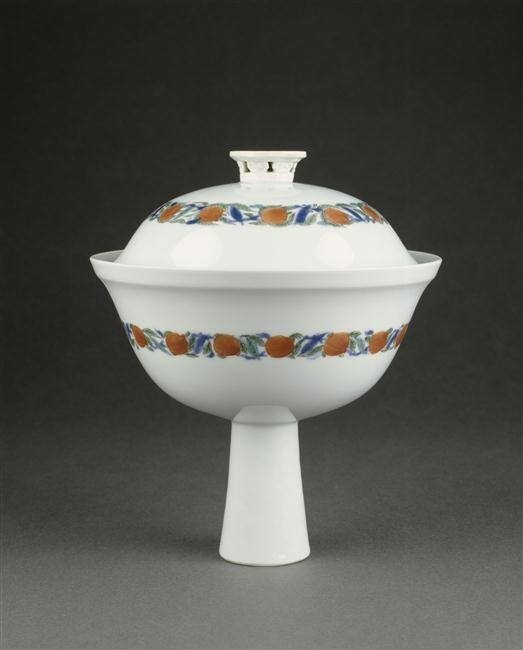 Famille Verte Stembowl and Cover, Qing dynasty, Kangxi period, Musée Guimet, Paris. © RMN-Grand Palais/Thierry Olliver/Art Resource, NY.
Other stembowls of this type without their covers included one from the Qing Court Collection in the Nanjing Museum is illustrated in Qing Imperial Porcelain of the Kangxi, Yongzheng and Qianlong Reigns, Hong Kong, 1995, pl. 25; and a second one from the Qing Court Collection in the Palace Museum, Beijing included in Gugong bowuyuan cang: gu taoci ziliao xuan cui [Palace Museum Collection: Selected Material on Ancient Ceramics], vol. II, Beijing, 2005, pl. 52; and another stem bowl from the Porzellansammlung, Dresden was exhibited in Ausstellung Chinesischer Kunst, Berlin, 1929, cat. no. 1022; one from the collection of Sir Harry and Lady Garner sold in our London rooms, 7th June 1994, lot 379; and another sold at Christie's Hong Kong, 30th May 2006, lot 1428.
A Rare Famille Verte Stembowl and Cover, Kangxi period (1662-1722); 6 1/8 in. (15.6 cm.) diam. Sold for 288,000 HKD at Christie's Hong Kong, 30th May 2006, lot 1428. © Christie's Images Ltd 2006
Sotheby's. KANGXI: The Jie Rui Tang Collection, New York, 20 March 2018, 11:00 AM