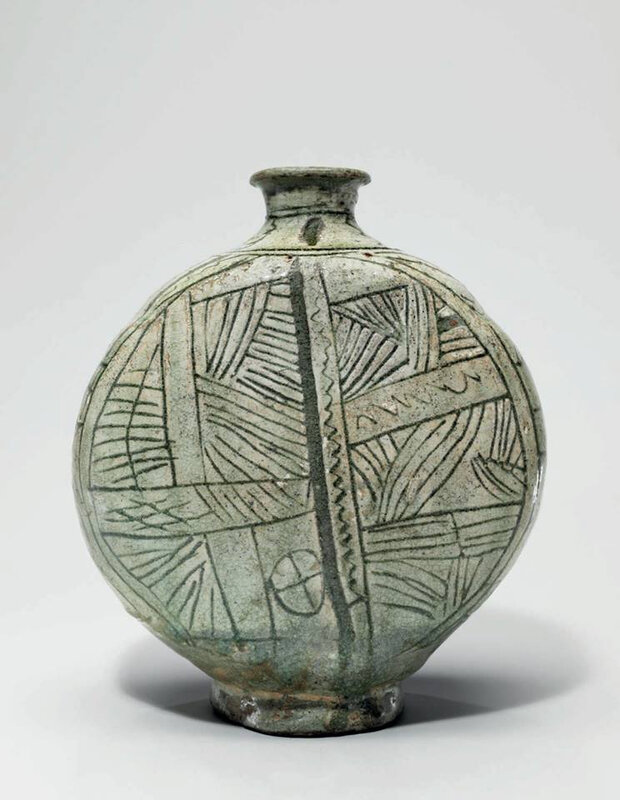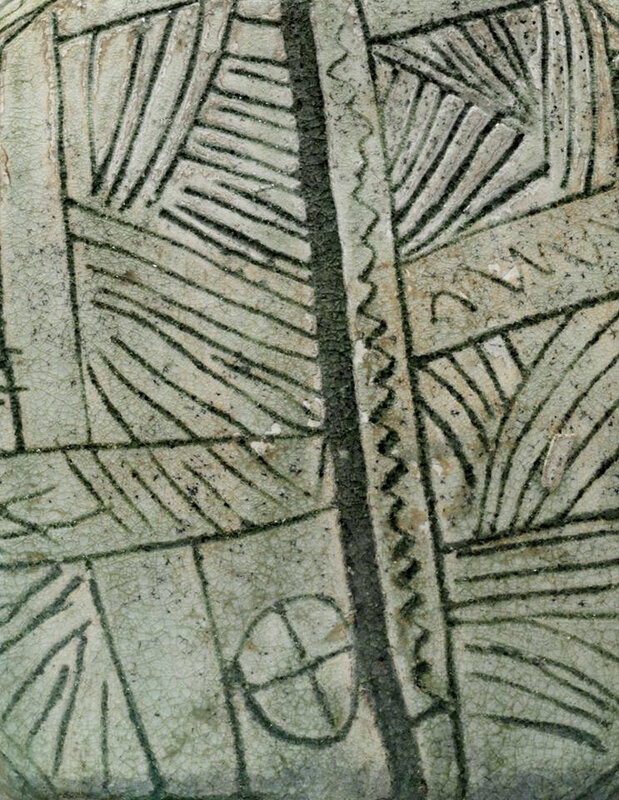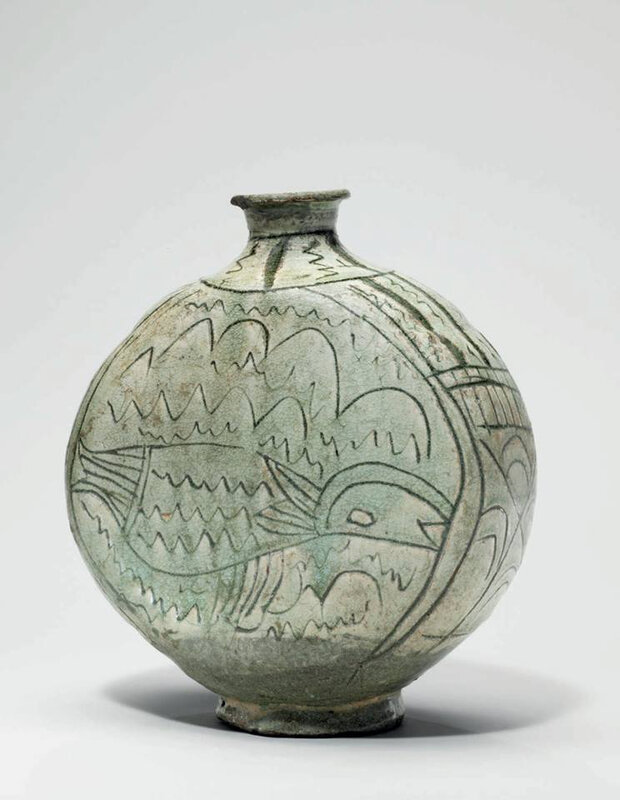 Lot 133. A Buncheong moon flask, Joseon Dynasty, (15th-16th century); 9.¼ in. (23.5 cm.) high. Estimate USD 150,000 - USD 250,000. © Christie's Image Ltd 2018.
With flattened body rising from a ring foot, decorated with white slip and incised on one side with a roundel of an overturned fish swimming in stylized waves and on the opposite side with a panel of abstract design and applied with a thin and glossy clear glaze.
Provenance: Yamamoto Hatsujiro (1887-1951), Osaka, acquired in April 1939
Acquired from Yamamoto family in the 1980s
Literature: Koyama Fujio, et al., Korean Ceramics of the Yi Dynasty, vol. 14 of Sekai toji zenshu / Collection of World's Ceramics (Tokyo: Zauho Press and Kawade Shobo, 1956), no. 26.
Tanaka Toyotaro, Mishima (Mishima wares of Korea), vol. 28 of Toki zenshu(Compendium of ceramics) (Tokyo: Heibonsha, 1962), no. 17.
Geijutsu shincho [A monthy Japanese art journal] 230 (1969): 98.
Koyama Fujio, Kotto hyakuwa (A hundred stories on antiques) (Tokyo: Shinchosha, 1977), no. 2.
Rhee Byung-chang, Richo toji / Yi Ceramics, in Kankoku bijutsu shusen / Masterpieces of Korean Art (Tokyo: privately published, 1978), no. 58.
Pak Cho, Richo kogei to koto no bi (The beauty of Yi-dynasty crafts and old pottery) (Tokyo: Toyo Keizai Nipposha, 1976); reprint (1984), no. 102.
Mishima henko ten / Exhibition of Punch'ong Ware of Yi Dynsty Korea(Osaka: Museum of Oriental Ceramics, 1984), no. 16.
Joseon cheongi kukpojeon: Widaehan munhwa yusan eul chajaseo / Treasures of the Early Choson Dynasty (Seoul: Samsung Art and Culture Foundation, Hoam Gallery; Yongin: Hoam Art Museum, 1996), no. 104.
Akanuma Taka, Ikutaro ltoh and Mabi Katayama, Chosen no toji (Korean ceramics), vol. 5 of Yakimono meikan (Compendium of ceramics) (Tokyo: Kodansha, 2000), pp. 39, 45 and 150.
MOA Museum of Art, Tochigi Prefectural Museum of Art et al., eds., Kokoro no yakimono Richo Chosen jidai no toji/Soul of Simplicity: Ceramics of the Joseon Dynasty, Korea, exh. cat. (Osaka: Yomiuri Shinbun, 2002), no. 22.
To no shijin Koyama Fujio no me to waza/ Koyama Fujio: A Potter's Dream (Tokyo: Asahi Shinbun, 2003), no. 1.
Exhibited: Takashimaya Department store, Osaka, "Exhibition of Korean works of art," 1938.6.9-18.
Museum of Oriental Ceramics, "Exhibition of Punch'ong Ware of Yi Dynasty, Korea," 1984.4.28-7.3.
Ho-Am Art Gallery, "Treasures of the Early Choson Dynasty," 1996.12.14-1997.2.11.
"Soul of Simplicity: Ceramics of the Joseon Dynasty," shown at the following venues:
MOA Museum of Art, 2002.4.26-6.9.
Tochigi Prefectural Museum of Fine Arts, 2002.6.15-7.14.
Hagi Uragami Museum, 2002.9.7-10.27.
Museum of Oriental Ceramics, Osaka, 2002.2.2-12.8.
"Koyama Fujio, a Potter's Dream," shown at the following venues:
Museum of Oriental Ceramics, Osaka, 2003.4.5-5.18.
Nezu Institute of Fine Arts, Tokyo, 2003.5.24-6.29.
MOA Museum of Art, Atami, 2003.7.11-8.17.
Sato Memorial Art Museum Toyama, 2003.11.1-12.14.
Museum of Modern Ceramic Art, Gifu, 2003.12.20-2004.3.21.
Note: Likely made for serving wine, this bottle with flattened, circular sides sports incised decoration on each face: a fish playfully swimming amidst rolling waves on one and an abstract, geometric pattern on the other. Stylized leaves and geometric designs enliven the two slender side panels. A shape frequently encountered in buncheong wares from the early Joseon period (1392–1910), such bottles are known in Korean as pyeonho, or flat bottles.
Korean potters had long made bottles, typically with a circular or globular body and either long or short neck. This new interpretation of the bottle shape seen here, with flattened sides, short neck and lightly flaring lip, was added to their repertory in the fifteenth century. Although they might have developed the form on their own, Korean potters also might have taken inspiration from the porcelain "moon flasks" that were introduced in fifteenth-century China. The Korean bottles have a short neck and lightly flaring mouth that facilitates pouring; the bottles are visually well-balanced, the short neck and flaring lip echoing the circular footring below. By contrast, Chinese moon flasks have a long neck that rises from the flattened body and two short, cloud-form handles that spring from the shoulder and connect to the midpoint of the neck, a feature absent and unneeded in the short-necked Korean bottles.
On what might arbitrarily be considered this bottle's "front face," a fish swims upside down in turbulent waters. Fish became a popular subject of Korean ceramic decoration in the Joseon period, particularly in buncheongware. All parts of the narrow Korean peninsula are near water, so fish and other seafoods have been a staple of the Korean diet since antiquity. Though Korean potters might have devised the motif themselves, they also might have adopted the aquatic designs of Chinese Cizhou ware or blue-and-white porcelain. Many Chinese ceramics were exported to Korea and Japan in the thirteenth and fourteenth centuries, as witnessed by the numerous artefacts recovered from the so-called Sin'an ship find—the remains of the Chinese merchant ship that sank in 1323 off the southwest coast of Korea, near present-day Sin'an in South Jeolla province, and that were scientifically excavated between 1976 and 1984. A twelfth-century, Cizhou-ware bowl with painted and incised decoration of fish and aquatic plants sold at Christie's, New York, on 15 September 2016, lot 710 (The Classic Age of Chinese Ceramics: The Linyushanren Collection, Part II); such vessels could have stimulated visual interest in Korea and sparked the development of this subject, as could have porcelains from Jingdezhen, such as the fourteenth-century blue-and-white charger with fish and aquatic plant décor in the collection of the Freer Gallery of Art, Washington, DC (F1971.3).
In both China and Korea, the motif of fish swimming amidst aquatic plants was inspired by a passage in the Daoist classic Zhuangzi (late 4th century BC), in which Zhuangzi, strolling along a river, observes, "See how the small fish come out and dart around where they please! That's what fish really enjoy!" His companion Huizi remarks, "You're not a fish, so how do you know what fish enjoy?" Zhuangzi replies, "You are not I, so how do you know I don't know what fish enjoy?" The potter's free and skillful drawing on this bottle brilliantly conveys the convincing impression of a fish swimming against strong currents. Done on both paper and silk, paintings of fish enjoyed a measure of popularity in China during the Song (960–1279) and Yuan (1279–1368) periods, just as they did in Korea during the Joseon dynasty.
The unique geometric pattern on the bottle's other face defies precise explanation. Perhaps no more than an abstract, geometric pattern, the design might also be a highly stylized representation of a churning sea with roiling waves. A precedent for stylized waves occurs in the borders of many Chinese blue-and-white chargers of the fourteenth century that render rhythmically rolling waves as repeated concentric arcs set at angles to one other, as on the previously mentioned charger in the collection of the Freer Gallery of Art, Washington, DC (F1971.3). Other possible explanations for the incising on the reverse of the present jar await further research.
Like fish, water and waves attracted the attentions of both painters and ceramic decorators in the Song dynasty. Among Ma Yuan's (c. 1160–c. 1225) most famous paintings are his Twelve Studies on the Properties of Water now in the collection of the Palace Museum, Beijing. And selected Jizhou wares (from the Jizhou kilns in Jiangxi province) from the Southern Song (1127–1279) and Yuan periods have all-over designs of rolling waves, such as a bottle in the collection of the Cleveland Museum of Art (1980.186) and a bottle with long neck in the collection of the Harvard Art Museums (2001.119).
Like their Silla and Goryeo forebears, Joseon potters excelled in the manufacture of ceramics, taking their cue from contemporaneous Chinese wares, but seldom copying them directly. Descended from Goryeo-period (918–1392) celadons, Joseon-dynasty stonewares, known as buncheong wares rely on white slip for their decorative effects, the slip inlaid, incised, carved or painted. The glaze also descends from Goryeo celadons, but is only lightly colored and very thinly applied; as a result, buncheong wares typically appear gray rather than bluish green. In fifteenth-century examples, the slip is typically inlaid into the intaglio lines of repeating motifs stamped into the body. Later in the fifteenth century and into the sixteenth, potters typically coated most of the vessel's surface with white slip, either applying it with a brush or dipping the vessel into the clay slurry; after the applied slip had stabilized, the ceramic decorators might incise the decoration through the white slip, exposing the underlying gray stoneware body, as in this magnificent bottle, or they might carve the decoration into a thickly applied coating of slip. Sixteenth-century buncheong wares characteristically are embellished with designs painted in iron-brown slip on the white slip ground. Most buncheong wares feature stylized floral décor, though some, like this rare bottle, depict a fish in swirling water or feature abstract patterns.
Seeing Korea as a stepping stone to China, the Japanese armies of the warlord Toyotomi Hideyoshi (1536–1598) repeatedly invaded the peninsula between 1592 and 1598. The resulting warfare destroyed many of the buncheong kilns, essentially bringing to a halt the ware's production. Tradition recounts that the retreating Japanese armies carried many buncheong potters home with them to produce buncheong-style wares for Japanese clients, who greatly admired them as vessels for the Tea Ceremony. In fact, the influence of Korean buncheong ware lives on in Japanese ceramics made at the Karatsu and Utsutsugawa kilns, which incorporate elements of the buncheong style in their slip-painted designs.
A buncheong bottle of related shape but with stylized peony design is in the Ataka collection of the Museum of Oriental Ceramics, Osaka (no. 00736). Similar buncheong flasks appear in the collection of the National Museum of Korea, Seoul, one of which has incised decoration of two fish, both right side up, but lacks both waves and the present bottle's geometric patterning (Deoksu-002963-00000). A pear-shaped bottle in buncheongware in the Harvard Art Museums sports incised decoration of two fish, one right side up, one upside down, but lacks waves (1991.587). Though it finds related pieces in several well-known collections, the present bottle stands as a unique and exceptionally compelling example of buncheongware.
Alan J. Dworsky Curator of Chinese Art Emeritus Harvard Art Museums, and Senior Consultant, Christie's.
1 For a famous Song-dynasty painting of fish, see "Fish Swimming Amidst Falling Flowers" attributed to Liu Cai (active, 1080–1120) in the collection of the St. Louis Art Museum (97:1926.1); for a Yuan-dynasty painting of fish, see "The Pleasure of Fishes" by Dongqin (active, late 13th century) in the collection of The Metropolitan Museum of Art, New York (47.18.10). For a Korean painting of a fish in rolling waves, see "Carp Leaping above White-Capped Waves" in the collection of the Harvard Art Museums (2000.347).
Christie's. Japanese and Korean Art, New York, 18 April 2018